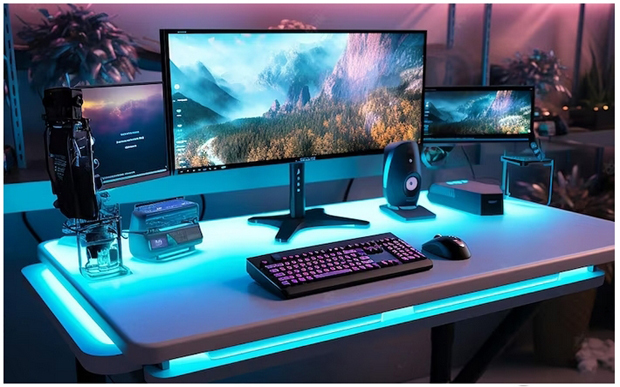 If you love gaming, your monitor plays a big role in your success. Whether you're an expert player or play for fun after work, winning and losing can make a difference. It is recommended to get a gaming PC with a powerful graphics card. It helps you make the most of your experience in FPS, racing, action, and more. Find a good gaming monitor for smooth gameplay. A gaming monitor removes tearing, motion artifacts, flickering, and blurred images. This article is about gaming monitors. Here's a summary.
You may wonder why you need a gaming monitor and what a regular one can't handle. Let's check
Why do you need a Gaming Monitor?
Gaming monitors enhance the performance of your CPU and graphics card to improve the visual quality. After the process, they show you the results on your computer screen and create the images. When comparing gaming and regular monitors, you'll quickly notice the main difference in image sharpness, color enhancements, and motion sharpness.
A 144Hz gaming monitor can significantly enhance your gaming experience if you enjoy competitive gaming. Using this gaming monitor will not only give you a smooth and enjoyable gaming experience, but it will also give you an advantage over other players using a 60Hz monitor.
Investing in a good gaming monitor is essential if you're serious about gaming. Before buying one, check the features and understand everything clearly. Here are some tips to find the perfect gaming monitor for a better gaming experience.
1. Panel technology
Panel technology refers to display technology in electronic devices such as televisions, monitors, and smartphones. It determines how the screen produces and displays images. Before buying a new gaming monitor, the first thing to consider is the panel technology. There are various panel technologies in the market, each with advantages and disadvantages. Let's take a look at a few of them.
2. OLED technology
OLED is short for Organic Light-Emitting Diode, also known as Organic LED. This new technology replaces LCDs in all electronic devices, from wearables to TVs. An OLED display picture is created by switching millions of small LEDs on and off. Millions of LEDs make up each pixel on the display.
3. Twisted Nematic (TN)
TN panels are popular among gamers. Its immense popularity is due to its fast refresh rates and pixel response times. In addition, these panels are the most affordable ones on the market. One downside of this panel technology is that colors can change when viewed from different angles.
4. Vertical Alignment (VA)
Vertical Alignment (VA) refers to the arrangement of elements in a vertical direction. It involves positioning objects or text to create a balanced and visually pleasing layout. These screens are famous for their high contrast ratios, ability to show deep blacks, and vibrant colors. Ghosting effects may affect your gaming performance. The model you buy will determine the outcome.
5. In-plane Switching (IPS)
IPS panels are well-known for their excellent color quality, wide viewing angles, and grayscale solid performance. However, TN panels still have better pixel response than them. Also, these panels can have motion artifacts. These are the top choices for everyday use, but they are not ideal for gamers who require monitors for competitive gaming.
12 Best Gaming Monitors in 2023
Here we lists some of the best gaming monitors you can consider for better gaming experience.
1. AORUS FV43U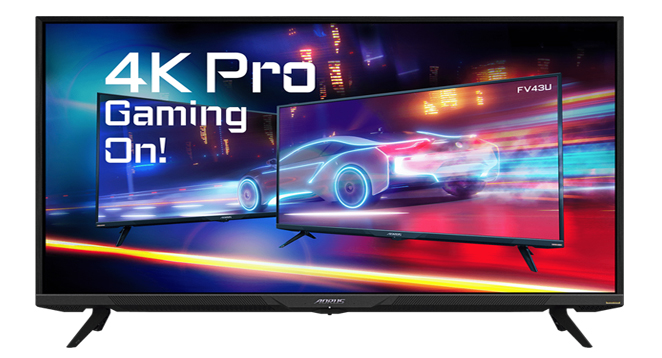 The AORUS FV43U is a 4K gaming monitor designed to give you an exceptional gaming and visual experience. The clear and detailed visuals make it feel more realistic to watch. Quantum Dot technology gives you brighter and more vibrant colors and HDR effects. Enhance your gaming experience with exclusive HDR modes.
Experience flawless melodic sound with our unique sound reinforcement techniques. The PIP and PBP functions allow you to watch gameplay on one side while playing it on the other. You also gain an advantage over your opponents. There is also a timer and counter feature available. The timer tracks game time, and the counter counts the opponent's prop use. You can control color intensities using 6 axis color control.
2. Dell 32 4K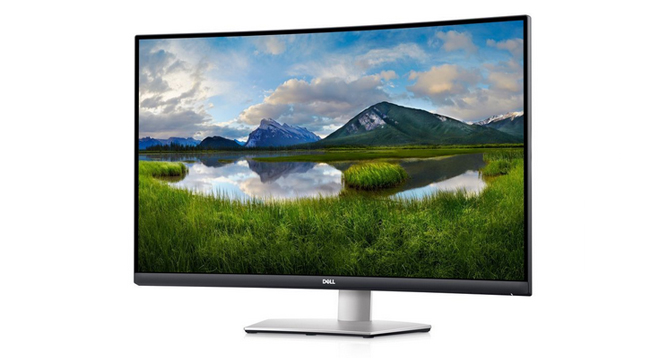 Dell is well-known for its monitors. Experience stunning 4K UHD resolution with our sleek three-sided ultrathin bezel design. Here, you get four times better clarity and more precise detailing than Full HD. The Dell 32″ 4K allows you to enjoy HDR content for a better entertainment experience.
Experience an immersive movie with the curved 1800R screen that expands your field of vision. The display has 99% sRGB and 90% DCI-P3 color coverage, which means you can see a broader range of shades and vibrant colors. AMD FreeSync technology enables a seamless and hassle-free viewing experience without stuttering or tearing.
The speakers in this device are dual 5W, and they pulsate the beats, giving you a cinematic experience. The dual HDMI ports built into this device make switching between streaming and console gaming simple. You can also choose to keep your devices plugged in at all times. Dell has improved its technology to offer two multitasking modes: picture-in-picture and picture-by-picture.
3. Dell 27 4K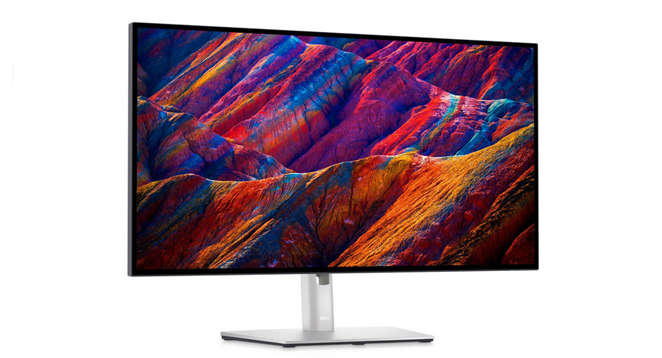 Get a Dell 27″ 4K UHD monitor for a great viewing experience inspired by lifestyle. The 4K UHD resolution provides improved detailing and clarity for each frame. HDR playback support enhances your viewing experience, making it more realistic. AMD FreeSync technology offers a seamless and tear-free experience.
The gaming monitor has a modern and elegant design that sets it apart. With In-Plane Switching (IPS) technology and 99% sRGB coverage, you can enjoy vibrant colors from any angle. The device has dual 3W speakers for a fantastic sound experience. The HDMI ports allow you to connect multiple devices simultaneously easily.
4. LG 34″ UltraGear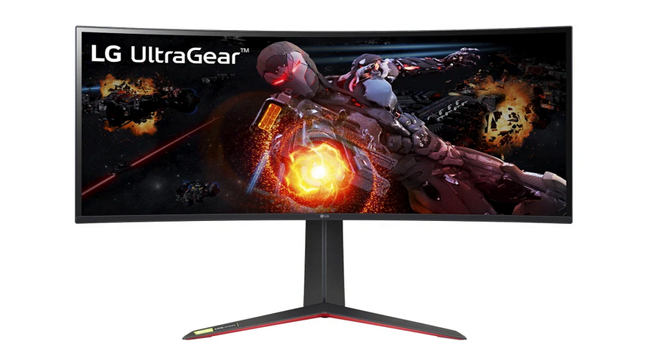 LG has created the top-notch LG UltraGear gaming monitor, designed to take your gaming experience to the next level. The high-end gaming features of this include a 1ms response time, fast and vivid Nano IPS display, NVIDIA G-Sync Ultimate, and pro-level customizations.
The Nvidia G-Sync Ultimate is the best variable refresh rate technology offered by Nvidia. Get the best Nvidia G-Sync processor for a fantastic gaming experience. Enjoy low-latency gameplay, vibrant colors, lifelike HDR, and impressive contrast levels.
With its impressive 1ms response time, you can stay fully immersed in the game, even during high-speed moments. Avoid motion blur with a 144Hz refresh rate. Overclocking can boost the monitor's refresh rate to a lightning-fast 180Hz. Sphere lighting can help you create an immersive gaming environment with an incredible atmosphere. You can choose from 6 colors for your gaming environment: sky blue, nature green, red, magenta, white neutral, and white daylight.
Many other features are also available, like video sync mode, sound sync mode, on-screen gaming controls, black stabilizer, and customizable crosshairs.
5. LG 27″ UHD IPS Monitor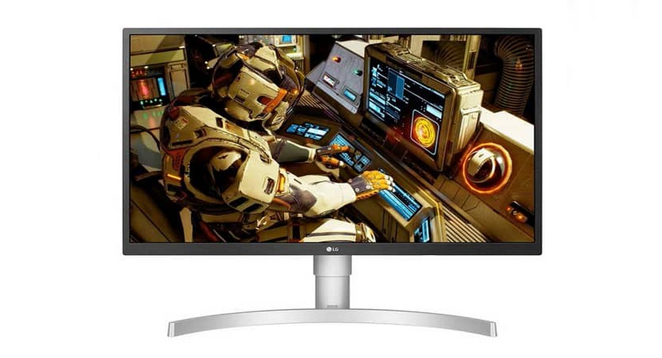 With this LG 4K UHD IPS gaming monitor, you'll see color and brightness like you've never seen before. HDR technology enhances picture quality by creating a more realistic image and improving the contrast between dark and bright areas on the screen.
This gaming monitor enhances the 4K UHD console gaming experience. With AMD FreeSync, Black Stabilizer, and Dynamic Action Sync, winning battles is a breeze. AMD FreeSync technology enhances your gaming experience by eliminating tearing and blurred images. It ensures smoother, more transparent, and faster gameplay.
OnScreen Control software lets users easily control settings with just one click. The Screen Split feature allows you to split the display into two sections without problems easily. The ergonomic design of this gaming monitor is a great feature.
6. LG 32″ UltraGear QHD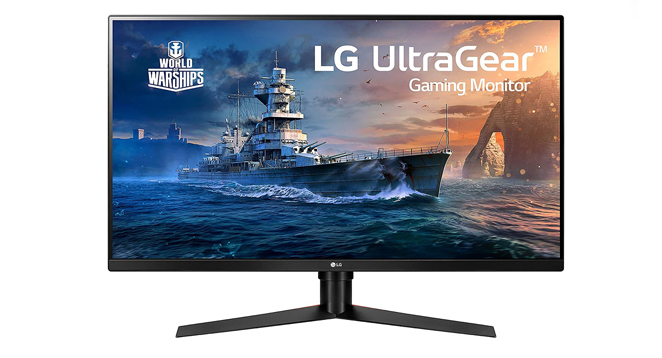 Complete your premium gaming setup with the LG 32″ UltraGear QHD Nano IPS gaming monitor. It is designed for gamers with the latest hardware, a sleek design, comfortable ergonomics, and a fantastic experience. This monitor has many gaming-focused features, including vivid IPS panels, customizable options, fast response time, and Nvidia G-Sync compatibility.
The gaming monitor has super-fast refresh rates and delivers vibrant picture quality. The 1ms response rates are fast, making the details, contrast, and clarity look even better. Nano IPS technology enhances color accuracy and produces vibrant scenes, while HDR10 technology provides dynamic contrast for an immersive viewing experience.
The 165Hz monitor can be overclocked to 180Hz, so you won't have any image blur issues, and the image will be smoother. Customize your battle station to suit your needs for a comfy gaming experience.
7. MSI Optix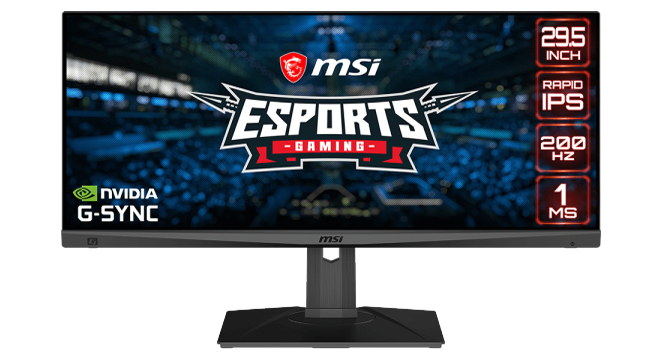 The MSI Optix MAG series is a gaming monitor that is sturdy and durable. It has undergone rigorous quality testing to ensure its reliability. It is the perfect choice for new gamers. It's easy to install and has a user-friendly interface. You won't experience monitor blur with the ultra-fast 1ms GTG response time. The clear images will help you make quick decisions in fast-paced games.
The MSI Optix is a wide gaming monitor that enhances your peripheral vision. A 200Hz refresh rate is excellent for fast-paced games like first-person shooters, sports, and real-time strategy games. It gives you an advantage over your opponents. MSI offers console-specific settings for a smoother 120Hz gaming experience when connecting the monitor to a console.
The Rapid IPS technology makes the liquid crystal molecules rotate 4 times faster than usual. In addition, you'll enjoy several benefits with this product. The IPS panels ensure no distortion, while HDR technology provides crystal-clear images. The wide color gamut enhances the visual experience, and the gaming OSO app 2.0 allows for easy customizations. Nvidia G-Sync compatibility gives you a smooth gaming experience without tearing or stuttering.
8. MSI Oculux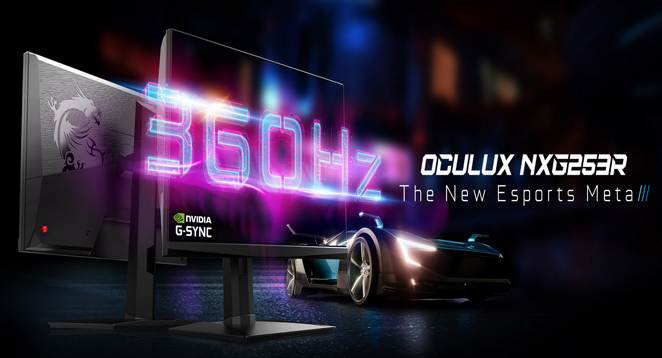 The MSI Oculux NXG253R is a gaming monitor designed for esports. It features G-Sync technology to enhance your gaming experience and help you perform at your best. Nvidia G-Sync compatibility enhances your gaming experience by eliminating flickering, stuttering, and tearing. Experience crystal-clear images with enhanced clarity thanks to the ultra-fast 1ms GTG response time.
You won't experience monitor blur with Nvidia G-Sync compatibility. It offers a 360 Hz display, 1.5 times faster than the usual 240 Hz display. Enjoy ultra-high frame rates in popular modern games like Valorant, Overwatch, CS: GO, and more.
Get ready for your next gaming battle with the Nvidia Reflex Latency Analyzer. It's a powerful tool that helps you measure victory in milliseconds. The MSI Oculux has Nvidia DLSS, which uses AI processing tensor cores on GeForce RTX to improve frame rates and create sharp, clear images. You can customize your gaming system to your liking, and the beautiful soft ambient light enhances this fantastic gaming monitor.
9. Viotek QHD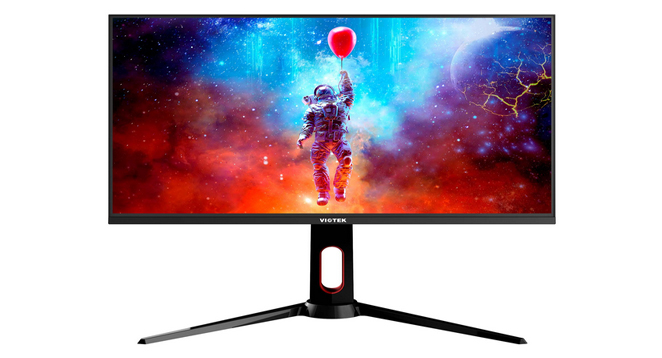 Experience stunning 2K images with the Viotek 27″ QHD Gaming Monitor. It offers a pro-rated 103% sRGB gamut for vibrant colors and a 3000:1 contrast ratio for brilliant whites and deep blacks. Gaming becomes even more enjoyable with its rapid 1ms response time and 144Hz refresh rates. FreeSync and G-Sync technology help you win games effortlessly.
The 1500R curvature and wide 178º viewing angles minimize glare, ensuring a fully immersive experience for gaming or movie-watching. With Gameplus crosshairs, your shots become perfect and precise. Switching to FPS mode lets you capture every detail with accuracy.
10. Viotek Ultrawide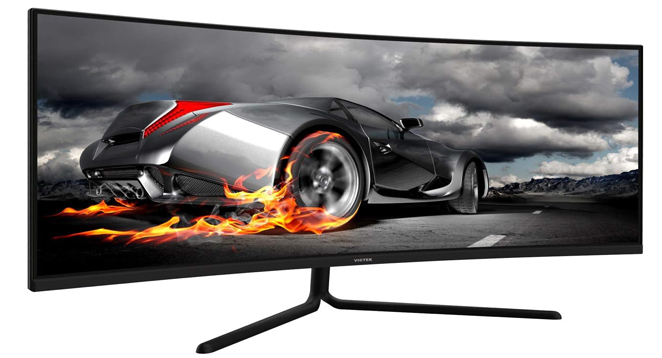 The Viotek Ultrawide Curved Gaming Monitor offers a Full HD resolution, delivering impressive details and vibrant colors. The monitor has a wide range of colors for accurate color representation, and the ultrawide screen provides extra space for productivity. The 120Hz refresh rates are great for gaming because they prevent dropped frames and make transitions smoother. High refresh rates reduce eyestrain.
This monitor is perfect for everyone, whether you're a content creator, casual gamer, or entrepreneur. The dual-input PIP/PBP tools improve productivity for work and play. Gaming is taken to a new level with tools like AMD FreeSync, Gameplus crosshairs, and FPS optimizations.
The 1200R curved gaming monitor enhances your daily viewing with immersive vision. The ultrawide display enhances your gaming and viewing experience, making it more realistic.
11. Viotek Open Box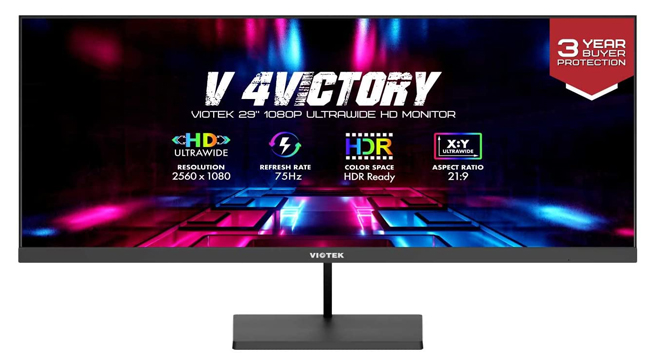 The Viotek Open Box Gaming Monitor enhances your gaming experience with its high resolution, making it incredibly fast. The lightning-fast 144Hz refresh rate boosts it. It is excellent for gaming and video-conferencing because the video has no problems with dropped frames or flickering.
The monitor has a high contrast ratio of 3000:1 and a wide color gamut of 96% sRGB. The AMD FreeSync monitor makes fast-paced games look smooth and eliminates blurry images and ghosting. Even if the framerate drops to 48 Hz, the motion will still be smooth.
You can connect multiple devices with 3 HDMI ports, 1 display port, and a 3.5mm audio out. This device is excellent for homes and offices, as it is powerful and perfect for productivity and intense gaming. The QHD 2560 x 1440p monitor resolution is ideal for gaming and entertainment.
12. Samsung QLED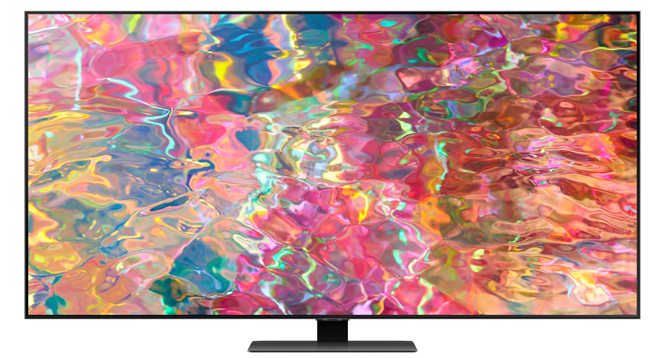 The Samsung QLED 49″ gaming monitor has a wide aspect ratio of 32:9 and curved panels, creating an immersive experience for gamers and entertainment enthusiasts. There are over a billion colors to make the picture look natural. Upgrade your gaming experience with this gaming monitor featuring Quantum Dot Technology.
AMD's new Radeon FreeSync 2 offers a superior HDR gaming experience compared to the sRGB spectrum. HDR support enhances the contrast between dark and bright areas, making the dark spots appear darker, and the bright areas appear brighter. You'll see unique details and contrasts with crystal-clear clarity.
The 144Hz Samsung gaming monitor makes every action scene look flawless. This gaming monitor has a 1ms response time for fast motion pictures. You can use the Black Equalizer feature to adjust the brightness level of game scenes. The eye-saver mode helps reduce eyestrain by cutting down on blue light emission. It's an innovative feature.
The ultrawide monitor helps you multitask like a pro. You'll feel like you're using two 16:9 monitors. You only need one power cable and no bezels to distract your view, so there is no cable clutter. The Easy Setting Box feature lets you create screen partitions with just one click, based on your needs.
Conclusion
To enhance your gaming experience, it's essential to invest in a quality gaming monitor. A high-end gaming monitor offers a unique and improved gaming and viewing experience. Here are some top options to consider if you're considering one.