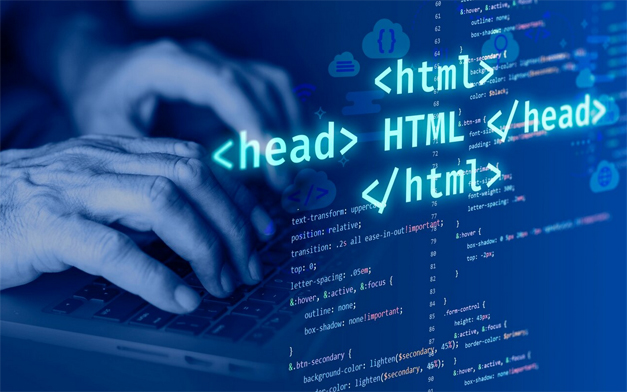 Best HTML to WordPress Conversion Services 2023: WordPress is the best choice for creating and customizing websites quickly and easily. With its advanced features, numerous plugins, and customizable themes, anyone can create a complete website without coding. It's great for both developers and non-developers.
Business owners are converting traditional HTML websites into responsive and cross-browser-compatible WordPress themes because they offer flexibility and plugin support. To stay ahead in the competitive market, consider hiring a reliable HTML to WordPress Conversion Company. They can meet your custom needs and work within your budget.
12 Best HTML To WordPress Services Online
Here are the ten best companies to transform your static HTML website into a dynamic and customizable WordPress theme.
1. CSSChopper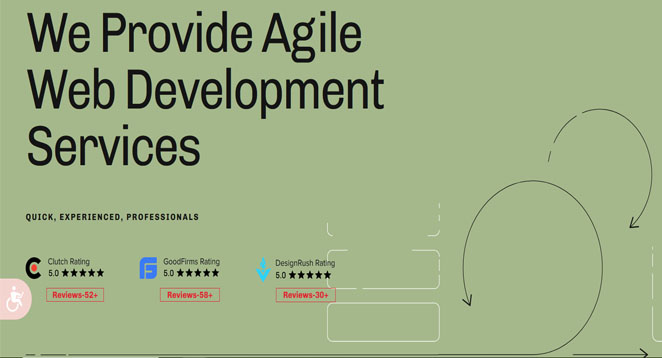 CSSChopper is a leading company specializing in converting HTML to WordPress themes, front-end engineering, and custom web development. They prioritize customer satisfaction and guarantee a 100% satisfaction rate. The Company has extensive experience providing top-notch HTML to WordPress conversion services to clients worldwide. The team comprises 228 web developers and designers who enjoy creating high-quality products using advanced web tools and technologies. The in-house developers have successfully transformed static HTML into fully functional WordPress sites. This conversion guarantees success and helps the growth of your business. It is among the best HTML To WordPress services providers you can consider.
Website: https://www.csschopper.com
2. CMS2CMS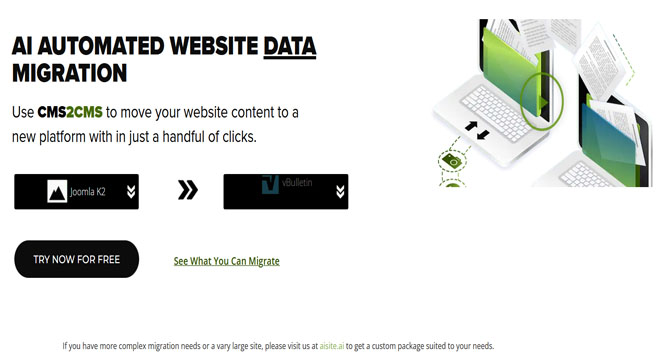 CMS2CMS is a company that focuses on helping you switch between different content management solution platforms. The company moves various content items from other platforms like HTML and WordPress. The service allows users to move posts, pages, images, PDFs, and mp3 files. The agency will migrate SEO tags and URLs to preserve the old website's SEO value on the new website. It transfers page metadata for easy identification by search engines. The service creates redirects for all old URLs, allowing visitors to access the new pages easily. It's one of the top providers for HTML to WordPress services.
Website: https://cms2cms.com
3. Design2HTML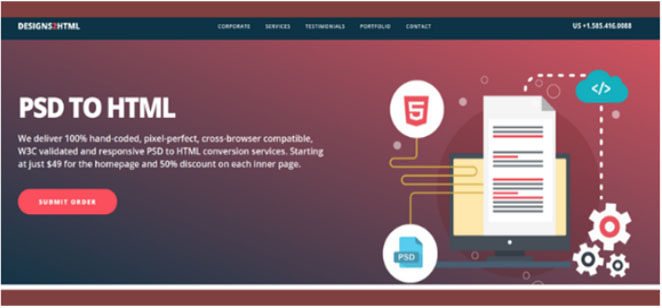 Design2HTML offers a service to convert HTML to WordPress that is pixel-perfect, hand-coded, and responsive. They listen to your needs and ensure your mobile-friendly WordPress site is developed and designed to achieve the highest success. The company uses software tools and best practices to create appealing themes. Professionals ensure the code of the new website is clean and well-organized. They are trained in W3C standards and write programs accordingly. The agency creates easy-to-read layouts that are optimized for SEO. If you need customized WordPress development solutions for your business, consider hiring them. You can consider Design2HTML company among the reliable HTML To WordPress services provider in 2023.
Website: https://www.designs2html.com
4. HireWPGeeks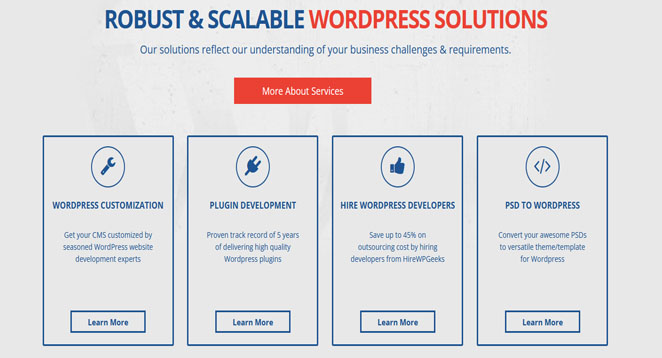 HireWPGeeks HTML To WordPress services provider is a well-known name in WordPress development. The firm has a team of 75 skilled developers known for their coding abilities. The company has over 1500 happy clients in 28 countries. The company has a special section for HTML conversions that has completed many successful projects. Clients can expect to receive a fully responsive interface at affordable prices and assurance of on-time delivery. The firm's professionals are trained to create structured code following W3C standards. They make sure to move all the metadata and SEO tags along with the content. Switching platforms does not affect the SEO value of the website. The agency offers various pricing options for clients of all sizes, from individuals to large enterprises.
Website: https://www.hirewpgeeks.com
5. PSD to WordPress Expert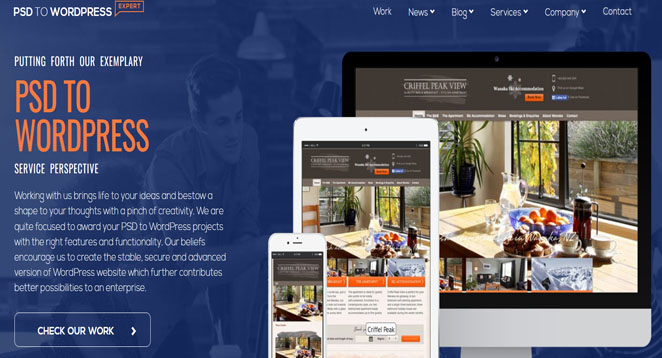 The company specializes in turning creative ideas into top-notch WordPress themes that are compatible, responsive, and user-friendly. PSDtoWordPressExpert's primary goal is to turn your static design into a dynamic WordPress theme or layout. They can also help with any customization needs for your WordPress site, ensuring it meets all web validations and guidelines. With expertise in WordPress and proven experience, They can exceed your expectations and take them to new heights.
Their workforce is more than just geeks or coding machines mindlessly churning out lines of code. PSDtoWordPressExpert is a passionate and dedicated team with creative minds. They brainstorm inventive concepts for your WordPress to create miracles in your projects.
Website: https://www.psdtowordpressexpert.com
6. PixelCrayons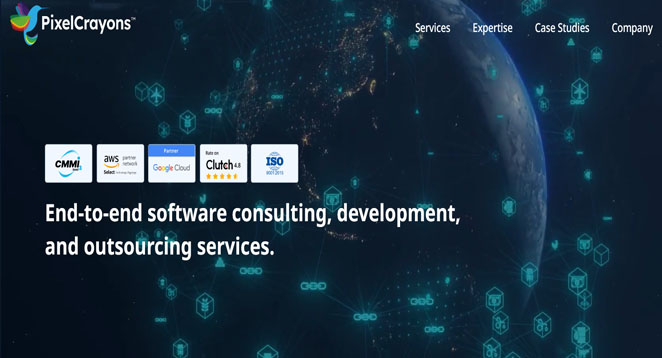 PixelCrayons was established in 2004 and offers HTML to WordPress services. They have provided IT services for over 13 years and have completed over 4500 projects. PixelCrayons is a company that prioritizes its clients' needs and keeps up with the latest trends in the IT market. They also offer a full refund if the customer is unhappy with the product.
Website: https://www.pixelcrayons.com
7. Sparx IT Solutions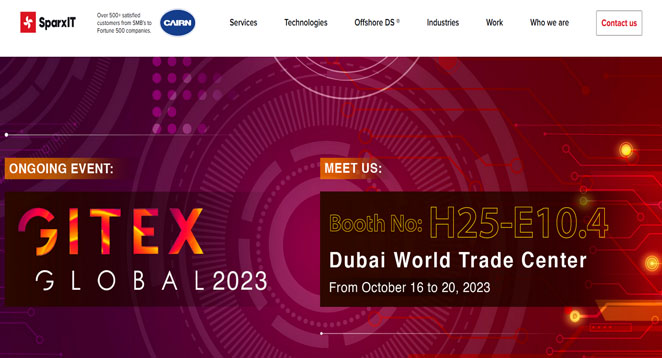 Sparx IT Solutions is a well-known web development company and HTML To WordPress services provider. They offer services like converting PSD to WordPress, converting HTML to WordPress, developing plugins, customizing themes, and providing other web solutions. Their prices are reasonable. Sparx IT Solutions is a top company for hosting and developing WordPress sites. They can help you create interactive and high-quality sites easily. You will receive a 100% client satisfaction guarantee when you hire them.
Website: https://www.sparxitsolutions.com
8. Stellen Infotech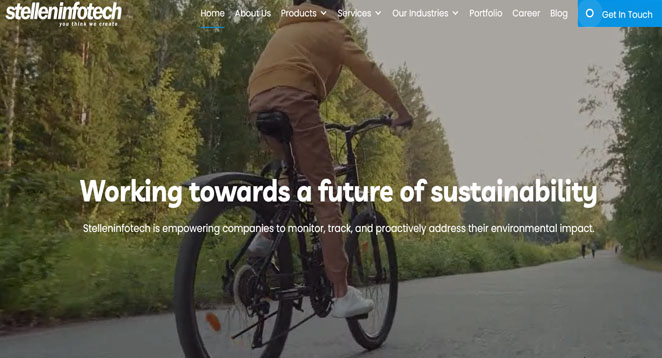 Let Stellen Infotech manage your online business and provide a web development solution that fits your budget. The company has a team of skilled and experienced WordPress developers who can turn your static HTML site into a customized WordPress theme. Stellen Infotech, the best HTML To WordPress services provider has grown rapidly in a short time. They achieved this because of their dedication, professionalism, and adherence to business ethics. By using the services, a business can make the best use of resources in all departments, such as human resources, sales, procurement, supply chain, accounts, finance, marketing, inventory control, and project management.
Stellen Infotech's clients are primarily small businesses or start-ups. These companies need affordable IT services. Their customer base includes various industries such as retail, online commerce, hospitality, manufacturing, construction, logistics, medical, and consulting services. Stellen Infotech has an excellent customer support system that is available 24/7.
Website: http://www.stelleninfotech.com
9. WordPrax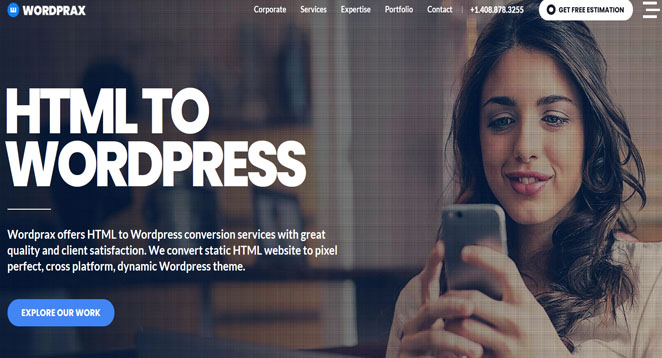 Like other best HTML To WordPress services provider on this list, WordPrax provides excellent HTML to WordPress conversion services to ensure complete client satisfaction. The experts will convert HTML sites to WordPress and improve the website with various features. They will ensure the website is cross-platform compatible, scalable, secure, and fully functional. When you hire this company to convert HTML to a WordPress website, they ensure the site is responsive. Wordprax uses international coding standards to provide the highest quality and accuracy. The developers code each part of the site carefully and follow W3C guidelines to ensure it works well on different web browsers when converting it to WordPress. Consider hiring the company if you need a dependable and versatile WordPress theme to help your web business thrive.
Website: https://www.wordprax.com
10. WordSuccor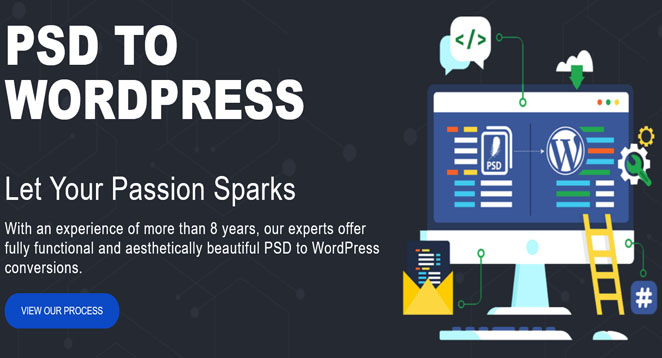 WordSuccor provides customized WordPress development services to clients worldwide. WordSuccor's in-house development team works hard to meet their clients' personalized needs and help their businesses grow. They can help you convert your HTML website into custom WordPress templates that are responsive, functional, compatible with different browsers, and user-friendly. They have the necessary skills and expertise to do this within your budget.
Website: https://www.wordsuccor.com
11. WPCodingDev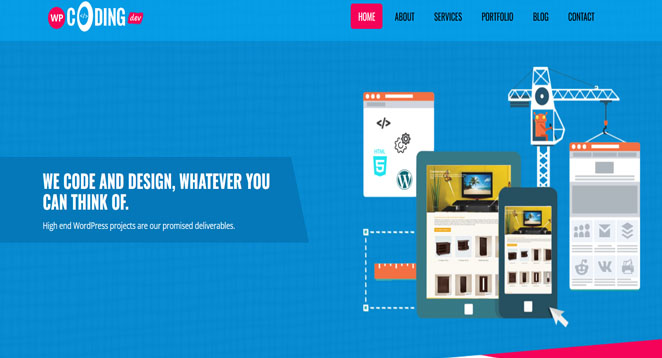 WPCodingDev started in 2012 and has become a well-known name in WordPress CMS development. This company is known for offering complete web solutions, such as customizing themes and developing plugins, to clients of all types. With their expertise, our coding team uses semantic coding techniques to migrate websites to SEO-friendly templates. The converted interfaces are retina-ready, which means they display sharp images. They also have cross-browser compatibility. The company has invested in creating a top-notch infrastructure for building high-performance websites. If clients are not satisfied with the outcome, the agency will refund the advance fee they paid. It is one of the best HTML To WordPress services provider on this list.
Website: https://www.wpcodingdev.com
12. XHTMLChop.com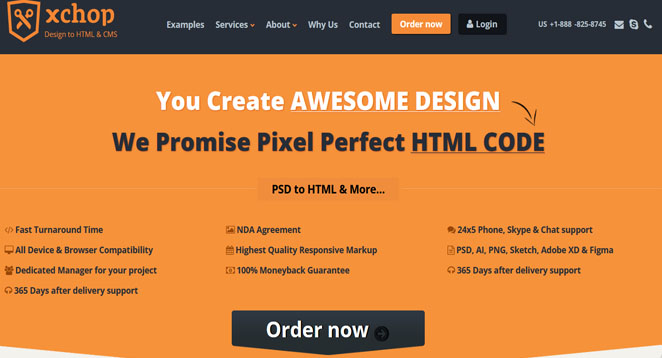 Xhtmlchop.com has been in business for over 12 years and has completed 50,000 projects. This company can convert PSD designs into fully functional websites and also assist in moving HTML websites to an open-source CMS. The developers are skilled at ensuring compatibility. The company has invested in creating a top-notch infrastructure for building high-performance websites. If clients are not satisfied with the outcome, the agency will refund the advance fee they paid.
Website: https://www.xhtmlchop.com
Conclusion
Currently, WordPress is a very popular and successful CMS. It is used by over 69% of websites. It powers many new websites and offers website owners various features. WordPress is extremely popular with business people and developers. Many businesses are converting their HTML websites to WordPress. If you want to convert your current website into a WordPress site, an HTML To WordPress services provider is the best option.
Many companies can convert HTML to WordPress, but not all are the best. We have selected the top 10 companies for HTML to WordPress conversions. We considered criteria like client reviews, star ratings, previous work demos, and work history on WordPress. Choose a company based on your budget and web development requirements.