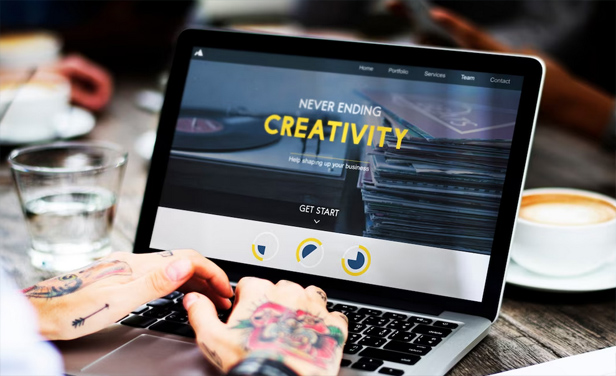 Creating Your Portfolio Website in Minutes: Whatever your level of experience or artistic skill, it is essential to have a visually appealing and well-organized portfolio to showcase your most valued work. A well-designed portfolio is a game-changer when finalizing a deal or maintaining industry relevance.
While Portfolios are essential for all visual industry professionals and freelancers, including graphic designers, artists, photographers, and bloggers, creating a portfolio website from the beginning is time-consuming and requires specialized knowledge.
Many artists and photographers need more technical expertise to design their portfolio websites; thankfully, this issue has been addressed by many portfolio builder tools that greatly help freelancers and photographers who struggle to create work portfolios.
Choosing one of these platforms is a simple way to create online portfolios, and I assure you that you will appreciate the process!
We have compiled a list of the best platforms that facilitate quick portfolio creation through a hassle-free method. But before you look into them, let's review the most important features you should look for in a portfolio builder.
1. Templates and Design
The portfolio builder should provide a wide range of gorgeous, precise themes in various categories that can be used to showcase the work.
2. Drag-and-drop functionality
Portfolio builders should offer the simplest method for constructing portfolios by removing the need to write code.
3. Free plan
Portfolio builders should be affordable for creators, and a free plan with enough features is ideal. Now that you know the features an ideal portfolio builder should possess, you can proceed directly to the finest ones we could find. Examine them and select the one that meets your specific requirements.
Best Platforms to Make Your Portfolio Website
Here we list some of the best platforms to crate your portfolio in no time.
1. Format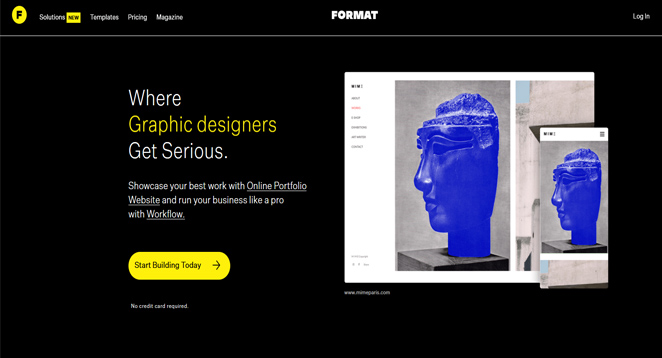 The format is the tool you must use if you are a professional and wish to enhance the quality of your work portfolio. This portfolio builder is ideal for photographers who want to exhibit their work systematically and adds a touch of elegance to the standard portfolio.
The format is guaranteed to attract visitors to your new online space, promoting your skills and expanding your client base by supporting you in getting new deals. Here you will find hundreds of gorgeous templates that can be used to create fantastic photography portfolios from your finest photographs.
The format has advanced features required to set up a rapid creative space, making the creation and management of portfolio websites effortless. This platform is suitable for professional photographers and allows them to set up an online store and begin selling their artwork.
2. Pixpa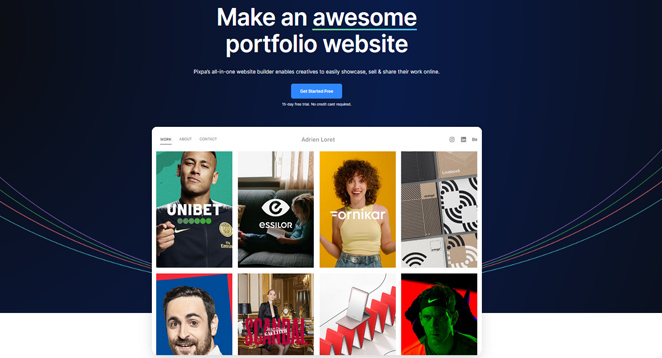 Let's begin with Pixpa, a feature-rich. This all-in-one website-building platform enables creative professionals, photographers, freelance writers, and small business owners to create professional and remarkable portfolios without coding.
The platform provides a variety of highly customizable and device-responsive modern and minimalist portfolio template designs. Pixpa features an intuitive and versatile visual editor and supports drag-and-drop page-building techniques.
The platform is loaded with powerful publishing tools, built-in SEO and marketing tools, multiple gallery options, and E-Commerce functionalities, and it also supports integration with social media platforms, allowing you to create a portfolio to your heart's content.
3. Webflow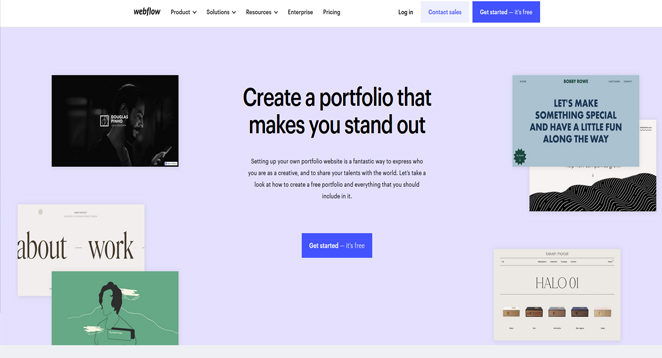 Webflow, an extensive website builder that caters exclusively to the requirements of website designers, is readily accessible to professionals familiar with customization.
Web flow's template library provides elegant portfolio templates for seasoned designers, enabling them to create great portfolios of their work. It uses the padding and section block designing functionality instead of the drag-and-drop method used by most website design platforms. Webflow is a possible website for designing portfolios for the following reasons:
Webflow offers an extensive collection of professionally designed portfolio templates, many free.
Even with the free plan, users can access extensive features that facilitate template customization.
Weblow uses shortcut keys and right-clicks navigation to modify template elements, thereby streamlining the portfolio creation process.
4. Astra Starter Templates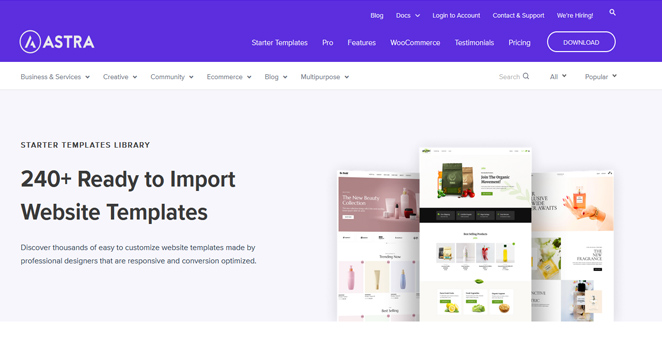 It provide the web design impact necessary to make your portfolio stand out. Astra Starter Templates are ready-made websites that can be installed in seconds and provide a fully functional website. Using your preferred drag-and-drop page builder, every aspect of the template can be changed.
Many Starter Templates are free, while others are part of low-cost premium plans that contain many additional features. There are more than 240 templates spanning most disciplines, including portfolios. More are being uploaded all the time. They are the quickest and simplest method to create a website with a professional appearance without employing a developer or spending hours making the site yourself.
5. Squarespace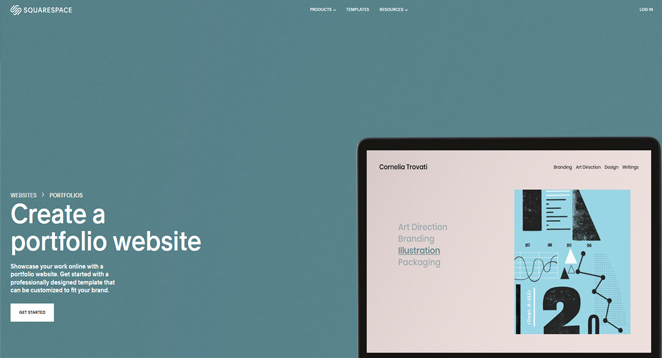 Squarespace, a popular website design platform, is inundated with users who want to create mobile-friendly, visually unique websites. Although it is not a dedicated portfolio design tool, photographers and artists favor it for creating portfolios due to its captivating templates and affordable premium plans.
Like the other website builders on this list, Squarespace offers an effortless way to create a compelling online portfolio, but the refined and clean themes presented here are unique.
These themes have appropriate white spaces that draw attention to your creative work and set you out from the crowd. It's worth noting that all of the templates on the platform include an About page and contact forms, making it easy for prospective clients to contact you.
6. Adobe Portfolio
Adobe Portfolio, formerly known as Behance Pro Site, is the next platform to consider when creating an independent website to showcase your most well-known work in the form of a portfolio.
The platform provides a variety of eye-catching templates and considerate features, such as personalized URLs, password protection, and Typekit typefaces, to assist you in creating the trendiest portfolio imaginable.If you need to display a gallery of your artwork, Adobe Portfolio is the best option. It is also ideal for constructing a streamlined, one-page portfolio website that automatically adapts to the viewing device.
It is included in the Creative Cloud subscription, so it is possible to integrate with your Behance account and access the already uploaded work without submitting it again.
7. PortfolioBox
PortfolioBox is a primary website builder that is helpful when creating online portfolios. The tool offers many artistic templates and arrangements that can inspire creativity. The portfolios are highly customizable, and you can choose unique designs for each page.
These portfolio templates are an excellent choice to display your finest photography, illustrations, artwork, and blog posts by arranging them on responsive galleries and blog pages that have been professionally designed. You also receive a free domain name service for hosting your portfolio, as if that were not enough!
8. Hostinger
With its drag-and-drop website builder, Hostinger has simplified website creation for everyone. Choose a template and change it before publishing your portfolio website. This platform offers fashionable and feature-rich coaching, freelance photography, and themes.
It allows you to create a website that is compatible with all devices. You can use its collection of royalty-free images to give your website a spectacular appearance. In addition, Hostinger's built-in SEO and lead collection tools increase your portfolio website's organic traffic and SERP ranking.
Hostinger provides advanced safety measures such as supportive SSL certificates, automatic backups, and a 99.9% availability guarantee. Additionally, live chat support is available 24/7.
9. Fabrik
Fabrik is a promising portfolio design platform that helps creative professionals, and freelancers create customized portfolios in minutes. The simplified UI facilitates usability, and the drag-and-drop portfolio editor eliminates the need to write code.
The template library contains various responsive themes effectively intended to understand the portfolio content and adapt accordingly. Additionally, Fabrik supports platform integration with Vimeo, YouTube, Soundcloud, and Slate.
This flexibility allows content creators to experiment with various layout designs and specializations, including graphic design, fashion, photography, vlogging, and more.
10. Dunked
An experienced WordPress theme designer, Orman Clack envisioned a simple way for creators and professionals to organize their best work in a portfolio, and Dunked describes his vision.
The website's drag-and-drop portfolio editor is very convenient, and elegantly designed, the exclusive grid-based, and adaptable templates appeal to the designer community's amateurs.
It offers integration with YouTube, Vimeo, SoundCloud, and Flikr, as well as limitless proposal customization options; savvy users can modify the HTML and CSS. The dunked portfolios are optimized for Retina displays so that you can exhibit your accomplishments elegantly and organized.
11. Jimdo
Jimdo is a cutting-edge, AI-based website builder that uses ADI technology to design websites without coding. You can create a dazzling portfolio to attract new clients using the provided professional themes and advanced tools.
It is a suitable platform for novices seeking a solid feature set to construct portfolios in minutes. There is also a Jimdo Creator editor for users who know how to code and wish to customize the templates to their specifications.
Jimdo provides value and is affordable for new freelancers with limited funds. Jimdo's free plan includes nearly everything you need to create a website; upgrading is only required if you want to own a custom domain.
12. Strikingly
It is the most beginner-friendly website creation tool available, appealing to anyone and everyone who desires to create a website or online portfolio.
You must select the elements and drag them to the desired locations to use the strikingly modern and user-friendly website editor. The tool produces excellent results for single-page websites, which is why it is so effective with portfolios.
Strikingly is inviting and provides ample design versatility, which is a plus. Like Jimdo, the free plan offers nearly all the features you would need for your business, except purchasing a custom domain, which requires an upgrade. Strikingly provides numerous tutorial videos, articles, and an extensive knowledge base. Furthermore, this makes the platform suitable for beginners.
13. Carbonmade
Carbonmade is one of the finest website builder tools for portfolios, as it powers over 1 million portfolios and stores 15 million images. The platform simplifies portfolio creation and provides some of the most beautiful portfolio templates and domain name services. It is a platform for designers, freelancers, and photographers to discover new clients and network with other designers.
Carbonmade is one of the few apps that allows the uploading of SD-quality audio and video. Carbonmade is a good option if you want to create an online portfolio quickly and with minimal effort due to its ability to be customized with a single mouse click.
Locate a relevant template, attach the appropriate documents, and add the required titles and text, and your template will be complete.
Wrapping Up
Unorganized portfolios can be the greatest deal-breaker for designers and photographers. Important as it is to present your finest work to date in an attractive and organized manner. As mentioned earlier, portfolio creation websites will help you create outstanding portfolios and draw the attention of prospective clients. You can share the URLs directly with recruiters or add them to your resume to support your claims.