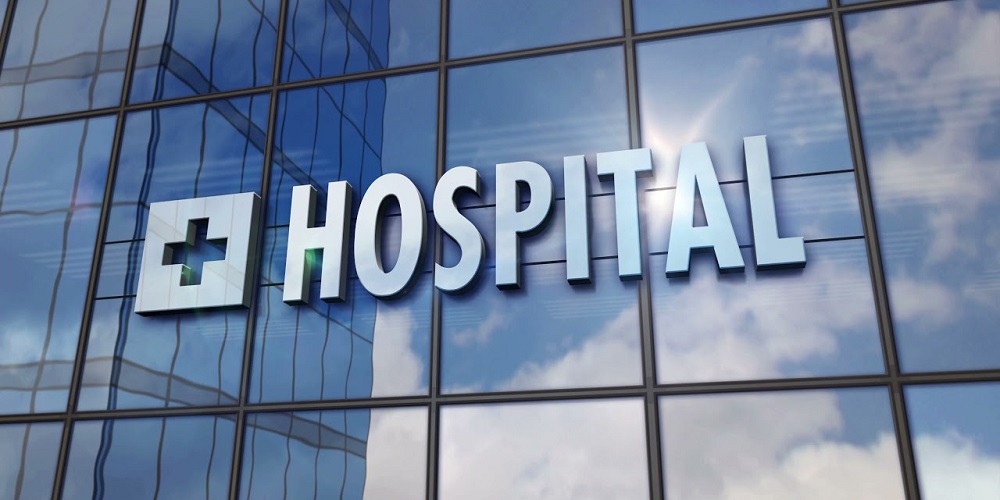 Hospital Management Software You Need To Try: The healthcare industry has changed over time. It has progressed from human efforts to the use of technology to enhance its digital bandwidth over time. A sound management system is critical in every service industry, including medical and healthcare. It helps to enhance quality scores and helps to manage day-to-day activities such as patient data, planned operations, medicines, and many others.
A digitally managed system implies better services, more informed choices, and shorter wait times. A sound hospital management system may assist in organizing operations. It offers a comprehensive solution for handling medical, administrative, service, and legal procedures. Software may make managing critical activities like revenue, bills, inpatients, outpatients, medical claims, nursing personnel, and emergencies easier. Here is a list of well-researched software for healthcare industries. Let's go through them one by one.
The Best Hospital Management Software You Need To Try
Let's have a look at the best Hospital Management Software to try.
1. SARA

SARA is a powerful patient data management tool that can capture anything from personal information to medical history. It records all activities, starting with patient registration, consultation, treatment, and discharge. With this amazing app, you can produce final invoices and discharge summaries in seconds.
2. Soft Clinic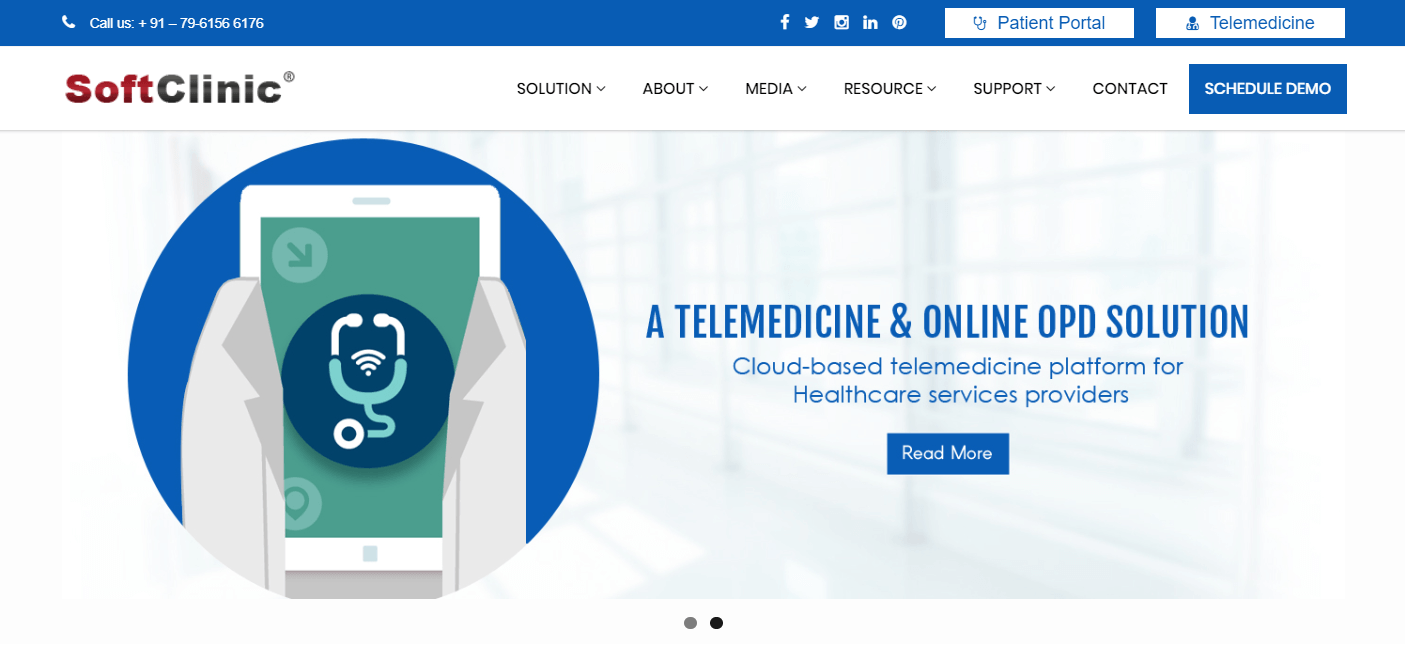 Soft Clinic can help you become paperless in your hospital's everyday operations. Millions of doctors worldwide use this wonderful hospital management software to manage their basic care requirements. It is reasonably priced, so even tiny doctors, boutique clinics, and hospitals may use it. The major advantage of using this amazing tool is receiving your medications in the local language and a thorough report. Its SMS function employs a two-way synchronization method and can easily handle multiple users, in addition to accounting, indoor management, patient registration, data analysis, clinical modules, and so on.
3. Quanta HIS

Quanta HIS is a web-based app that may give support anytime and from any location. It can readily care for several hospital departments and is linked to other sections and clinics. It is quite simple to use and may be tailored to specific requirements.
4. Practo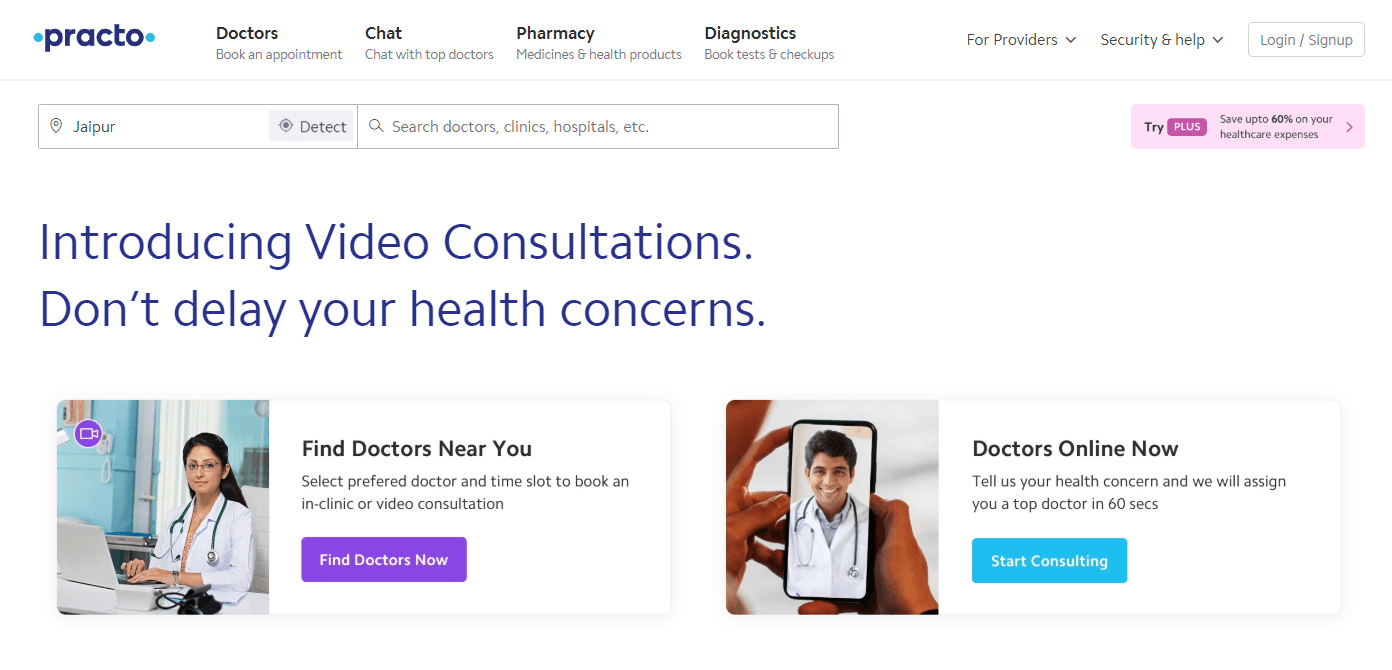 Practo is a well-known hospital management software that has been on the market for some time. It can help you identify the top doctors in your area and arrange appointments. It is a particularly developed tool for digitizing the healthcare industry that can be used on Android and iOS platforms. Practo aims to provide hassle-free and high-quality healthcare support to people worldwide. It may assist patients and keep doctors' schedules, equipment registrations, and audit records.
5. MocDoc HMS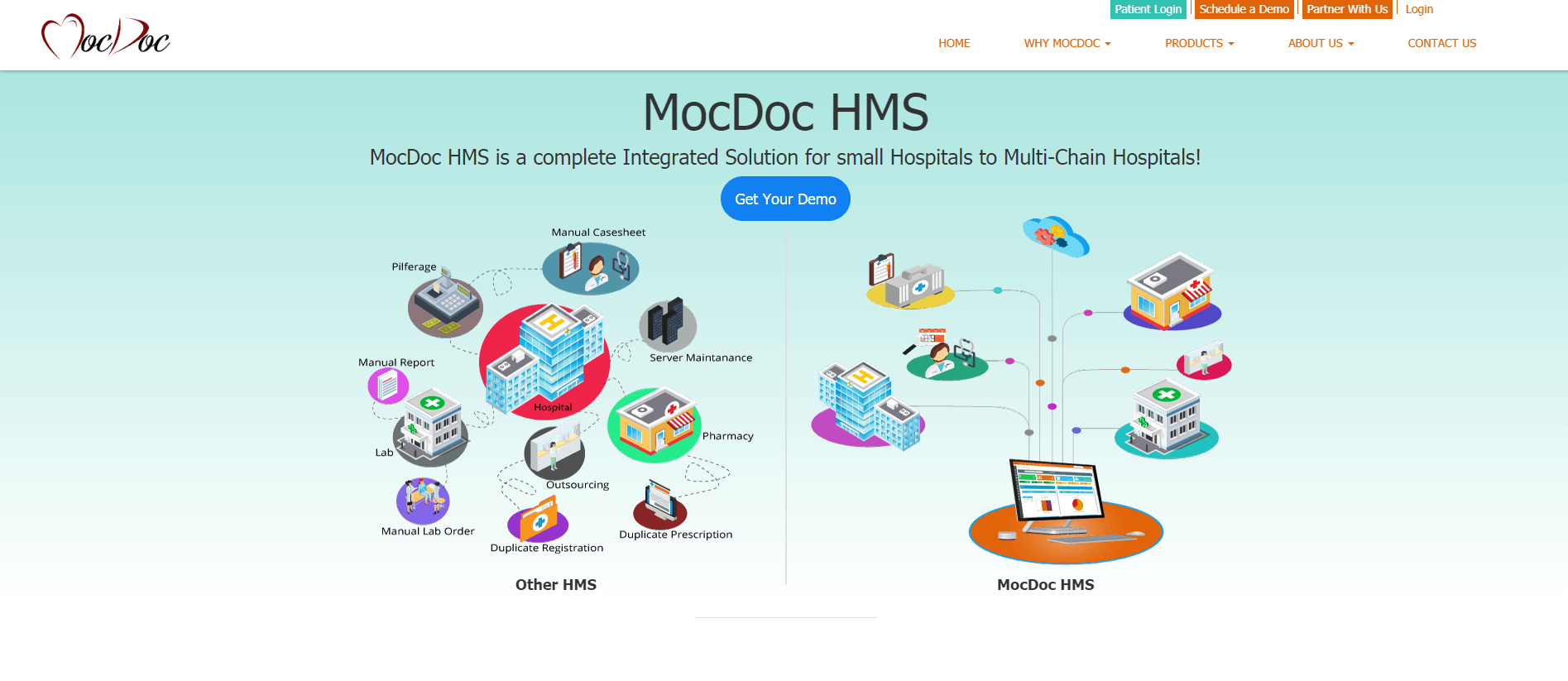 MocDoc is designed for all healthcare units and aims to provide comprehensive and integrated hospital management help. It may cater to all levels, from boutique clinics to multi-specialty hospitals. This amazing app connects patients to the best-suited clinician by giving real-time and relevant assistance. MocDoc covers a variety of activities such as pharmacy, ward, inventory, radiography, and doctor appointment scheduling.
6. Adroit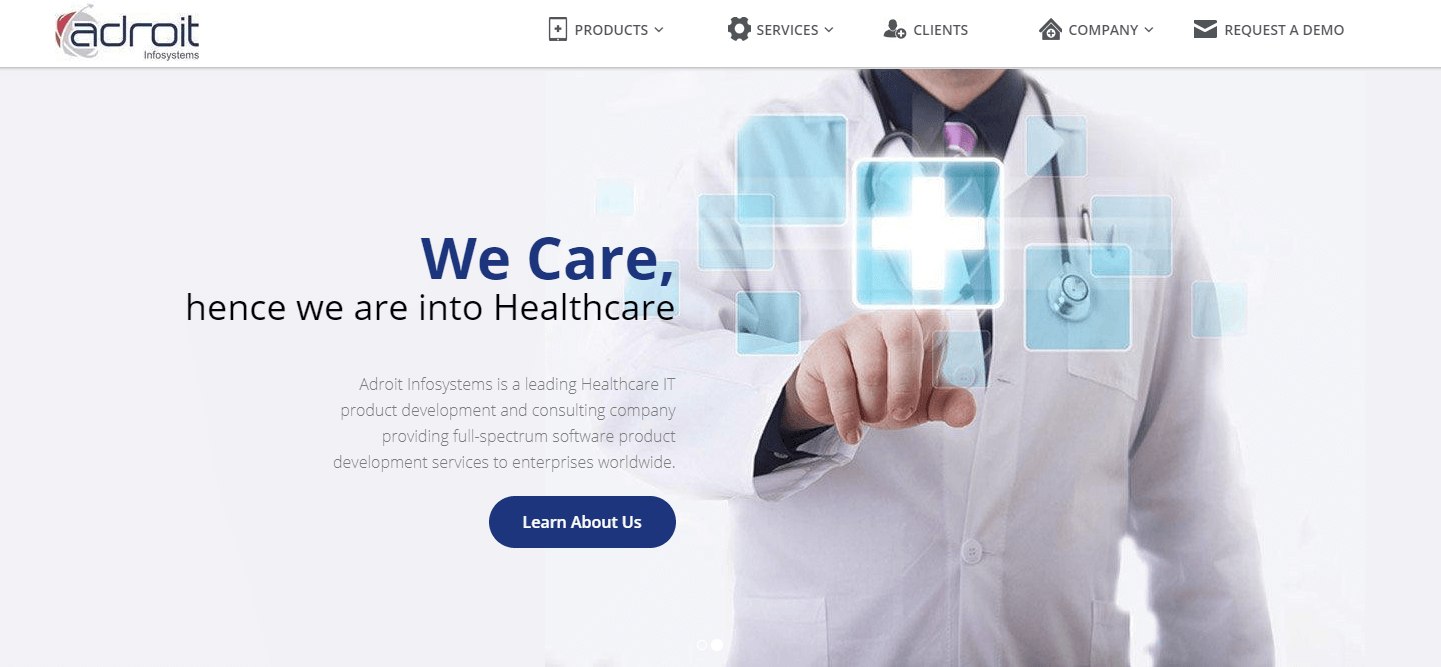 A good hospital management system is essential for arranging different aspects of a health care unit, such as discharge summaries, inpatient-outpatient care information, OPD, sound ointments, IPD, payroll, logistics, etc. Adroit is one tool that may help you simply manage all of these activities. It assigns a unique patient ID to each patient and keeps the necessary information beneath it. This specialized hospital management software is well-known for its exceptional technology and ability to tailor support based on various demands and requirements. It may enhance the overall quality of your healthcare services, improve data accessibility, optimize medicine consumption, and enhance the integrity of numerous departments.
7. MedStar HIS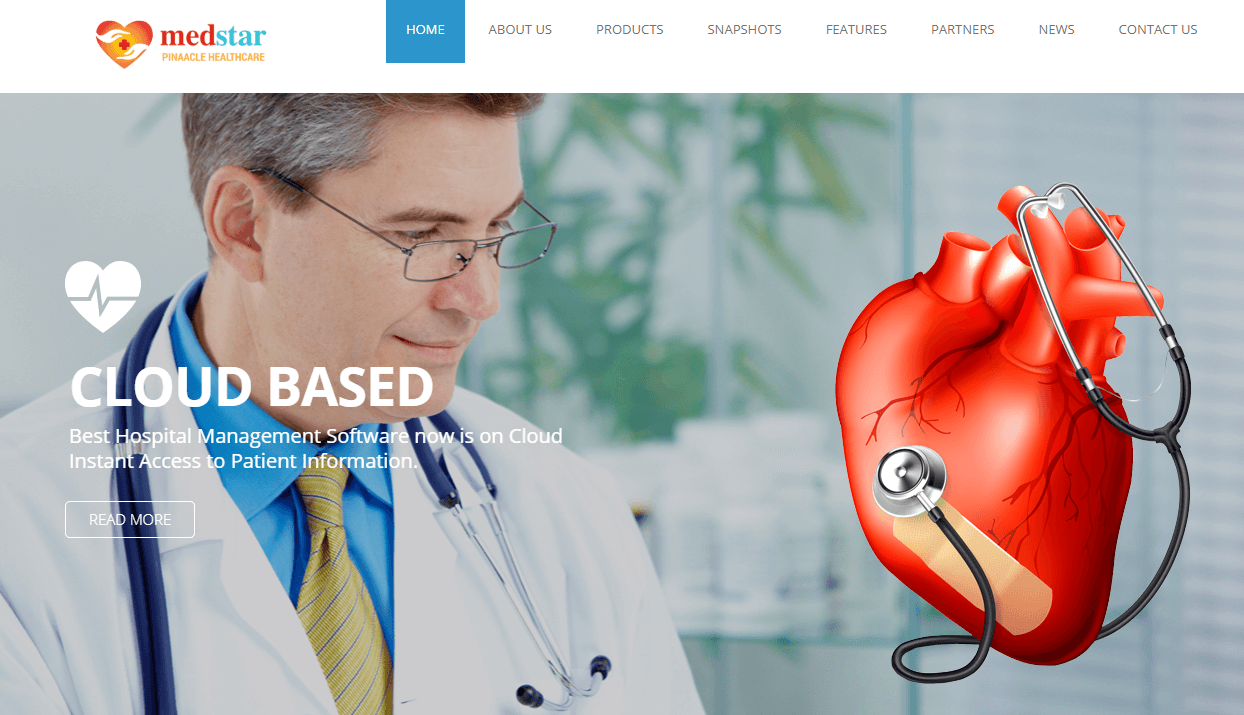 Consider MedStar HIS while considering paperless working. This hospital management software is widely used in healthcare and aims to keep day-to-day operations structured. It includes a list of doctors, a discharge summary, HR & payroll, report production, patients' admission, and many more duties. In addition to hospital management activities, it assures the entire patient data and records security.
8. Aarogya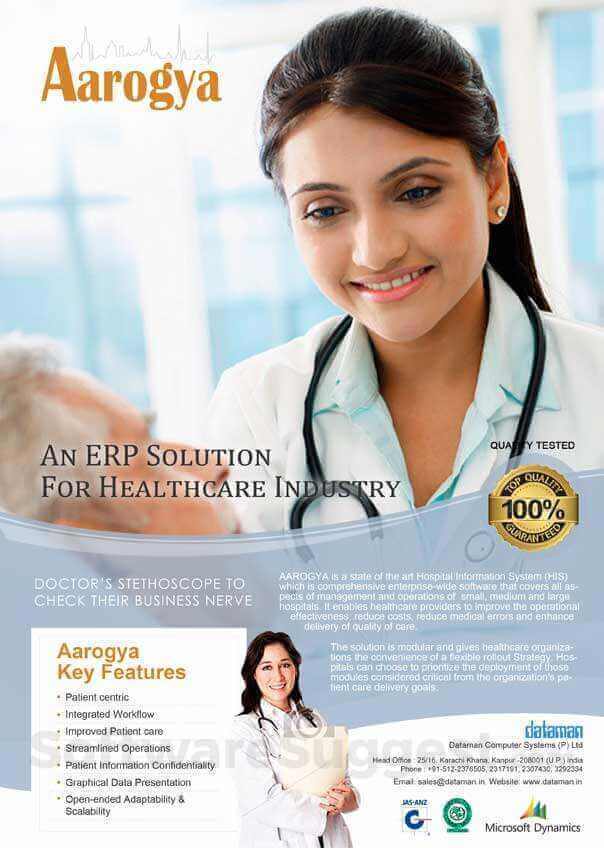 Dataman Computer Systems developed this comprehensive healthcare management software to cater to a hospital's modest and particular demands. It helps organize patient and hospital data, allowing quick access to all vital information. Its operations are separated into five primary categories: financial accounting, diagnostics, inpatient and outpatient, and inventory management. Aarogya is a crucial tool for hospitals looking to create a paperless environment and aims to provide error-free, rapid, and effective healthcare solutions.
9. Acgil

There is no better option than Acgil if you're seeking hospital management software to conveniently manage your back-office, clinical, and other vital care activities. It aims to unite diverse departments on a single platform by combining various resources and services. Acgil provides the finest medical solutions by assuring prompt treatment and reducing the number of people necessary.
10. Insta HMS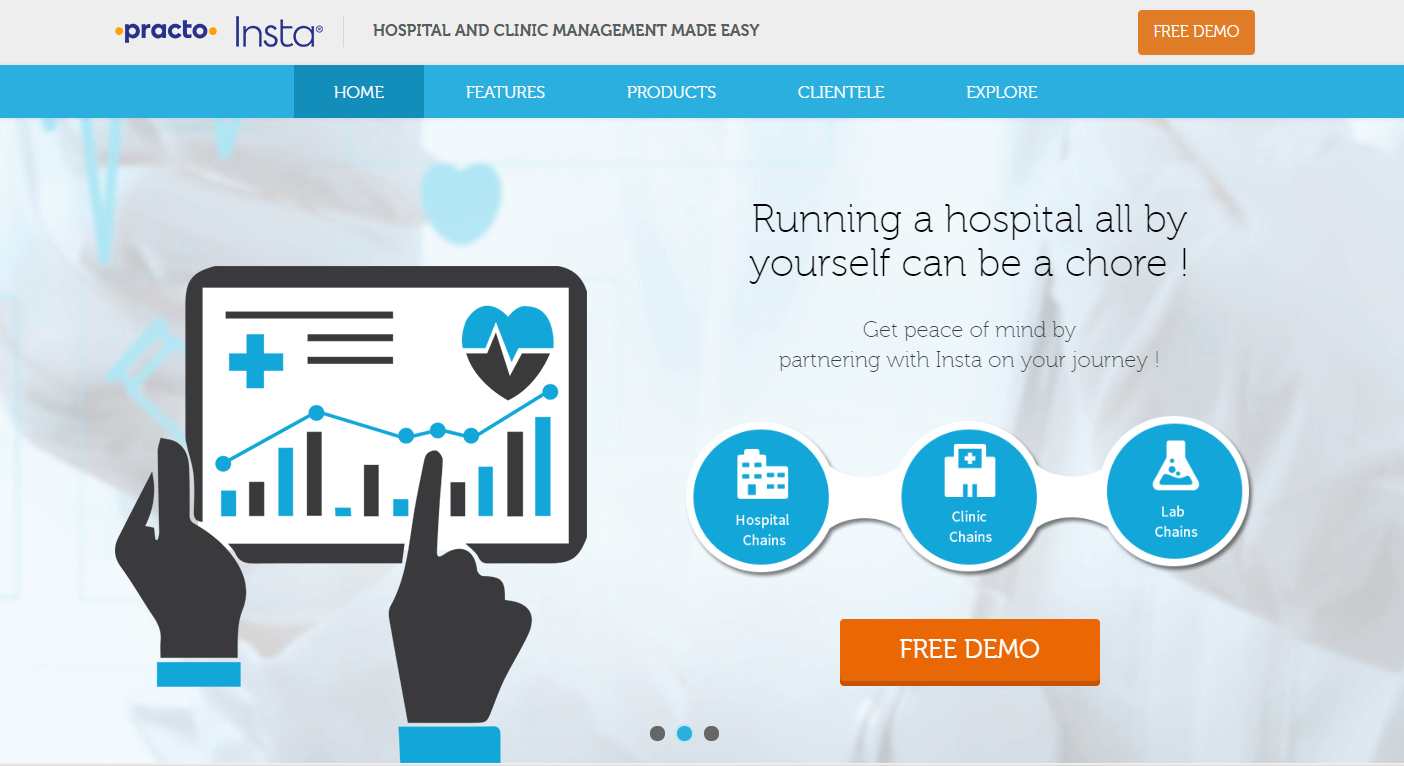 Insta HMS is another well-known brand in the healthcare industry that comes from the Practo family. It aims to reduce hospital inventory while expediting the whole procedure and the insurance process. It has a surgical scheduler, survey, and patient satisfaction module, and it may assist with sophisticated OT and ward activity management.
11. Medixcel EMR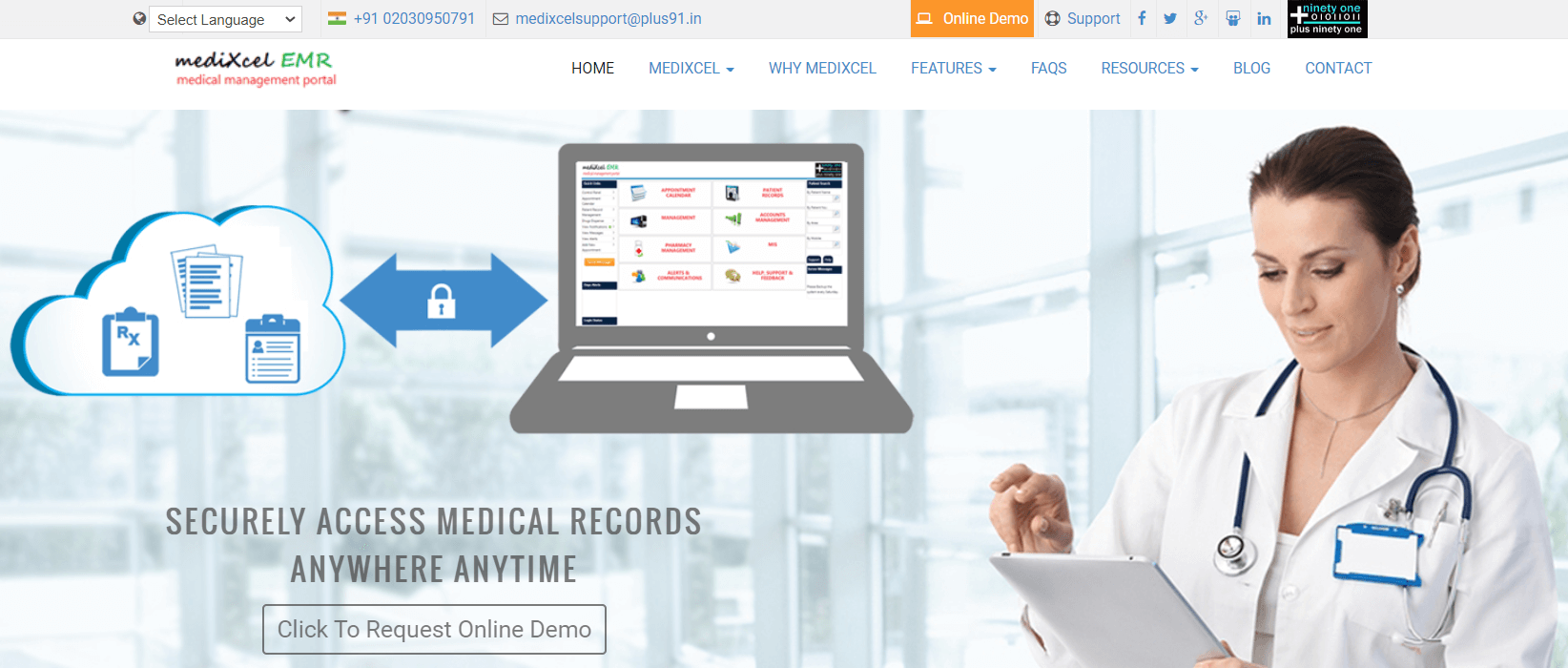 This cloud-based hospital management software is developed to cater to many healthcare facilities, such as multi-specialty hospitals, boutique clinics, practitioners, etc. It provides trouble-free functioning and is well-liked for its adaptability and efficacy. Medixcel EMR is readily customizable and can manage patient information, invoicing, inventory management, and lab test data.
12. Mediface Software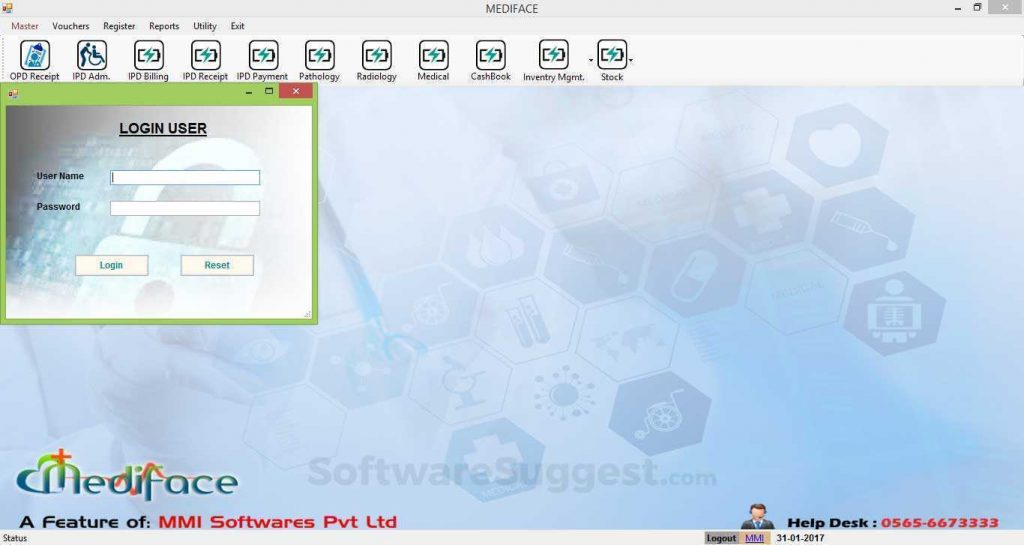 Mediface software is another prominent healthcare management software. Its general operation is organized into various modules, each responsible for the care of a certain department and kind of work. Well, its components are fully integrated and include practically all aspects of a hospital, including pharmacy, accounting, HR & payroll, lab testing, and reporting. Its extraordinary functionality is designed to manage the doctor's database, patient registration reports, the patient's medical history, unpaid invoices, and many other things.
13. ProMed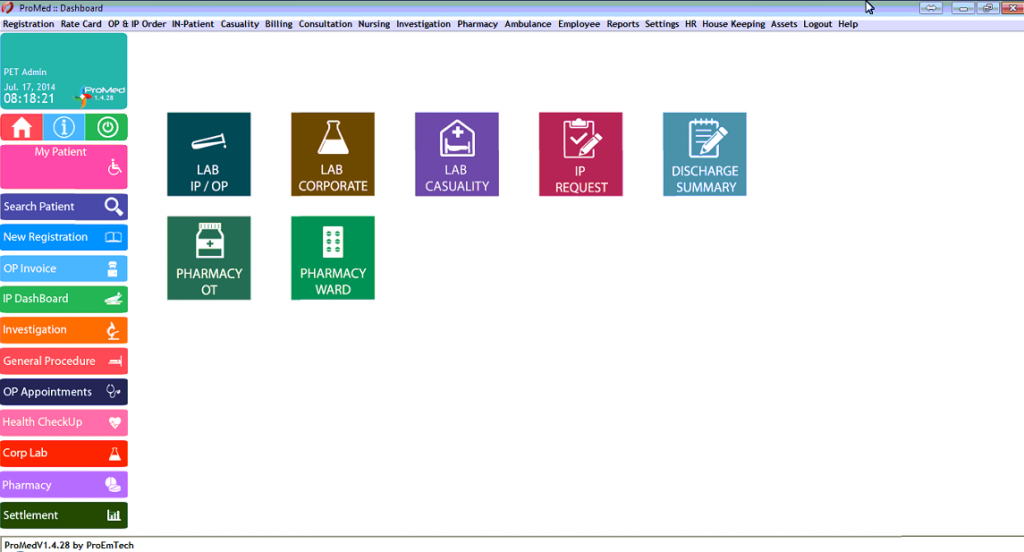 This cross-platform healthcare management tool, known for its accuracy, is appropriate for hospitals of all levels. It properly manages all normal tasks to supply unwell patients with painless medicine. It is designed to handle the data management requirements of a hospital and is developed to support the ever-increasing number of patients.
Also, Check:
Conclusion:
Undoubtedly, hospitals recruit the best workforces and nursing teams in the industry. However, organizing everything manually is an impossible undertaking prone to mistakes and delays. A good hospital is supposed to provide emergency care, which is where hospital management tools come in. Investing in appropriate automated software may help you manage different activities and departments easily and efficiently.