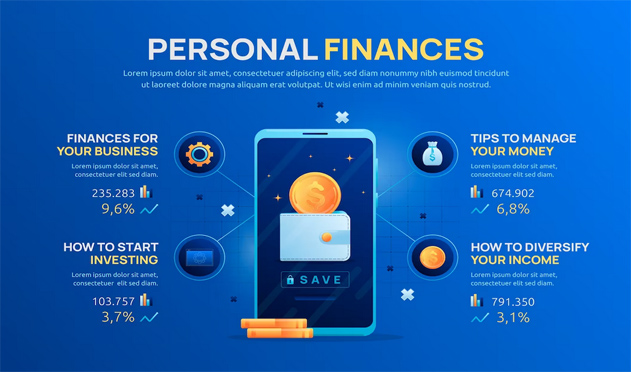 Best Personal Finance Tools and Apps to Manage Wealth: Personal finance tools help manage investments, regularly track them, and ensure progress toward financial goals. When you receive your tax forms, it's essential to stay updated on your assets regularly, not just once a year. Fortunately, there are apps available for investment management assistance. They monitor your portfolio and track any changes that could impact you.
Your portfolio can include various investment options such as stocks, bonds, mutual funds, ETFs, 401(k)s, or IRAs. Managing all these assets can be complicated and overwhelming. Consider sitting comfortably in your favorite chair and managing your investing portfolio across all accounts. You can easily track your net worth using personal finance tools and apps. These tools allow you to see your net worth monthly, weekly, daily, and even second-by-second.
What is Personal finance App?
Managing your money can be challenging. Keeping track of expenses and bank balances can be difficult since many of us no longer balance a checkbook. Personal finance apps link to your bank account and assist you in tracking your expenses. These apps can help you see which categories you spend the most in, track your expenses, and sometimes let you pay upcoming bills. They also help you keep track of your credit score and investment portfolio.
The top personal finance apps offer various features to help you manage your finances. You can use this feature to receive email reminders, track bill due dates, manage subscriptions, share wallets, and more. All the listed apps work on iOS and Android, so that you can use them on any smartphone.
Is the Personal Finance app safe to use?
Budgeting apps often include security features that protect your financial data from hackers. But keep your level of protection high when using financial apps for budgeting. Hackers can steal your password to access your financial data.
10 Best Personal Finance Tools and Apps to Manage Wealth
Here are some incredible personal finance tools and apps to help you manage your wealth. We have both paid and free options that can meet various financial goals. Take a look at these resources for organizing your finances today.
1. M1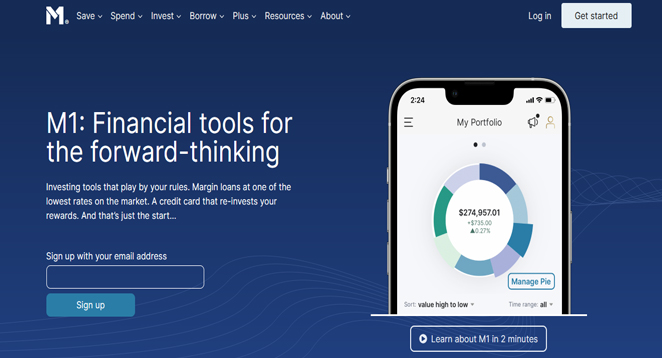 M1 Finance is a convenient place to meet all your financial needs. You can customize your investments for free with our Invest feature. Using their Borrow feature without any additional paperwork, you can easily borrow against your investment at a 2-3.5% interest rate. The Spend feature lets you easily integrate your acquisitions with the best digital banking.
M1 Finance is an easy investment strategy for long-term investors. The platform is designed to give you a balance of personalization and automation for your money moves. It handles your daily tasks, allowing you to focus on the essential things. Plus, it's free to use, unlike other investment platforms with fees for using or making bank transactions.
You can manually set your percentages or let M1 handle it for you. It also has Dynamic Rebalancing, which means that when you add money to your portfolio, it automatically invests in areas that need more investment to stay balanced.
The Auto Invest feature helps you keep your portfolio on track with your targets. You won't have to guess why you're investing anymore. Plus, plan members receive several benefits, including a 1.5% reduction in borrowing rates, access to the afternoon trade window, and 1% cashback and 1% APY with the spend checking account.
Website: https://m1.com
2. Betterment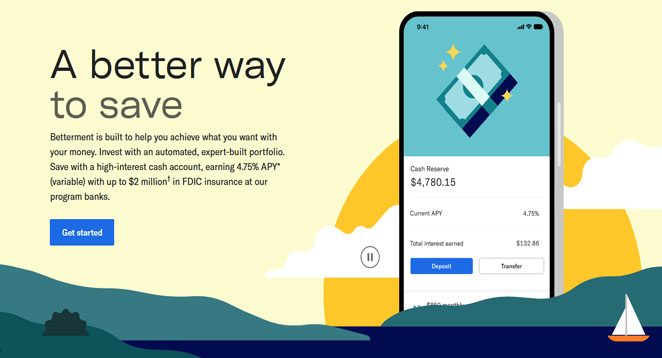 Betterment offers a range of services to help you manage your money. It includes cash management, guided investment, and retirement planning. When you link your external accounts, they will gather information as well. It assists in setting financial goals and creating investment portfolios to support those goals.
The investment strategy relies on low-cost ETFs (exchange-traded funds) with a risk level that matches your investment timeline. Save money and spend less by using their cash management products, such as Checking and cash reserve.
Betterment Securities is a member of SIPC, which means they protect securities customers up to $500,000, including $250,000 for cash claims. Deposits in Checking accounts can be insured up to $250k for individual accounts and $250k per depositor for joint accounts.
Website: https://www.betterment.com
3. Wealthfront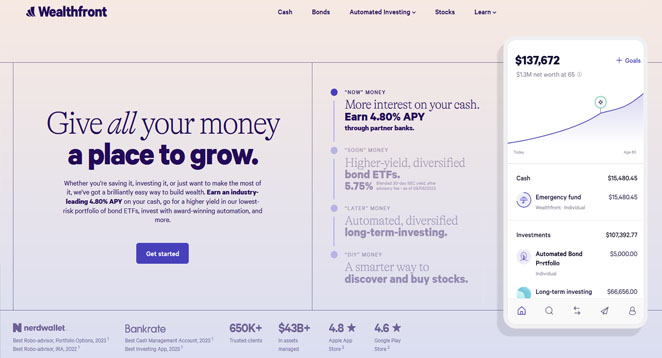 Wealthfront is a top Robo-advisor app in the market. It provides a user-friendly platform that includes one package of goal-setting planning, investing, banking, and planning. With its accounts, you get free access to the path, a financial planning tool that combines your account data with external data to provide better predictions about your financial future.
Financial planning is great for getting a clear view of your overall financial situation. You can get help setting goals for essential things like saving for college or buying a home. It provides benefits like a Line of Credit portfolio, tools to help you prioritize multiple purposes and tax-loss harvesting. We do not offer online chat for potential or existing customers. Larger accounts may offer more mutual funds.
Website: https://www.wealthfront.com
4. Quicken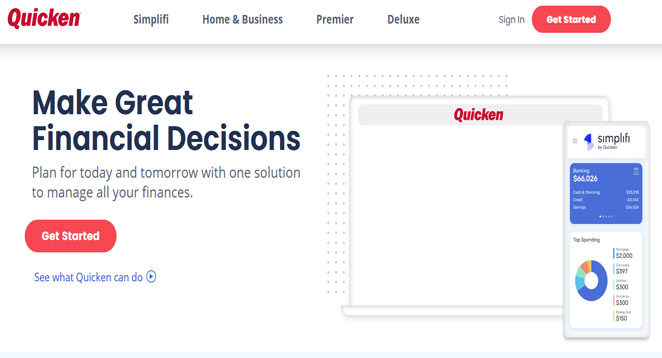 Quicken is praised for its personalized spending plan, which provides real-time updates on your remaining monthly funds. It connects to your bank accounts to monitor your financial progress and display your current status. Simplify from Quicken helps you keep track of all your subscriptions and bills, even those you don't use.
The app has tools for retirement planning, investment tracking, and property management, all in one convenient dashboard. The app also includes a capital gain calculator for selling your assets.
To begin, you must link your bank accounts. After you do this, you will clearly understand your financial situation. The app organizes and monitors your spending and notifies you about upcoming expenses.
The app has special watchlists that help you control your spending. You can set limits based on the payee or category. The app lets you track your money so you don't spend more than you make. Quicken, the company behind the app, takes privacy and security seriously.
Website: https://www.quicken.com
5. Fortunately
Fortunately, the platform is easy to use and gives you a clear picture of your finances. It covers everything from mortgages and investments to retirement planning, childcare expenses, savings for specific goals, and taxes. It provides timelines for investing your money in particular accounts to help you reach your goals.
The software is easy to use and replaces traditional financial management methods. It saves money and simplifies the process. It also provides personalized plans to help achieve financial goals. The platform looks at all your finances to find the best way for you to succeed. It then creates a customized plan to help you reach your goals.
Fortunately, we offer a complete solution to help you achieve your financial goals, no matter your current situation. Create your financial plan in under 5 minutes with the free edition. Upgrade for just $5 per month to receive continuous monitoring and advice, comparable to the services of a financial planner that typically cost thousands of dollars.
Website: https://app.livefortunately.com

6. Moneyspire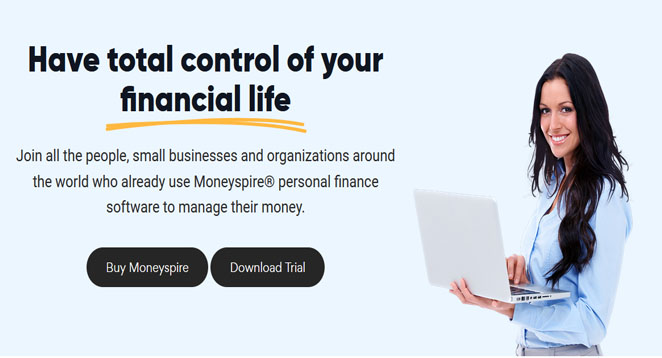 Moneyspire is a personal finance software that helps users manage their budgets. It allows users to manage their money by analyzing their spending patterns.
The software has customizable features for managing finances. It supports world currencies and regions, making it convenient for everyone. It can quickly transfer finance details from other software. Users have control over their data without third-party interference. Banking data transmission is encrypted with 56 bits of encryption to ensure confidentiality.
Website: https://www.moneyspire.com

7. Empower (Previously Personal Capital)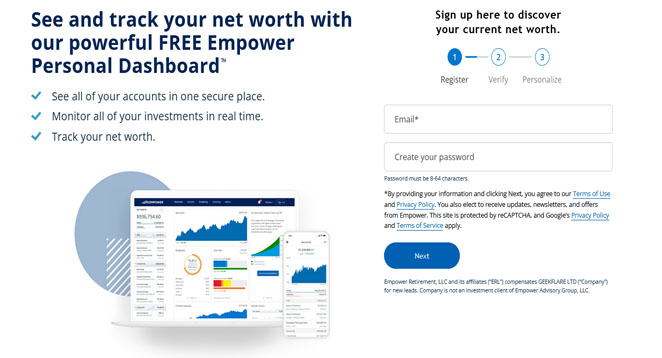 Empower is an app for tracking spending and reviewing investment portfolios. You can connect all your accounts for simple management and monitoring. You can use it to calculate your net worth. It will show your current position and help you set a future goal. Get personalized financial planning advice to create your customized financial plan.
Empower stands out because it has excellent mobile apps and an easy-to-use desktop interface. It can also check your accounts for hidden fees that might be holding back your portfolio's growth.
You can sign up for free and use the money planning tools. You need at least $100,000 in your account to receive advisory services. We use strong encryption algorithms, specifically 256-bit AES, to protect your data. Your data is protected by firewalls that adhere to strict financial and international security standards, such as PCI DSS Level 1 and ISO 27001 certification. Information security is directly managed.
Website: https://www.personalcapital.com

8. Digit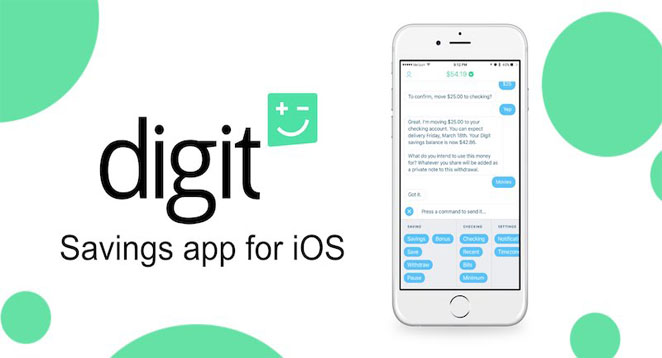 Digit is a money-saving tool for those willing to put in much effort. This service analyzes how you spend money and moves funds to your Digit account from your linked bank account. It analyzes your checking balance, future income, and spending habits. It uses variables to calculate an optional amount based on your spending habits.
Hold on! Can I do this myself? Digit, now known as Oportun, is designed for the tech-savvy generation who fully trust and heavily rely on technology. It's worth it because it's convenient and has a fee.
Customers receive a 1% annualized savings bonus every three months. The service also includes a text feature that uses SMS messaging. It allows customers to quickly check their balances, withdraw, and view upcoming bills without a computer. Digit is made for tech-savvy millennials to help them save money. FDIC insures it for up to $250,000. You can only transfer what you can afford to pay, and overdrafts are not guaranteed.
Website: https://digit.co
9. PocketSmith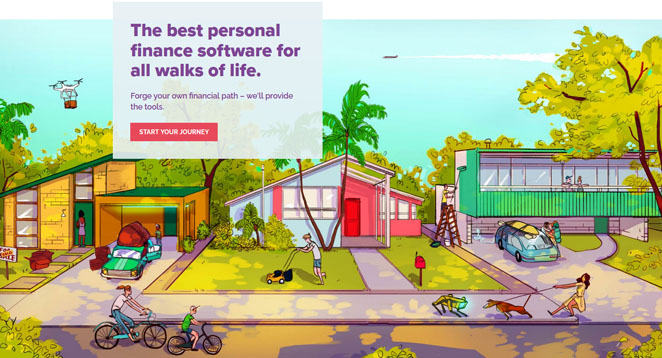 PocketSmith is a user-friendly budgeting and personal finance software. It helps users manage their finances in three easy steps: analyzing the past, understanding the present, and planning for the future.
The software provides detailed information and reports from the past to help understand spending patterns, make informed decisions, and see how decisions will affect the future.
Website: https://www.pocketsmith.com

10. Mint Intuit

Mint has been a top choice for personal finance websites for a long time because it's simple, easy to use, and has helpful financial tools. With this tool, you can easily connect to your online finance accounts, check your credit score, create budgets, and estimate your net worth. It also helps with various other financial management tasks. Additionally, Mint is free, allowing you to try it without any obligations.
Mint is for all. This tool is easy to use and presents data creatively. It also has smart personal finance features that help everyone keep track of their money. Mint enables you to keep track of your money. You can manage your income, expenses, budgets, savings goals, and investments. It's easy to understand for both beginners and experienced financial professionals.
Website: https://mint.intuit.com
Also Read;
Conclusion
Personal finance apps are becoming more popular. Budgeting has become trendy due to the widespread use and simplicity of apps. In the future, apps will focus on being faster, more efficient, and easier to use. Security is a big concern, especially with cybersecurity breaches. Giving general recommendations for personal financial apps is difficult because everyone's situation is unique. But one thing is for sure. The world is different now. Individual finance apps are now a standard part of our daily routines. Millennials are adopting financial apps and transforming their approach to business.