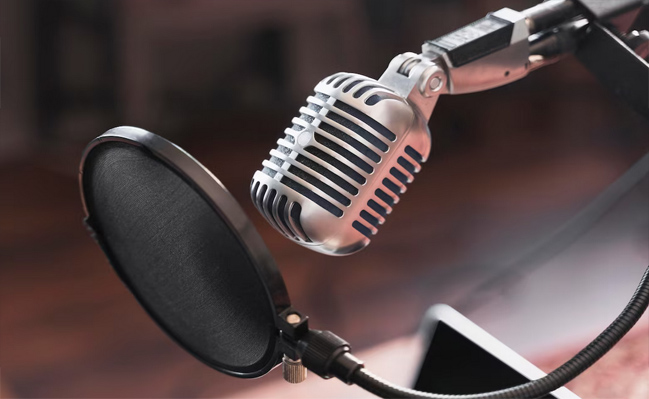 Discord is a goldmine for PC and mobile gamers. If you are a gamer, there is no question that you used Discord to connect with other players while playing online multiplayer games. Let's introduce Discord to newcomers.
What's Discord?
Discord is a free voice and text software for all platforms. The primary objective behind the creation of Discord is to provide support for gamers. It gives group chatters good control. Discord users may chat on several servers. Discord is for more than just gamers, although most servers are. Streamers and professional gamers use voice changers with their gaming gear. You may wonder why. Discover it.
Voice Changers: Why to Use Them?
Gamer and streamer voice changer software add effects or plays pre-recorded sounds. Voice changers are also used for various reasons. Some people use voice changers to feel anonymous online. It can also conceal gender.
Best Voice Changers for Discord, Games and Mobiles
Let's check the top voice changers for Discord and other platforms.
1. Lovo.ai
Lovo.ai is an award-winning AI voice generator and a text-to-speech engine. It is the most powerful and user-friendly platform for producing human-sounding voices.
Lovo.ai has offered voices for entertainment, banking, education, gaming, documentary, journalism, and other industries by developing its voice synthesis models. Lovo.ai has attracted global interest from famous institutions, making them voice synthesis pioneers.
LOVO unveiled Genny, a next-generation AI voice generator with text-to-speech and video editing. Content makers may edit their videos while it produces gorgeous human-like voices. Genny offers 500 AI voices in 20+ moods and 150+ languages. Voices sound authentic and professional. The pronunciation editor, emphasis, tempo, and pitch management can improve your voice.
Features
World's most extensive library of 500+ AI voices
Professional producers can adjust pronunciation, pitch, and emphasis.
Video editing with voiceovers.
Non-verbal interjections, sound effects, royalty-free music, stock pictures, and video directory.
Localize content in 150+ languages with a click.
Start free! Two-week trial. Add voice-generating credits and premium features.
Website: https://lovo.ai
2. VoiceMod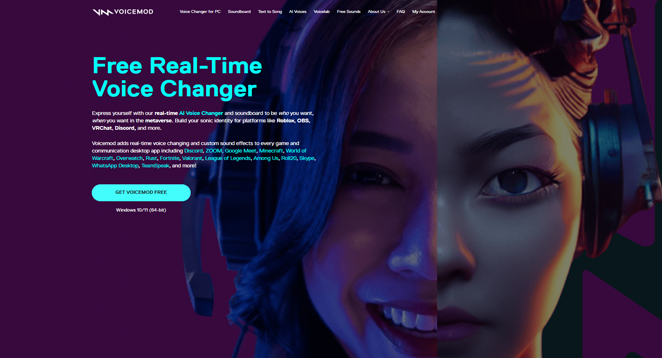 Voicemod is a top voice changer. Real-time speech effects may be added to Discord, Skype, TeamSpeak, Fortnite, Among Us, Minecraft, CS: GO, Valorant, League of Legends, and many other applications and games.
Voicemod is an advanced and easy-to-use voice changer that lets you sound like a guy, woman, robot, or anything else. Voicemod works with Audacity, Twitch, Elgato Stream Deck, Omegle, and Streamlabs OBS, which is incredible.
You may customize the voice. Auto-tune lets you imitate celebrities or singers. The tool features an extensive sound effects collection for the most outstanding gaming and talking experience. Add custom sound effects to the Soundboard to play the right sound at the right time. Choose one or upload your own. It improves Valorant, Apex Legends, Rocket League, and other games. After trying Voicemod, all you need is a voice filter creator. Voicelabs contains several professional voice-changing effects so that you may trust them. Voicelabs may change your voice completely.
Features
Voicemod has many great features you may use. Some are:
Enhanced video streaming applications
Audio effects for chat apps
AR and Face Filter applications to change a face's voice.
Meeting & Call applications to brighten your Zoom meeting
Video chat applications that play the proper sound effect at the right time while having fun with pals
Voicemod can do more.
Why wait? Set up your voice modulator in under 5 minutes for your next streaming video.
Website: https://www.voicemod.net
3. Murf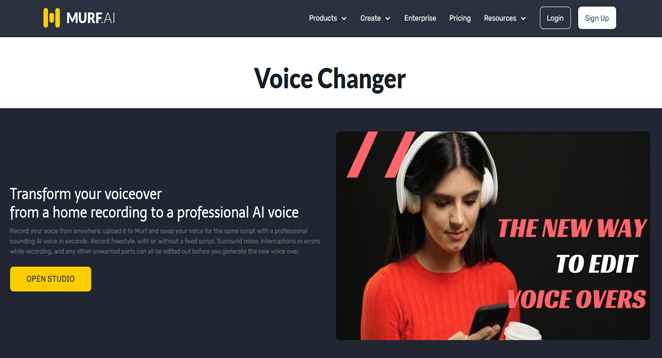 Prepare to record your voiceover at a studio. Murf can fix any unpleasant noises and disturbances. You can sound professional without recording equipment. Murf creates excellent voiceovers using AI. With a few steps, you may capture high-quality presentations and voiceovers without expensive equipment. Recording and editing audio files is Murf's finest function. So, if you mispronounced something or used the wrong line while recording, there's no need to worry.
Transcribe your script and change it by changing the sentence. Play the audio recording again to hear the changes. Murf Studio lets you mimic any of the 100+ AI voices. After adding the script, you may pick an AI voice and finish. If your screenplay requires multiple voices and you don't have performers, you can add them.
Features
Check your script's grammar.
Cut out unnecessary phrases for a natural recording.
Perfectly sync audio and video.
Mute or erase all undesirable audio recordings.
Change your voice speed, intensity, and pitch.
Murf Studio can provide the perfect voiceover for any circumstance.
Website: https://murf.ai
4. FineShare FineVoice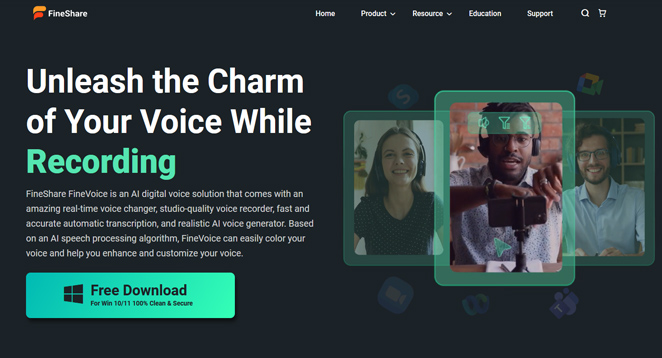 FineShare FineVoice uses an AI speech processing method and a Real-Time AI Voice Changer to turn a voice into a popular character. FineVoice has male-to-female, cave, radio, cartoon characters like Minions and Chipmunks, and more. Live video and chat sound effects are available in hundreds.
FineVoice can record sounds from PCs, iPhones, microphones, Apple Music, YouTube, and TikTok. Then stream and record all FineVoice sounds. FineVoice has hundreds of sounds. Keybinds let you apply effects at the proper time. Liven up your next live streams, meetings, videos, online training, and games.
Simple and intuitive UI; compatible with YouTube, Twitch, Zoom, Skype, Discord, OBS, Adobe Premiere Pro, Riverside, Roblox, CS, etc. FineVoice has several study and work tools.
Features
Low-latency voice changers modify your voice.
Awesome live-streaming soundboards.
It records microphones, computers, iPhones/iPad, and applications like TikTok and Apple Music.
It records high-quality, multi-track audio.
Without professional equipment, quickly turn text into natural voiceovers for movies, podcasts, books, essays, and presentations.
Accurately transcribe your recordings.
Support video-to-audio conversion and voice-changing.
FineVoice can improve your voice in films, games, live streaming, etc.
Website: https://www.fineshare.com
5. Adobe Audition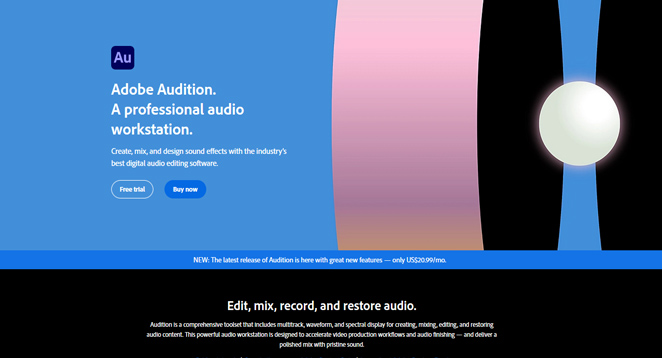 Adobe products always impress. It detects and changes your words. This voice-changing program lets you adjust your voice or impersonate a character. Gaming, voice-overs, and podcasts are possible. An animated voice or deeper voice effect may lighten the mood or give depth to your podcast. The Effects tab shows all your layer-able effects. To polish an audio clip, add up to 16 fine-tuned voices.
Features
Transforming audio pitch.
Vocal Enhancer affects esses frequency.
Adding echo
Use Reverb to sound like you're at a smokey pub or a judge's chamber.
Adjust notes with Automatic Pitch Correction.
Adobe Audition has many other features to explore.
Website: https://www.adobe.com/products/audition.html
6. Clownfish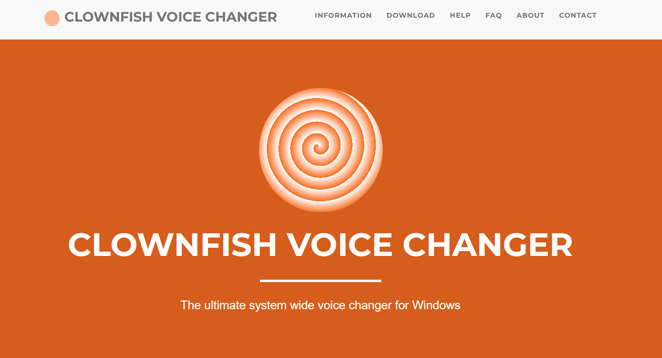 Clownfish Voice Changer is the best Windows voice changer. This program will be system-installed. It affects any applications that employ microphones or other audio-capturing devices. Your voice will change according to Skype, Discord, TeamSpeak, Viber, Steam, etc.
Clownfish has an extensive sound effects library. The most widely liked ones are:
Alien
Robot
Mutation
Male Pitch
Clone
Female Pitch
Baby Pitch
Clownfish Voice Changer has many additional functions. Voice Assistant lets you convert text to speech and choose a voice from a dropdown list. Hotkeys play specified Sound Player sounds.
Website: https://clownfish-translator.com
7. Voice Changer with Effects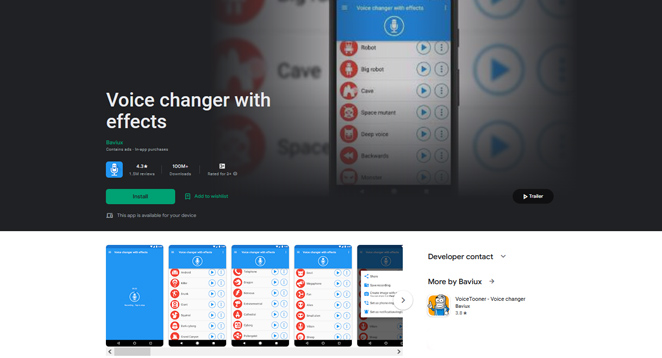 Voice Changer with Effects for Android is free. Use is entertaining. Your smartphone may make you sound like an alien or a balloon-inhaled person. The software lets you pre-record and submit audio. Apply effects and edit audio here. You may now share the updated version on Discord, WhatsApp, and Facebook.
8. Voice Changer Plus

Voice Changer Plus works on iPhone, iPad, and Mac. This program lets you play backward. Record anything with a tap. Fifty-five voice effects let you hear the same audio with different voices. Voice-changing features allow users to reduce recorded audio. The program lets you add effects to pre-recorded sounds. If you've recorded audio before, you don't need to record again.
9. MorphVOX Pro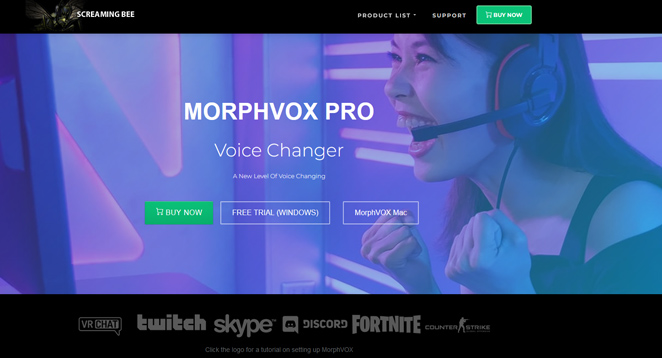 MorphVOX Pro helps you improve your voice-changing game. Its advanced technology lets you customize noise cancellation, sound quality, and voice learning.
Features
Free Voices
You may customize the voices to create your own.
Free Soundpacks
The soundboard has rapid keys for background noises.
Background Effects
Adding automobile horns lets you deceive your buddies into thinking you're trapped in traffic.
Excellent Voice-Changing Algorithm
The voice changer cancels background sounds for perfect silence.
Online Game Optimizations
You sound just like your character. You can choose to be a strong giant or a grouchy dwarf.
Advanced MorphVOX Pro has several voice-changing functions.
Website: https://screamingbee.com/morphvox-voice-changer
10. Voice Changer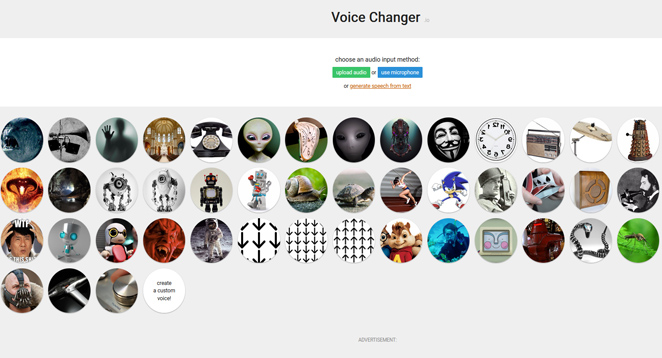 Voice Changer may add effects and change your voice online. Your voice is fully customizable. Voice-changing effects abound. A microphone or web browser can capture your voice. You may upload pre-recorded audio to the online tool by finding it on your hard disk. Select a voice effect for the uploaded audio. Choose from several voice effects. This internet tool can also speak your writing. You pick among three voices, configure them, and get the output. You choose between alien and robot voices.
Website: https://voicechanger.io
11. Accusonus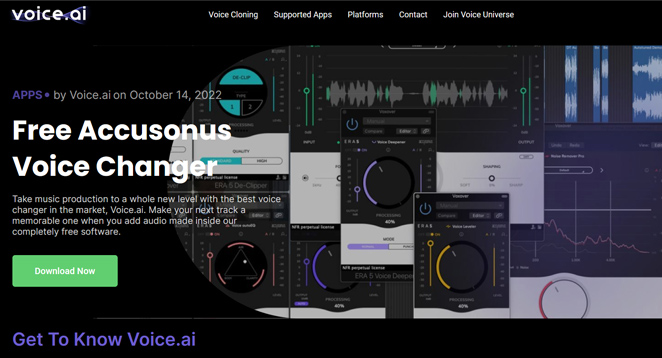 The Accusonus Voice Changer lets you imitate any character. Voice effects enable imaginative surroundings. Accusonus' Windows and Mac voice changer is fast, powerful, and easy. Your characters may need distinct voices. This tool has AI, alien, infant, and monster voices. The program lets you use preset voices or build your character sound with fewer clicks.
Just a few clicks add effects using Accusonus. This utility can simulate walkie-talkie chatter or automobile radios. Please select a result and use the on-screen dial to customize it for your content. Voice changer software creates the desired effect. Accunos Voice Changer may provide a cave impression or stadium noise. The Environment dial lets you tweak mountain echo noises for realism. Tuning the three voice modifiers—environment, effect, and character—creates a preset voice effect. Three tuning knobs allow unlimited sound creation.
Website: https://voice.ai
12. AV Voice Changer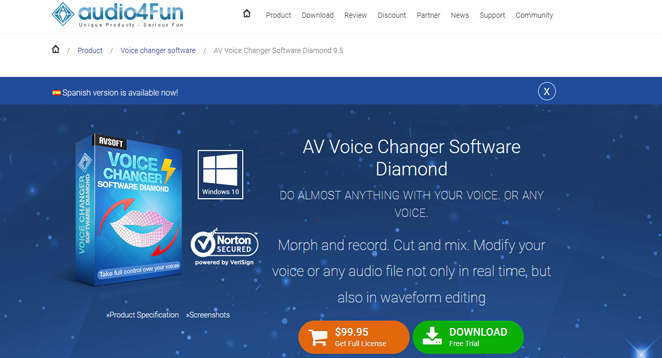 The AV Voice Changer alters your voice. It can sound more feminine, younger, older, deeper, higher, or any way you choose. You may build and edit a perfect voice combination at any time.
The AV Voice Changer's innovative technology lets you connect to most VoIP services, including Skype, Discord, Twitch, Steam, and games like Valorant, CS:GO Apex Legends. This utility includes Voice Editor, Voice Morpher, Voice Recorder, File Morpher, Voice Analyzer, Parody Mixer, Hotkey, Voice Comparator, and more.
Voice Morpher: With voice qualities, beauty elements, and other complex options, you may entirely change your voice.
Hotkey: Set hotkeys for features and nickvoices to swap voices with keystrokes easily.
Nickvoices: Over 100 nickvoices may be personalized. Hotkeys provide easy preset switching.
Parody Mixer: Parody Mixer lets you make your own. You may create a parody by imitating others and mixing parody voices.
Website: https://www.audio4fun.com
13. Voice Changer for Android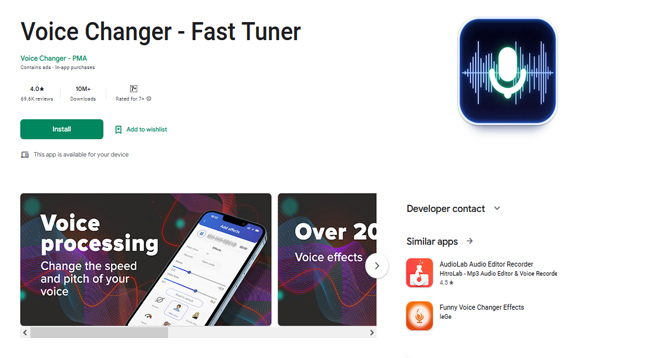 Voice changing is available on smartphones too. It is for Android lets you record, edit, and auto-tune audio files and alter their voices.
While adding effects, you have over 15 voice mod possibilities. This software lets you use auto-tune or animal voices on your phone—record audio at 32 kbps or 320 kbps using the audio recording tool. Auto-tune and voice-changing will delight singers and recorders. To test your presenting voice, record it and use the voice synthesizer.
This user-friendly voice changer also converts text to voice. Voice effects can be chosen from presets. This program has several effects to improve voice clarity and make your song seem professional. Thus, consider sharing the captured audio files with others.
14. Voxal Voice Changer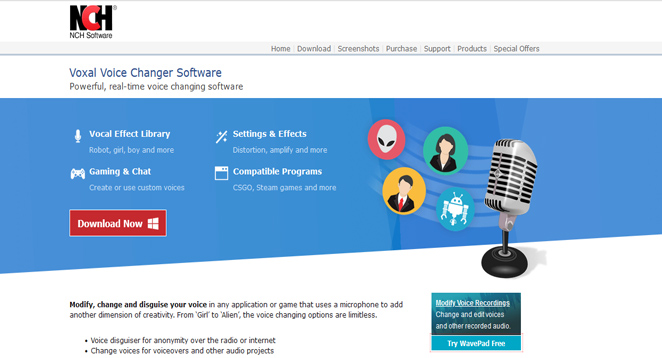 Voxal Voice Changer simplifies voice customizing. The free version has several voice-changing features. It has excellent voice presets for boys, girls, robots, and aliens. The tool lets you record new audio files or alter existing ones. Even though Discord, Skype, Valorant, CS:GO, and other apps have complex voice-limiting options, the tool is straightforward. This simple voice-changing program helps gamers stay anonymous. Streamers utilize this voice changer.
Website: https://www.nchsoftware.com
Last Words
Streamers and audio recorders enjoy voice changers. These voice-changing gadgets can keep you anonymous. Why wait? Get one that meets all your needs for your system. Also read how to Fix 'Restricted Access Changed Voice Service Is Blocked' Error.