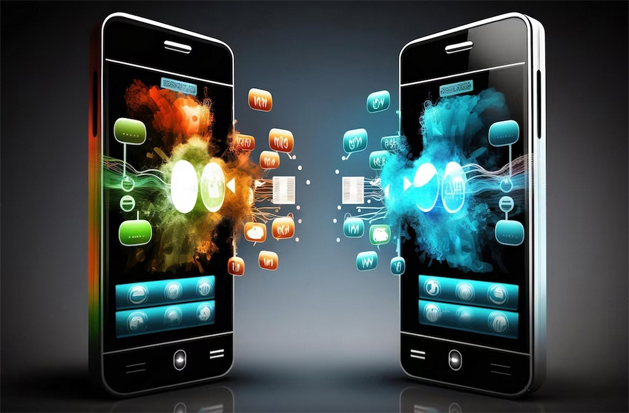 This article will cover three easy methods to transfer your contacts from Android to iPhone. If you're doing spring cleaning and getting a new iPhone after using an Android, I can help you with the task of transferring your contacts between the two operating systems.
Apple has changed the iPhone over the years, which may require a few extra steps depending on your model. Below, I'll explain how to transfer your contacts from Android to iOS using three simple methods. I'll also provide steps for iPhones with physical SIM cards and eSIM support.
How to Transfer Contacts From Android to iPhone
1. Transfer contacts via 'Move to iOS'
Apple has a convenient app called "Move to iOS" that I always use to transfer files from Android to iOS. You can download Google's first-party service for free from the Play Store. It allows you to transfer contacts, photos, videos, and more.
To use the service, ensure you're on the iOS Setup Assistant, the first page you see when you turn on your new iPhone. If you've already set up the device, refer to the second method in this guide.
1. To start using "Move to iOS," install the app, agree to the terms, and grant it access to your Android phone's location.
2. Next, you will be prompted to locate your code. Click on the "Continue" button. On your iPhone, follow the Setup Assistant until you reach the option to Move Data from Android.
3. Type the code from your iPhone into your Android device. You will see a Transfer Data screen showing a list of items you can copy to your iPhone. If you're only moving your contacts, check the corresponding bullet. To move all your files and data, check off everything.
4. Do not use your Android or iPhone while the transfer is happening. Moving data from one phone to another can take up to 30 minutes, depending on the data being transferred.
2. Transfer contacts via SIM
To import contacts from a physical SIM card on your new iPhone, go to the phone's settings.
1. To keep your Android contacts safe, back them up and export them to your SIM card. To export contacts, follow these steps: 1. Open the Contacts app. 2. Tap on the menu icon (three stripes). 3. Select "Manage contacts." 4. Choose "Import or export contacts." 5. Finally, tap on "Export."
2. After finishing, transfer your SIM card to the new iPhone. If it uses eSIM, refer to this guide.
3. To import SIM contacts on your iPhone, go to Settings, then scroll down to Contacts and select Import SIM Contacts. The transfer should only take a few minutes.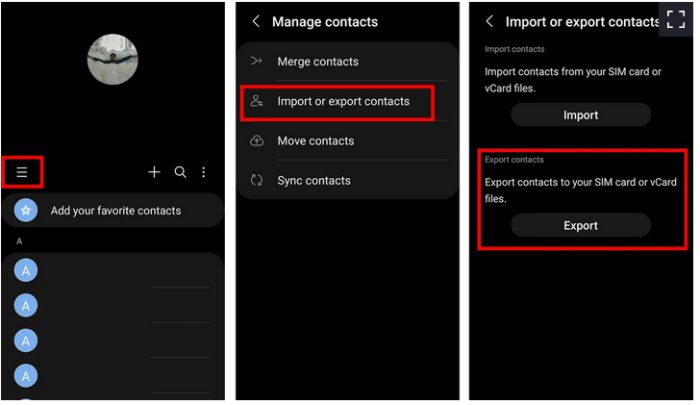 3. Transfer contacts via Google account
Finally, you can transfer contacts using Gmail through the cloud. You don't need to do SIM swapping for this method. Just make sure you have a Google account and an internet connection.
1. To backup your contacts on Android, follow these steps: 1. Open the Settings app on your Android device. 2. Look for the Google tab. 3. Tap on Backup. 4. Make sure the Contacts option is turned on for syncing. To check your Google Account data, simply expand the Backup details list.
2. Once the backup sync is finished, switch to your iPhone. To add your Gmail account, follow these steps: 1. Open the Settings app. 2. Tap on Mail. 3. Select Accounts. 4. Choose Add Account. 5. Enter your Gmail credentials. Your Google account contacts will sync with your iPhone and start importing automatically.
FAQs
How do I transfer contacts from Android to iPhone without a SIM card?
If you don't have a SIM card, your contacts might be saved on a cloud account, like Google. To log into Gmail on your new device, follow these steps: 1. Open the Settings app. 2. Go to Mail. 3. Select Accounts. 4. Choose Add Account.
Can I transfer contacts via Bluetooth?
Yes, but I suggest trying the three methods mentioned earlier first. The reason for this is that different Android phones have additional capabilities for transferring contacts. Some models allow you to transfer contacts in bulk, while others only allow one number at a time. To move one or two contacts, you can do it individually. Open your Contacts app, select the contact you want to transfer and tap on the number. Then, choose the option to Share, through Bluetooth. Finally, select the external device to which you want to send the contact.
Is there an app to transfer contacts from Android to iPhone?
Many apps can transfer contacts, but it's best to avoid third-party options. To ensure the safety of your personal information, it's best to use services created by the phone manufacturers themselves. Their security and privacy policies may be more reliable than others. Some options for transferring data between devices are Apple's Move to iOS, Samsung's Smart Switch, and OnePlus's Clone Phone.