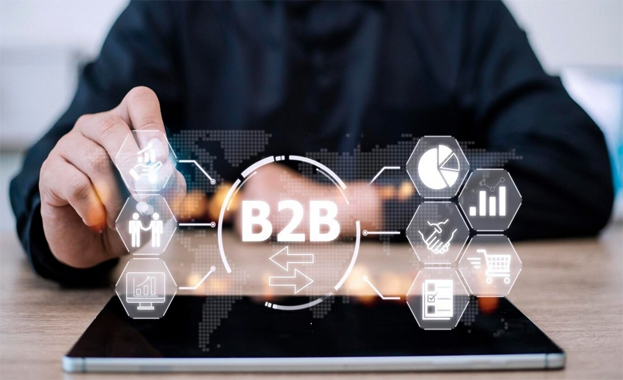 B2B Digital Transformation Trends for Businesses: Digital transformation is now essential to running a successful business. Companies of all sizes and industries use digital transformation services to improve their products and services and find new ways to make money. Can any company benefit from digital transformation services, or is it limited to B2C companies? Embarks on B2B digital transformation!
Gartner reports that 20% of CEOs prioritize B2B digital transformation in their future business strategies. According to IDC, B2B digital transformation investments are expected to exceed $7 trillion by 2023.
B2B digital transformation is now a must for companies worldwide. Due to technological advancements and changing customer demands, B2B companies are looking for digital transformation consulting to improve their operations.
They use business solutions, mobile apps, and other digital services to make more money and keep customers happy. If everyone else is doing it, why are you falling behind? As a top digital transformation consulting company, we want to share the eight essential B2B digital transformation trends for your business growth!
B2B digital transformation is now crucial for companies globally. Experts predict the B2B digital transformation market will exceed $7 trillion by 2023.
Digital transformation services offer numerous benefits for your enterprise. These include improved customer engagement, simplified management, scalable services, and enhanced security.
To stay ahead, embracing digital transformation trends like data analytics, next-gen tech solutions, enterprise mobility services, and cloud integration services is essential.
To get the most out of your digital transition, finding a reliable and experienced digital transformation consulting company is essential.
Business Benefits of Digital Transformation
1. Better Customer Engagement
Customer engagement is essential for all businesses, including B2B companies. Today, people expect immediate help and customized services from the brands they engage with. The traditional business approach needs to be equipped to handle dynamic customer requests.
B2B digital transformation is essential in this context. Improve your customer support with advanced digital transformation services. You can use a chatbot powered by NLP to answer customer questions quickly. It can understand what customers mean and respond in a way that feels human.
In addition, B2B digital transformation provides a smooth user experience across various channels and platforms. Whether through social media or your enterprise application, your users can easily access your services and products without delays.
2. Reduced Operational Cost
One more great benefit of B2B digital transformation is lower operational expenses. Legacy enterprise systems cannot perform multiple tasks. They also have restrictions that prevent them from working with other third-party solutions and new technologies. It ultimately raises the operating expenses for B2B companies.
However, this is different for modern enterprise solutions. B2B digital transformation helps you build scalable enterprise solutions that work well with other tools and solutions. You can deploy them on the cloud platform to reduce data management costs.
Moreover, modern enterprise solutions can include various advanced technologies, which can help eliminate the need for manual assistance. So, you can avoid hiring more resources by reducing your operational costs.
3. Automated operations
In today's digital era, everyone enjoys the convenience of one-touch/click actions. Legacy systems and traditional business infrastructure need more process automation capabilities. Because of loopholes, you can't add AI development services to your old methods. Legacy systems do not support cloud integration.
B2B digital transformation is essential in this context. Using the latest digital transformation trends can automate your business operations. B2B digital transformation allows you to do various tasks easily. You can manage warehouses using robotics, track fleets in real-time, and provide custom mobile apps to your users.
You can simplify and automate various business tasks like data entry, visitor management, product handling, accounting, and email management.
4. Streamlined Workflows
Do you need help getting things done because of mistakes or poor organization? B2B digital transformation can solve all those things. B2B digital transformation services help you improve different parts of your organization by updating your current business infrastructure.
Using B2B digital transformation services, you can make modern enterprise solutions and mobile apps that make managing tasks easier. You can use chatbots to handle customer queries, drones, and robotics to manage your warehouse, and automate project management tasks.
5. Improved Communication
Good communication is crucial for any organization to succeed. When a company needs to communicate better, it causes problems like lack of transparency, conflicts, bad decision-making, and missed opportunities. We're sure you want something other than that for your business!
By using digital transformation services, you can improve communication between your teams, clients, and yourself. Here are some things that will help you understand what follows:
Your customer's expectations
Optimizing processes
Resource utilization
Future business planning
6. Future-Ready Business
One advantage of using digital transformation services for your B2B company is that they prepare your business for the future! Innovation is crucial for running a successful business in today's competitive world. Customers' needs constantly change, and everyone wants faster and more convenient services.
By adopting the latest digital trends, B2B digital transformation helps you stay ahead of the competition. You can create solutions and apps that focus on your customers' needs.
You can improve your business infrastructure by using legacy modernization services. These services help you add new features or technologies to your existing system. In addition, it's essential to adopt current digital transformation trends to prepare your business for the future.
Top 8 Digital Transformation Trends For B2B
We have looked at the main advantages of B2B digital transformation. What are the top B2B digital transformation trends that help companies prepare for the future? Let's explore!
1. Data Analytics
Data analytics is currently a popular trend in digital transformation. It is crucial for winning in competition. Many B2B companies now use data analytics services and solutions to gain various benefits.
Data analytics services can help you identify fraud, gain valuable business insights, improve control over your company operations, and enhance user experience. Data analytics services can improve machine learning applications and help with budget and expense planning.
2. Personalized Experience
One more helpful trend for B2B companies in digital transformation is offering personalized experiences. In B2C companies, customers are often referred to as the king. Today, many B2B companies are investing in digital transformation services to improve their customer experience.
According to a survey by FPX, 58% of companies engaged in B2B digital transformation stated that they adopt digital transformation trends to improve customer experience (CX). It accounts for 68% of all companies involved in B2B digital transformation. Companies now invest in digital transformation services such as chatbot development, recommender system development, and IoT sensor technologies to improve client visibility. They use AI and data analytics to discover their customers' worries and fix those issues with as little human help as possible.
3. Automated support
Process automation is now a necessity. Many B2B companies invest in process automation services to make their business operations more efficient. It includes automating tasks like data entry, accounting, expense management, customer support, employee management, and HRM. You can use the digital transformation trend to automate your complex business operations.
You can use AI development services to automate different parts of your company, like customer support, accounting, and budget planning. In addition, IoT development services can gather data from various touchpoints for analysis.
4. Agile Process
In today's fast-paced world, companies that launch their solutions and services quickly have a better chance of winning the competition. The agile process is crucial for B2B digital transformation. Companies use an agile methodology to quickly launch new products/services into the market.
Using an agile methodology ensures that your clients are involved in verifying your projects at each stage. The agile process helps you get faster approvals and deliver your product. In addition, the agile method has benefits such as clear project status, customer-focused solutions, and improved client satisfaction.
5. Next-Gen Enterprise Solutions
AI, ML, IoT, and cloud computing dominate the world as next-gen technologies. Every industry uses advanced technology services and solutions to improve its infrastructure, provide better customer service, and increase brand value. Many B2B companies use advanced technology solutions to improve their overall business performance.
So, take advantage of this strong digital transformation trend for your B2B company. Consider partnering with a digital transformation consulting company to discover your business's most suitable next-generation technology.
An excellent digital transformation consultant understands your business worries and helps you create a successful digital transformation plan using advanced technology and software development services. Certain companies provide free digital transformation consulting services to assist you in your planning process. So, choose carefully!
6. Enterprise Mobility
Why should B2B companies fall behind in the mobile-driven digital world? Enterprise mobility services are important in this context. Today, many B2B companies are investing in enterprise mobility solutions to provide mobile services to their employees and clients.
Enterprise mobility services allow you to conveniently handle your business tasks using the mobile devices you prefer. You can do everything with enterprise mobility solutions, like creating salaries, tracking employee working hours, managing sales and marketing campaigns, and getting real-time status of your assets. Looking for a trustworthy company to develop enterprise solutions? They can help you address your business needs and create a customized enterprise mobility solution.
7. Omni-channel marketing strategies
B2B companies are now prioritizing customer engagement more than ever. Omnichannel marketing is a key part of digital transformation strategies. It involves connecting all internal systems to one centralized platform. How does omnichannel marketing help with digital transformation?
Omnichannel marketing lets you provide users with a consistent and seamless experience across all marketing channels. Every channel, whether a website, app, or social media platform, should offer a consistent experience for your visitors.
To achieve that, you must streamline the front-end and back-end operations integration. To optimize your process, you must improve everything from marketing to quoting and final delivery. Not integrating your B2B digital transformation strategy well can lead to problems like bad customer experience, slow processing times, and incorrect deliveries.
8. Cloud Integration
Data is crucial for success in today's competitive market. You need a reliable platform to manage and analyze large amounts of data securely. Cloud integration services are the solution for this situation.
Cloud integration services allow you to store data from various touchpoints securely. Additionally, the cloud platform enables you to analyze large amounts of data and uncover valuable business insights, which can assist you in making well-informed decisions for your business. You can give your employees access rights and track real-time changes to data.
Conclusion
Innovation is now a necessity! To succeed in today's competitive world, companies must meet customers' changing needs. B2B digital transformation is the key to achieving this. Adopting digital transformation trends can improve your operations, increase agility, and bring transparency to your business.
B2B digital transformation services offer everything you need, whether implementing next-gen tech or hosting your data on the cloud platform. So, you should contact a trustworthy digital transformation consulting company to find the right services for your business.