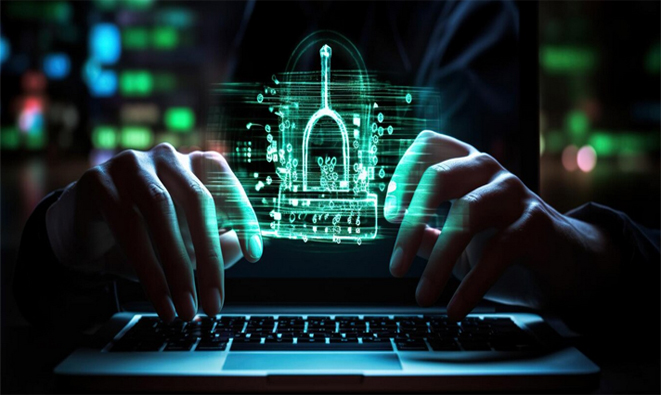 The Best VPN services 2023: The top VPNs offer two services: Encrypt your data and conceal your IP address to ensure privacy and security. It's essential to use a VPN when traveling or public Wi-Fi, like in a coffee shop. It helps keep your data safe and stops others on the network from stealing your passwords or spying on what you're doing. VPNs are useful for streaming as they allow users to access content and sports that may not be available in their location, although this may sometimes be of questionable legality. You can also access blocked content due to data protection laws, like the EU's GDPR.
To find an exemplary VPN services, compare different brands, prices, features, and more. NimbleTech evaluated the top VPNs on this list for their speed, server count, security features, price, and other factors. We recommend ExpressVPN as the top VPN choice because it has a fast and dependable connection and is compatible with various platforms. ExpressVPN may not be the cheapest option, but it is a reliable and user-friendly VPN for those seeking a hassle-free experience. Keep reading to discover the top VPN for your devices and specific requirements.
The Best VPNs of 2023
Here we lists some of the best Virtual Private Network to consider;
1. ExpressVPN – Best VPN Service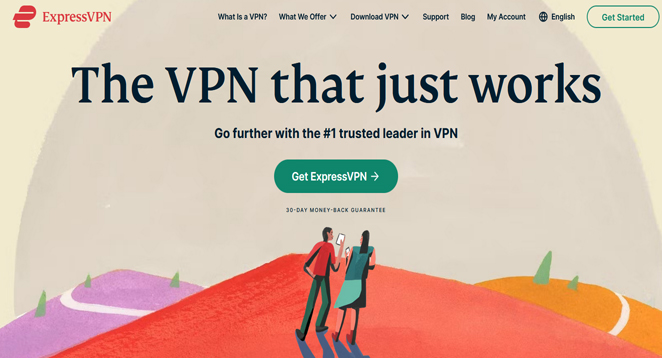 ExpressVPN offers a range of features: You can connect up to 8 devices simultaneously. Kill Switch: Yes Platforms: Windows, Mac, Linux, Chromebooks Logging: No browsing logs, some connection logs Countries: 105 Trial/Money-back guarantee: 30 days.
We recommend ExpressVPN as the best VPN service. This VPN provider is top-rated and offers many platforms. It is well-regarded and trusted. Platforms like Windows, macOS, iOS, Android, Linux, and Amazon operating systems are available.
You can manually set up ExpressVPN on gaming consoles like Xbox, PlayStation, and Nintendo Switch, as well as on TVs like Apple TV and Roku. However, you might need to install the VPN on your router for this to work.
ExpressVPN Review: Is it Worth the Price?
ExpressVPN has an extensive network of servers in 105 countries, and they have recently added more servers. It provides a fast and reliable connection.
The company doesn't track your browsing history, IP address, or traffic destination. However, they collect data on the amount of data transferred, the dates you connected to the VPN (without specific times), and the location of the VPN server. ExpressVPN now offers an ad blocker and adult content filter feature.
Remember, if you decide to cancel after 30 days, set aside some time for it. The customer service is friendly and polite, but they focus on keeping customers.
Currently, the subscription prices are as follows: $6.67 per month for a 12-month plan, $9.99 per month for a six-month plan, or $12.95 for a one-month plan. Choose the annual plan and get three extra months of free access.
Website: https://www.expressvpn.com
2. Surfshark VPN – Best value VPN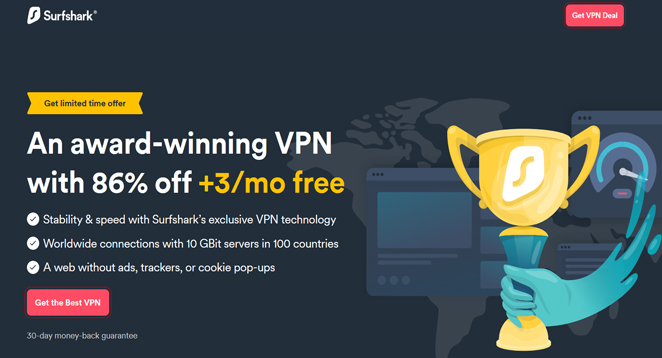 Here are the features of Surfshark VPN: Simultaneous Connections: Unlimited Kill Switch: Yes Platforms: Windows, MacOS, Linux, iOS, Android, Fire TV, Firefox, Android TV Logging: None, except billing data Countries: 100 Servers: 3,200+ Trial/MBG: 30 day
In our Surfshark VPN review and testing, we found no data leaks. It is precisely what you want in a reliable VPN. Surfshark prioritizes security using AES-256-GCM, Perfect Forward Secrecy, and RSA-2048 encryption.
We liked its extra features that are free and helpful, like anti-tracking, a search engine that doesn't keep your information, and a scanner that checks if your email is on any data breach lists. Surfshark offers a multi-hop option to connect through two VPN servers. Additionally, Surfshark has a live warrant canary.
Surfshark offers a monthly plan for $15.45, but their cheapest option is the Surfshark Starter, a two-year subscription that costs only $2.21 per month. Additionally, you'll receive three months of free access. By choosing the mid-tier plan, Surfshark One, you'll only pay $2.73 monthly and get four months for free. You can get five months of free access with a two-year subscription to Surfshark One+ ($4.11/month).
You also have the option to sign up for a one-year plan for $3.99 per month. For added identity and privacy protection, you can get Surfshark One, a mid-range one-year subscription, for just $4.09. It offers features like email breach alerts and generating IDs on untrusted websites.
Website: https://surfshark.com
3. Private Internet Access – Best VPN for long-term contracts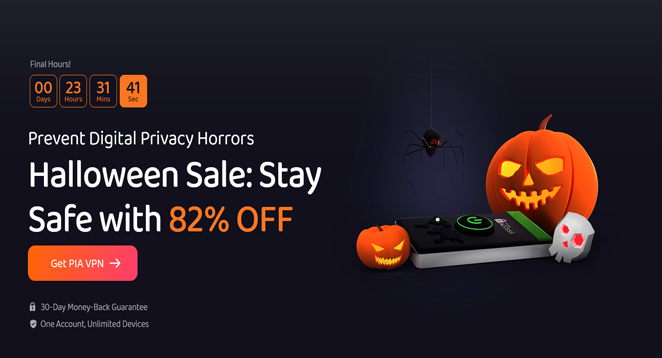 Private Internet Access VPN offers a range of features: You can have unlimited simultaneous connections with this service. It has a kill switch feature is compatible with various platforms such as Windows, MacOS, iOS, Android, Linux, smart TVs, and gaming consoles. The service follows a no-logs policy, ensuring your privacy. It is available in 91 locations. You can try it out risk-free for 30 days with a money-back guarantee.
Private Internet Access is an excellent choice for a long-term VPN and using it on multiple devices. They recently upgraded their service to allow unlimited connections at the same time.
PIA is an open-source option that provides excellent security. Simply put, most of a VPN's code is open for public examination and auditing. It promotes transparency, crucial when entrusting your security to a third-party vendor. Additionally, they strongly commit to privacy with a strict no-logs policy.
The email breach monitor is free, and there are other features we like, such as a convenient "snooze" button to disable the VPN temporarily. There is also a tab that shows security elements like port connections, protocols, and data encryption standards being used. However, a drawback is that upload speeds may need to be faster for distant servers.
Private Internet Access offers various plans, including a three-year subscription for only $1.98 per month. To try the VPN for a shorter time, you can sign up for $3.33 per year or pay $11.95 for a month of access. The three-year subscription is the best deal because you get four months of free access added to the end of the contract.
Website: https://www.privateinternetaccess.com
4. NordVPN – the best VPN choice for travel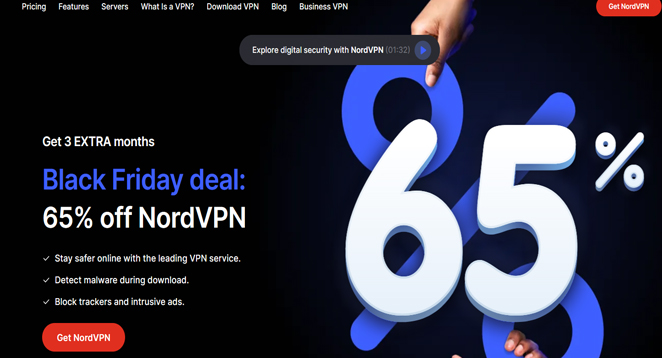 NordVPN offers the following features: You can have up to six simultaneous connections. Kill Switch: Yes Platforms: Windows, MacOS, iOS, Android, Linux, Android TV, Chrome, Firefox Logging: None, except for billing data Countries: 60 Servers: 5000+ Trial/MBG: 30-day
It is a popular VPN used by many people. It meets all the requirements of most users. This option is secure, great for streaming, and includes all the essential features. We found it a very fast Virtual Private Network with consistent speeds and quick connectivity.
NordVPN has more than just the basics. It supports P2P sharing and offers an extra layer of encryption called Double VPN. You can use a dedicated IP address to run a VPN and as a server.
NordVPN is compatible with all major platforms and several home-network platforms. In 2022, the company introduced Meshnet. This feature allows users to connect directly to other devices, bypassing the need to route their traffic through a VPN server.
The user interface could be better, especially on macOS. It could be smoother than other top VPN providers. Also, the subscription is expensive. You have three options: Complete, Plus, and Standard. You can select a two-year, one-year, or monthly plan. The difference is whether you want access to a password manager, data breach scanner, and encrypted cloud storage service.
The prices range from $2.99 monthly for a Standard two-year plan to $14.99 for a Complete one-month subscription. It's a good option, and you can test it for 30 days and get a complete refund if needed. Currently, there are discounts on one-year and two-year plans. Additionally, two-year subscriptions now come with three months of free access.
Website: https://nordvpn.com
5. Proton VPN – Best open-source VPN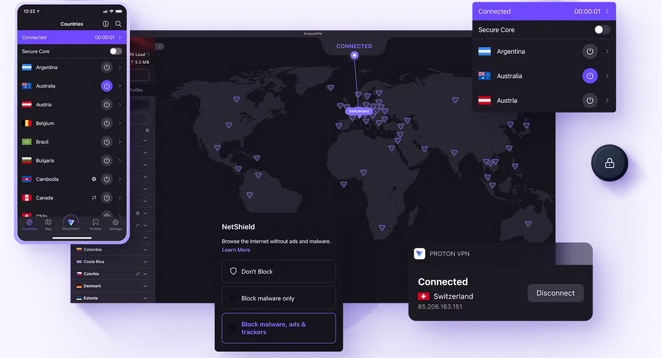 Proton VPN has the following features: Simultaneous Connections: Up to 10 devices, depending on the plan. Kill Switch: Yes. Platforms: Windows, MacOS, iOS, Android, Linux, routers, Android TV. Logging: No logs, except for billing data. Countries: Available in 69 countries. Servers: Over 2,600 servers. Trial/MBG: 30-day money-back guarantee or free plan.
Proton is a Swiss company founded by engineers and scientists. They specialize in developing encrypted email and Virtual Private Network services to safeguard the communication of activists and journalists.
Proton VPN takes a thorough approach to security by using multiple layers of protection. They combine strong protocols, perfect forward secrecy, and strong encryption to ensure the safety of their product. Proton VPN has a kill switch and an always-on VPN feature. The kill switch provides that your connection is cut off if the VPN fails. The always-on VPN tries to reconnect automatically if the VPN connection is lost during use. All apps are open source and independently audited, according to the company.
The company provides a free VPN service that allows one device to connect at a decent speed without any restrictions on data usage. This service gives access to more than 100 servers in three different countries.
Proton VPN offers different pricing options. The two-year plan costs $4.99 per month. The monthly subscription is $9.99. Alternatively, you can try it for one year at $5.99 monthly.
Website: https://nordvpn.com
Which VPN is the best?
ExpressVPN is the best VPN because it works on many platforms, performs well, is reliable, and has servers in 94 countries. There are many VPN options available that are worth your time and money if you decide to subscribe to them. When choosing a VPN, remember that longer subscriptions are cheaper.
| | | | | |
| --- | --- | --- | --- | --- |
| Best VPN service | Price | Kill switch | Countries | Simultaneous connections |
| ExpressVPN | $6.67 per month with 1-year plan | Yes | 105 | Eight |
| NordVPN | $3.79 per month with 2-year plan | Yes | 60 | Six |
| Surfshark VPN | $2.21 per month with 2-year plan | Yes | 100 | Unlimited |
| Private Internet Access | $1.98 per month with 3-year plan | Yes | 91 | Unlimited |
| Proton VPN | $4.99 per month with 2-year plan | Yes | 69 | 1-10, varies by plan |
How did we test the top VPNs?
In October 2023, we conducted tests on the paid services of various VPNs to compare their performance. The tests were done in the UK using a broadband connection. The average starting speed, without a VPN, was 58.32Mbps for downloading and 18.8Mbps for uploading. Yes, they're bad, but they're the best in my area.
The speeds listed below are in Mbps. We checked for DNS leaks, too.
Results may vary for you and differ between countries. The information provided below is just a snapshot. Your ISP provider and broadband subscription can also affect them. For instance, the initial speed is much slower than some options in the US.
The following results may reflect a different speed than the exact speeds you should anticipate. You can use these results to get a general idea of how your speeds might change with a Virtual Private Network. Remember that the speed of your internet connection may be affected if the VPN server is located far away. Connecting to a local server is usually faster than selecting one in a different country, like Australia.
| | | | | | |
| --- | --- | --- | --- | --- | --- |
| Best VPN | Quick connect | UK | US | Germany | Australia |
| ExpressVPN | 54.8 DL | 17.3 UP | 53.3 DL | 17.1 UP | 54 DL | 14 UP | 50.6 DL | 16.1 UP | 31.4DL | 9.2 UP |
| NordVPN | 53.5 DL | 16.6 UP | 53.6 DL | 16.4 UP | 54.4 DL | 15.1 UP | 52.9 DL | 16.4 UP | 33 DL | 7.1UP |
| Surfshark | 52.3 DL | 16.2 UP | 52 DL | 16.9 UP | 50.1 DL | 13 UP | 49.1 DL | 15 UP | 29.5 DL | 4.8 UP |
| PIA | 51.6 DL |  12.91 UP | 50.9 DL |  13.3 UP | 42.2 DL | 9.9 UP | 40 DL |  11 UP | 22.4 DL | 3.3 UP |
| Proton VPN | 48.7 DL | 14.7 UP | 46.6 DL | 15.8 UP | 32.7 DL | 12.5 UP | 34.4 DL | 12.1 UP | 17.8 DL | 8.4 UP |
Which VPN is best for you?
We've explained how VPNs work and provided tips for finding the right VPN service. Based on your priorities, here are our top VPN recommendations that we think will meet your needs:
| | |
| --- | --- |
| Choose this top VPN service… | If you want… |
| ExpressVPN | It has a strong server network that is easy to use. I've been using ExpressVPN for years, and it's beneficial to me every day. When streaming, you can expect support for multiple platforms and only a slight decrease in speed. You may also experience a few connection errors. |
| Surfshark VPN | The cheapest VPN option is available. Surfshark is always on our top VPN lists because it's perfect. While it may not always be the quickest, it offers excellent value for the price. |
| Private Internet Access | Connect as many devices as you want at the same time. Private Internet Access is a fantastic option if you're looking for a simple and affordable VPN that can support and protect multiple devices. |
| NordVPN | Steady speeds. In my opinion, NordVPN has a not-so-great user interface. However, it is still one of the most reliable and fast connection providers. It's also suitable for streaming, but the price might be a drawback. |
| Proton VPN | Enjoy a range of extra features and peace of mind with open-source security. Proton VPN is a VPN service that prioritizes privacy and also has a free plan available. |
How were these VPN services selected?
We tested and analyzed the top VPNs for 2023. We used specific criteria to assist you in making an informed choice.
1. Performance
We tested the VPNs on this list to ensure they have a strong connection and fast speed. If your Virtual Private Network keeps dropping or lagging, it defeats the purpose of using it.
2. Simultaneous connections
Some VPNs have a restriction on the number of devices you can connect to their service simultaneously. To connect multiple devices like phones, tablets, laptops, desktops, and smart TVs to a VPN, you'll need a service that allows at least 5 connections simultaneously.
3. Security
A VPN is only worthwhile if its security protocols and encryption levels are strong. We made sure that the VPNs we recommend have development teams that prioritize security improvements and fixing reported bugs.
4. Kill switch
A kill switch is a crucial feature of a Virtual Private Network. It prevents your connection from being unprotected if your internet suddenly drops. It stops you from automatically reconnecting to a default Wi-Fi connection.
5. Geoblocks and streaming
VPNs are useful for accessing local content and services when you're not at home. Our top recommendations are designed to perform well and won't slow down your connection while streaming.
6. Platforms
Which devices and systems are compatible with VPN? We suggest vendors with user-friendly desktop software and mobile apps.
7. Countries & servers
How many countries have servers for the Virtual Private Network? It can include both physical and virtual servers. It is essential to have at least 50 servers to ensure enough variety.
8. Trial length & price
All the VPNs we suggest come with a reliable money-back guarantee.
How to choose a VPN service?
Here are four tips to evaluate a Virtual Private Network service for yourself.
1. Pay attention to trial period times and use them
VPNs vary in performance, and each user's experience will be unique. Our ISP has different speed options available. Your favorite coffee shop has another Wi-Fi network than the ones we usually go to. You may connect to various countries and other websites. Before choosing a VPN provider, make sure to test the candidates in your actual environment thoroughly. Money-back guarantees are there for a reason. Most VPN providers offer a 30-day trial period for their software.
2. Don't use free VPN providers
Running a VPN costs money, so if the provider doesn't charge you, they may profit by selling your data and personal information. Please stick to the vendors we've tested and trust. Some 'free' VPNs go against their purpose of protecting and securing data. Be careful; the product you're downloading might put your privacy at risk. We currently only recommend Proton VPN as an exception.
3. Don't worry about the country's jurisdiction unless
There are two main types of VPN users: those who use it to secure their browsing at coffee shops and those who rely on it to protect their lives. According to an article by NimbleTech author Alex, several countries not part of the Five Eyes alliance have signed Mutual Legal Assistance Treaties. Many countries will still share data with the US and other countries. If you want to use a VPN for better protection, we suggest doing more research on the topic.
4. There's no need to worry about warrant canaries and no log policies
Many of you will use a VPN to protect your data from being hijacked by someone on your network. The complicated legal and jurisdictional problems can be simplified to one thing: you want quick transfers and a secure connection from the airport to the website you need to reach.
What is a VPN?
A VPN stands for virtual private network. These services let users browse the internet privately and securely connect to open or public Wi-Fi networks. VPNs allow users to change their virtual location by routing their connection through worldwide servers. A VPN encrypts all your traffic, keeping you safe from hackers, internet service providers, and governments.
Suppose your internet activities are monitored by your internet service provider (ISP), such as by a government. In that case, they can detect you using a Virtual Private Network, even if they can't see what you are doing.
VPNs help access blocked content and can be essential for accessing information in countries with strict governments. These services are necessary for anyone who wants to stay safe and private online. However, since they are anonymous, they can also be used to conceal illegal online activities like pirating content.
How do I check if my VPN is working?
A good VPN should keep your privacy safe and hide your location and IP address. If you need to check if your VPN works well, tools are available to check its performance quickly.
To find your IP address and location, visit whatismyipaddress.com. Compare the IP address and location when using a VPN versus not using a VPN. If they're different, your VPN is working.
Your Virtual Private Network might be leaking your data, which could expose your online activity. To ensure your VPN is secure, you can use a website like DNS Leak Test to check for any DNS or IP leaks. There are many tools to test for leaks, but VPN providers own some, and it sometimes needs to be clarified who developed them, which could be a conflict of interest. To get accurate results, it's a good idea to test multiple sites and compare the outcomes.
Should I use a VPN when traveling or using a Wi-Fi hotspot?
When you're out and about or using public Wi-Fi, it's essential to encrypt your data. Public Wi-Fi hotspots are usually open and unencrypted, which means anyone on the network can see what you send and potentially spy on your activities and steal passwords.
Mac has built-in support for VPN
If you're already connected to a corporate virtual private network, you might not require any extra service. MacOS has built-in support for VPN, making it easy to use. Apple offers VPN support on newer operating system versions. To set up a VPN, go to System Settings and open the Network tab. From there, you can import the provided configuration file or click the plus button to add a Virtual Private Network interface. Apple has a helpful tip sheet that will guide you through the process.
Native VPN support on Windows
To connect to a corporate VPN, create a new Windows VPN connection. To access the settings, point your mouse at the Start menu. Then, type "settings" and select the "Settings" option. From there, navigate to "Network & Internet" and click "VPN." Finally, choose the option to "Add VPN". To set up a new VPN connection, first, ensure you have the connection details from your workplace. Then, click "Add a New VPN Connection." Just complete the form, and you're ready to proceed. Microsoft has provided a helpful tip sheet.
You can use Windows to host a VPN server. Just create a new incoming network connection, select the users who can connect, and specify that the connection is over the internet. You need to set up your router to let traffic reach your computer.
Native VPN support on Chromebook
Unfortunately, the standard Chrome browser does not have this simple solution built-in. If you're using a Mac or Windows computer and only using the browser, you'll need a different solution. If you have a Chromebook, open Settings and go to Network. To add a connection, click on "Add Connection." To make your choice easier, you must decide between OpenVPN and L2TP over IPSec. Google has a helpful tip sheet to assist you with the process.
Which free VPN service is the best?
In this article, we focus on paid services, but some have a free tier or a trial period with a money-back guarantee. You can find our recommendations for the best VPN-free trials. Free VPN services are generally not secure, so it's best to avoid using them.
Running a reliable Virtual Private Network service involves many servers across the globe and a significant amount of networking resources. Who pays for the infrastructure if you don't? Most likely advertisers or data miners. Using a free service often means your data or personal information may be sold, which could be better. You use a VPN to keep your data secure. Using a VPN would only be worthwhile if a company analyzes your data.
When selecting a VPN service, whether free or paid, it's crucial to understand that no tool can fully guarantee your privacy. Anything can be compromised. In simpler terms, a VPN keeps your data safe as it travels from your computer to the VPN service. It doesn't safeguard server content. The VPN provider's servers don't protect your data when you use it for sites or cloud-based applications. The passwords and multi-factor authentication options could be better. To protect your privacy and security online, you need to be careful at all times. VPNs can be helpful, but they are not a magic solution.
Should a VPN be used on a mobile device or tablet?
Yes, if it's your data and you want it to be secure. No matter what device you use, the same choices apply to transmitting and receiving data over the Internet.
Is it legal to use a VPN?
Yes, most countries, including the US, UK, and Europe, allow this. Certain countries have banned or heavily restricted the use of VPNs, allowing only government-approved software. Currently, VPNs are banned in countries like North Korea, Iraq, and Belarus. According to NordVPN's country guide, some countries like China, Russia, and Egypt discourage the use of VPNs. They try to discourage people from using VPNs by portraying them as software commonly used for criminal activities.
Can a VPN slow down your internet speed?
VPNs can cause your internet connection to be slower. Your data is encrypted, decrypted, and sent through intermediate servers. That's why. Your game might respond slowly, and your streaming service may load slower than usual. Nowadays, there are plenty of good VPNs to choose from, so the adverse effects are usually only noticeable if there's an issue with the Virtual Private Network server you're using. To fix this issue, try using a server in a different location to see if it improves your connection.