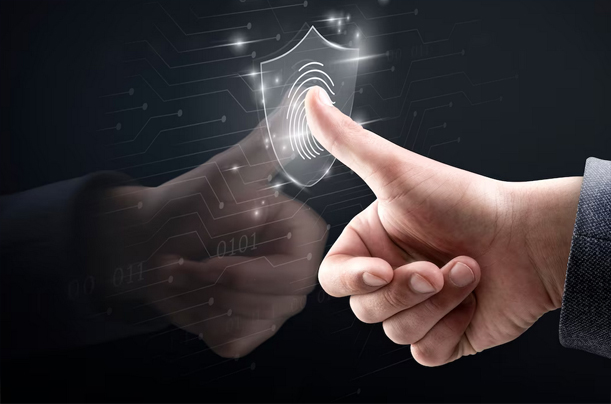 Best VPN Services for Ransomware Protection: Using the best VPN services is crucial for protecting your online privacy when connecting to the internet in public places. Cybercriminals can easily monitor your online activities when you use public Wi-Fi, whether on your computer or mobile device. A VPN connection creates a safe link between you and the internet. With a VPN, your data traffic is sent through a secure virtual tunnel. This tool hides your IP address while browsing the internet, making it undetectable to others. A VPN connection is secured against external attacks.
This article will discuss the top VPN services for protecting your online privacy when using public Wi-Fi. VPN services are hard to hack. Premium VPNs typically use OpenVPN or WireGuard protocols and AES or ChaCha encryption. This combination is highly secure and difficult to decrypt through brute-force attacks. The VPN encrypts your internet traffic from your computer. The encrypted traffic goes through your router and ISP, but they can't see its content because it's encrypted. Let's check what our team finds for you.
10 Best VPN Services for Ransomware Protection 2023
Here we list some of the best VPN services you can consider in 2023;
1. ExpressVPN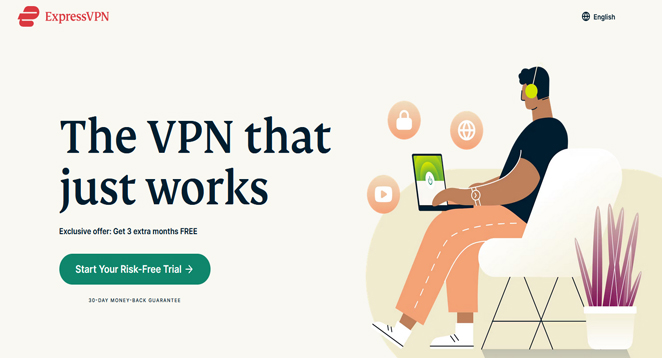 ExpressVPN is located in the British Virgin Islands, which has strong privacy laws. The company has a network lock kill switch that blocks all internet traffic immediately when your connection is lost. It has advanced security features like split tunneling, zero-knowledge DNS, strong encryption, and Perfect Forward Secrecy. It guarantees that customers will always have a secure and reliable VPN connection—Unlikether VPN providers discuss it. , Express VPN is known for its no-logs policy. In 2016, the Turkish government took control of an ExpressVPN server to find conversation logs about the assassination of Russia's ambassador. However, they have yet to find anything. If you value privacy and anonymity, ExpressVPN is a good choice.
ExpressVPN among the other best VPN Services, emphasizes its ability to unlock streaming content restricted to specific countries. The company can unlock content easily because it has many servers. If you're in the U.S. and want to access U.K.-locked content (or vice versa), ExpressVPN can help you. It is a reliable VPN solution that has upgraded its servers to support the new 5G speeds. About 70% of its fleet has been upgraded to at least 10GBps, while the remaining portion has been boosted to an impressive 40GBps. With these upgrades, customers can enjoy a nearly 50% increase in speed and bandwidth.
ExpressVPN pricing
With ExpressVPN, you can subscribe for one month at $12.95, six months at $9.99, or 12 months at $6.67. You can connect up to five devices with ExpressVPN. It works with Windows, macOS, Linux, iOS, Android, smart home devices, and video game systems. You can get a refund within 30 days for the six and 12-month plans.
Conclusion
ExpressVPN is an excellent VPN service that is simple to install and use. While it may be a bit pricey, the added security and privacy make it worth the investment. While it may take longer to connect to distant places, the service is generally excellent.
Website: https://www.expressvpn.com
2. NordVPN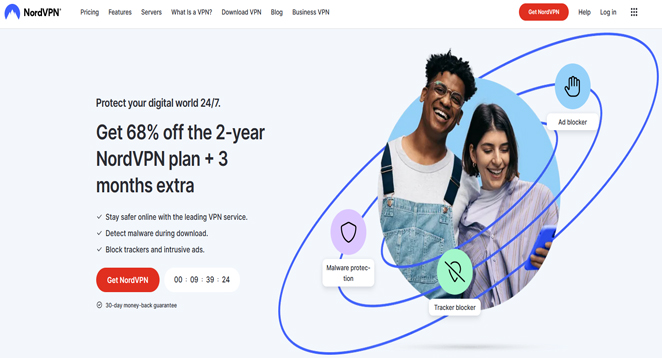 NordVPN offers everything you need for private internet browsing. The company uses AES-256-CBC encryption and Perfect Forward Secrecy (PFS) to secure data. PFS automatically changes encryption keys regularly. NordVPN provides online privacy and security, fast connection, unlimited bandwidth, and doesn't keep any activity logs. It offers both speed and security. You can stream without any interruptions, thanks to its ultra-fast connection. It is designed for VPN beginners and provides a user-friendly product. NordVPN users face limitations like a six-device limit despite the affordable price of their products.
NordVPN has a service called NordVPN Teams, made for B2B users. It Teams lets you easily manage all employee accounts from one dashboard. The billing is centralized, so you don't have to worry about making a payment each time you add a new account. NordVPN is the best overall VPN solution because of its fantastic features and affordable price. It includes tracking parameters in its threat protection stack. This feature shortens URLs, making them cleaner and more private for easier use. In addition to making essential improvements, NordVPN regularly works on fixing performance issues to make their product faster. It is considered among the best VPN Services to consider.
NordVPN Pricing
NordVPN's prices are similar to top competitors like ExpressVPN and IPVanish, but it is not the cheapest option. NordVPN offers a user-friendly VPN solution with top-notch features. The starting price for an Individual plan is $3.29 per month for the first two years. The Plus plan costs $3.99 monthly, and the Complete plan costs $5.29. These prices are for a two-year subscription.
Conclusion
The Complete package is the best option. It includes all the security features you need, such as malware protection and ad blockers. NordVPN is a great VPN with many features, fast servers, and an easy-to-use interface. NordVPN is an excellent choice for those seeking a feature-rich VPN at an affordable price. But there are a few drawbacks, like sometimes having to reconnect and occasionally experiencing slow speeds. NordVPN's customer service could improve, and a few adjustments are needed to use the VPN effectively. However, once you make those changes, it works well.
Website: https://www.nordvpn.com
3. Surfshark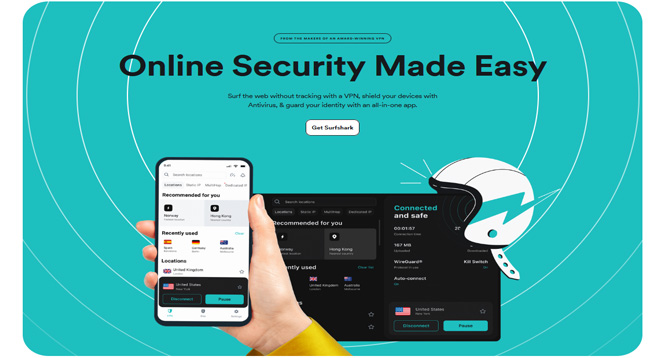 Surfshark offers special VPN features for its customers. One feature is called Whitelister. It lets you choose which apps and websites can bypass the VPN connection. Surfshark also has CleanWeb, which blocks ads, trackers, and malware. It not only prioritizes privacy but also has a strict no-logs policy. It means you can browse securely without worrying about your VPN provider storing personal information.
Surfshark gets our badge for its top security feature, the unique double VPN multihop. The double VPN multihop is great for people who care about security, like journalists and activists who want to hide where they are. Surfshark has servers in 63 countries and over 1,700 servers. All servers are peer-to-peer-friendly (P2P) to promote the use of the double hop feature. It recently upgraded its VPN servers worldwide, increasing their speed from 1GBps to 10GBps. Surfshark has ensured that its speeds remain cutting-edge as 5G becomes more prevalent.
Surfshark pricing
It provides a budget-friendly VPN option for individuals and small businesses. Get the two-year subscription plan for only $2.49 monthly and enjoy unlimited VPN connections on all your devices. Although affordable, the current prices have increased from the previous rate of $1.99 per month.
Conclusion
Surfshark changed its pricing by removing the one-year plan at $5.99 per month and introducing a six-month plan at $6.49. It means that the cost per year has doubled, as they want users to sign up for a two-year contract. If you want a quick VPN with many features that can unblock all streaming platforms, Surfshark is an excellent option. If you need a VPN for personal use, SurfShark is an excellent choice among other VPN Services on the list.
Website: https://surfshark.com
4. VyprVPN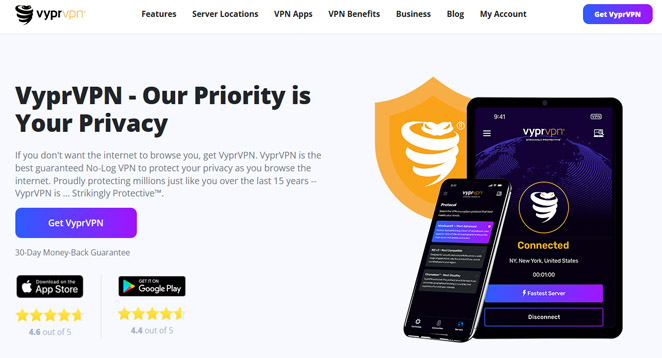 VyprVPN has 700+ servers in 64 countries. They use dynamic server switching for fast and reliable connections. This VPN works on Windows, Mac, Android, iOS, routers, and smart TVs. It offers extra security features like VyprDNS, VyprCloud, a kill switch, automatic public Wi-Fi protection, strong encryption, and a NAT firewall.
VyprVPN offers business services catering to traveling employees' needs, distributed workforces, journalists, and entrepreneurs. Two business plans are available: VyprVPN for Business and VyprVPN for Business Cloud. Both options offer unlimited usage and have a user-friendly admin interface. They also use Chameleon technology, which hides OpenVPN packet metadata to prevent it from being detected through deep packet inspection.
It allows users to bypass government, ISP, and corporate restrictions without compromising security or speed. VyprVPN is based in privacy-friendly Switzerland, so you'll be happy to know if privacy is important. Certain VPN providers operate in countries that are part of the Five Eyes intelligence-sharing agreements. VyprVPN is the first VPN provider to audit and support its no-log policy publicly. It strongly emphasizes its dedication to privacy. VyprVPN offers a money-back guarantee. If you're not satisfied within 30 days, you can get a refund.
VyprVPN rarely updates its websites with regular news. Every six months, a new version is released. It briefly summarizes what the release includes without going into too much detail. In January 2022, the latest release announced that it does not support Windows 7, 8, and 8.1. Lastly, it also fixes performance issues to make the application better. It is among the top VPN Services in 2023-24.
VyprVPN pricing
The company has various pricing options and plans to suit different business needs. It has a self-install option and a cloud option. You can start for just $5 monthly if you sign up for a year. Every plan includes 24/7 customer support through chat and email.
Conclusion
VyprVPN is an excellent VPN service. It has reliable performance, a user-friendly interface, strong protocol support, good speeds, and reliable connectivity. Using it can be a hassle and costly at times. Their Android app can be challenging to use, and the limited number of nodes may be a drawback for some users.
Website: https://www.vyprvpn.com
5. IPVanish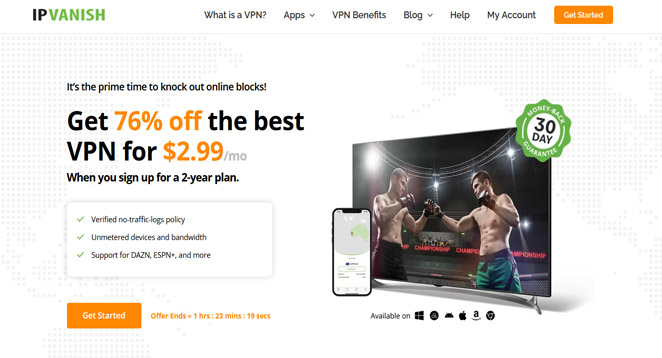 IPVanish offers unlimited bandwidth, no traffic logs, strong 256-bit AES encryption, and supports multiple VPN connection protocols (IKEv2, OpenVPN, and L2TP/IPsec). The company also offers customers 250GB of encrypted storage and backup with SugarSync. It has the best customer support compared to its competitors. They offer robust customer service support through 24/7 live chat, email, and phone. You can find updates, server statuses, and incidents on IPVanish's System Status log.
You can choose from subscription plans that last for one month, three months, or one year. IPVanish is compatible with popular operating systems like Windows, Mac, Linux, Android, and iOS. It also provides VPN support for routers, allowing you to connect non-native Internet of Things (IoT) devices to the Internet. With over 1,500 servers in 75+ countries, customers can enjoy a secure, speedy, and dependable Internet connection anywhere.
IPVanish is a U.S.-based company in the Five Eyes intelligence-sharing agreement. The agreement means that IPVanish might have to give weblogs to the government if asked. Remember to consider the location of your VPN provider and familiarize yourself with the laws of that country. IPVanish now supports the newest VPN protocol, WireGuard. It improved the app's performance and gave it a fresh new look. IPVanish regularly updates its community websites with important monthly information. However, these updates may provide little detail or information about upcoming features. You can consider it among the best VPN Services.
IPVanish pricing
IPVanish offers three plans: a monthly plan for $10.99, a quarterly plan for $5.32, and a yearly plan for $3.99. Remember that pricing discounts may change, or the advertised pricing may only apply for the first three months of your subscription, after which it will revert to the total price. IPVanish also has a 30-day trial with a risk-free guarantee.
Conclusion
IPVanish is an excellent VPN service. It's fast, secure, and user-friendly. The price is a little high, but the service is worth it. You can use its many servers to hide your IP address and browse the Internet without revealing your identity. However, streaming data may need some help. But it's great for people who want a VPN for security.
Website: https://www.ipvanish.com
6. Proton VPN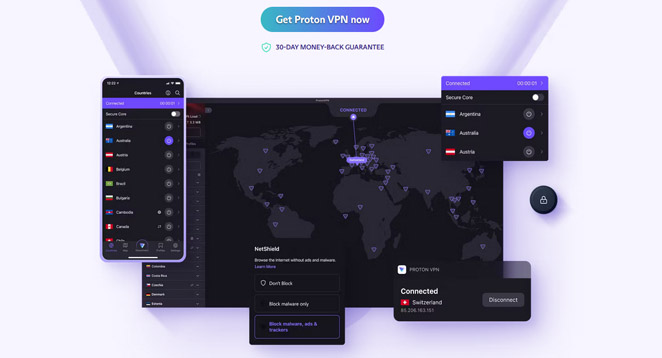 Proton VPN helps people protect their data privacy by providing online tools and services. The company is based in Switzerland, which doesn't keep logs. Proton VPN uses AES-256 and PFS for encryption. It helps randomize and protect encryption/decryption keys. Proton VPN is great for privacy because it prioritizes privacy, doesn't have intrusive privacy ads, and has a strict no-logs policy. It was founded by scientists from CERN and MIT, who used the same approach for their research: analysis, peer review, and transparency. Proton VPN apps are open source and audited, making them accessible, verifiable, and trustworthy for everyone.
Proton VPN among the best VPN Services, has over 1,000 servers in 50+ countries across six continents. It is a fast, reliable, secure VPN solution that supports all use cases. The top features are P2P file sharing, media streaming, accessing geo-blocked content, and anonymous browsing. The VPN service also has a free version created for activists and journalists who want to keep their online activities private from the government.
Proton VPN has just launched faster speeds for its P2P service, specifically designed to improve download speeds for gaming platforms. The upgrade is only available for users with a paid plan. Proton VPN focuses on major feature releases only once or twice a year, apart from the recent updates.
Proton VPN pricing
It's free plan is good for individual users, but small businesses may require additional resources and connections. The two-year plan is the best option, which costs $4.99 monthly.
Conclusion
Proton VPN has two plans: a yearly plan for $5.99 and a monthly plan for $9.99. ProtonVPN is an excellent VPN service. It has a free plan, fast connections, many server locations, and user-friendly desktop and mobile apps. It's great for groups or families, too. But it has limited server locations.
Website: https://protonvpn.com
7. Windscribe VPN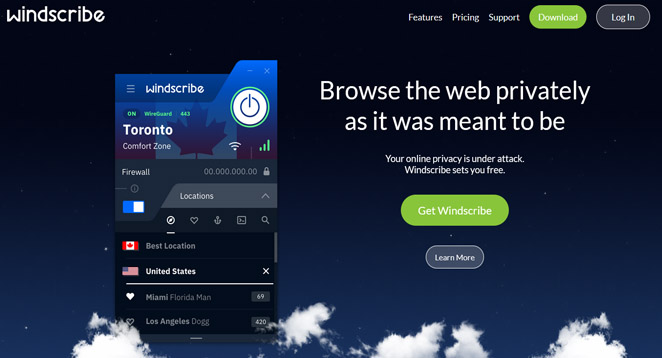 Windscribe VPN plans have all the essential features you need. You get unlimited data and can connect multiple devices. You have plenty of options with access to 610 servers in over 60 countries. Plus, you can choose which apps use the VPN with split tunneling. Windscribe offers several features to protect its customers. These include 256-bit AES encryption, zero logs, port forwarding, and support for multiple VPN protocols.
Windscribe VPN is known for being the top choice for customers who want a VPN service that offers more flexibility than just monthly or yearly subscriptions. With the Build-A-Plan option, customers can access the company's features for $1 per monthly location. The plan can be customized to save costs by only providing VPN services where necessary.
Desktop users can also create a proxy gateway in addition to this feature. Customers who use the browser extension apps can enjoy special features like TimeWarp. This feature changes the timestamp to make it look like the user is connected to a different country. Windscribe VPN has a tool called R.O.B.E.R.T. It helps block malware and pop-up ads on mobile devices. Windscribe VPN recently upgraded its servers to support 5G speeds by increasing their capacity to 10 GBps. The company has added support for Wireguard NT, including some fixes for Wireguard. Lastly, it fixed a few remaining security issues related to gaining higher access privileges. Windscribe VPN effectively communicates all updates and improvements made to the platform through its advertising efforts.
Windscribe VPN pricing
It has different plans available. You can choose a monthly plan for $9 or a yearly plan for $5.75. The best thing about it is the build-a-plan feature. You can create a customized plan for just $1 per month. The platform sometimes gives out promo codes for extra discounts and has a free version with limited features.
Conclusion
Windscribe is an excellent VPN service. It offers good security and privacy features, a generous free plan, and works well on various platforms. It's easy to use, connects fast, and doesn't interfere. However, it can be costly, and certain places may have slow or unreliable connections.
Website: https://windscribe.com
8. CyberGhost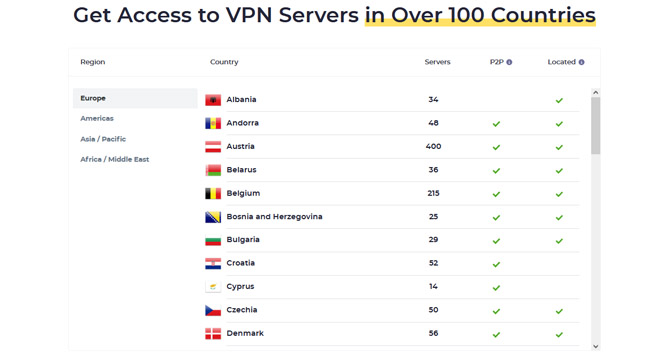 CyberGhost among the best VPN services, offers strong security features like 256-bit encryption, various VPN protocols (OpenVPN, IKEv2, and Wireguard), and a no-logs policy. It was the first VPN service to publish a Transparency Report. Since 2011, the company has openly shared with consumers the number of Digital Millennium Copyright Act (DMCA) complaints, malware activity flags, and police requests it receives annually. It is known as the most transparent VPN solution for a few reasons. Most importantly, it regularly shares its DMCA and police reports with the public.
The company provides unlimited bandwidth, fast and reliable connections, and easy access to streaming content from different countries. CyberGhost makes it easy to access content. You can choose the country from a list specifically for streaming services. It selects the most suitable server for your needs. With CyberGhost, you can connect up to seven devices simultaneously. It works with popular operating systems and apps. You can use CyberGhost for free for 24 hours. CyberGhost promptly addresses bugs and fixes and shares monthly reports on its transparency efforts with the public. This practice builds trust with customers by prioritizing privacy. In 2022, CyberGhost updated its offering, CyberGhost 7.0, with new features. These include One-click VPN, compact/extended view, and smart rules for whitelisting.
CyberGhost pricing
CyberGhost offers different subscription options for its VPN services, including monthly, six-month, one-year, two-year, and three-year plans. It provides access to 7,200+ servers in 60+ countries for just $2.29 monthly. If you choose the three-year bundle, you'll get the first three months for free.
Conclusion
CyberGhost is an excellent VPN service that offers many security and privacy features and servers in various countries. The speed is okay, but the fastest is only available on specific servers. The mobile version has fewer features than the desktop application. However, it may have a slower speed than other VPNs we tested.
Website: https://www.cyberghostvpn.com
9. Norton Secure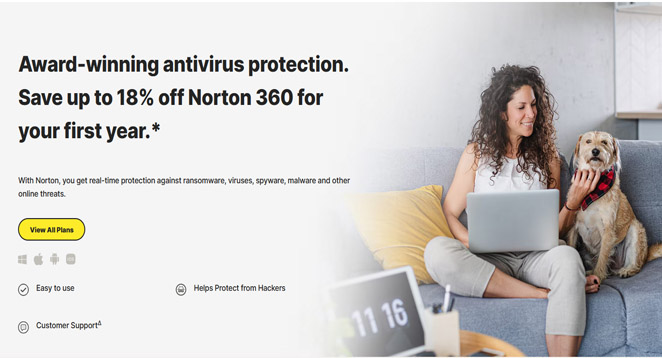 Norton Secure VPN works on Windows, Mac, iOS, and Android. It has over 2,000 servers in 31 countries. Customers can always have a secure VPN connection and feel at ease. Norton Secure VPN offers additional protection to its customers with features like a no-logs policy and ad blocking. Norton Secure is a top security-bundled VPN with great related tools. The Norton 360 with LifeLock Ultimate Plus plan is great for businesses because it lets you connect unlimited devices. It is beneficial for companies that plan to grow. Norton LifeLock provides customers with more than just a VPN service. Our cybersecurity packages are perfect for anyone seeking solutions to their internet safety worries.
This company needs some essential features that other VPN services have. Norton Secure VPN lacks OpenVPN and WireGuard protocols, a kill switch for the desktop client, support for Linux operating systems, and P2P sharing or torrenting capabilities. Remember these points when making your decision. Norton has just launched the Norton Family Companion App for IOS. This app is designed to enhance Norton's services on Apple mobile devices. In addition, it revealed a collaboration with LifeLock and the option to combine LifeLock and Norton accounts for users who have both. Here are the main additions, aside from the usual bug fixes.
Norton Secure pricing
It comes in different security bundles, each offering unique features. Prices for bundles begin at $34 per month. Try it for free for 30 days to find the best bundle for you.
Conclusion
Norton VPN is a good choice if you want a reliable and easy-to-use VPN that is also affordable. However, there are a few drawbacks to consider. These include limited server locations and occasional slow speeds. It's a little pricier compared to other VPNs.
Website: https://www.norton.com
10. Hotspot ShieldVPN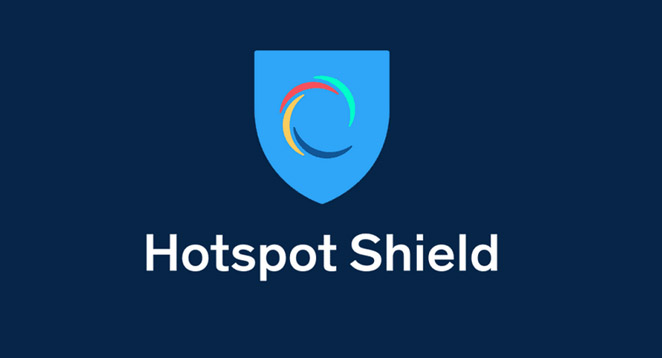 Hotspot Shield VPN keeps customers safe with strong AES-256 encryption, blocks malware, and doesn't keep track of browsing activity. It also has a 45-day money-back guarantee, one of the best in the industry for customer satisfaction. Hotspot ShieldVPN has a free Basic plan, but customers need to subscribe to the Premium plan to get more features and access to virtual locations in over 80 countries.
The Premium plan includes extra benefits such as free access to 1Password, Robo Shield, and Identity Guard. Customers often require a fast VPN connection, and Hotspot ShieldVPN excels in speed. Hotspot ShieldVPN was awarded the World's Fastest VPN title in the 2019 Ookla Speedtest Awards. Other top reviewers also highly regard it for its fast VPN services. In April 2021, VPN Mentor discovered security issues with the Chrome plug-in. These included the possibility of traffic hijacking, DNS leaks, and IP leaks. Hotspot ShieldVPN says they have fixed these issues.
Hotspot ShieldVPN pricing
It's free version is a great way to try the basic VPN features. A premium monthly bundle is available for $7.99, and a premium family bundle for $11.99. Family plans can include up to five members who are 13 years old and older. These plans come with a 45-day money-back guarantee.
Conclusion
Hotspot Shield VPN is an excellent option for those who want to protect their privacy and identity while browsing the web. It's user-friendly and quick. The drawbacks include ads, but they are manageable. Additionally, the free version may occasionally be interrupted due to limited space. It may not work well on Android devices and can be unstable in countries with internet restrictions.
Website: https://www.hotspotshield.com
Also Read;
Final Words
When choosing the top VPN service providers, we looked at five crucial factors for an excellent VPN product. A good VPN should be affordable, have strong security and privacy features, offer fast speed and bandwidth, be easy to use, and provide a free trial or demo.
Security and privacy: What security and privacy features do the services have, and how important are they to the user?
Speed and bandwidth: How does it handle bandwidth for devices in different locations, and how fast can it establish a VPN tunnel?
Self-service options: Can customers use the VPN service without needing to contact customer service? Self-service features typically include knowledge bases, VPN setup guides, and help centers. These resources provide customers with static information and answers to commonly asked questions.
Demo or free trial: Is there a demo or free trial available for the service?
Costs and ease of cancellation: What is the price of the service, and how simple is it to cancel?