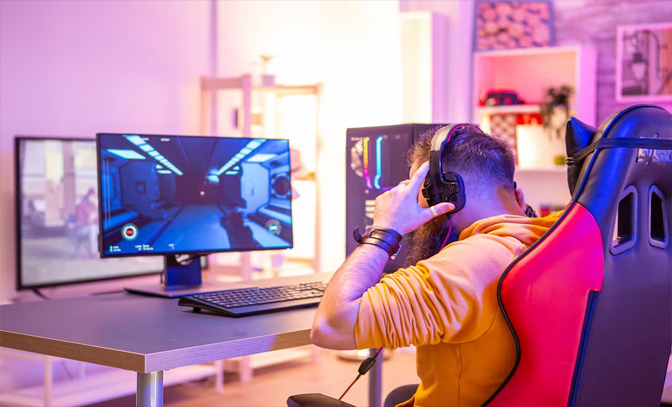 Game Server Hosting Platforms in 2023: The gaming industry is evolving, requiring more computing power than ever before! The good news is computing is affordable! You no longer need to be at home with a computer or game console to participate. You need not play alone or invite friends to your home to play a multiplayer game. Today, video gaming is a social activity in which people worldwide can connect online, create teams, and begin participating. You can join a large global community of gamers with similar interests.
In addition, multiplayer role-playing games are becoming extremely popular, which explains why Counter-Strike, Minecraft, Rust, Starbound, Ark, and Space Engineers are so well-liked. These games are available in various styles, themes, and genres that can be enjoyed by many players, including men, women, teenagers, professionals, etc., and not just game players.
And to host these activities, a specialized game server is required. Why? Let's find out!
Importance of Game Server Hosting Platforms
If you are a gamer who wants to learn about the greater depths of the gaming world and play with anyone in the world, at any time, without delays or interruptions, renting a server is a sensible choice. If you handle everything independently, the game's performance and speed will break down, along with unexpected failures and downtimes. Many users might use the same server and share its resources.
However, an effective server is required to play these high-end video games smoothly. Besides this, computer and network issues can occur at any time. It ruins your gaming mood and invites you to manage a variety of unrelated tasks, such as:
Unblocking router ports,
Difficulty managing a large number of participants,
Security concerns, among others.
These take knowledge, skills, and time you may have yet to gain. Therefore, you require a specialized game server platform to avoid these issues, save gaming time, and avoid frustration.
A dedicated server comprises a cluster of powerful servers that enable users to customize their game to a great extent, play various versions of their preferred game, and invite their gaming circle from other locations.
Benefits of Game Server Hosting
Additional benefits of dedicated game server hosting include:
Outstanding performance with cutting-edge processors and solid-state drives
Manages heavy traffic
More adaptability for availability and resources
No overheating issues
Smooth voice chat between individuals or groups.
Quick service with reasonable problem-solving costs
Multiple extensions, adjustments, and gaming environments are supported.
Capability to change activities and user-friendly control interfaces
And more.
To take advantage of these advantages, look for a good gaming server hosting option to host your games and meet your gaming needs.
For this purpose, we have compiled the following list to help you determine which offers the best combination of features and pricing and then select that one.
13 Best Game Server Hosting Platforms in 2023
Here we list some of the best game server hosting platforms you can consider in 2023.
1. Pine Hosting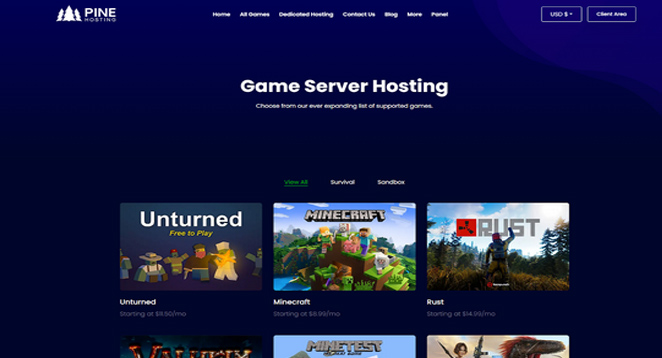 Pine Hosting is a newer player compared to others on this list, but they're already making waves. They focus on providing the absolute best service for each game they host instead of having a large library of hosted games with below average features or support.
This unique approach helped them become a key player in game hosting space over the span of just a few months!
What sets Pine Hosting apart is their easy-to-use platform. It lets you tweak important game settings easily by using simple pages for maximum user friendliness. They also have tools to quickly add mods and plugins in a single click, giving you more control over your servers.
They use the latest generation hardware which allows them to have some of the fastest boot times of any host, as well as the smoothest gameplay experience for all players.
Plus, Pine Hosting has a strong anycasted DDoS protected network which gives your players the lowest ping possible as well multi-terabit defence against attacks. This means your players can enjoy the server, totally lag-free.
As if all of that wasn't enough, they have also started to offer highly competitively priced dedicated hosting with powerful Ryzen CPUs for demanding servers.
In a nutshell, Pine Hosting's commitment to quality, user-friendly tools, and support make them a standout choice for game hosting. They're on track to become a large player in the industry.
Website: https://pinehosting.com
2. ScalaCube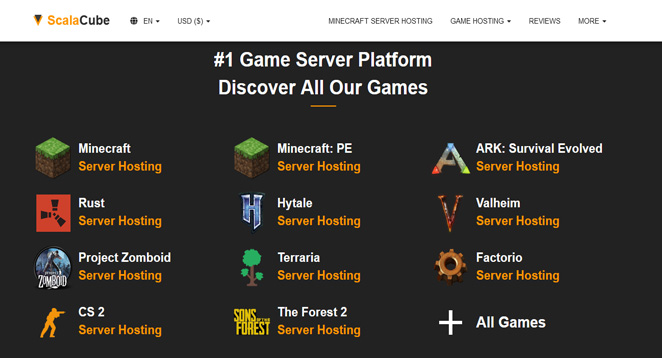 ScalaCube is a leading gaming server hosting provider. It rents Minecraft, Minecraft PE, ARK, Rust, and Hytale servers. ScalaCube provides limitless, unthrottled bandwidth.
Traffic will always have optimal bandwidth regardless of downstream or upstream volume. HDD or SSD gaming server storage? The latter is 10x faster and more convenient if you often access server data.
99.9% server uptime ensures uninterrupted gameplay. Unlimited Minecraft server slots, plugins, and mod support are included. FTP support, fast setups, adjustments, plugins, and DDoS protection for other games are included. They charge $2.5/month.
Website: https://scalacube.com
3. Cloudzy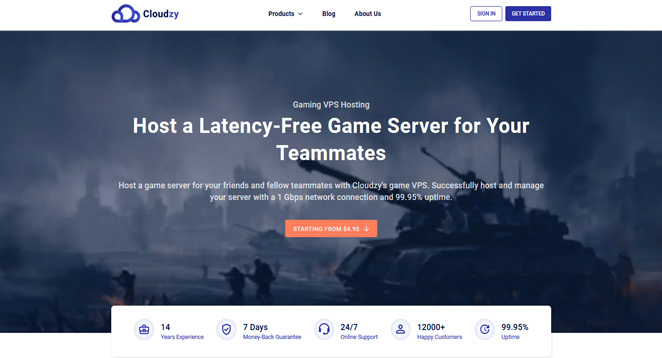 Cloudzy's hosting lets you create powerful game servers. They provide Linux and Windows gaming servers. Game hosting with ultra-high bandwidth, NVMe storage, and 1 Gbps connection speed is affordable. Basic plans cost $7.95/month.
Cloudzy provides next-gen high-spec servers in 15+ worldwide data centers for low latency. With over 30 free games, you can build up and deploy your gaming server for Minecraft, ARK, Rust, Interstellar Rift, Counter-Strike, L4D2, and more. NVMe SSD and KVM technologies boost their top-tier infrastructure for lag-free gaming.
Play securely and efficiently with their smart firewall and DDoS protection. Their online game hosting solutions use cutting-edge hardware and zero-contention resource allocation. Cloudzy is perfect for North American, European, and East Asian players because of its many server locations.
Website: https://cloudzy.com

4. Fozzy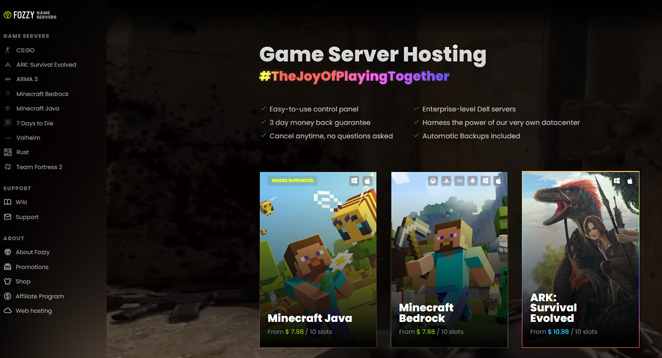 Looking for a gaming server with stable equipment and pleasant service? Use Fozzy Game Servers. It hosts and plays Minecraft, ARMA 3, 7 Days to Die, Rust, ARK, CS:GO, Team Fortress 2, and Valheim. For each game, Fozzy provides gaming servers with varied slots, RAM, etc. Some games include 3-day plans to play with pals over the weekend without overpaying. Your gaming server starts in 10 minutes.
Fozzy Game Servers wants everyone to play with friends on their terms! Game server managers and novice players seek the most fun. Fozzy's customer service is amicable.
Fozzy makes server testing simple! Connect to a dedicated public server to test reliability and latency. Every user gets a 3-day money-back guarantee for one service so that you may try all the features. After testing Fozzy, you have nothing to lose! Fozzy Game Servers provides enterprise-level Dell servers with 5 GHz processors as a Dell partner. It's dependable.
It controls servers using Pterodactyl, an easy gaming panel. It enhances the panel's usability. Thus, anybody may host a gaming server. Fozzy Game Servers' massive worldwide network defends against DDoS attacks; You no longer have to worry about server attacks during an important game. Fozzy Game Servers provide 99.99% uptime, robust hardware, and friendly support!
Website: https://games.fozzy.com

5. HostHavoc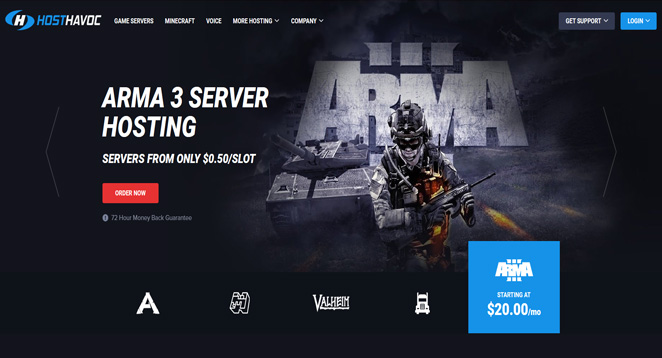 Another popular gaming server host is HostHavoc. They update their game servers with mods and special tools. HostHavoc offers 25+ games.
Popular games include ARK: Survival Evolved, 7 Days to Die, Arma 3, Counter-Strike: GO, Garry's Mod, Insurgency: Sandstorm, Minecraft, PixARK, Rust, Space Engineers, Squad, Terraria, and others. HostHavoc enables rapid gaming server setup.
NVMe SSDs and corporate server gear power all gaming servers. Manage your gaming server with advanced options, quick management, and full FTP access.
HostHavoc lets you try new games without paying extra. It supports Steam Workshop, adjustments, plugins, and 3rd-party APIs. Its high-capacity network connects 10 data centers on three continents.
Get 99.9% uptime, steady server performance, and real redundancy. HostHavoc provides free DDoS protection, daily backups, 24/7 assistance within 15 minutes, and a 3-day money-back guarantee. PayPal, credit cards, and cryptocurrencies are accepted.
Website: https://hosthavoc.com

6. SparkedHost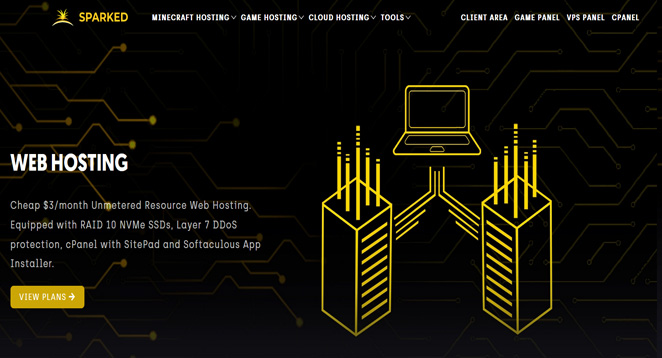 Game hosting? Sparked Host is it. They provide some of the best features on the market, including a large selection of games and a growing library. Sparked Host provides various services, including a 99.9% uptime guarantee, DDoS protection, and 24/7 support. Their game hosting comes with a 48-hour money-back guarantee.
Sparked Host frequently adds new features to its control panel, making service management simple. The built-in file manager lets you optimize gameplay. They also provide a plugin installer for additional gameplay and one-click downloads for popular modules like uMod in the control panel.
Sparked Host's quick installation makes server setup easy. After paying for your server, it will instantly install, and you may customize it. Their customer support service will help with setup issues.
Sparked Host is an outstanding alternative to gaming hosting services. Their excellent server uptimes, powerful DDoS protection, quick server installations, and 24/7 customer service make them a top option for all players. Sparked Host offers reliable and easy game hosting.
Website: https://sparkedhost.com

7. OVHcloud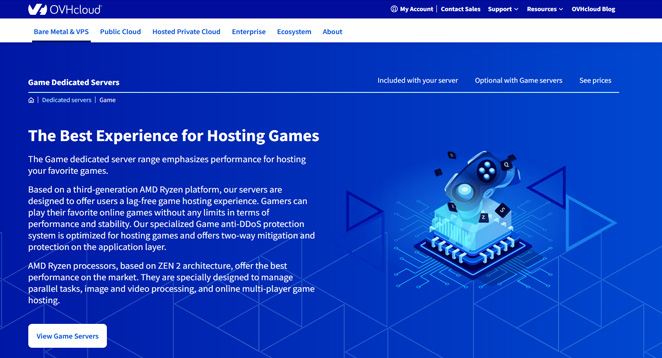 OVHcloud's dedicated gaming servers provide the finest performance and stability. OVHcloud provides gaming servers for Mumble, TeamSpeak, Counter-Strike, Rust, Minecraft, Ark, Arma, Garry's Mod, L4D2, and Team Fortress. Their servers use 3rd-generation AMD Ryzen CPUs with ZEN-2 architecture for lag-free online gaming. They can multitask, analyze images and videos, and play multiplayer games.
All OVHcloud servers have complete anti-DDoS security, preventing service downtimes. Unlike traditional security systems, It evaluates egress and ingresses UDP traffic for music, video, and video games. Their gaming servers may reach 1GB/s bandwidth for optimal performance and serviceability. OVHcloud provides data centers globally so that you may rent a gaming server near you for low latency. Each server has a public IPv4 and IPv6 address and may rent an additional IPv4. To improve server availability, their SLA is 99.90%. Servers have 500GB backup storage.
Website: https://us.ovhcloud.com

8. Google Cloud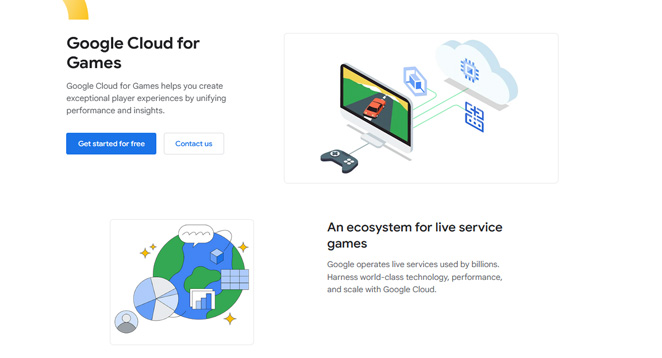 Google Cloud game servers provide a smooth gameplay experience. Its powerful global infrastructure enables managing servers without affecting performance. Their gaming servers may reach 3.8 GHz.
Google Cloud features servers in 24 locations in 200+ countries and a high-quality network for your gaming partners worldwide. Google Cloud game servers auto-scale to your gameplay demands. Its single control panel simplifies server maintenance and deployment.
Website: https://cloud.google.com

9. Clouding.io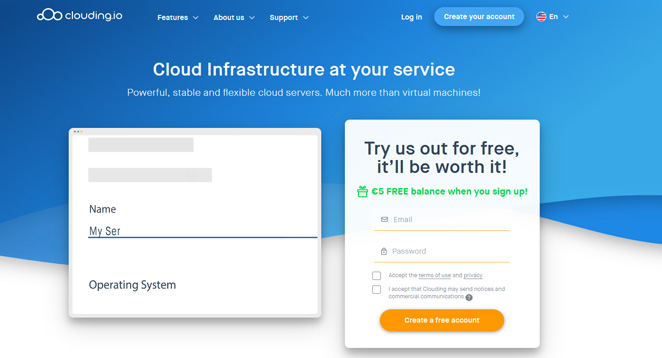 Clouding.io offers strong gaming cloud servers. This cloud platform's strong NVMe SSD drives and top-tier server technology provide maximum speed and minimum latency. Stable, redundant, high-bandwidth, fault-tolerant network!
Clouding.io's Strict Anti-DoS, built for online gaming, screens all unauthorized traffic and protects servers from assaults. Freely enable it in your client panel. It's included! If you don't enable this game server security, Clouding.io's Anti-DDoS's three levels of traffic filtering will still protect your servers. Clouding.io's client interface makes server management simple to improve your life. Pterodactyl, an easy-to-use gaming panel, lets you set up servers for Rust, Minecraft, ARK, 7 Days to Die, ARMA 3, and TeamSpeak.
Clouding.io is also flexible. You pay for contracted RAM, CPU, and NVMe SSD. There are no fixed-cost plans so that you may resize your server anytime! Clouding.io is always free. The 24/7 customer support is top-notch and responds quickly. Clouding.io offers a €5 trial.
Website: https://clouding.io

10. Citadel Servers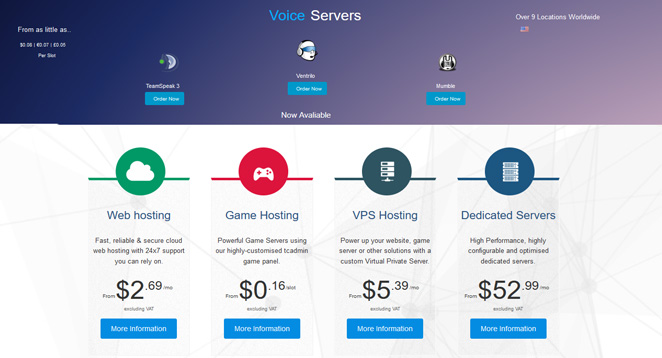 Citadel Servers gaming server hosting prevents slowness and crashes. Gamers should expect speed, server quality, and dependability from the hosting provider.
ARK, 7 Days to Die, Killing Floor 2, Sniper Elite 3, Don't Starve Together, Counter-Strike Source, Interstellar Rift, Minecraft, PixARK, Sandbox, Rust, Terraria, Zombie Panic, and more are available.
TcAdmin, their bespoke control panel, simplifies managing servers with the best setups and tools to maximize gaming server performance. Their dedicated servers use cutting-edge hardware and networking. For quicker performance, all servers use Solid-State Drives with 1Gbps bandwidth. After payment, they will set up your server in seconds.
Citadel Servers provides 24/7 network monitoring and anti-DDoS protection. 20+ data centers across four continents give the lowest latency. They provide a 10% discount for regular customers who hire a server for 12 months.
Website: https://citadelservers.com

11. Vultr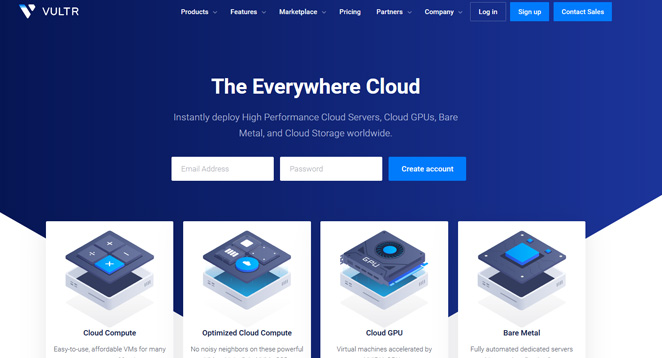 Vultr's gaming servers are easy to deploy. After clicking deploy, they will orchestrate the Vultr cloud platform and distribute your instances to the specified data center.
Next, install and configure the changes you want and let Vultr handle the VPS configuration for better game server tuning. To maximize gaming potential, their game servers use high-performance, low-latency networks.
Vultr's excellent performance comes from enterprise-grade hardware, fast SSD storage, the newest Intel CPUs, 100% SLA, robust stability, and constant serviceability. You can manage anything with their easy control panel, clear interface, and powerful API. Vultr supports IPv6, isolated local private networks, root access with a dedicated IP for all VMs, and custom ISOs.
Their API lets you start, stop, and manage server instances. The US, Netherlands, France, UK, Germany, Canada, the Republic of Korea, Japan, Singapore, and Australia are home to 17 global data centers.
Website: https://www.vultr.com

12. So you Start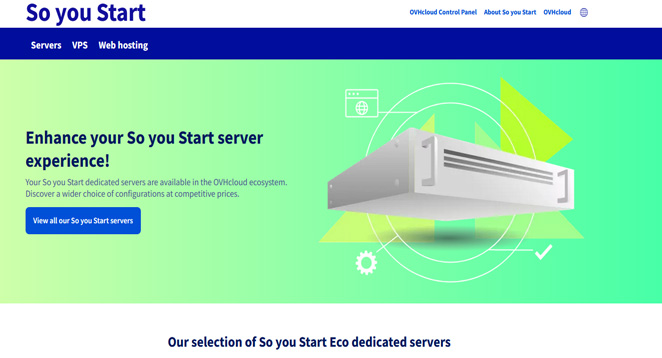 So your Start's gaming server rentals unleash creativity and performance. They provide optimized, low-latency computers for your favorite games. So you Start lets you host Minecraft, Counter-Strike, Team Fortress 2, TeamSpeak, and Mumble. Their gaming servers provide 16 free IPs, 100GB backup storage, 250 Mbps bandwidth, 90 environments, and anti-DDoS security.
Add-ons include failover IPs, Express KVM IP, and Backup+. Intel i5 or i7 processors, 16-32 GB RAM, and SSD storage optimize gaming servers. So you Start using OVH data facilities in Canada and France. These data centers use cutting-edge design, vast capacity, maintenance, security, and 24/7 monitoring.
Website: https://www.soyoustart.com

13. Amazon GameLift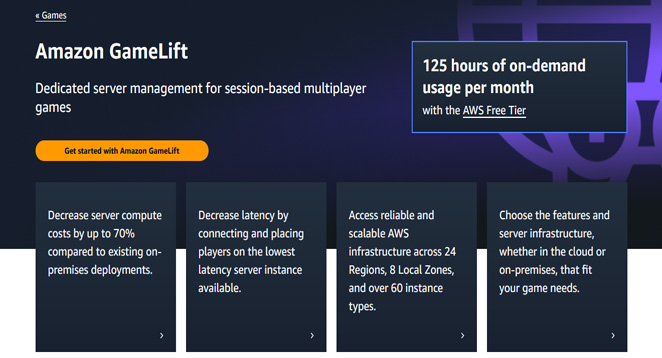 Amazon GameLift's gaming server hosting uses AWS for optimal performance, minimal latency, and cost savings. Its fast-scaling, deployable, and operating dedicated servers will boost your game. Multiplayer games are better with it. They safely install servers over running instances, monitor gaming servers and instances, replace unhealthy ones, and load-balance server traffic.
Amazon GameLift game servers are across 15 worldwide regions on five continents to improve uptime and serviceability. They provide fast-paced single-player and multiplayer games. GameLift constantly searches for low-latency servers. If unavailable, enable the hosting service to expand capacity closer to your players.
GameLift operates on AWS, the most secure and broad cloud platform. AWS has 175+ fully-featured services, including GameLift so that you can trust it. Auto-scaling can launch thousands of instances and stop unneeded ones in minutes. GameLift can scale servers automatically based on steady-state percentage objectives and accommodate load pattern variances.
DDoS protection and network security protect your gaming servers from frequent network attacks. It provides Spot and on-demand instances in 40 sizes and kinds. Choose your gaming-optimal memory, CPU, and network capacity for each instance.
GameLift supports Amazon Lumberyard, Unity, Unreal Engine, C# & C++ game engines, and various platforms. It  offers high-performance VMs, quick data transmission, and SSD-based storage without a monthly commitment. AWS Shield, GameLift, and others may be integrated.
Website: https://aws.amazon.com/gamelift/
Final Words – Game Server Hosting
Gaming is developing to provide players with new thrills and experiences. To simplify things, technology companies provide modern game servers with unique features and functionality so you can play with anybody on the globe and have an unrivaled gaming experience. Thus, get your gaming server now from any of the mentioned platforms.