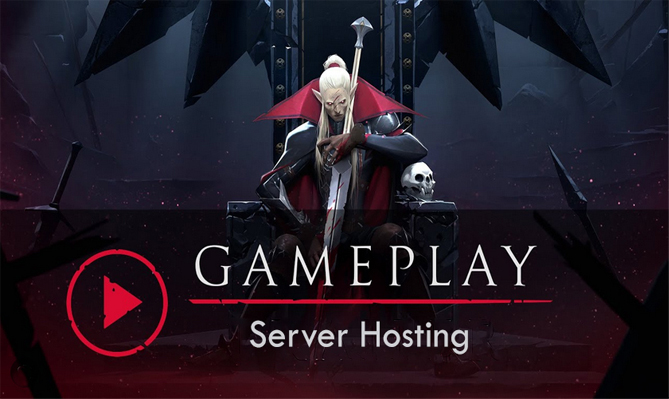 Best V Rising Server Hosting: V Rising is an open-world survival game for players who enjoy the genre. It will bring you to a new world where, after centuries of slumber, you will awaken as a vampire.
In the game, you will encounter many challenges. To regain your empire, you must endure searing sunlight, search for food to gain power, and battle creatures.If you are a gamer seeking new titles, V Rising is for you. From overcoming challenges to building your castle, you'll appreciate the game's unique design and pace throughout.
And if you wish to play your game with exceptional speed and without interruptions, V Rising server hosting may be a sensible and advantageous choice. With a premium server rather than self-hosting, you won't encounter functionality, speed, features, power, availability, and uptime issues.The improved graphics quality and efficacy will provide you and other players a more enjoyable gaming experience.
Let's get a better understanding of V Rising, and then we'll have a look at the V Rising server hosting options that are available to you.
What is V Rising?
It is a gothic open-world video game where players can explore a vast world and travel through open countryside, gloomy dungeons, and verdant woodlands in search of essential survival resources. In the game, you will reclaim your empire after a lengthy slumber as a vampire.
Stunlock Studios has created a new game in which you can assume the role of an evil vampire in a realistic setting. V Rising was announced for the first time in early 2021 and will be released in 2022. V Rising is developed using Unity's most recent technology, DOTS. After the most extensive development, Stunlock Studios has created an original video game that offers fans a delightful experience.
As a gamer, you must remain in the universe for as long as possible. And to survive, you must endure deadly sunbeams, search for blood, battle with natural superpowers, and purge yourself of sadness and sorrow. It has many features; let's review them individually:
It is a combination of open-world survival and hack-and-slash games.
Awaken from a long slumber feeling feeble and hungry.
Play with friends to end hunger fast.
Gain experience through combat and foraging
The game requires a 64-bit processor and Windows 10 operating system. Now, you must abandon your visions, awaken from your slumber, and descend upon Vardoran.
Gameplay
V Rising is a gothic Open World game where you play as a vampire. You awaken from your centuries-long hibernation. You will awaken in a state of weakness, craving blood to gain energy. Regaining your dominion as a vampire requires you to survive the sun's searing beams, preternatural creatures, and many other challenges.
In an ancient universe, vampires governed many regions until hunters killed them. You suddenly awaken in your coffin, devoid of your former abilities. Now, you must gather resources to ensure your survival. You may hire humans as loyal allies and expand your empire. Start reconstructing your castle and then fight a powerful enemy coming your way.
The game features both PvE and PvP, castle construction, fast-paced combat, and crafting, all controlled by WASD and cursor-based targeting. During character advancement, players will have the freedom to choose their course.
You can focus on ranged combat, complete spell kits, and melee combat as a player. Exploring the world alone or with companions, you attack villages, transverse the animals' territories, and slay enemies to regain what you have lost. Combining different weapons and spells allows you to customize your character to suit your play style. As a diplomat in this game of power, you can ally with similar players, betray them, attack other players' fortresses, and more – you determine who you want to be.
A dedicated V Rising server hosting service is required to play such an exciting game.
However, why? Let's understand!
What are the benefits of V Rising server hosting?
Imagine a game where you are doing well, defeating the enemies and constructing an empire.
Suddenly, your game begins to stumble, and you lose control. In the meantime, the situation has changed. While you are inactive, contending with the game's intricacies, or blaming your internet, your companions are being killed, and your resources are seized.
Eventually, you lose everything you've accumulated over time. It is frustrating.
Either you would never play it, or you would seek solutions that would allow you to be in the game and play it without difficulty.
For this, you'll need a server that can provide you with a seamless gameplay experience while managing all technical issues to improve your control. It will offer enhanced efficacy, quality, speed, accessibility, and security. A server handles everything so you can become an expert in your game.
Dedicated V Rising server hosting is required for useful features, security tools, customizations, third-party tools, extensions, and excellent reliability without breakdowns and delays.
Let's review a few advantages of a dedicated gaming hosting service.
1. Guaranteed Uptime
Numerous server hosting platforms boast uptimes ranging from 90% to 100%. Maximum service providers guarantee a 99.99% uptime, which means your game will be accessible most of the time, and you will rarely experience low latency, outage, and jitter.
2. Useful Features and Plugins
A dedicated server hosting provides a variety of modules and features, including maps, the ability to transition between games, FTP access, mod support, location switch, and customization options. These additions make the gameplay more enjoyable and convenient.
3. Security
Cyber attackers who breach online games to take information and misuse the data pose a threat to internet users. As a result, hosting providers provide security, such as secure data centers, DDoS protection, and safe connections.
4. Performance
Servers always employ cutting-edge technologies like the most recent Intel/AMD processors and NVMe drives. This advanced technology enables the server to operate without interruptions. In addition, your bandwidth will be increased, allowing an uninterrupted gaming experience. You can select the location closest to you and receive a fallback storage option for your stored games and configurations.
Best V Rising Hosting Service Providers
Let's review some of the top V Rising hosting service providers available.
1. Indifferent Broccoli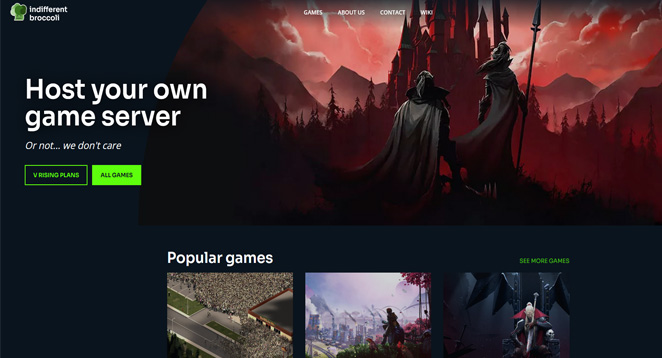 Indifferent Broccoli is the perfect server host when you and your companions awake from your vampire hibernation. Their straightforward one-click server configuration allows V Rising servers to be launched in minutes. Concentrate on searching for blood and constructing castles, and let Indifferent Broccoli handle the rest.
Indifferent Broccoli provides exceptional customer service. On their Discord server, team members known as "broccolini" are always available to assist. Their support is courteous, helpful, and prompt. They recognize that V Rising is a game in early access that will experience growing difficulties and are there to assist.
The most beneficial aspect of Indifferent Broccoli's hosting services is their high-performance hardware. Their game servers have minimal latency due to their 64GB to 256GB RAM processors. With data centers throughout North America and Europe, you can experience optimal performance from any location.
Try Indifferent Broccoli if you want a helpful, pleasant, and efficient server provider for pursuing the Alpha Wolf or confronting Errol the Stonebreaker. Indifferent Broccoli offers a two-day free trial (no payment information is required), after which an 8-player V Rising server costs $12 monthly.
2. DatHost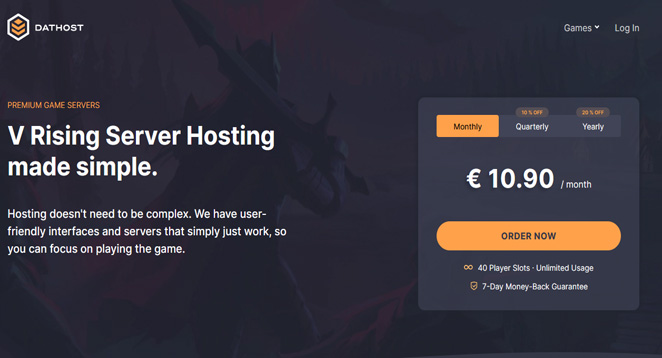 With DatHost, you can unleash your inner vampire and enjoy a seamless gaming experience. Designed for simplicity and speed, DatHost's intuitive server setup gets your V Rising adventure up and running quickly, allowing you to concentrate on the canines, fortress, and blood feast.
At DatHost, customization is of paramount importance. Their one-of-a-kind settings manager enables you to customize your server according to your preferences by scheduling PvP events, modifying resource rates, or customizing your server's description while maintaining peace of mind with daily backups and automatic V Rising updates.
DatHost recognizes the significance of the performance. They provide modern hardware that ensures a lag-free and fluid gaming experience. With more than 20 locations worldwide, you can select the optimal server for a low-latency experience regardless of location.
If you're looking for a server host that harmoniously combines simplicity, customization, and dependability, look no further than DatHost. Rent a 40-slot server for only €10.90 monthly and enjoy worry-free V Rising server hosting!
3. GTX Gaming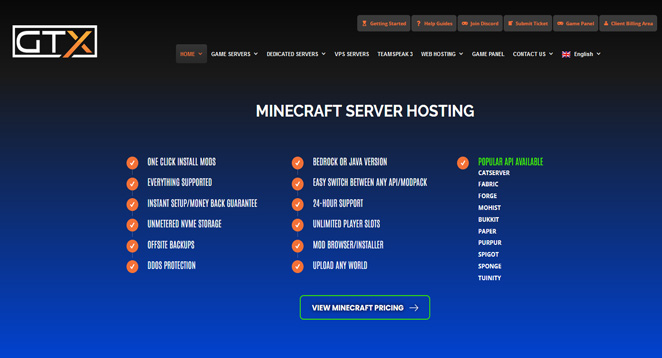 GTX Gaming currently hosts over 500 V-Rising Gaming servers, and its global presence allows for a lag-free gaming experience. The DDoS-protected infrastructure of GTX Gaming guarantees a quick setup and outstanding uptime.
Additionally, your server's cached folders and API extensions are backed up whenever it begins on its external backup storage. GTX gaming ensures enterprise-level server performance delivering non-stop entertainment. And ultimately, you can expect technical support around the clock and a 24-hour money-back guarantee.
4. Survival Servers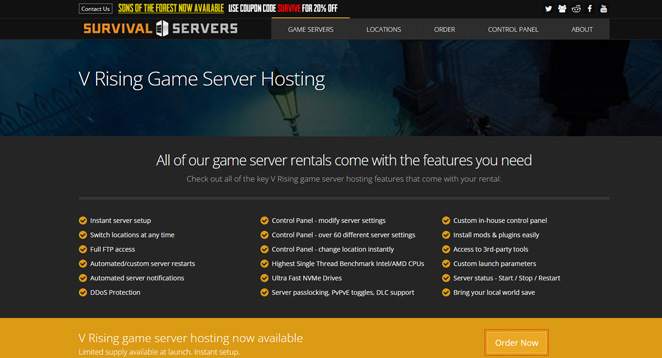 Survival Servers offers V Rising server hosting with robust features and performance. You can set up your server immediately and change its location anytime and from any site. For expert gamers, Survival Servers provides complete FTP access to configure the server to your specifications and administer your files. Configure your server to restart and receive notifications or alerts automatically.
Survival Servers can safeguard your server from cyber threats such as DDoS attacks while it is inactive. You can change over 60 server settings through the server's control interface and administer them as you choose.
Survival Servers use AMD or Intel processors with the maximum single-thread benchmark for optimal performance. It has NVMe drives for ultra-fast servers, PvPvE toggles, server pass blocking, and DLC support. In addition to plugins, install changes, third-party access, an in-house control interface, and other options for enhancing your gameplay, the game features a variety of additional options.
The custom parameters enable you to activate the server under your preferences. Save your game and continue from the saved version. Receive server status notifications, such as halt, resume, and start. By joining your V Rising server, you can participate with your peers and gain access to the administration interface to administer everything.
Survival Servers are accessible in numerous nations, so you will always enjoy high availability. It has data centers in Los Angeles, Seattle, Germany, Singapore, New York, and France, among other locations. Replace your boredom with V Rising and acquire a server for as little as $14 monthly. Select your nearest location and initiate the setup procedure immediately.
5. 1GServerHost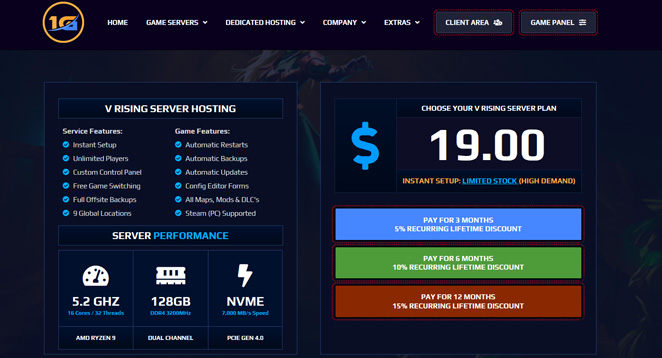 1GServerHost's 16 global points of presence and industry-leading servers assure seamless gameplay for all users. Notable features include lightning-fast NVMe Storage, unlimited participant positions, and DDoS protection. In addition, hourly automatic backups ensure you always have the most recent version in case of a server-side issue.
There is no limit to the number of player spaces; you can host as many as you like.In addition, you receive immediate installation, complete FTP access, and the ability to add changes without difficulty using their custom control interface.
Finally, 1GServerHost permits you to transition between games and offers a 72-hour, no-questions-asked money-back guarantee.
6. GPORTAL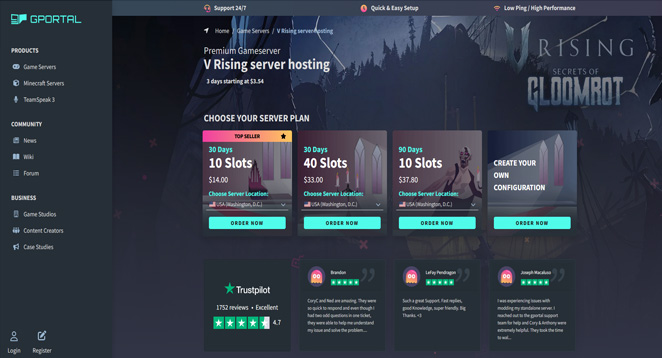 GPORTAL provides a premium game server so V Rising players stay caught up. When you rent a V Rising server, you have many configuration options. GPORTAL suggests up to 40 slots per server.
GPORTAL utilizes the newest and quickest NVMe SSD server hardware available. In addition to configuration space, 50 GB of backup space is provided for saving games and configurations. After registering with the GPORTAL, you can begin configuring your server within three minutes.
Corero, a multi-layered defense system, is partnered with GPORTAL to defend your server from DDoS attacks and provide an exceptional gaming experience. You can swiftly, effortlessly, and flexibly transition between the available activities on GPORTAL.
In addition, GPORTAL provides multiple data centers on different continents so that anyone from anywhere in the world can rent a server without experiencing issues with latency and accessibility. Choose the data center closest to you from London, Frankfurt, Barcelona, Los Angeles, Dallas, Sydney, Singapore, Sao Paulo, Tokyo, and Taipei.
With GPORTAL, the game can be played with flexibility. Obtain the GPORTAL Gamecloud and access the Internet immediately. Start your adventure now for $3.43 for three days and up to ten slots.
7. XGamingServer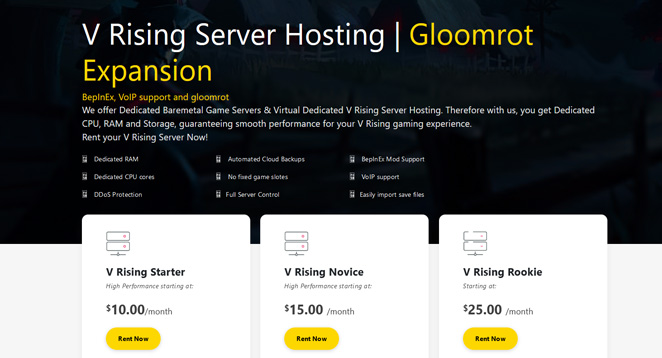 XGamingServer offers V Rising unlimited slots and dedicated, high-performance, readily configurable servers. It provides the finest virtual dedicated servers to ensure seamless, uninterrupted gameplay. You choose the capacity you require, and with the latest CPUs and a variety of RAM options, you'll be in Vardoran in no time.
They offer a variety of servers powered by industry-leading AMD 5600X CPUs and 3GB to 16GB of rapid DDR4 RAM. With 1 to 4 logical processors, games have no latency, just unadulterated performance.
They offer NVMe SSDs ranging from 30GB to 100GB for storing your progress, configuration, and storage. Because XGamingServer does not believe in slots, they provide unlimited slots on your server. On each server, they have the most advanced DDoS protection for data security. Additionally, you receive automated cloud backup in the unlikely event that your data is lost.
They have data centers worldwide, from both sides of the United States to Australia and Europe. Select the one closest to you for an enhanced gaming experience. Their support is accessible via email or Discord.
8. ZAP-Hosting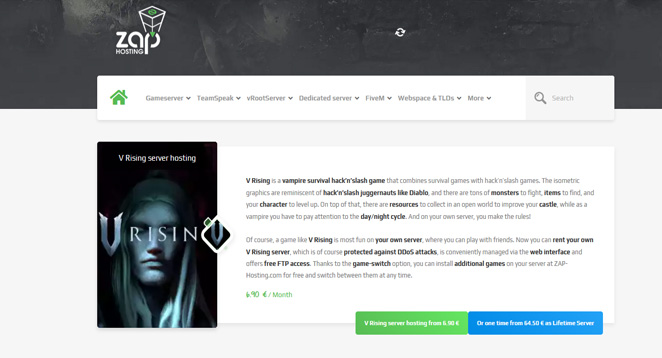 ZAP-Hosting is one of the finest gaming server hosts for survival and hack-and-slash games, on which you can enjoy your beloved V Rising game. Collect the necessary resources to power up your citadel and enjoy improved gameplay.
Customize the game's regulations and appreciate the isometric visuals. You can easily rent a V Rising server to play with your peers. In addition, Zap-Hosting provides a plethora of features to configure your game according to your preferences.
In addition, Zap-Hosting safeguards your server against DDoS attacks, so your saved games and files are safe. As an advanced user, you can manage your server via the web interface and have full FTP access.
If you are weary of playing the same game repeatedly and desire a change, you can transfer to another game offered by ZAP-Hosting and return to V Rising whenever you choose. ZAP-Hosting provides an option for autonomous setup, its web interface, potent hardware, a prepaid payment option, and more.
Once you have paid for your server, ZAP-Hosting will automatically configure it and make it operational within minutes. You can also enhance your server with modifications, extensions, and third-party applications. The potent hardware and ultra-fast memory ensure a superior gaming experience. With an Intel E5-2650v4 processor and 328 GB of DDR4 memory, you will always stay caught up in multiplayer games. Configure and prepare your server for the next game immediately.
Conclusion
A dedicated V Rising server hosting by your side offers numerous advantages, including increased uptime, an abundance of features, enhanced security, superior performance, and more. Play V Rising with your peers without difficulty or concern for data security. Choose the finest V Rising server hosting from the preceding list and begin constructing your castle and destroying your foes.