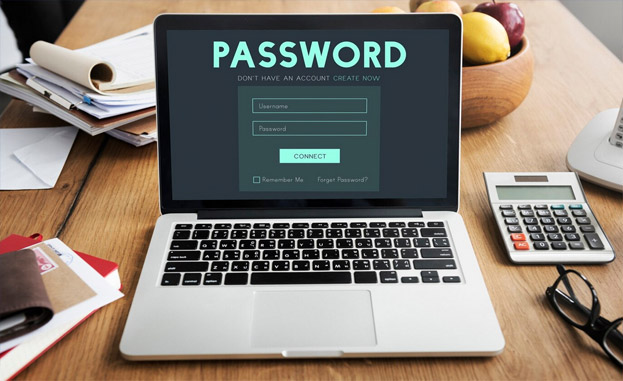 Free Password Manager tools For Your Business: How do you manage your passwords? Are you still using a shared Excel sheet with the team? Sharing credentials using an Excel sheet can work, but is complicated and insecure. These tools make it simple and safe to share your team's password. Let's first talk about why you need a password manager before we move on to the list of tools.
You'll likely have some generic credentials if you work in a team and manage multiple products, applications, servers, and infrastructure. All team members can use the credentials. The challenge starts when someone changes the password without letting others know. Have you ever experienced this? You can find free and paid Password Manager tools to help you better manage your passwords. Let's take a look at them.
10 Best Password Manager For Your Business
Here are some top and best open source password managers for personal and business use.
1. Bitwarden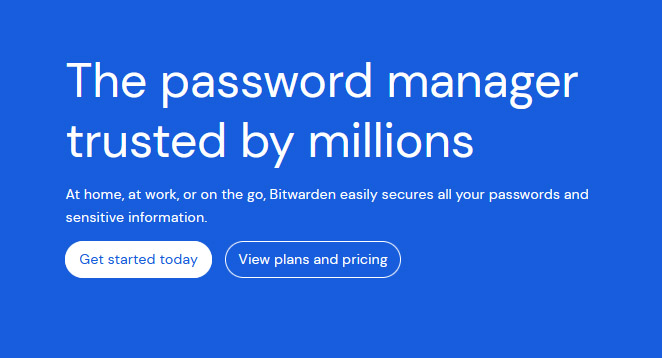 You can use it for yourself, your team, or your whole organization. Bitwarden offers multiple security algorithms and can be used as a self-hosted solution or a SaaS (Software as a Service). You can self-host on Windows, Linux, macOS, and Docker. Let's take a look at some of their features. Try out the FREE Plan to see how simple it is to use. The main feature is a record of the user's actions. Allow users to access passwords as needed using ACL and user groups. Please share this information with your team members and Duo Security to improve security. It is among the best free password manager tools you can consider in 2023.
Website: https://bitwarden.com
2. Dashlane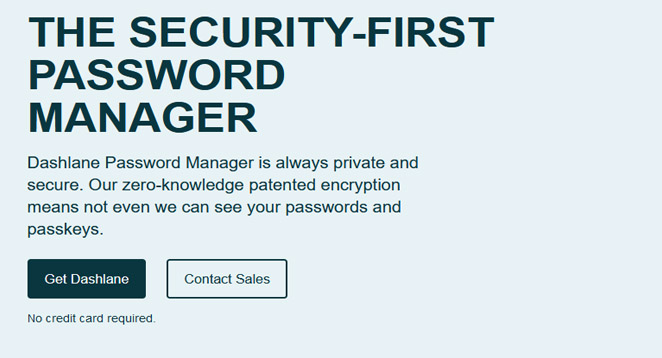 You can create, share, and manage your credentials using different devices. Dashlane is a software-as-a-service (SaaS) solution that costs $4 monthly. Let's take a look at some of its features. Using a cloud-based password manager like Dashlane has a significant advantage: all your credentials are synced, meaning you can access them from anywhere, whether you're using Android, iOS, Linux, MAC, or Windows. Give it a try and see how it works.
The main features of this tool include a built-in password generator for creating unique and secure passwords, secure sharing of passwords with team members or groups, integration with 2-factor authentication, and autofill functionality. In 2023, it's one of the top free password manager tools to consider.
Website: https://www.dashlane.com
3. Enpass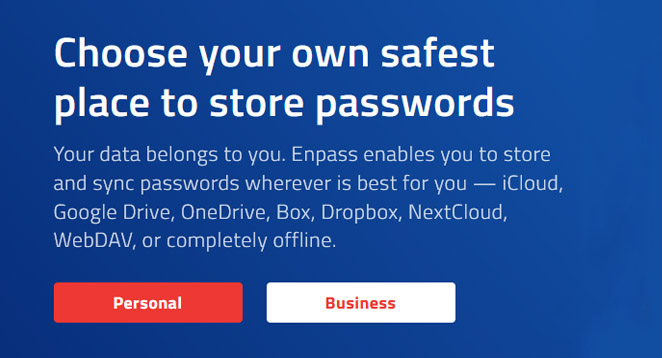 Keep all your sensitive information, such as passwords, account details, licenses, notes, PINs, etc., stored securely on your device. Enpass is a solution that works on different platforms, including wearable devices like Apple Watch and Android Wear.
Enpass password manager now has a new feature that lets you sync your data to popular cloud providers like Google Drive, Box, One Drive, and iCloud. No need to worry! We encrypt all data using AES-256 for syncing. Here are some of its features. You can use a browser extension to fill in your username and password automatically, so you don't have to manually type them.
The main features are easily transferred passwords from other managers. Stay organized by using folders and sub-folders—built-in auditing to notify you about the strength of your password. Enable password recipes for creating easy-to-pronounce passwords. It is one of the best free password management solutions that you should think about using.
Website: https://www.enpass.io
4. Hypervault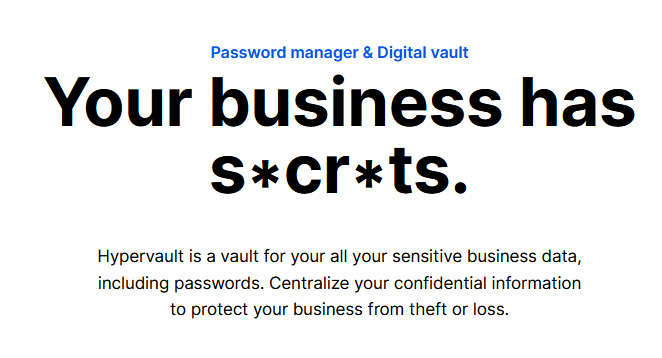 Hypervault one of the best password management tool that lets you store various important details like user and password, port, server, connection details, license, and more. The features include over 50 password templates for popular services, multiple security options like 2FA, Salt, PBKDF2, Iterations, and the ability to categorize credentials.
Website: https://hypervault.com
5. KeePass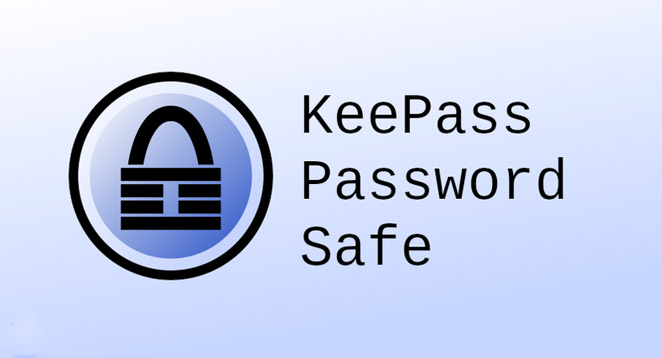 KeePass is a simple open-source tool for securely storing passwords. You can store different types of passwords, such as FTP, SMTP, Console, Firewall, Website, Members, etc. Passwords are kept in one database and secured with a unique master password or key file. The important thing is to keep the master password safe. It unlocks all the stored passwords in a database.
The password database is secure because it is encrypted with AES and Twofish algorithms. You can download the official version for Windows or as a portable option. Unofficial downloads exist for various platforms like Linux, Android, and Mac OSX.
The portable version is convenient because plugging in a USB drive allows you to use it on any Windows computer. The main features include exporting password entries in CSV, XLS, TXT, XML, and HTML formats. You can import data from TXT and CSV files. Create a password using random characters. Find the password and determine its creation, modification, and expiration dates. It is among the best open source password manager tool you can consider for your business.
Website: https://keepass.info
6. Keeper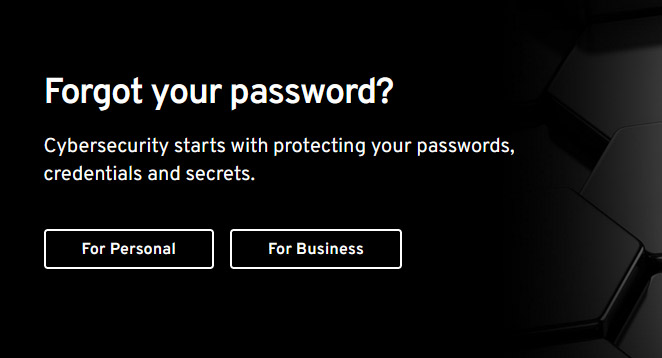 Keeper Security offers incredible features that improve password management to new heights. This tool helps you store passwords and protect against cyber attacks. I'm not making that up. Brands like Google, Samsung, and Amazon trust Keeper Security. That makes it very easy to understand! This tool is available on many devices like laptops, PCs, mobiles, and tablets. The business version costs $2.50 per month per user and includes a free trial.
The main features of this password manager tool include private vaults for each user, auto-generated strong passwords, easy and secure folder sharing, protected file storage, an elegant admin panel, and informative reports and audit scores for security controls.
Website: https://www.keepersecurity.com
7. Passbolt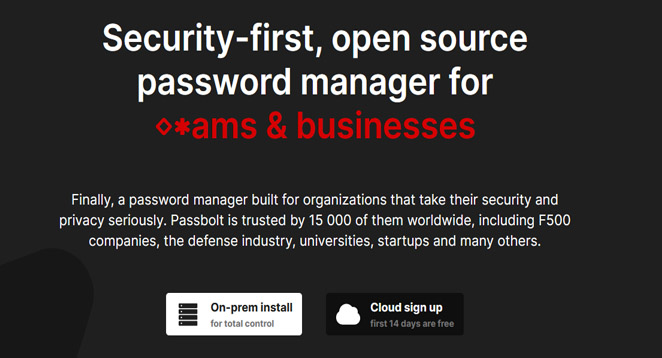 A solution that is open-source and can be hosted on your own. Passbolt is designed for teams. The picture below illustrates how it works. If you want to avoid handling the installation and administration alone, you can opt for their cloud-hosted solution. You can also consider using Kamatera or DigitalOcean, which provide Passbolt servers through their marketplace.
Website: https://www.passbolt.com
8. Passwork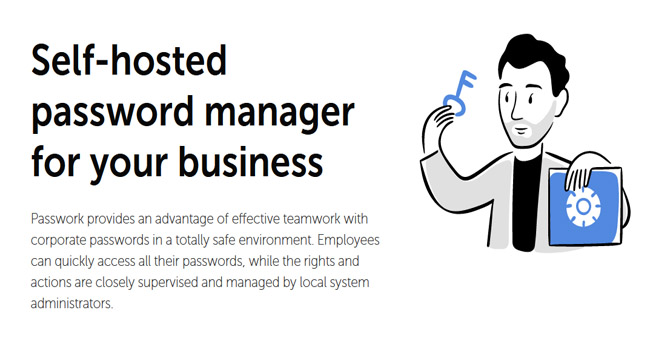 Passwork allows for efficient teamwork with secure corporate passwords. Employees can easily access their passwords, and local system administrators closely supervise and manage their rights and actions. Your data is encrypted using the AES-256 algorithm and stored securely on our server. Only system administrators have access to it. Passwork is a software that uses PHP and MongoDB. It can be installed on Linux and Windows operating systems, with or without Docker. Passwork password manager tool is a versatile solution that works for companies of any size. Web browsers, mobile devices, and browser extensions can access it. The main features are Clarity, Efficiency, Management, Teamwork, and Convenience.
Website: https://passwork.pro
9. 1Password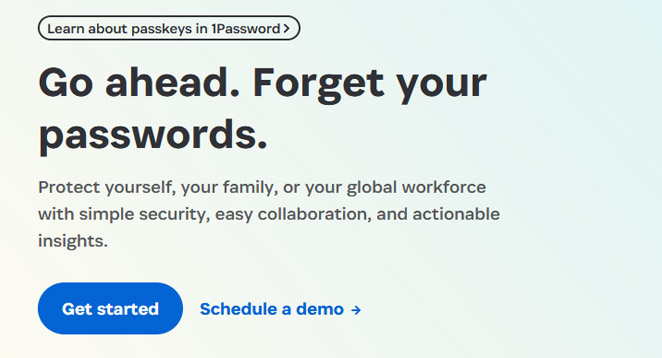 With 1Password, you can quickly and efficiently onboard your team and secure their assets in just a few minutes. The admin panel is great for keeping track of important things like security and how your business uses 1Password. It dramatically improves the productivity of your team members, too. 1Password has a fantastic support team that can quickly address questions or concerns. It's worth noting that it's GDPR-compliant and trusted by companies such as IBM, Dropbox, and Slack. Get a highly secure password manager for your business at just $7.99 per user per month.
The main features are creating groups and assigning permissions to specific members. Create informative reports. Review all company emails for potential breaches. Use multi-factor authentication to enhance security. Create security policies and implement rules to strengthen prevention measures.
Website: https://1password.com
10. Uniqkey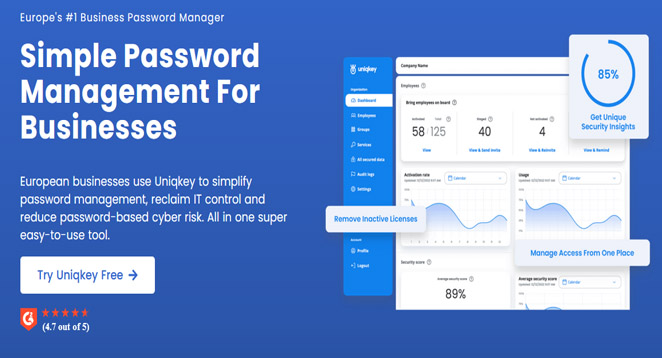 Europe relies on Uniqkey for easy and efficient enterprise password management. This software helps protect against cyberattacks by reducing password-related risks. It also gives you more control over your company's IT architecture. Employees can use it to develop secure password habits, leading to better organizational security. In addition, Uniqkey offers integration with Azure Active Directory. They also provide a personal guide for onboarding, a custom roll-out plan, and on-demand phone support for easy implementation.
The main features of this system include secure password management, employee access management, onboarding and offboarding, best-in-class security, hosted in Denmark, data privacy, and EU regulatory compliance.
Website: https://uniqkey.eu
Final Words
Managing passwords in a big team can be difficult, but we hope the tools mentioned above will make it easier for you. Protect and manage your password using the right tools to prevent theft.