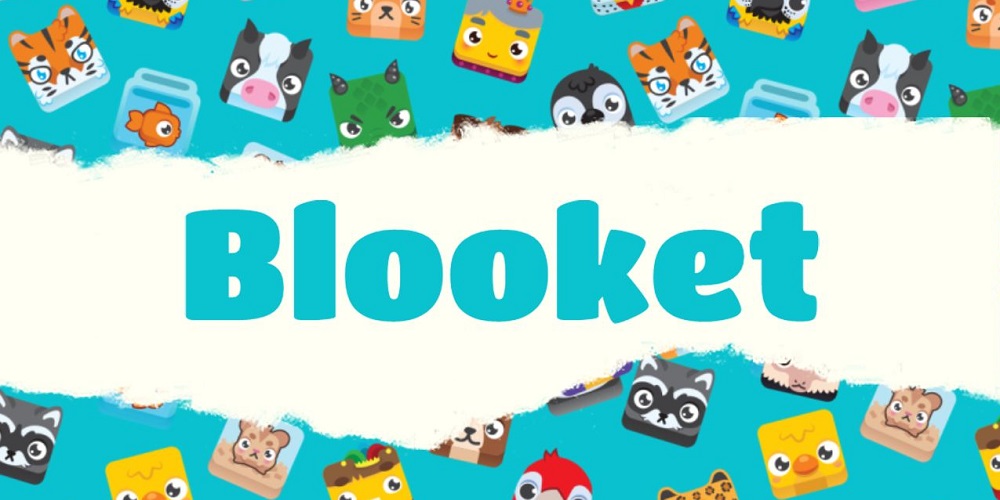 Education techniques have been altering with the groundbreaking arrival of online tools and websites like Kahoot! Blooket, Gimkit, etc. In this post, we'll look at Blooket, a free web-based learning platform featuring games you may play. In addition, the COVID ID 19 epidemic has made remote learning the norm. Hence, teachers have sought novel techniques to keep students learning without becoming bored. Educational games, quizzes, surveys, and reviews play a significant role.
Such activities assist the teacher in quickly attracting the students' attention and allow students to use their learning capacity to learn new things while remaining interested. I suggest modifying your approach if you are a teacher who still employs traditional teaching techniques, not the most modern ones. Blooket is a good place to start. Here is a quick explanation of what it is, how to use it, and how your students may play games to learn what you've been attempting to teach them.
What's Blooket?
Blooket is the most recent update to the breakthrough game-based learning concept teachers and students employ. The free website provides an alternate and fun way of learning through various classroom games in which students are rewarded for answering properly. Tom Stewart and Ben Stewart built this fun online education platform to make teaching and learning memorable. Unfortunately, Booket has a website and no app at this time.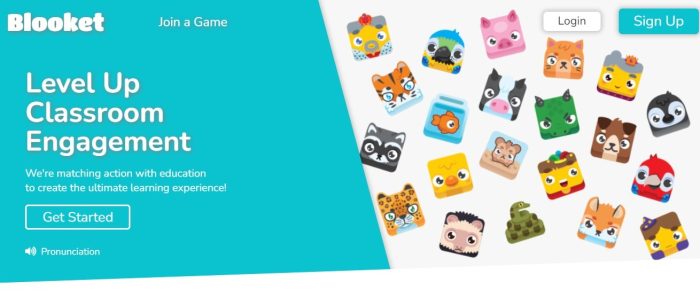 It allows teachers to create "sets" of questions on any topic and "sets" created by other educators. Each set of questions may be used to host several games for students to play.
How Does Blooket Work?
Blooket is a very simple and clear operating concept. Teachers must first create an account, import or create a set of questions, or use a set generated by other educators on the platform. They must then select a game, host it, and share the Game ID with students for them to join. Students are not required to create an account. Instead, they can join instantly using a Game ID.

Students can begin playing the game and must answer the questions that their teacher has selected. When the game is complete, the teacher may analyze the results to determine how well their students performed.
Blooket Pros
Blooket makes teaching highly entertaining for students and simplifies the procedure for educators. Below is a summary of the benefits that Blooket offers to both parties.
1 – Teachers can import and use the same questions for several games. It even permits them to use sets generated by other educators.
2 – Students can engage in games at their speed to answer questions. Students are not required to wait for a timer to complete or for other students who are quicker or slower than them.
3 – The Blooket games pit students against one another. As a result, students are more motivated to do well and remain engaged.
4 – The games on the platform are so entertaining that they can hold the attention of students of any age.
5 – Blooket features an engaging user interface and is completely free.
Blooket Cons
Blooket has restrictions and disadvantages that you should consider, just as every coin has two sides. Below are the most important ones.
1 – Teachers can choose to finish the game at a specific time or when a player obtains a score with Blooket. However, because there aren't enough of them, a student who completes it quickly may encounter repeating questions.
2 – The website does not include a built-in reader. So, each question must be read independently by the students.
3 – Teachers are unable to modify the sets of questions created by other educators.
4 – You must have a paid account to view or receive the report for complete student data. The free edition merely offers a report detailing the proportion of questions answered correctly or erroneously by the entire class and subsequently by each student.
5 – Certain Blooket games are complicated, and other students may enjoy them less.
How Can Teachers Use Blooket?
Blooket is relatively easy for teachers and educators to use. If you're a teacher, here is a simple and brief overview of the platform. You must first create an account on the platform using your email address or your Google account. The registration process is very simple and free. Log in to your account after that.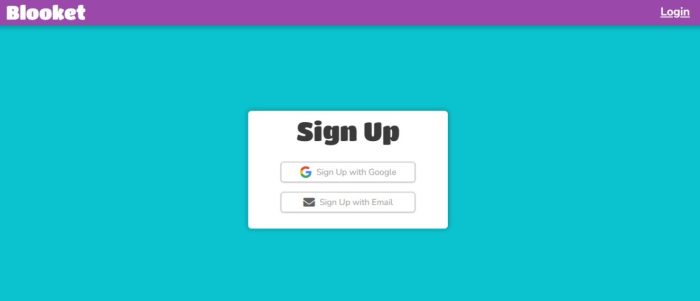 Upon logging in, you will be sent to the dashboard page, where you may create questions or select from the existing question options. On the left side of the screen, there are tabs for News, Shortcuts, and other platform navigation. You may locate and save games, as well as other public question sets, by clicking Favorites. You may add or review homework assigned to your students using the Homework tab.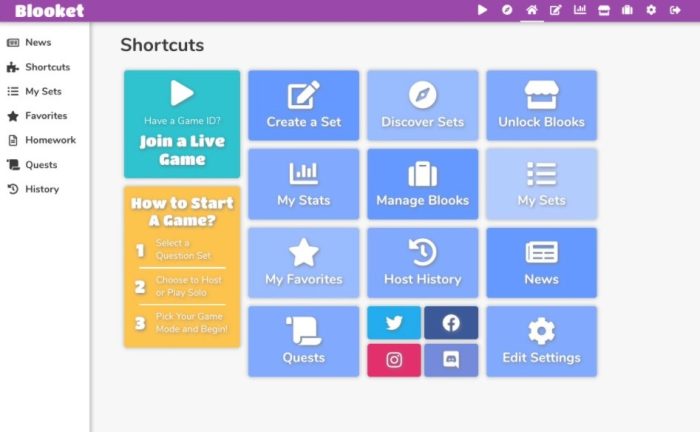 The Discover Sets page may also be used to gather ideas for questions. After selecting the question set, you must pick a game from the available options. Following that, you must Host the game. You will then receive a Game ID, which you must share with your students. With the help of this Game ID, they may join and play the game. You can view the results and analyze their performance when the students have played.
How Can Students Use Blooket To Play Games?
Blooket is very simple for students to use anywhere. Students can play the games without creating an account. However, creating and maintaining an account is always the preferable option. Students need to enter the Game ID for the game or homework assignment to join a game hosted by their teachers. They can add their nickname and icons.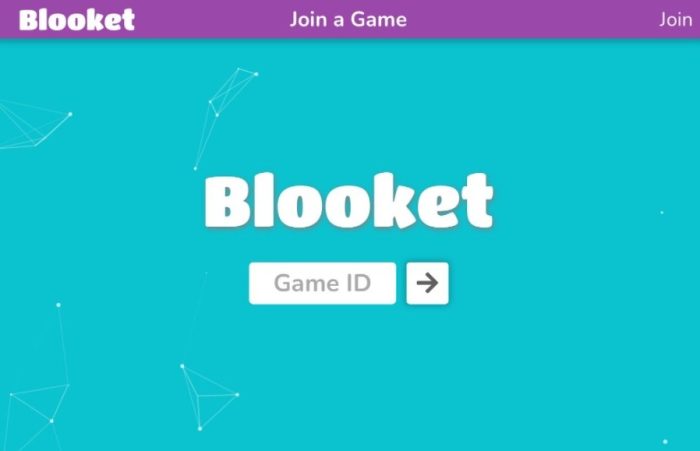 Students may also use Solot to play online games in the mode they choose from various disciplines. This helps children learn a lot of intriguing stuff without becoming bored.
What's A Blook?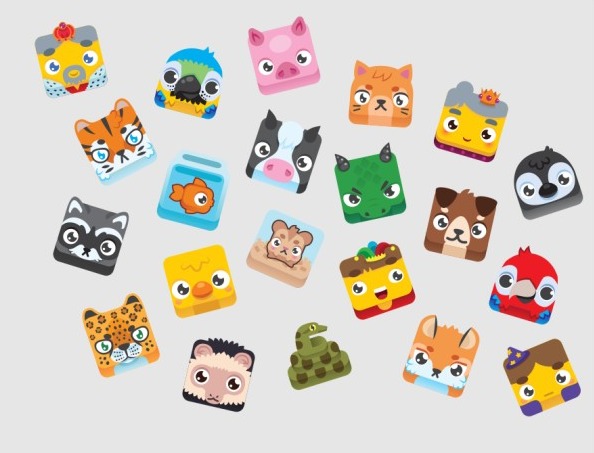 Blook is a little, friendly block that enjoys playing. It depicts players, and Blooket has a large selection of them.
Blooket Games Available
Blooket has a huge selection of unique and entertaining games. This is a short glance at the finest ones.
1. Classic
It is a conventional trivia game that is similar to Kahoot! Students must answer questions quickly to collect points and climb the scoreboard. This game will display the same questions to all students simultaneously.
2. Crazy Kingdom
It's a strategy game in which students must answer the questions properly to keep their Kingdom functioning by addressing visitor requests and managing their resources.
3. Gold Quest
Students in this game will view each question from the set on their smartphone and answer at their leisure. When they answer the questions properly, they will be offered a choice of three chests to unlock. Some of them contain gold, some have nothing, and some allow them to steal gold from other players. At the end of the game, the player with the most gold wins.
4. Factory
Like Café, students must properly answer questions and use strategy to unlock and enhance Blooks and successfully operate their factory.
5. Battle Royale
The game pairs students to answer questions head-to-head. You may also set it up in team vs. team mode. The student who answers properly wins the fight and advances further.
6. Tower of Doom
In this game, students must answer questions in order to gather cards that will allow them to fight the Blooks and climb the Tower of Doom. It is ideal for use as homework or an assignment.
7. Cafe
In this game, students must answer questions quickly and accurately to serve customers and resupply the cafe they operate. At the conclusion, the student with the most cash wins.
8. Racing
In this game, students must answer questions quickly and properly to advance their Blook and win the race.
Is Blooket Better Than Kahoot?
Blooket is more recent than Kahoot! is the most reputable name in the game-based education business. Teachers may use any of these to keep students interested in learning and having fun. Blooket, on the other hand, has all the makings to be superior to Kahoot if it plays its cards correctly. For learning, teachers and students can participate in various Kahoot activities. Blooket, on the other hand, offers a huge selection of games so that students will stay energized.
Even the "Classic" game offers the same functionality as Kahoot! The best thing is that it is entirely free to use. Due to the extensive library of games for students, Blooket is superior to Kahoot. If you are a teacher and have not yet used Blooket, we strongly encourage you to do so. This is not even a promotional post; it's a genuine review. If you've any questions, please leave a comment below.