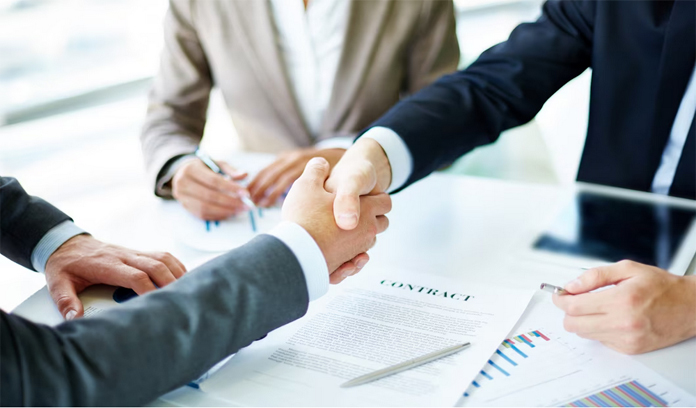 Improve Your Workflow with Contract Management Software: Contracts are essential for a business's revenue, and contract management software helps ensure they are managed smoothly and on time. Business contracts are now entirely digital. Nowadays, there is no need for the traditional process of drafting documents, making final drafts, signing them, and sending them via postal mail. The finance, sales, and client support teams use automated tools to create hundreds of contracts daily.
You're in the right place if you have not tried a contract management app. Here is a list of contract management apps for you to choose from.
What Is the Purpose of Contract Management Software?
Contract management apps simplify the contract process by managing negotiations and facilitating the final signing. Is it interesting? Here are a few everyday purposes:
1. Decrease Contract Timeframe
Typically, it takes about four weeks to complete a contract content draft. Impress your manager by quickly producing professional contracts using a robust contract management tool.
2. Increase Contract Accuracy
Mistakes in a contract can ruin a deal and damage your company's reputation. To prevent errors, try using automated contract tools. These tools use past contacts to automatically fill in the necessary information, such as figures, fields, and data. To update the contract, personalize and modify the existing data.
3. Key Processes Automation
The contract process has several steps: negotiation, creation, draft quotes, updated quotes, renewed quotes, and contract signing reminders. You can use contract management software to automate these steps, save your sanity, and reduce paper usage.
4. eSignature Enablement
The sales and client support team can use eSignatures to pass the contract signing process between different people. Signing documents digitally is faster than signing them in person.
10 Best Contract Management Software in 2023
Now that you understand why contract management apps are used let's explore some popular contract management software suites.
1. ContractWorks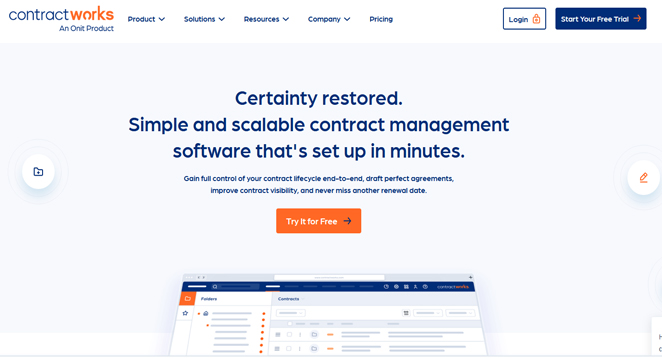 Choose ContractWorks if you want simple contract management software to set up quickly. It helps you see contracts better and reduces the chance of missing renewal dates.
You can add as many users as you want with any plan you choose in this app. With OCI and its advanced search feature, you can quickly find the necessary agreement details.
Additionally, it allows you to store contracts in a scalable and secure repository. You can easily send, sign, and store contracts from any location using the built-in electronic signature feature.
Website: https://www.contractworks.com
2. DocuSign CLM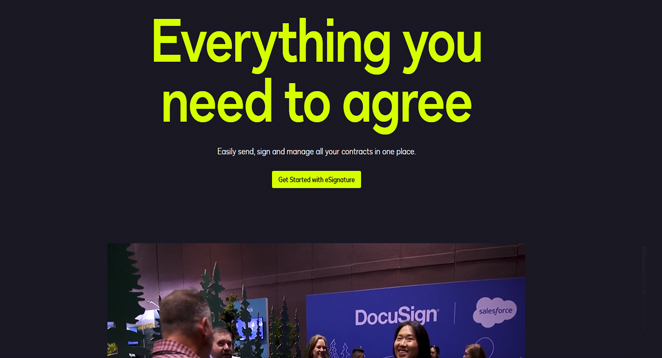 DocuSign CLM is an excellent option for small businesses because it provides affordable contract management software. It helps you stay organized by creating personalized agreements, automating contract tasks, and providing insights on trends, risks, and opportunities.
Create contracts with templates, clause libraries, a drag-and-drop editor, and conditional rules. It also allows you to control versions and route contracts for internal and external review.
In addition, businesses can use DocuSign CLM to store contracts in one place, manage obligations, search agreements with filters, and more. The app has over 100 ready-to-use workflow steps for creating, reviewing, approving, and saving contracts.
Website: https://www.docusign.com
3. CMx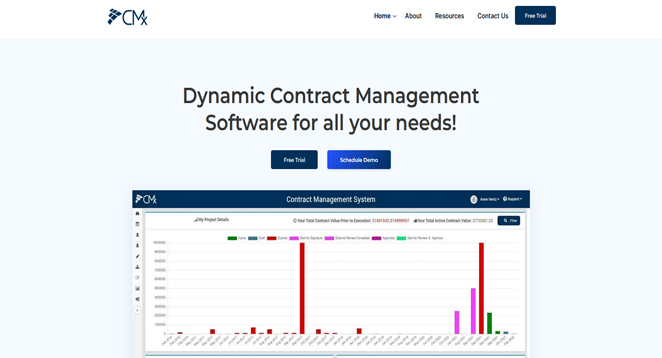 CMx is a versatile tool that helps you manage all your contract tasks in one place. You can access this platform either on the cloud or on-premise. Companies can use this platform to access all their Contract Lifecycle Management data in one place. It includes contracts, legal agreements, and related documents.
Easily create contracts by importing approved clauses into MS Word with a simple drag and drop. You can store all contract versions in one central repository.
It can integrate with editors, apps, and SSO platforms like Google Workspace, Salesforce, Microsoft Dynamics, Okta, MS Office 365, and Azure Active Directory.
Website: https://www.contractexperience.com
4. Evisort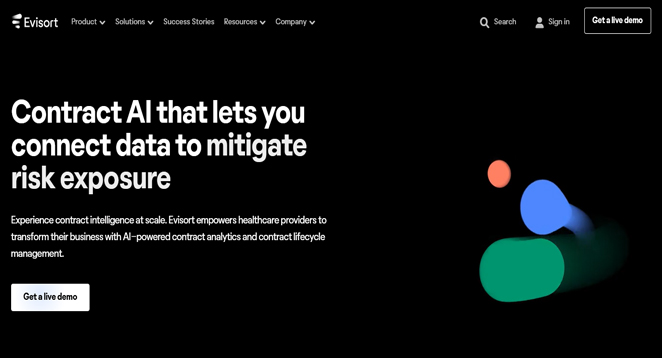 Do you need contract management software for your growing business? If that's the situation, Evisort might be the ideal choice for your company. This contract management tool uses AI to help you with workload reduction, contract expiration alerts, faster contract search, and reduced contract transaction time.
Evisort's Contract Intelligence Platform simplifies contract management. It helps your team focus on meaningful work and collaborate more efficiently for faster deal closing. This platform can easily connect with popular applications such as Gmail, Google Drive, AWS, SharePoint, DocuSign, Adobe Sign, Box, and Salesforce.
Website: https://www.evisort.com
5. Concord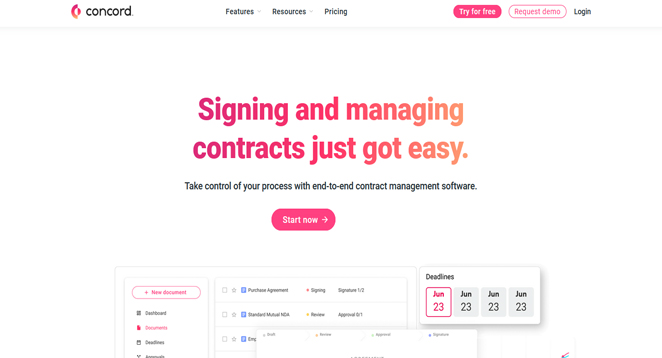 Concord is a platform that handles all your contract processes in one place. You can use it to handle drafting, approval, e-signing, and storage of contracts. It gives you complete control over managing the entire lifecycle of contracts.
You can use this platform for essential tasks like negotiating with others, searching for contracts, managing deadlines, and creating reports. It helps you work with colleagues and vendors by allowing you to make comments, suggest changes, and chat about documents.
Concord can integrate with various applications to make your workflow easier. You can connect it to over 4000 apps using Zapier or its REST API and webhooks. You can also use it with popular tools like Salesforce, DocuSign, Dropbox, Box, Google Drive, Slack, Hubspot, Microsoft Teams, Typeform, Google Forms, and more.
Website: https://www.concordnow.com
6. PandaDoc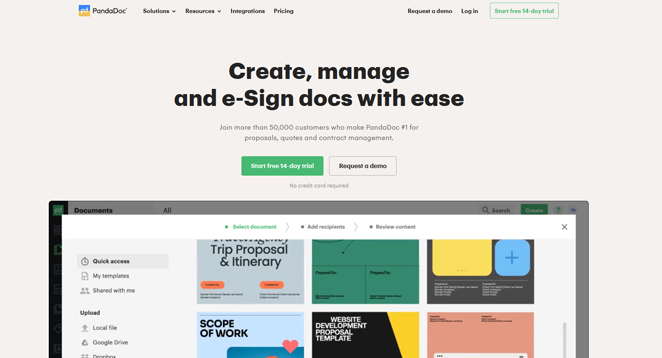 PandaDoc is not just contract management software; it offers more features and is widely used. In addition to allowing customization, negotiation, and eSign integration in complex contracts, it keeps the conversations flowing and adapts to your pace.
This platform has many contract templates you can easily customize using a drag-and-drop editor. You can quickly share these customized templates with your clients. Additionally, you can utilize the library of pre-approved clauses to create contracts without errors for various purposes.
You can simplify your contract management process by automating tasks such as approval, signing orders, and customizing user permissions. Team members can comment on the document or chat in the general chat feature.
Website: https://www.pandadoc.com
7. Zoho Contracts
Zoho Contracts is a user-friendly software that helps you manage contracts efficiently. It simplifies the entire contract lifecycle process. Improving compliance and mitigating risks helps businesses enhance efficiency in contract management. This app can handle all your contract needs, from creating and approving documents to negotiating and signing them.
Easily create contracts using the contract creation wizard. Choose from pre-made templates or create your custom templates. You can collaborate on documents easily with features like a built-in editor and track changes and comments.
You can also use this platform to design approval workflows, gather essential data insights from analytics, keep track of contract history, view current changes, and manage contract obligations.
Website: https://www.zoho.com
8. Contract Hound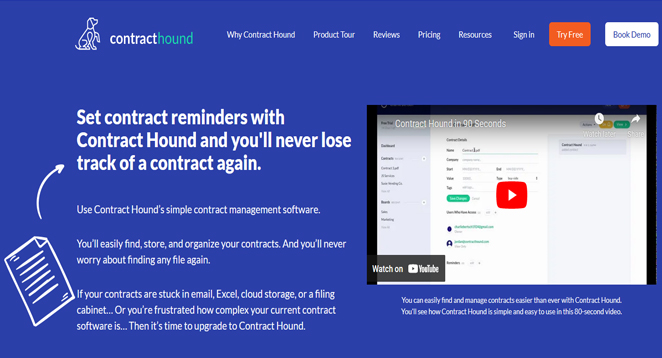 Do you frequently need to find your essential contracts? Contract Hound is here to assist you. This contract management software makes finding, storing, and organizing all your contracts easy. Say goodbye to worries.
You can easily set reminders and notifications for contract expiration and renewal dates. You can give your preferred colleagues read-only or editorial permission on this platform. Contract Hound can help companies review and sign contracts, manage grants, and track changes.
Website: https://www.contracthound.com
9. IronClad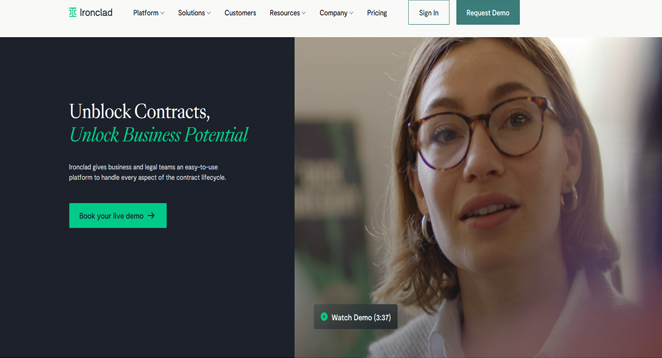 IronClad is a tool that helps manage all kinds of digital business contracts, such as legal agreements, procurement contracts, sales contracts, finance contracts, HR contracts, and marketing contracts. It helps improve efficiency by automatically tagging, suggesting changes, extracting and analyzing contract data, generating reports, and more.
The AI can review contracts and make redlining changes automatically. You can make the process easier by connecting this solution to Salesforce. It helps create standard terms and guidelines for all team members. Additionally, you can use visualizations to easily understand analytics insights, pinpoint problem areas, and discuss their effects with other teams.
Website: https://ironcladapp.com
10. Agiloft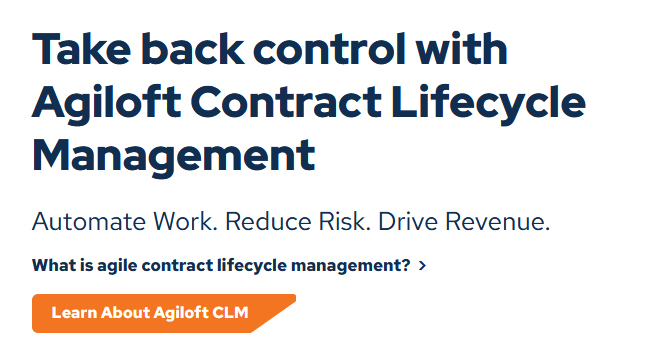 Agiloft, founded in 1991, is the oldest provider on the list. The number is 9. The software has been regularly updated, allowing businesses of any size to use personalized solutions. Agiloft is the winner in our best customization category because of its enterprise-grade and custom features.
You can easily create custom workflows, routing processes, reports, and a personalized dashboard to track your KPIs and alerts without writing code. Agiloft can easily upload documents using the software you already use in your business, such as Google and Microsoft. Agiloft offers an audit trail for each document, secure storage centers for your data, and compliance with Sarbanes-Oxley, GDPR, and HIPAA.
Website: https://www.agiloft.com
Essential Features of Contract Management Tool
A contract management software is valuable when it has the following features:
1. Contract Templates
The app should provide commonly used templates for businesses. It should also have an option to convert a novel contract into a template for future use.
2. Central Repository of Contract Content
A database for commonly used content by contracts should be created. The operator can customize the fields as needed.
3. Role-Based Access Control
In the suit, different access levels should be assigned to field sales agents, desk clerks, client support, contract drafters, manager's PAs, and business owners.
4. Secured and Encrypted Storage
A good contract management software will use security measures like authentication and encryption to keep contracts safe from unauthorized access.
5. OCR, AI, PDF, and Printing
The software should have an OCR program if you want to add content from a physical contract. AI can create clean and professional PDFs by processing inputs. Sometimes, you might want to have physical copies, so it's essential to have a print option available.
6. Dashboard
A dashboard displaying metrics of the contract processing team will assist managers, finance officers, and the leadership team in making informed business and financial plans. The new contract management software should have a dashboard that displays different categories of contracts, such as pending, draft, in progress, awaiting client approval, and new proposals.
7. Built-in eSignature
When looking for contract management software, ensure it has an eSignature feature. Alternatively, you might have to purchase a separate app solely for eSignatures. Splitting this vital feature will decrease the speed at which your contracts are processed.
8. Contract Process Pipeline
The app should have a simple and easy-to-use contract processing workflow. The field agent starts the contract process. Next, the sales or products team will check the contract details and send them to the managers. After the manager decides on the pricing and terms, they can send the contract to the leadership. All of these tasks should be done within the app.
9. Admin Monitoring
Business managers, finance officers, leadership, and business owners need advanced visualization capabilities. It will make sure everything follows company policy.
What Is the Standard Contract Management Process?
The contract management process usually has six steps. Let's examine each stage of the lifecycle.
1. Creation
The first step is to create an agreement; You have two options: use a template or write it from scratch.
2. Collaboration
Contracts often require internal collaboration as they are essential business documents. Several teams contribute their input to finalize an agreement for the company.
3. Editing
The initial agreement is rarely the last one. It needs to be edited and revised multiple times before it's finalized.
4. Signature
After finishing the writing, you must sign the contract document. Electronic signatures are becoming more popular nowadays.
5. Tracking
Additionally, it is vital to monitor and ensure that the requirements and regulations outlined in a contract are being met.
6. Storage
Contracts must be stored in a searchable, centralized, and secure repository. Users can easily organize and locate documents.
7. Reporting
Consider getting a personalized analytics report for your contract that provides practical and valuable insights. It helps you make better decisions.
8. Renewal
Contracts often get renewed after a specific period. But it's important to remember the renewal due dates.
Also Read;
Final Words
You've discovered the best contract management software tools making waves in the business world. You can pick one based on your business needs, contract workloads, and budget. Try out the tool first, and if you're happy with it, you can subscribe.