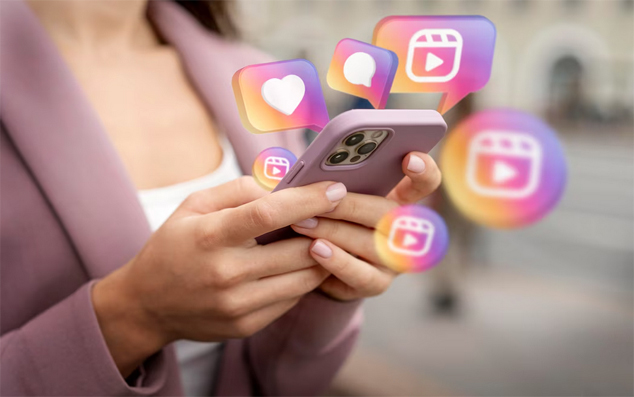 Loop A Video On Instagram Story: Instagram's loop video feature enables the creation of videos that play multiple times. This effect can help your story stand out. In addition, the process is fast and can help add visual interest to your Instagram stories. This article will provide an in-depth tutorial on how to loop a video on an Instagram story.
How to Loop an Instagram Story Video
Instagram did an excellent job with the introduction of Instagram stories. Today, publishing an Instagram story involves much more than simply posting a photo. People add GIFs, badges, and songs to their stories to make them entertaining and unique. Loop recordings are one of the most common methods to differentiate narratives. Therefore, let's explore the details of creating a video loop on the Instagram story below.
Quick Answer
Use Boomerang to loop a video on Instagram Story:
Launch Instagram and swipe right on display.
Tap the Boomerang icon and hold the capture button to create a video.
Lastly, select Your story to share it.
Can You Create a Looping Video on Instagram Story?
Yes, it is possible to create a video repeat on Instagram story. You must have noticed individuals, particularly women, making such videos.
A few methods can help you create loop videos, and we will discuss them now. Let's get begun.
Method 1: Boomerang
Boomerang is a popular Instagram feature that allows users to create short, looping videos. Boomerangs are a rapid succession of photos edited together to create a back-and-forth effect that resembles a boomerang's flight path. It is ideal for recording short movement events, such as leaping or dancing, and adding a fun flavor to your Instagram stories or posts. In addition, they are the best tool for boosting engagement and showcasing your creative side on the platform.
Follow the instructions to learn how to loop an Instagram story video using Boomerang.
Launch Instagram's app.
Swipe to the right, then touch the Boomerang icon.
Tap or hold the capture icon to record a video.
Tap Your story to share it.
This feature is favored among Instagram users because it enables them to create entertaining and engaging content without complex editing or filming techniques.
Method 2: Using Boomerang App
You can use various third-party applications to create looping videos for your Instagram story. For example, boomerang applications are a popular option. If, for some reason, Instagram is not working, you can always use third-party applications to create boomerangs! Here are some possibilities from which you can choose.
Here, we will guide how to use the Boomerit Boomerang Video Maker application.
We do not support the use of third-party applications. Therefore, please run these applications at your own risk.
Open the Boomerit app.
Pick between SELECT VIDEO and TAKE VIDEO.
If you selected SELECT VIDEO, then select Gallery.
Choose the video that you wish to loop.
Make the required changes and then select DONE.
Tap SAVE TO GALLERY to save the image.
Method 3: Edit Using Third-Party Applications
If you prefer more control over your looped video, change it manually using Inshot or Adobe Premiere applications. Follow the steps below to learn how to create a video cycle on Instagram for Android using third-party applications such as Inshot.
Open the Inshot app.
Tap the Video option.
Now select the desired video and tap the checkbox at the bottom of the screen.
Press DUPLICATE to duplicate the video, then press REVERSE to reverse the duplicate video.
Now, select SAVE and then tap SAVE a second time.
You can duplicate the video and invert it into a loop video in a few simple steps.
How to Create a Video Loop with Music on Instagram Story
Music elevates every aspect of life. So you can add some music to liven up your boring repeat video. Follow the steps below to learn how to add music to a video loop on an Instagram story.
Open the Instagram app.
Swipe to the right, then touch the Boomerang icon.
Tap or hold the capture icon to record a video.
Tap the icon for stickers.
Now select MUSIC and use the search bar to find your preferred song.
After selecting, tap Done.
Tap Your story to share it.
The preceding steps effectively clarify how to add music to a video cycle on an Instagram story. So, select your fave songs and begin uploading them!
Are Stories better than posts?
It is challenging to propose a definitive answer because it depends on the individual. Some people prefer to share content through segments, while others prefer to share through stories. Although stories are deleted, some users prefer to post for a limited time. On reels, your videos and photos will remain on your feed eternally, whereas, on stories, you can share videos, photos, text-only displays, and tag other creators.
Therefore, it depends entirely on the user.
ALSO READ:
Best Instagram Story Viewer Anonymously
How long do Instagram stories last?
Instagram stories are available for 24 hours. Unless you add them to your highlights, anything you post will disappear after 24 hours unless you add them to your highlights. Additionally, you can save images and videos from your stories to your gallery.
Unique Instagram stories can spread like wildfire if they are filled with original content. This article describes how to loop a video in an Instagram story. We trust your questions about whether or not you can create a video loop on your Instagram story have been answered. However, if you have any questions, please include them in the section below, along with your suggestions.