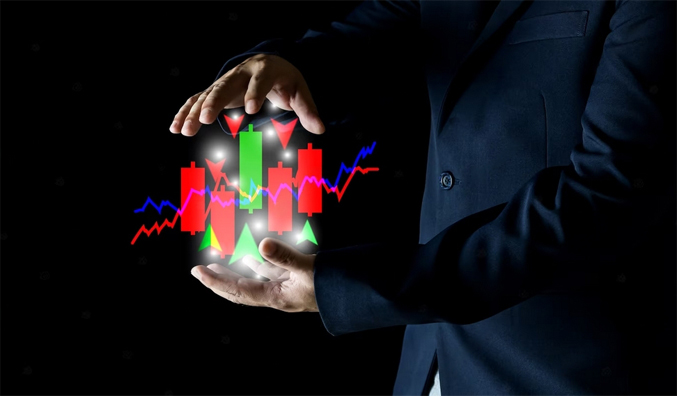 Best Stock Trading & Investment Apps: Most modern investors earn big profits from trading stocks, mutual funds, cryptocurrencies, and NFTs. What if we told you you could increase your profit using some of the best investment apps? Yes, many investment apps are available worldwide, including Robo-advisors, that can help you make profitable investment decisions.
Additionally, many apps require a small fee and fractional brokerage to help you maximize your profits. Before we explore investment apps, let's find the best options. Let's address your basic investment questions first!
How Much Money Should You Invest Each Year?
No investment limits exist, so you can invest as much as you want. Financial experts today advise people to begin investing early and regularly, even with a small amount.
Investing regularly in small amounts will help develop a mindset for investing. Calculate your monthly expenses and invest the remaining money wisely to live comfortably.
You can change your investment based on your earnings later! Investing the right amount is one of many things to consider! You can create multiple income streams or explore legitimate passive income ideas to increase your monthly income. Having more money means you can save more.
How To Use An Investment App For More Profit?
Many great stock trading and investment apps can help you make a profit. However, to maximize your earnings, you should use specific strategies. If you're new to investing, here are a few easy steps to start your journey to making profits.
Choose and install one of your preferred investment apps, then create an account.
To create a pool of funds for your investment, connect your bank account, debit card, and credit card.
Find and choose the stocks, ETFs, bonds, or other investments you like.
Monitor your funds' performance daily.
Adjust your investment strategy to maximize profits and create a well-performing portfolio.
Only use apps that are trusted by others. Additionally, it's essential to choose apps that have lower brokerage fees.
Can You Use Investment Apps For Stocks Trading?
Many stock trading and investment apps worldwide now support stock trading, making it easier for people to invest. Additionally, several apps allow users to trade thousands of stocks without paying any commission fees.
Investment apps now offer various investment options to meet the needs of today's investors. These apps allow you to trade ETFs, stocks, bonds, debentures, cryptocurrencies, and NFTs. Investment apps have varying brokerage fees. Compare multiple apps to find the best rate.
25 Best Investment Apps To Try In 2023
Not all apps are equally trustworthy or user-friendly, even though many options are available. We've tried many investment apps to find the best ones.
1. Ally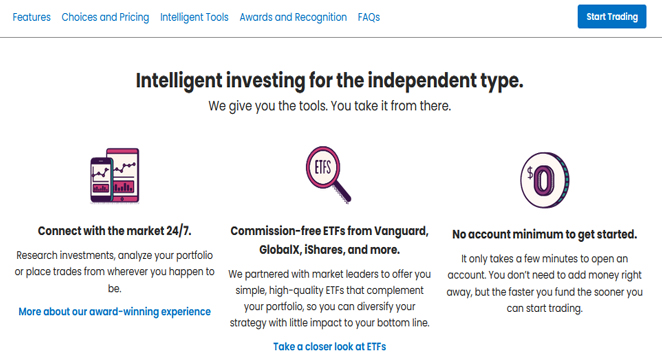 Investing in stocks, options, ETFs, and IRAs are great ways to grow wealth. If you're looking for a platform to trade all these options, Ally is a great choice.
This platform has a dashboard you can customize to meet your investment needs. In addition to regular stocks, you can also invest in affordable securities, futures, and mutual funds. This company also has commission-free stocks available. Currently, the cost is approximately $0.5 per option. Ally charges a service fee of $4.95 plus $0.01 per share annually. If you invest $10k, you'll get a $100 bonus to cover the charge.
Website: https://www.ally.com
2. Acorns
Acorns is a great investment app for beginners in 2022. It's budget-friendly and easy to use. It suggests a portfolio based on your investment needs. For only $3 per month, you will receive a minimum of three benefits.
You'll receive an investment account to track your current investments. Next, you can choose between a Roth, SEP, or traditional IRA account.
Lastly, you will receive a metal debit card to withdraw cash from your investment profile easily. Currently, they offer a family account for only $5/month, which allows multiple users to be supported. Also, you don't have to worry about keeping a minimum balance in your accounts.
Website: https://www.acorns.com
3. Betterment
When discussing top investment apps for beginners, Betterment is among the best choices! It is a popular choice for Gen-Z investors. The best part is that this app can adjust your stocks and ETFs based on your risk profile. They provide a convenient cash-management option that allows you to trade or hold based on your preference.
The charges are much lower than traditional gateways. The company now charges only 0.25% for transactions up to $10k. And it goes up to 0.4% more than that! Currently, this app does not require a minimum account balance. You must have a minimum of $100k in your portfolio to access their premium asset management service.
Website: https://www.betterment.com
4. Charles Schwab
Charles Schwab has consistently been ranked as one of the top beginner-friendly online investment apps for a long time. This company now has a platform where you can manage portfolio income examples interactively. You can invest in various instruments, including ETFs and commission-free stocks.
Additionally, this stock trading app is excellent for mutual fund investors because it offers over 4,000 funds with no transaction fees. You don't need a minimum balance for their trading accounts, but you'll receive a nice cash bonus if you invest over $25k initially.
Website: https://www.schwab.com
5. E-Trade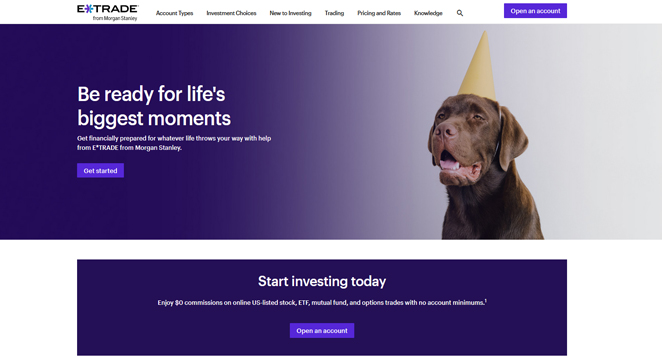 E-Trade is a reliable stock investment app that you can trust. You can open various accounts, including individual, joint, IRA, and custodial brokerage accounts. You can invest in multiple stocks and bonds. In addition to regular stocks, this company also provides commission-free investment choices in over 4,500 mutual funds.
If you tell the AI engine how much risk you're comfortable with and how long you plan to invest, it will help you choose the best investments. No minimum balance is required for the basic profile. You must have a minimum of $500 for the core portfolio option. Currently, this company does not charge any commission on stock trading.
Website: https://us.etrade.com
6. Ellevest
There are only a few socially responsible investment apps worldwide. Ellevest is the clear leader among them. Currently, 53% of their portfolio is invested in socially impactful funds. There are many great jobs for pregnant women, but there aren't many investment apps specifically for female investors.
This profile also has a lower lifetime income. The basic account is only $1, but the advanced option can be as much as $9. You can get a core portfolio account for as low as $13.
Website: https://www.ellevest.com
7. Fidelity Investments
Fidelity Investments is a great investment app that offers an integrated experience for all your investment needs. You can open different accounts, like savings, stock, IRA, and checking.
You can easily manage and control all your investments on one dashboard. Additionally, this app provides trading tips directly on the app, ensuring that you take advantage of every opportunity to make a profit. No minimum balance is required. Additionally, this platform allows for commission-free stock trading.
Website: https://www.fidelity.com
8. Fundrise
Did you know there are now affordable ways to invest in high-end real estate? You don't have to spend a fortune anymore. Fundrise is an app that allows you to invest in top physical assets available today. This app is great for real estate investment and traditional investment. You can even micro-invest in posh properties in LA.
You can begin a real estate investment with only $500 as your initial deposit. Yes, their advisory fee is approximately 0.15% per year. They charge around 0.85% on average for their asset management service.
Website: https://fundrise.com
9. Interactive Brokers
For the best investment apps with no minimum balance requirement, consider trying Interactive Brokers. Many people think it is the top trading app in the USA.
Currently, this company offers a tremendous web-based desktop application called the Traders Workstation (TWS). Additionally, you can also give their mobile app a try. It is designed to be user-friendly and convenient for trading while on the move.
If you have a pro account with this company, they charge approximately $0.005 per share. The fee can range from 0 to 1% of your total trade value, depending on how much you trade. If you choose to use the IBKR Lite platform, you won't have to pay any trading fees.
Website: https://www.interactivebrokers.com
10. J.P. Morgan
J.P. Morgan is the most famous company in the USA. This company has been managing valuable assets for its customers for a long time. With their new app, they are making progress. Once you've downloaded the app, take a quick quiz.
The AI will adjust your risk profile based on your answers to provide better investment tips. The portfolio builder makes it easy to keep track of your stock trading and ETFs in one place.
You only have to pay a commission for options trading; no other fees apply. In most cases, it will only cost around $0.65 per option. Yes, you need to deposit a minimum of $500 initially. Also, remember to keep at least $250 as a minimum balance.
Website: https://www.jpmorgan.com
11. M1 Finance
Not all legitimate platforms have commission-free ETFs and stocks. M1 Finance is one of the best options available. This platform lets you easily automate your investments by setting up recurring investments directly from your account.
You can link your bank accounts and cards to get the best interest rates. This platform analyzes accounts and suggests the best option to choose. Currently, M1 Finance does not require a minimum balance for traditional accounts. To open an IRA, you must deposit a minimum of $500 to start.
Website: https://m1.com
12. Moomoo
Moomoo is an investment app created by Futu Holdings Ltd. It can be used on iOS, Android, and Windows devices. Additionally, it offers a web-based desktop platform that provides comprehensive information about your investments.
The Moomoo app has many investment tools that are great for beginners and professionals. You can also access free level-2 quotes to enhance your ability to make money.
Currently, this platform offers over 8,000 stock options for short selling. Additionally, it provides immediate quotes during regular and after-market hours. Now, they don't require a minimum balance anymore.
Website: https://www.moomoo.com
13. Robinhood
If you want a great personal investment app that suits your needs, check out Robinhood. It's fantastic! This app offers more than just traditional stock trading. It provides multiple ways to make extra money with minimal effort!
The app is very easy to use and navigate. You can invest in various investment options, such as ETFs and Crypto, based on your preference. It is free and has no fees for trading ETFs, options, or cryptocurrencies. Also, no minimum balance is needed.
Website: https://robinhood.com
14. Stash
Stash offers over 3,000 stocks, making it a great investment option for modern investors. If you're looking for ETFs, this is the one you can trust.
There are different funds available for stock trading and investment with an asset manager. Currently, this company offers investment options in industry giants like Tesla and Amazon. Additionally, various investment options are available to you based on your risk tolerance and financial capability.
It would be best if you kept a minimum balance of $5. The fees are affordable, starting at $1 for the primary option and going up to $9 for the pro-choice.
Website: https://www.stash.com
15. SoFi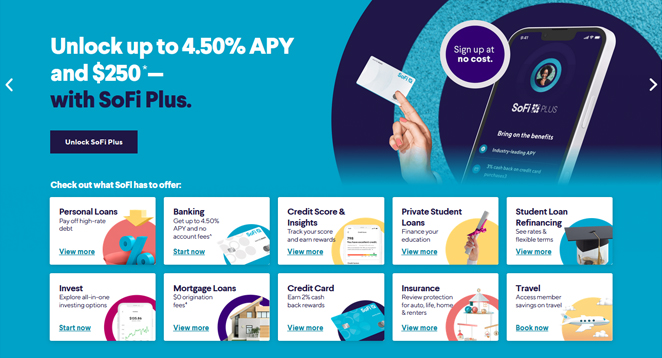 Most people want to build their stock trading and investment portfolio using only ETFs. SoFi is one of the top money investment apps to try this year. The best part is that you can start investing with just $1 in any preferred fund.
It's great for beginners because it automatically adjusts your investments every quarter. The pro-option offers additional adjustments for traders and investors with professional experience. Your stocks and mutual fund investments have no commissions or trading fees. This company charges up to a 1.25% markup fee for trading cryptocurrencies.
Website: https://www.sofi.com
16. Stockpile
Stockpile is a great platform to focus on stocks this year. Stocks are a great way to earn portfolio income; if you make smart choices, you can make millions.
Investing in high-end stocks like Tesla or Amazon is challenging for everyone. This app lets you buy a fraction of expensive items, like half or one-third of the total stock. Plus, there are no trading fees charged! You can buy gift cards for your money-minded friends on this platform too. Users can conveniently redeem these gift cards when purchasing new stocks on the platform.
Website: https://www.stockpile.com
17. TastyWorks
No, it's not a food app! TastyWorks is an excellent free investment app to try this year. Unlike most apps, this one doesn't have a minimum account limit burden. Additionally, they do not charge a commission on the majority of stocks.
For trades that are already closed, there is no commission fee. However, for open option trading, there is a charge of $1 per option. The app is designed to be user-friendly. It can suggest good stocks based on your risk profile. Additionally, this app offers a resource option to analyze and adjust your old and current stocks to align with your profile.
Website: https://tastyworks.com
18. Twine
Twine is the best platform if you have long-term goals like retirement or your kids' education. It focuses on long-term investments that provide higher returns. This app, created by John Hancock, allows couples to invest together and build a shared fund for their future goals.
Additionally, you have the option to create a shared account on this platform. You can also use a checking account to pay recurring fees. You only need $5 to create an account as your starting investment. Twine charges a trading fee of approximately 0.6% per year based on your total trade value.
Website: https://www.johnhancock.com/index.html
19. Webull
Webull is a versatile platform that offers a wide range of investment options. Whether you're interested in stock trading, options, traditional ETFs, or even cryptocurrencies, Webull has covered you.
The best part is that it offers a solution without any commission fees. You can also get fractional shares of expensive stocks and IPOs. You can also use this app to manage all three types of your IRA and also use the desktop app to get a detailed and analytical view of your stocks.
While trading is commission-free, there may be small regulatory transaction fees and a percentage of the transactional price to maintain your investment account.
Website: https://www.webull.com
20. Wealthfront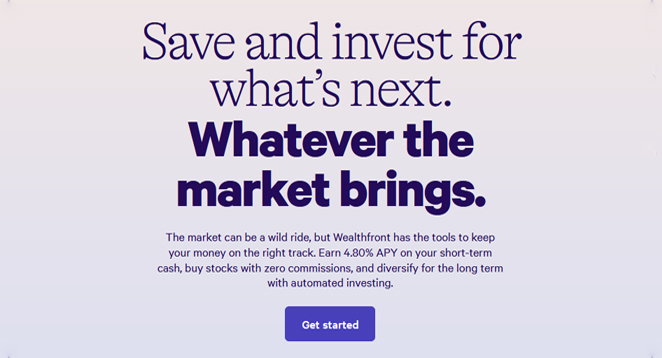 If you want to find the best small investment apps, Wealthfront is one of the top choices to consider. It is a top-notch Robo-advisor that uses advanced AI technology for accurate trading predictions. This company suggests good stocks based on your risk profile and investment capacity.
You can also invest in other instruments, such as IPOs and ETFs. You can manage your IRA on that platform too. This company charges approximately 0.25% per year on your annual trading value. You must keep at least $500 in your account.
Website: https://www.wealthfront.com
Conclusion
Here are some great stock trading and investment apps to help you achieve your financial goals this year. Remember, not every app is suitable for everyone. To find the best option, analyze and compare fees, investment options, and other factors. Also, focus on increasing your monthly income. It's essential to learn how to attract money for larger investments. That's it for today, everyone. Please leave your feedback in the comments.