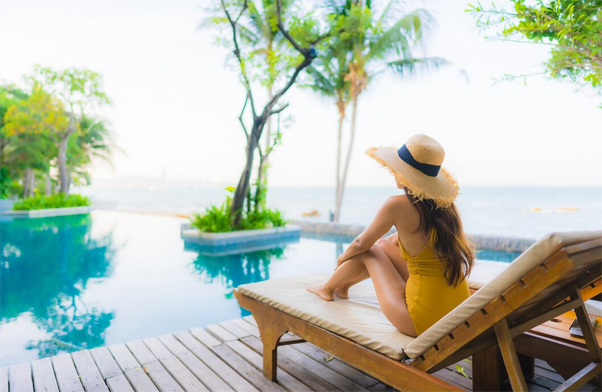 Are you a vacation rental owner or manager? Where to list your property for maximum visibility? Look no further! This guide will look at the top platforms for advertising your vacation rental, including websites and apps.
Vacation rentals are popular, and many websites and platforms help you showcase your property and connect with guests. We want to give you tips to make the most of each one. If you're new to vacation rentals or want to grow your business, a good marketing strategy can help you connect with potential guests and make money from your investment property. Let's explore the main places to list your vacation rental!
What is Vacation Rental?
Vacation rentals are private places that travelers can rent for a short period. They have furnished accommodations like apartments, condos, houses, cottages, or lodges. Guests can access the kitchen, amenities, and outdoor space if available. Vacation rentals are popular for travelers who want more privacy, space, and a local experience instead of staying in traditional hotels.
The top vacation rental websites are Airbnb, Vrbo (formerly HomeAway), and Booking.com. Vacation rental software helps in managing vacation rental properties. This system is like a hotel property management system. It helps automate essential tasks like making reservations, processing bookings, and communicating with guests. It also lets users keep track of availability on different platforms, manage revenue, do marketing, and generate reports. Popular software providers in the hospitality industry include Guesty, Hostaway, and Lodgify.
Renting out a vacation property
Are you thinking about renting out your vacation property? Renting out your property can be profitable, helping you earn extra money and maximize your investment. If you want to rent out your vacation property successfully, keep reading for some essential things to consider.
Challenges of vacation rental properties
Vacation rentals are trendy these days. Thanks to companies like Airbnb, Booking.com, and Vrbo, homeowners can now easily rent their properties to travelers looking for unique and affordable accommodations. However, being famous has its own set of challenges.
Managing and maintaining properties can be challenging for hosts due to various hurdles. Property owners must focus on marketing and maintaining their properties to attract and keep guests to succeed in the competitive market. Cleaning and managing bookings can take up a lot of time and effort. Staying updated on local rules and zoning laws can take time for property owners. However, if you plan and execute carefully, owning a successful vacation rental property can be very rewarding.
Opportunities for vacation rental properties
Vacation rental properties offer great opportunities for owners to make money in the growing tourism industry. Vacation rentals are different from regular hotels. They allow guests to experience and be a part of the local culture. Vacation rental owners can rent out their properties on their terms, allowing them to work around their schedules. Owners can attract loyal guests by using effective marketing strategies. It can lead to a consistent flow of customers likely to return.
In addition, vacation rentals offer many amenities like full kitchens and private pools. It makes them perfect for families and groups who want a memorable vacation. Owning and operating a vacation rental property can be fulfilling and lucrative for property owners who know how to make the most of its opportunities.
Where can you list your vacation rental properties?
If you manage or own a vacation rental property, choosing the right place to list it is very important. Choosing the right platform is crucial for attracting the right guests and maximizing your rental income, given the abundance of options available. Different online booking platforms, from popular ones like Airbnb to specialized ones targeting specific markets, have advantages and disadvantages. Fees, target audience, and booking policies can significantly affect your vacation rental business. This article will discuss the top 3 vacation rental listing sites. We will provide insights and tips to help you decide where to list your property.
1. Airbnb Property Management
Airbnb is a widely used vacation rental platform that is popular among millions of people around the world. Listing your vacation rental on Airbnb allows you to attract a diverse group of travelers seeking unique, budget-friendly, and comfortable accommodations. With Airbnb, property owners can quickly create listings, set rental rates, and handle bookings.
Additionally, the platform has a secure payment system to make it easy and fast for property owners to receive payments. Airbnb provides promotional features such as featured listings and targeted ads to help property owners get more visibility and attract more guests. Listing your vacation rental property on Airbnb can increase your chances of attracting more guests and earning more money from your rentals.
2. Vrbo Property Management
Vrbo is a popular platform for listing vacation rentals. It focuses on whole-home rentals, which is excellent for property owners with big properties. With Vrbo, owners can easily create detailed listings, set rental rates, and connect with verified guests worldwide. Vrbo has a simple booking and payment system with fair fees for property owners. Vrbo also has rating and review tools that allow guests to give feedback and make property listings more visible. Listing your vacation rental property on Vrbo will enable you to reach many travelers looking for unique and comfortable accommodations. It can help you increase your rental income.
3. Booking Property Management
Booking.com is a widely used platform for vacation rentals. It allows millions of travelers from all over the world to connect and book accommodations. With a vast audience and easy booking and payment systems, this online booking website is perfect for owners who want to reach the global tourism market. By listing your vacation rental on Booking.com, you can get a wide range of travelers looking for distinctive and budget-friendly places to stay. Booking.com also offers affordable fees for property owners and gives them access to helpful analytics tools. It helps owners keep track of their performance and improve their listings. Booking.com is a user-friendly platform that vacation rental owners can trust to help them make the most profit.
Also Read;
FAQ
1. Why do people choose vacation rentals?
Many travelers now choose vacation rentals instead of hotels. Vacation rentals are usually cheaper than hotels and provide a cozy, private atmosphere. Vacation rentals often have kitchens, so guests can save money by cooking instead of eating out for every meal.
Moreover, modern travelers are more inclined to thoroughly experience the local cultures of the cities they explore. Opting for a distinctive, authentic homestay is much simpler than a conventional hotel room. Some people worry that vacation rentals may not match their online descriptions, but reviews from previous guests can help travelers decide whether to book.
2. How do people search for vacation rentals?
To find short-term and vacation rental properties, people use online travel agencies (OTAs) just like they do for hotels. Booking.com and TripAdvisor have a section for vacation rental homes, while Airbnb focuses solely on this accommodation type. Professional vacation rental property management companies often have websites where guests can book their properties directly. A quick Google search should do the trick to find vacation homes in your desired destination.
3. Who manages vacation rental properties?
Vacation rental properties are managed by either the owners themselves or professional property managers hired by the owners. Property owners often hire managers to handle the day-to-day operations of their vacation rental properties. It is because managing a successful rental property requires time and energy. Property managers work multiple listings for different homeowners and earn a commission for each booking they secure.
Final Words
A vacation rental channel manager can make it easier for property owners to manage their vacation rental business. It connects them to popular rental platforms and offers other helpful features. The channel manager lets property owners list their vacation rental properties on multiple platforms simultaneously. It eliminates the need for manual updates and prevents overbookings. The channel manager keeps everything in sync for property owners. It updates calendars and bookings on all platforms, handles guest communications, and ensures owners get all booking chances.