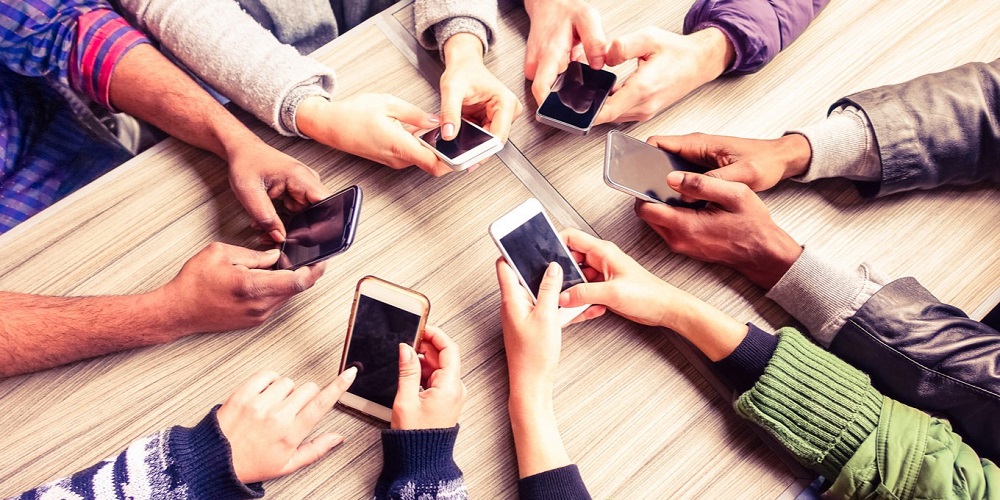 Which app is the best to hide apps? Do you worry excessively that crucial information on your phone may be compromised if you lose it or if someone has unauthorized access to it? Apps Hider may be a good option if you're trying to figure out how to hide apps. On the other hand, if you don't want your private moments or financial data to be compromised, you must install app hiders, which are widely accessible in the Google Play Store and the Apple App Store, to protect your phone. Well, to assist you in making the best choice, we've compiled a list of the top hide apps for Android and iOS.
The Best Hide Apps On Android & iOS
Let's have a look at the Best Hide Apps On Android & iOS.
1. Vault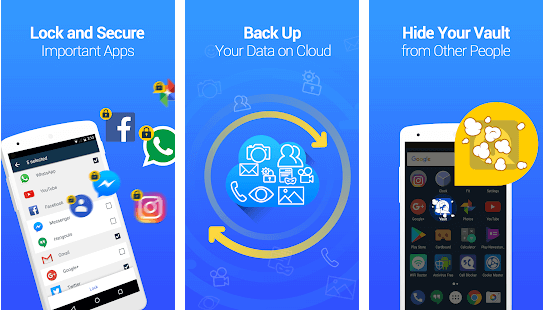 Vault can be used to hide apps, photos, and videos and lock apps and is compatible with Android and iOS platforms. It has around 100 million downloads.
Features
1 – You may hide videos and images and lock apps with password security.
2 – There is a call reminder option to alert you of incoming calls.
3 – Using cloud storage, it is possible to back up data.
4 – You also have a private browsing option.
2. Private Photo Vault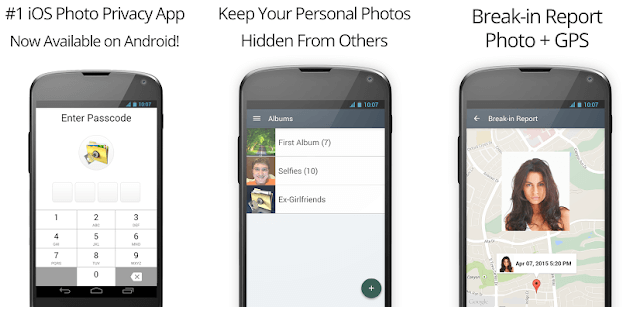 This password-protected app hider is well-known for protecting your pictures and videos.
Features
1 – With a PIN and a password, this vault app can protect your videos and photos. You can opt to protect certain apps in addition to restricting app access.
2 – The provision of a fake password enables the opening of alternative photos if someone requests to view your private photos. This ensures that your privacy is not compromised further.
3 – You can also receive a GPS-controlled burglary report. By pinpointing where someone may have attempted to obtain illegal access to your photos, you may determine who may have been attempting to sneak a look. These people can also be captured in pictures.
4 – You may customize the record covers.
3. Apex Launcher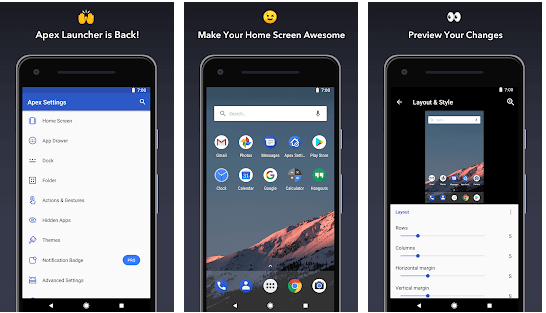 Compared to the calculator or vault types of apps, these kinds operate slightly differently. After being installed on a device, launchers can entirely alter the user interface.
Features
1 – You can lock a broad range of apps and gallery items behind secure folders that can only be accessed with a password and fingerprint lock.
2 – The hidden apps are no longer visible in the app listings.
3 – The app provides excellent customization features for modifying your phone's interface and creative transition effects.
4 – The app lock mode and duration may also be customized.
Download: (Android)
4. Nova Launcher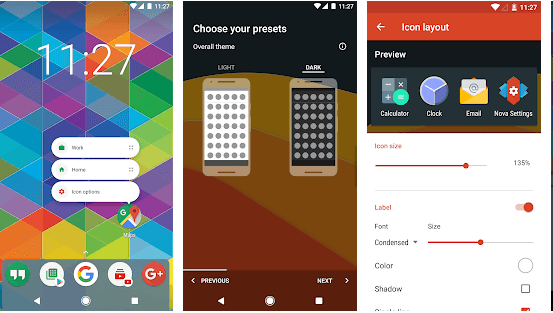 By hiding important apps, you may change the appearance of your home screen.
Features
1 – This launcher app features backup and restore, a night mode and dark theme, and themes that can be customized for app icons, page effects, etc.
Download: (Android)
5. Calc Vault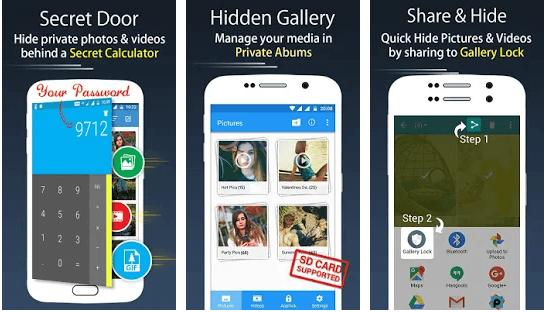 For Android devices, this is a fantastic app hider.
Features
1 – In addition to the key function of concealing your priceless pictures and videos, you also have the provision for locking your apps. Also available is a fingerprint lock.
2 – The album icon is disguised as a G-scanner sign.
3 – You have access to the private browsing tool.
4 – The app may also capture a photograph of a person who enters an incorrect password to access your photos or any other app on your device.
Download: (Android)
6. App Hider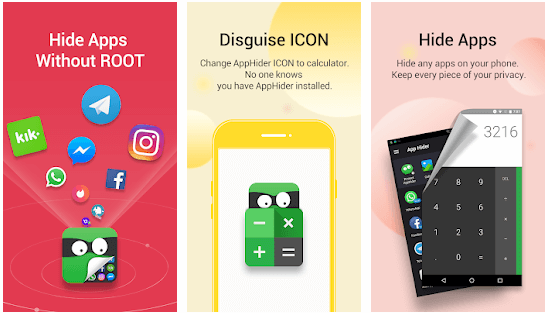 This app is a cloner that hides your crucial chat apps, photos, and videos. It can transform into a Calculator and conceal itself as the App Hider.
Features
1 – Other people may not identify this app hider since it appears like a calculator.
2 – You can clone the apps you want to hide, then erase the original app from the device. The cloned app may then be launched in App Hider and used just like the original.
Download: (Android)
7. Applock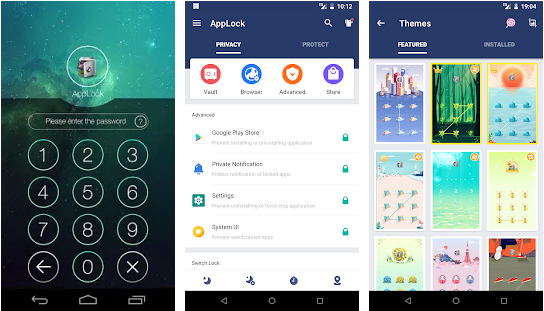 With availability in 50 countries and 45 languages, this app is the most widely used.
Features
1 – Performs by removing pictures from albums, which are also viewable in Applock's vault.
2 – You may lock your Contacts list, Facebook, WhatsApp, Instagram, Snapchat, and SMS.
8. Locker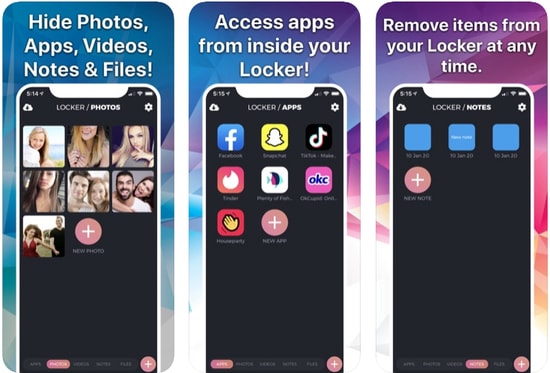 The Locker app is highly recommended if you're seeking a simple way to hide your private photos and videos from others. The features that make Locker one of the best apps to hide photos and apps are listed below.
Features
1 – It allows you to relocate apps from your home screen to a safer area known as "Locker."
2 – A password, fingerprint, or Face ID lock can be used to protect your 'Locker.'
3 – Your secured locker app allows you to make private notes right there and then.
Download: (iOS)
9. Safe Lock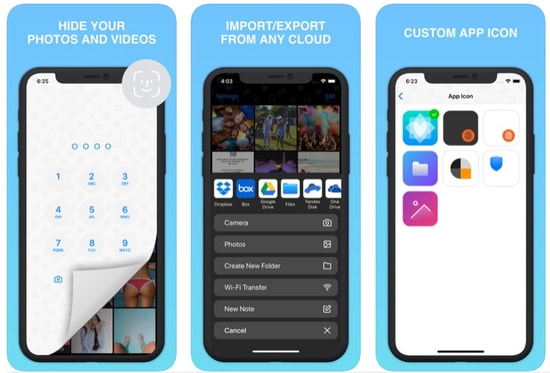 Safe Lock is a quick, straightforward, and simple-to-use app created exclusively for iPhone users to ensure the privacy of their personal information. Unlike the other hide apps on our list, it provides a private vault to protect your photos and videos from eavesdropping.
Features
1 – Enables the protection of files using a variety of locks, including PIN-code, DotLock, Face ID, and fingerprint.
2 – Support for Wi-Fi file sharing, cloud storage, and dark mode
3 – You can see your private photos and videos in a slideshow.
Download: (iOS)
10. Clock The Vault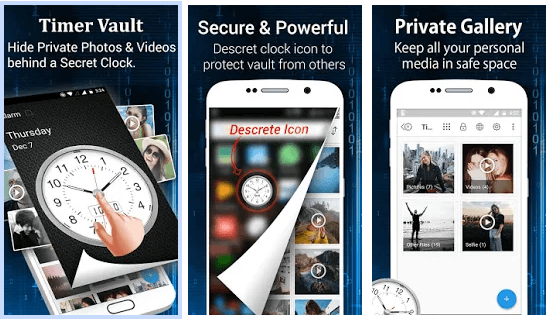 According to the number of downloads from the Play Store, which exceeds 1 million, this app is highly popular.
Features
1 – Outstanding user interface design with customizable clock themes.
2 – The app mimics a wall clock face, on which the time password may be pre-set by moving the hands of the clock and hitting the virtual clock's center button.
3 – Thus, the app disappears from the app list and becomes a clock app. Therefore, it can successfully hide your private photos, videos, and other files without giving away the fact that the app is disguised as a clock.
4 – Using fingerprint-enabled password protection may also lock your messengers, browser, contact list, email app, and other apps. Using this app, you may also access your browser in secret mode.
5 – You can also receive notifications in the event of unwanted access.
6 – However, advertisements have been seen to cause occasional disruptions.
11. Hide Photos And Video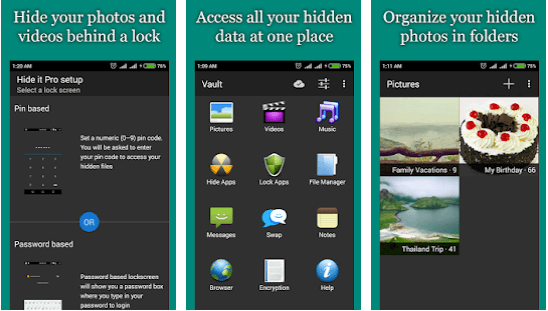 This hider app is quite popular on the Play Store and is an audio manager.
Features
1 – This app becomes an app hider when Audio Manager title is held and pushed for an extended time.
2 – It can hide photos, videos, texts, and audio files, among other things.
3 – You may use a fingerprint lock, which is number three. You may also back up your files with cloud storage; however, it differs from the standard.
4 – This app's hidden chat and private phone features can also be used to ensure secrecy.
5 – Ad interference is a prevalent problem.
12. Gallery Vault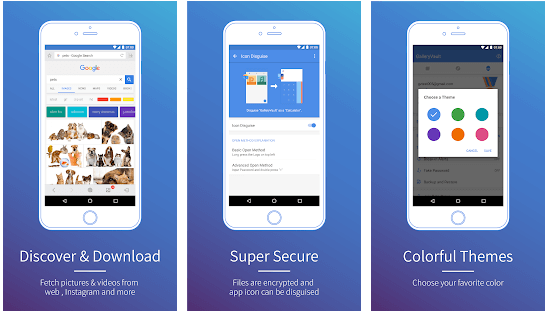 With this app, you may hide photos and videos, among other things.
Features
1 – You may hide the album's icon with this app, and only you will be aware of its existence.
2 – All encrypted files may be copied to the SD card, and you can hide images, videos, and music files.
3 – This app is compatible with fingerprint locks and intrusion alarms.
4 – Using this app, it is also possible to display fake passwords and content.
13. Hide Pictures And Videos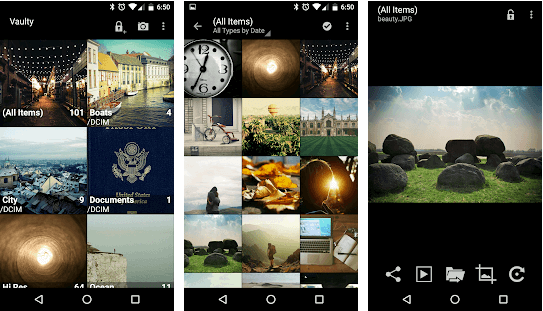 This is a vault app for concealing photos and videos.
Features
1 – This app offers password security for all your images and videos.
2 – With this app's help, you may exchange pictures and videos.
3 – You also have access to free internet backup services that may be initiated automatically.
4 – It also contains many fake vaults and the features mentioned above.
5 – The app can record images of people attempting to obtain access to the app by entering an erroneous password.
14. Dialer Vault
For reviewing phone system settings, this app is called Calculator+, and for examining recently installed apps, it's called Dialer Vault.
Features
1 – This app allows you to hide different apps, pictures, and videos.
Download: (Android)
15. Secret Photo Vault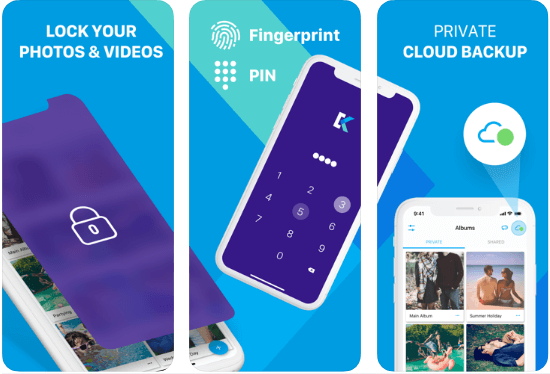 It is the best iPhone app, and with a password, you can protect your photos and videos.
Features
1 – The password might be a passcode, a PIN, or even your fingerprint.
2 – The app's encryption is military-grade safe.
3 – This app's UI is very pleasing.
Download: (iOS)
16. Privacy Master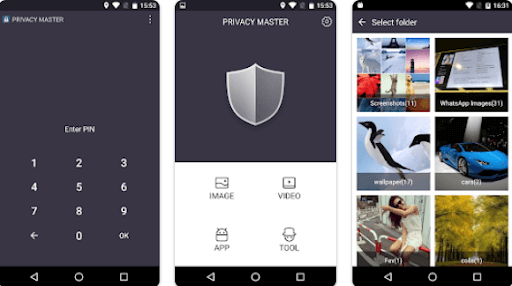 Privacy Master is the best app for Android devices for hiding apps or other data. This app establishes a secure location for your data and assures no one may violate your privacy. You may hide your pictures, videos, documents, and notes with PrivacyMaster. With a secure yet simple-to-use pattern or pin, this app will lock all your apps, including Facebook, Snapchat, and WhatsApp.
Features
1 – You can quickly adjust your settings, themes, and lock type, which functions flawlessly on Android devices.
2 – It has a Private Browsing function that disables portions of websites that may be used to trace your browsing activities.
3 – Free and user-friendly app.
4 – On Android devices, protect an infinite amount of photos, videos, and other kinds of data.
Download: (Android)
Conclusion:
If you want to hide confidential files, intimate moments captured as photos and videos, or any other apps that may allow access to sensitive data kept on your Android or iPhone, try one of the finest app hiders to hide files from the list above. Any of the hiding apps worked for you? Share your opinions in the box for comments below.