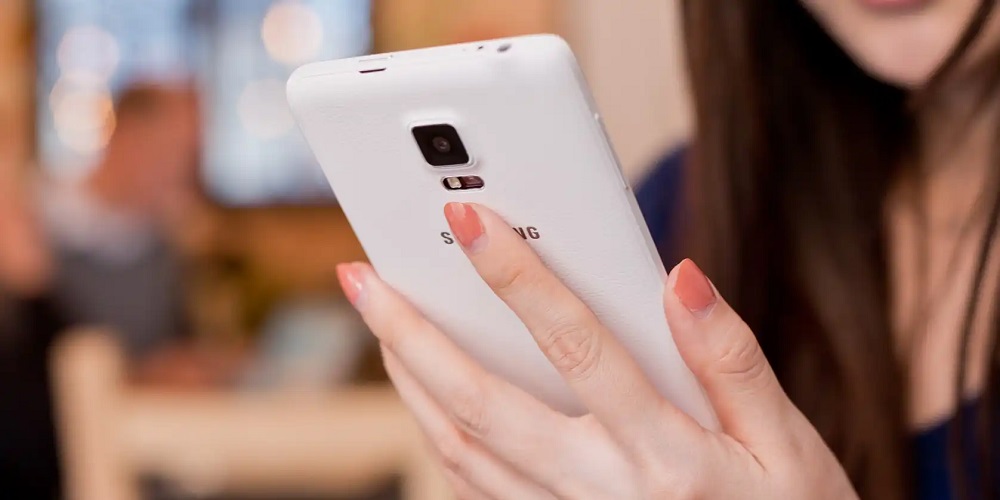 Well, in this day and age, cloud storage is not only a good concept but a necessity. It's considerably more efficient and convenient than other storage options like a hard drive. The greatest thing is that Android phones now have cloud storage apps. They consume a limited amount of internal storage and provide abundant free space.
The Best Cloud Storage Apps For Android User
The apps listed below are the finest (and free) cloud storage apps for Android.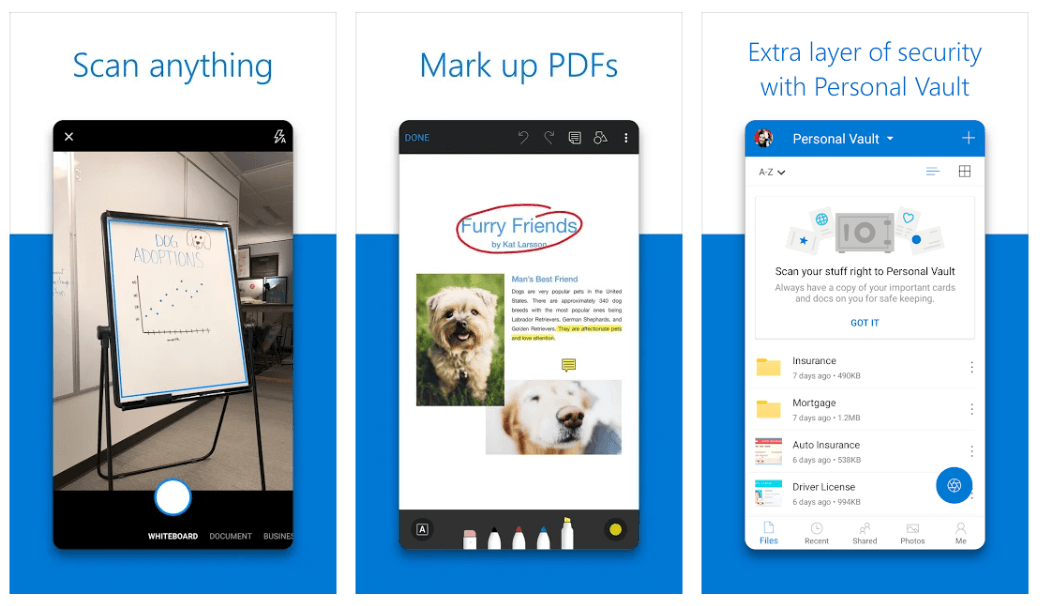 OneDrive, a storage app developed by Microsoft, is comparable to Google Drive because you can easily access and save files such as Word Documents, Excel Spreadsheets, and PowerPoint Presentations. You receive 5GB of cloud storage for free. If you pay $1.99 per month, you are immediately upgraded to 50GB. One of its great features is Automatic labeling, which allows you to easily locate and organize your pictures (excellent for all those people with their heads in the clouds).
And if the document is edited or shared with multiple people, you will receive a notification. You can access these files offline as well. OneDrive is a popular storage app because it integrates seamlessly with numerous Windows products. Because of this, you can swiftly and easily save OneDrive files in various Office apps. Every Office 365 subscription, whether for business or personal use, includes OneDrive storage.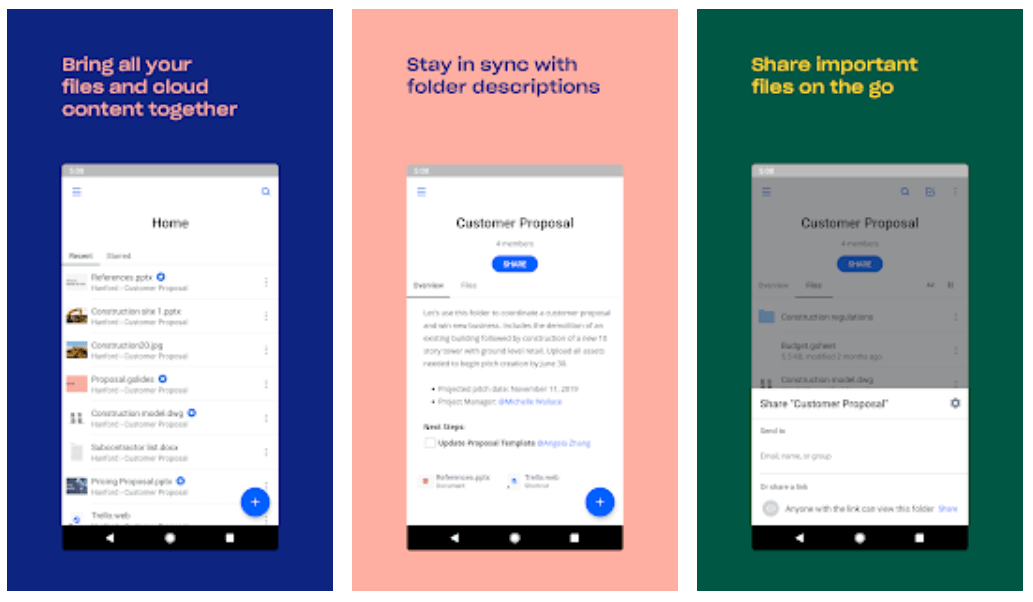 Who has yet to hear of Dropbox? This free cloud storage app is a formidable competitor. It has features and features to store and access your data from anywhere. In addition, you receive real-time updates about your shared files.
The greatest thing about Dropbox is that you can share files with people who don't have a Dropbox account. To store up to 2GB of data on your Android device, you must first sign up. If you pay the $9.99 monthly subscription fee, you'll receive 1 TB of cloud storage (which is not free). This cloud storage app is sometimes pre-installed on Android devices.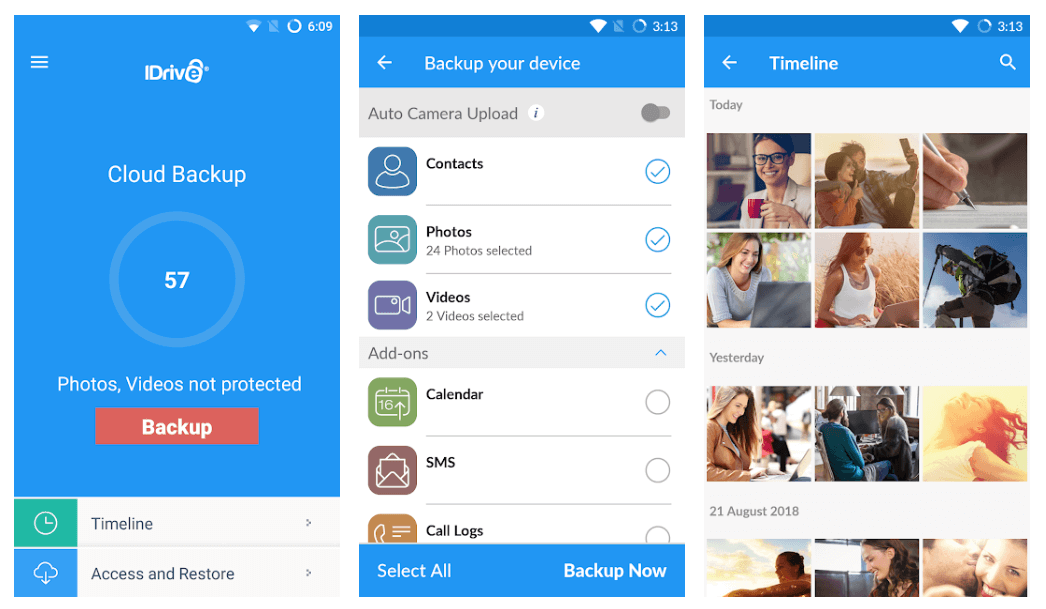 IDrive is once more one of the finest cloud storage solutions for creating secure data backups. This free storage app supports backup for Facebook and Instagram. It offers 5GB of free storage, while you'll have to pay $52.12 per year for 1TB of (non-free) cloud storage. With 256-bit AES and private key encryption, the system ensures that only YOU can access your data. In addition, multiple devices can be backed up to a single account, files can be synchronized across devices, and data is secured with automatic updates.
You can secure the app with a passcode and disconnect any unnecessary devices. Also, you can back up and restore your data with a single swipe and share them via a secure link. With Gallery View, you can browse all your pictures and videos while scheduling recurring backups on the day and time you choose. IDrive allows you to enrich and protect your digital existence simultaneously.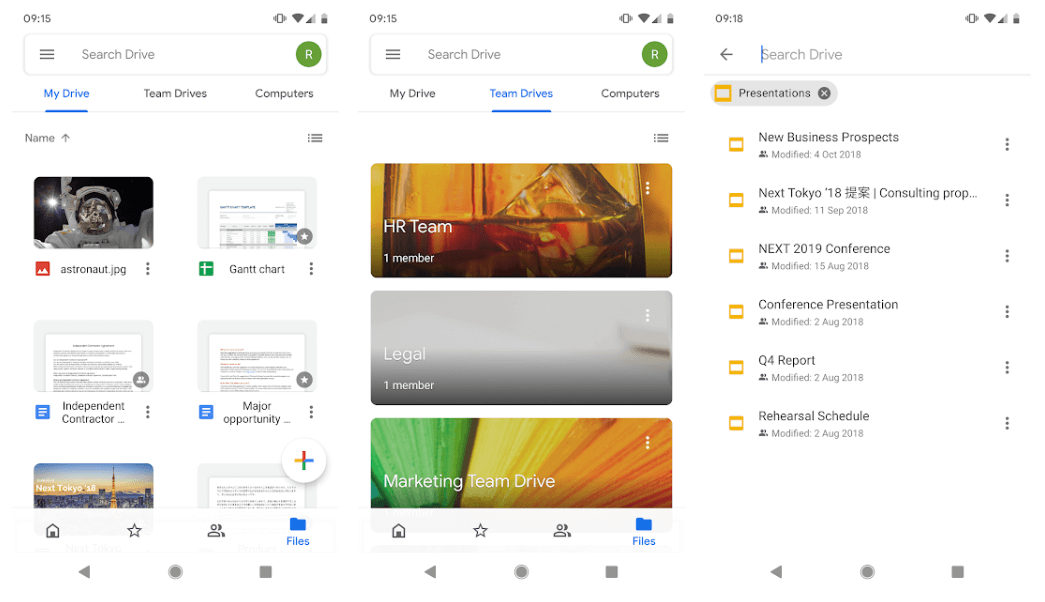 Google Drive is, without a doubt, one of the finest and most popular cloud storage apps for Android. It enables you to store up to 15 GB of data for free. In addition, a variety of comprehensive presentation sources, such as spreadsheets and documents, make it simpler to edit and view files at any time and from any location.
In addition, unlimited photo and video backup is available if Google Photos is selected in the quality settings. You need to sign in to your Google Account, and from there, you can access the app and your data. Then, pay $29.99 monthly to access 30 TB of additional storage.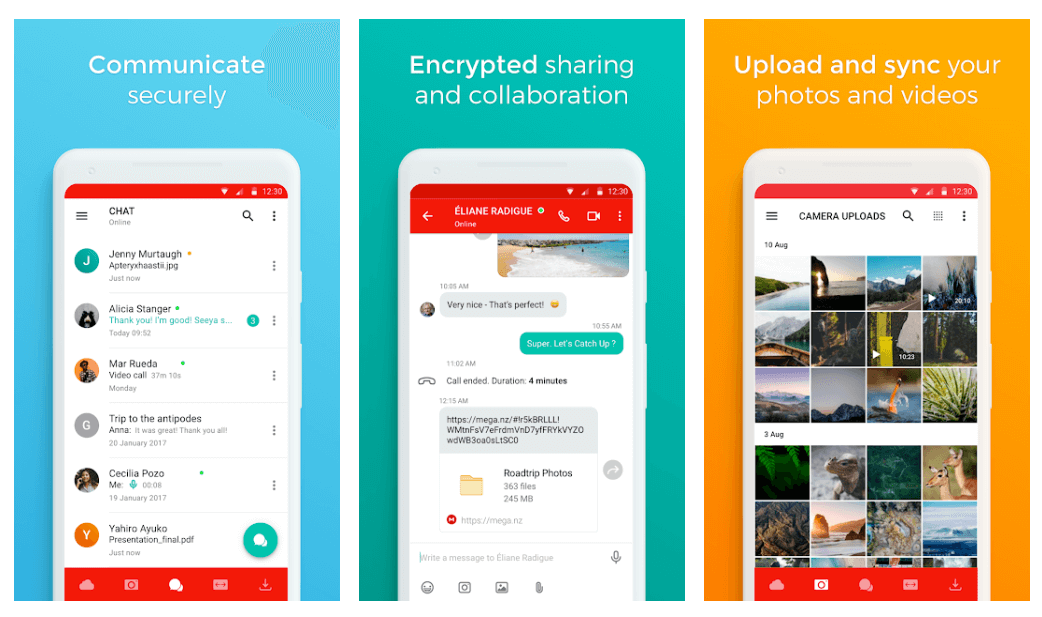 MEGA, a popular cloud storage app, is well-known for providing large data storage at very low costs. For example, 200GB of data storage is $5 per month, while 4TB is $30 monthly. That is a substantial amount.
MEGA has remarkable features and functions such as a drag-and-drop interface, video streaming and downloading, and sharing/editing accessible across multiple devices. Still, it also offers user-controlled encrypted cloud storage and web-based conversations. In addition, the MEGA cloud storage app provides end-to-end encryption for all its users, ensuring their complete security and privacy. And when you sign up, you receive 50GB of free data storage.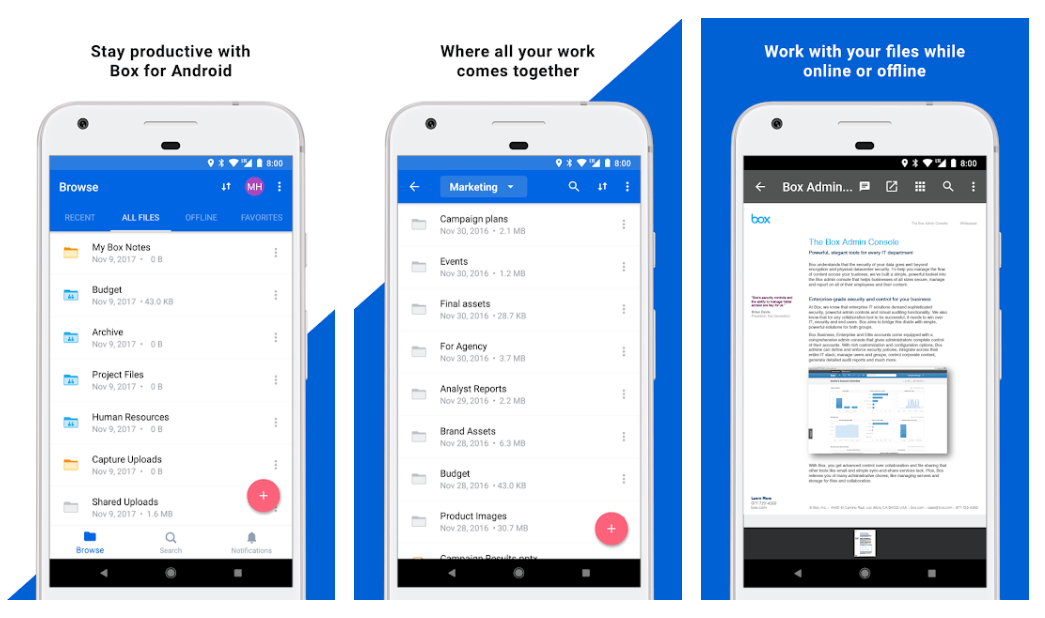 Again, Box is a free cloud storage app that enables users to edit, view, and share files easily and safely. The app offers approximately 10GB of free storage space, accessed on desktop computers and mobile devices. In addition, Box synchronizes all data and seeks to keep users informed about their nearest and dearest.
And how could we overlook the note-taking feature? This feature is a boon for people with spontaneous ideas who wish to record them at any time and place. Box provides real-time search for Excel, PowerPoint, Word, and PDF files. The app functions fairly well and prioritizes clarity and organization. However, Box needs more in one significant way. It does not offer more than 100GB of storage (even with a paid subscription), whereas its competitors offer 1TB of free and paid cloud storage.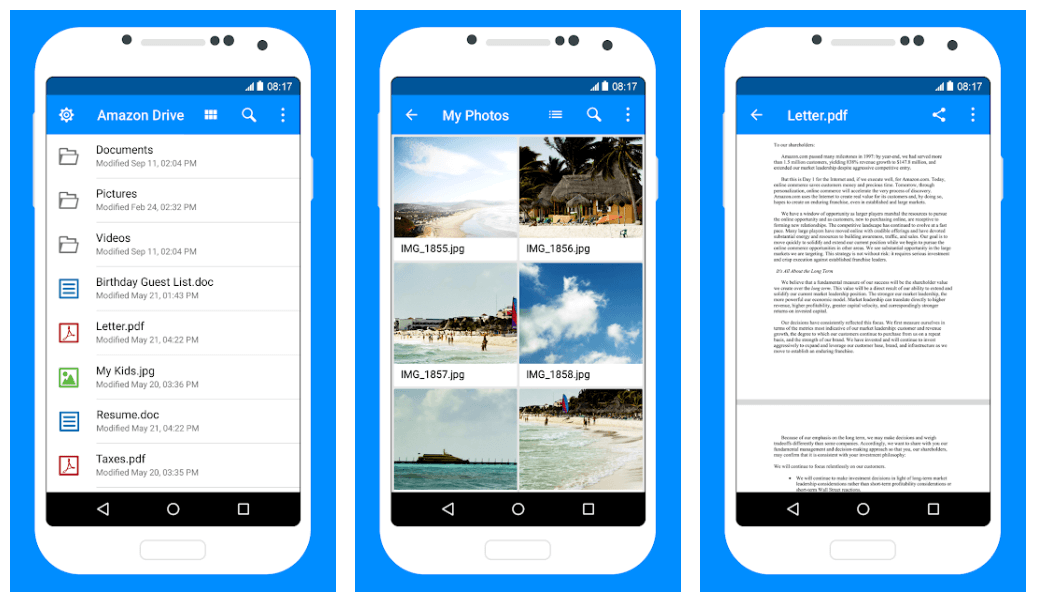 Amazon Drive is the finest entry point into cloud storage for all Amazon Prime users, i.e., nearly everyone on Earth. These users will receive 5GB of free app storage and unrestricted backup for media files. This is another of the best free cloud storage options available, allowing users to save and secure their data with 24×7 support easily.
It lets you edit and share cloud-hosted documents, music, videos, and pictures. That means you can still access your confidential data stored on Amazon Drive even when you're not carrying your device. The UI is extremely intuitive and simple to use. In addition to locating or searching for your files, you can share them as links or attachments in emails, messages, and other social apps. You must pay approximately $60 per year to upgrade to unlimited storage.
Conclusion:
And these are the best cloud storage apps for Android that will make storing your data and files incredibly simple and productive. So choose one of them and let us know about your experience.