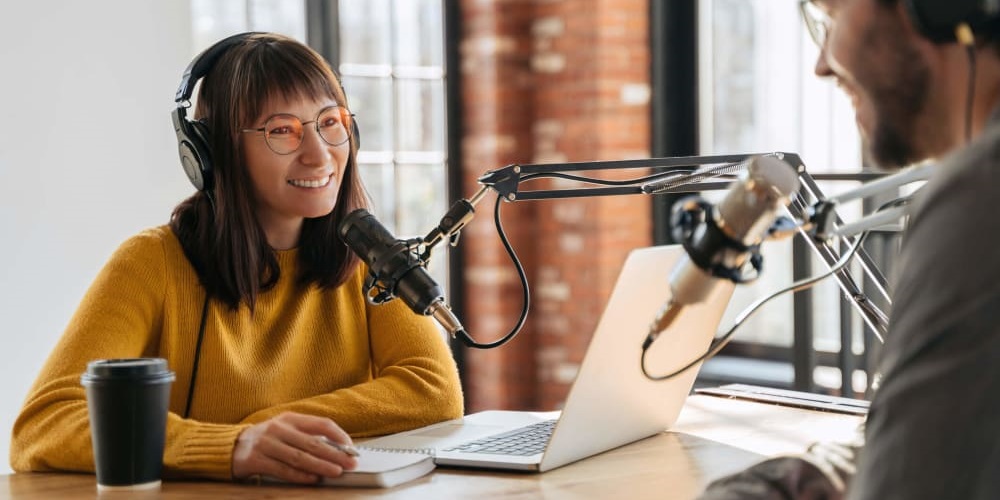 Do you like listening to podcasts while traveling or relaxing at home? Whatever your tastes are, these podcasts offer something for everyone. But how do you discover a new podcast or maintain track of your many program subscriptions? Podcast apps are what you need to manage all of these time-consuming tasks. To simplify things, we've listed some of the best podcast apps. Let's look at the best podcast apps for Android and iOS.
The Best Podcast Apps For Android And iOS
Let's have a look at the best Podcast apps to try.
1. Podcast Republic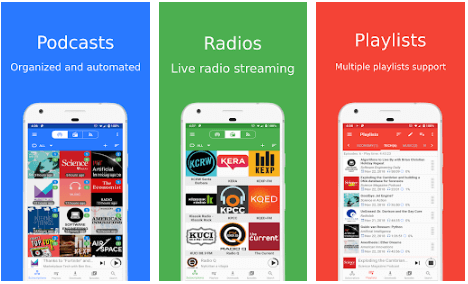 One of the best and most popular podcast apps for Android is called The Podcast Republic. Although ad-supported, you may pay to remove the ads entirely. This fantastic tool has a lot to offer. It supports YouTube channels and iTunes, can store podcasts to an SD card, has live radio streaming, an automated download option, Android wear compatibility, and a slew of other features. You may manage your Podcasts, Youtube channels, Radios, RSS news, Audiobooks, and SoundCloud channels in one app.
2. Overcast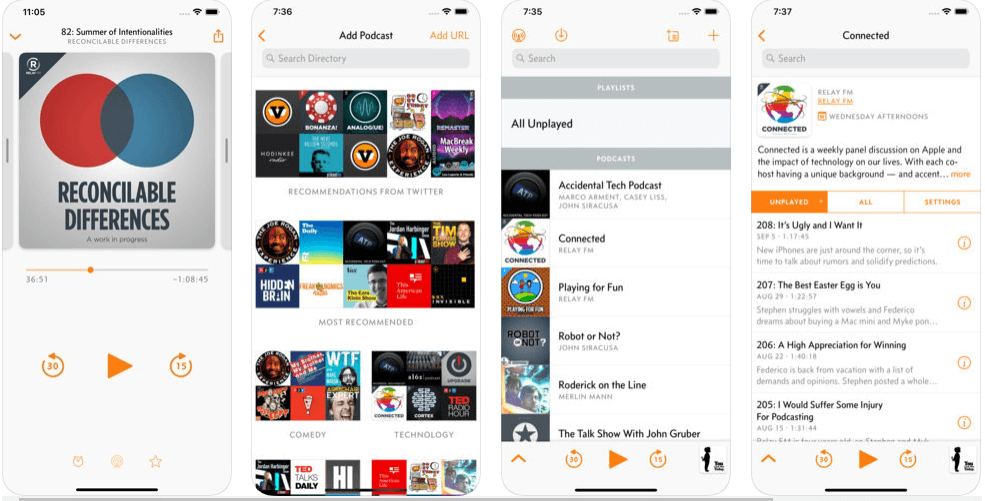 Overcast is a podcast app with a variety of features. It comes with a user-friendly UI and appealing features. The only drawback to this beautiful app is that it is ad-supported. You may, however, pay a fee to avoid the unpleasant advertisements.
3. Radio Public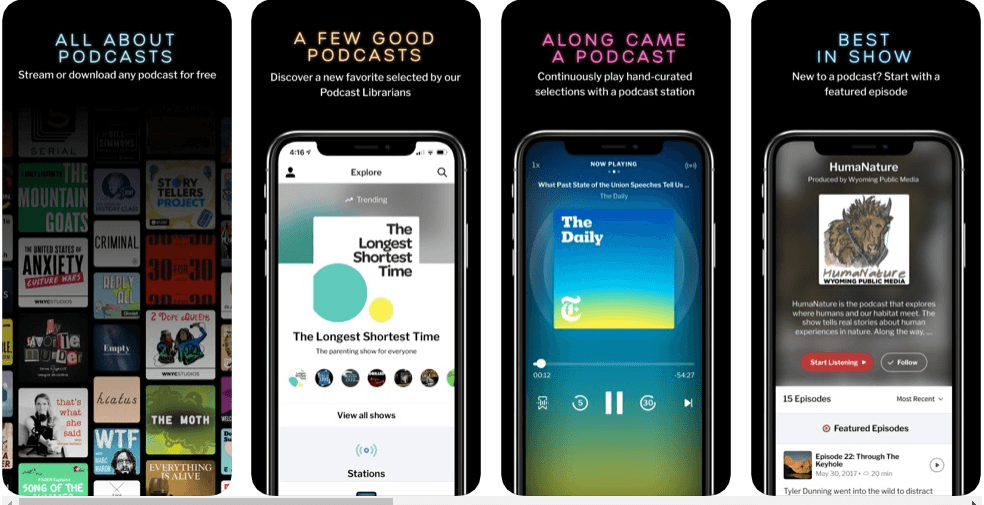 This best free podcast app is available for both iOS and Android devices. Unlike other podcast apps, you need not need a login account to listen to or access your favorite podcasts. You may use this wonderful app to add private RSS feeds, download episodes and listen to them offline, import and export using OPML, and much more. Their customer care crew is very prompt and attentive to comments and evaluations.
4. Podbean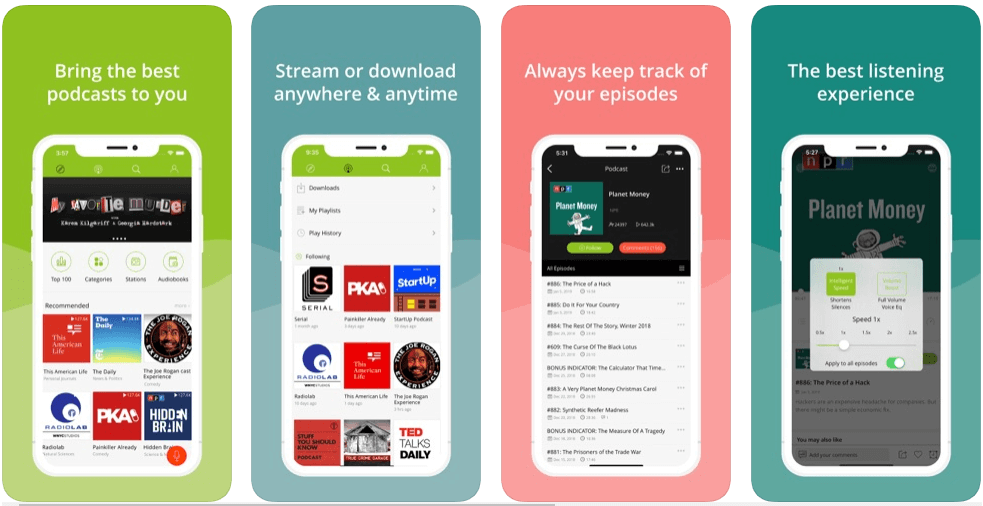 Podbean, a podcast hosting provider, created this podcast app. This feature-rich app has received several 5-star ratings and is easy to use. An amazing feature is that you can create and upload your podcast.
5. Cast Box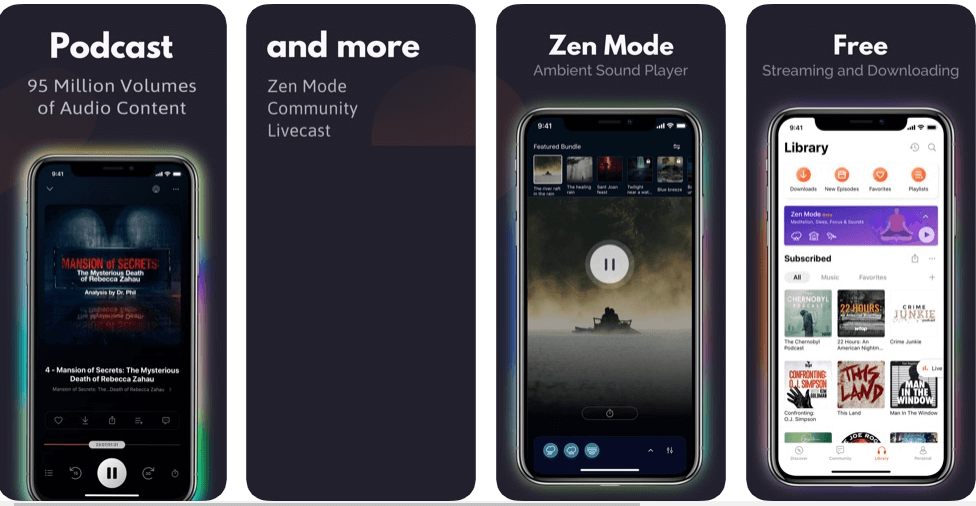 This excellent software is a new addition to the list of podcast apps, but it offers some wonderful functionality and features. Aside from iOS and Android, it also works well with Apple Watch, Amazon Echo Skill, and CarPlay. It has also received a few "best of" honors from Apple and Google in recent years. Download it now to start discovering new podcasts.
6. Spotify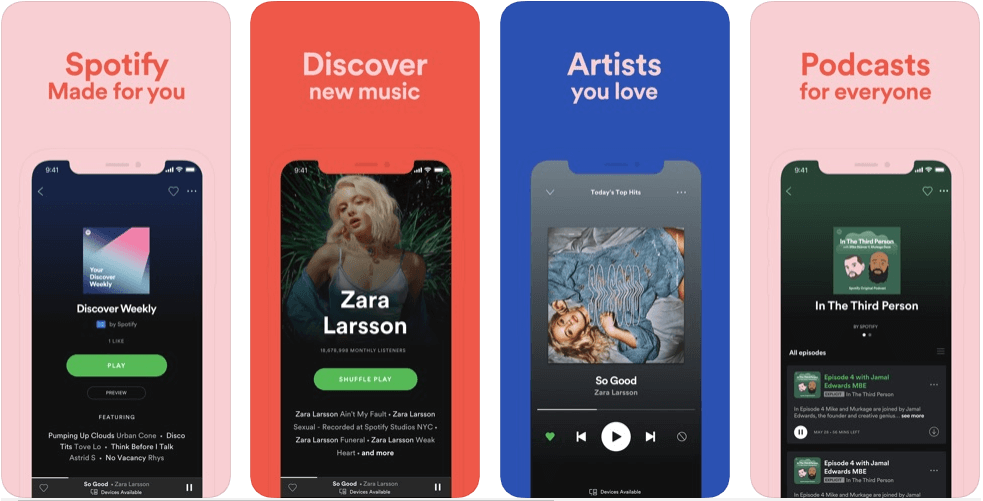 Although mostly used for music, Spotify also offers a diverse collection of podcasts. It has lately joined the list of podcast apps and is popular all around the globe. If well-known firms already host your podcast, you may easily have it listed on Spotify. Listing your favorite podcast is easy if you ask them to record it. Isn't that right?
7. Castro 3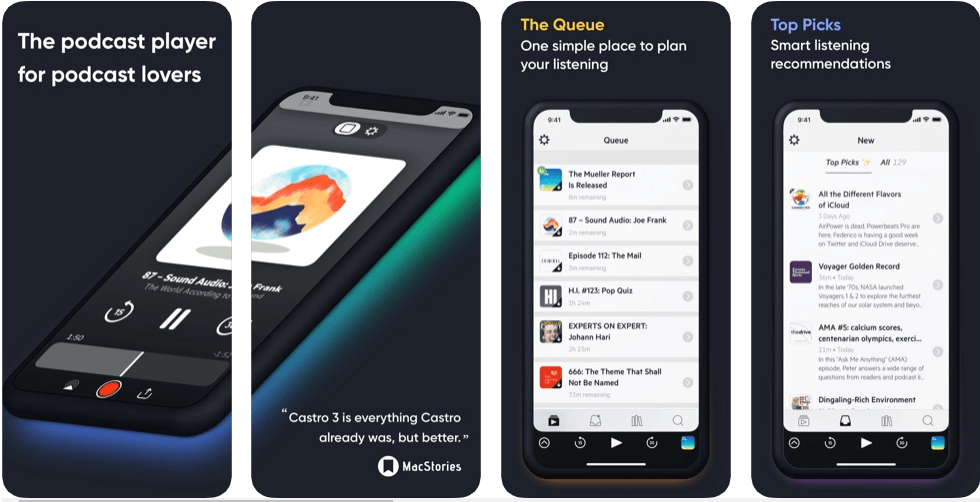 This one-of-a-kind podcast player comes with a clever inbox function. It allows you to archive new podcasts and create a queue. When you have multiple subscriptions, this well-designed app works exceptionally well. It is also compatible with Apple Watch and iMessage in addition to iOS. Toggling its Night mode is as simple as a two-finger swipe.
8. Pocket Casts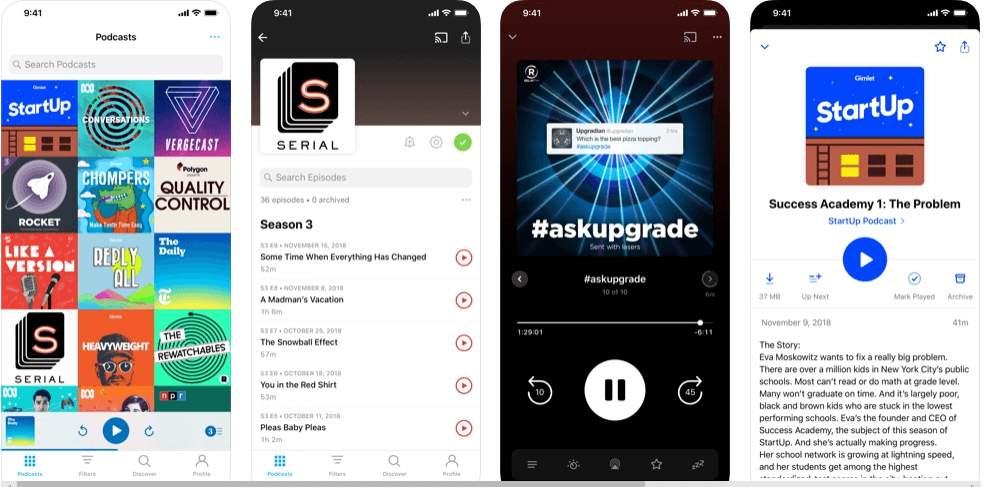 If you like listening to podcasts, Pocket Casts is your app. It has a user-friendly interface, amazing UI, multiple searches, multiple filtering options, and light and dark themes. It boasts various features and is one of the best podcast downloader apps. Additionally, it comes with a sync option that allows you to resume where you left off in your last session.
9. Castaway 2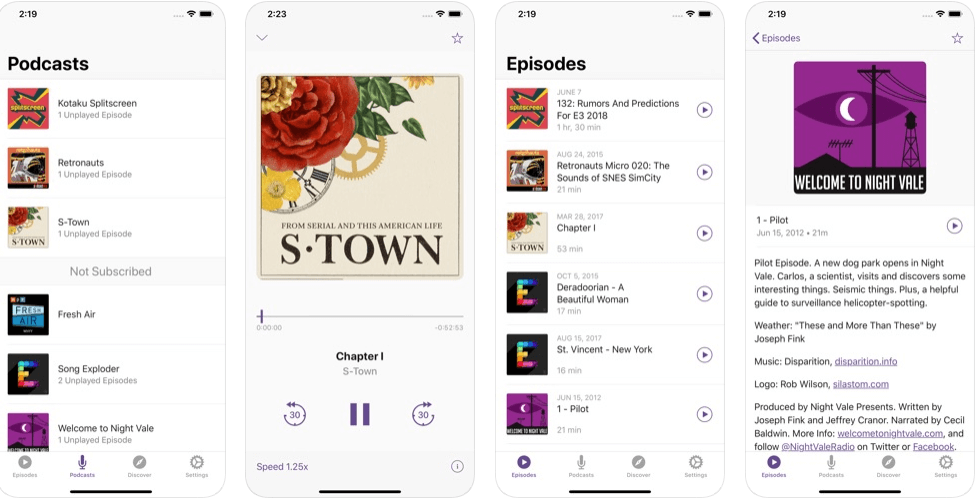 Castaway 2 is another well-known podcast app for the iOS platform. It has a basic user interface and is quite easy to use. Adjust the playing pace, download and stream podcast episodes, get notification alerts, search for podcasts by popularity and author name, and more. It comes with an easy-to-use interface for listening to and organizing different podcasts.
10. Podcast Addict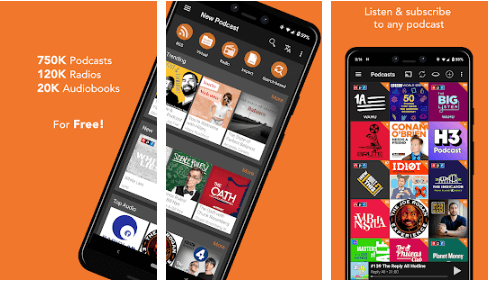 This well-liked app comes with support for Sonos and Chromecast. It allows you to manage your Twitch, Youtube, Audiobook, Radio, RSS News Feed, and SoundCloud Channels. Other features include a sleep timer, sophisticated playback features, widgets, and multiple discovery options.
Conclusion:
So, there you have it: a well-researched list of the best podcast apps for Android & iOS devices. These podcast apps provide a superb collection of sophisticated features and are among the most affordable of the multiple options available. Choose the best option for your requirements.