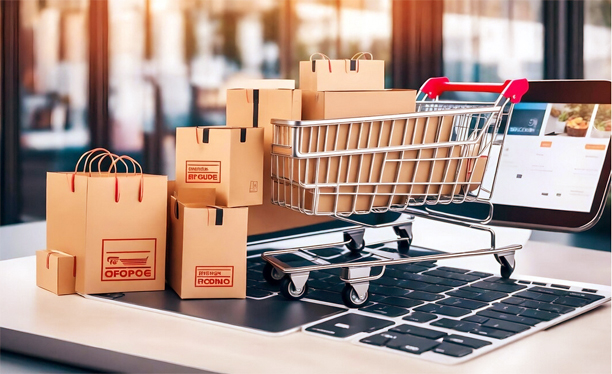 Guide to Make a Dropshipping eCommerce Website: eCommerce is a fast-growing global market that has become popular due to its quick profits and user-friendly features. E-commerce websites are potent tools that attract people to your business and increase sales and revenue. Some people prefer to invest only a little money in the beginning. That's how dropshipping eCommerce was born!
Dropshipping eCommerce businesses are top-rated with Gen Zs and millennials because they require low investment and offer fast customer service. You don't need to keep inventory in your warehouse with drop shipping. It means you can start your business with limited funds.
Are you considering investing in dropshipping eCommerce in 2023-24? Yes, you're in the right place!
Learn how to start your dropshipping business with a simple 7-step strategy from eCommerce development experts. Get your active dropshipping eCommerce website up and running in no time! This post will discuss the seven steps to quickly and affordably build your dropshipping website.
Magento, WooCommerce, and Shopify are popular eCommerce platforms for creating dropshipping websites.
Secure hosting protects your website's information and allows for safer user payments.
Online users enjoy spending time on helpful, easy-to-use, and exciting websites.
To promote your website online, consider investing in social media marketing and hiring an SEO expert.
Why should you build a dropshipping website?
Before developing an eCommerce website, it's essential to understand the advantages of investing in a dropshipping website. Dropshipping is popular among eCommerce marketers and others for making profits with less investment. But there are more reasons to create a dropshipping website.
Let's talk about some reasons here!
Manufacturers and suppliers prefer working with individuals with a website and many customers. Having a dedicated eCommerce website can boost your credibility and show manufacturers that there is demand for their products.
Why don't you have a dedicated website like most of your competitors in your niche? To grow your eCommerce business, it's crucial to analyze your competitors. If your competitors have an eCommerce website, it's a good idea for you to have one, too!
Most people nowadays enjoy shopping online. When all your products are available on one website, you have a better chance of making sales.
With a dedicated eCommerce website, you can instantly display all your products to online users.
Investing in a dropshipping eCommerce website is always a profitable deal for you! Now that you're convinced let's quickly go over the seven easy steps to create your dropshipping business website.
Steps to create your dropshipping business website
Here are seven simple steps to create your dropshipping business website.
Step 1: Identify a Dedicated eCommerce Website Platform
An eCommerce website platform. When building a dropshipping website, the first thing you need to do is choose the right eCommerce platform. Thanks to our digital world, many user-friendly platforms allow you to design and develop your own dropshipping website quickly.
Magento, WooCommerce, and Shopify are popular eCommerce platforms for creating dropshipping websites. Different options may have varying features, so you can choose the one that best fits your business needs. However, they all have ready-made templates or blueprints that you can use to improve your user experience. These eCommerce platforms can quickly meet your needs and help you achieve your business goals. Before choosing, make sure to consider their pricing models.
Step 2: Choose a Good Hosting and Domain Name
After deciding on the eCommerce website platform, it's time to select a reliable hosting provider and a distinctive domain name. A domain name is the name of your website after www, in case you're new to the platform. People will use this name to search for your dropshipping website on search engines.
Always choose a unique and short domain name. Domain names are affordable, so choosing a relevant name for your business is essential. It can significantly impact your online brand value and user engagement.
Next, you need to consider hosting your eCommerce website. Hosting is the place where your website is placed on the internet. Secure and reliable hosting protects your website's information and allows for safer payments for your users. Your bank details will be safe from online fraud, and your dropshipping website will be fast. BlueHost and GoDaddy are popular hosting service providers that are well-liked worldwide. Contact our experts for more information about hosting and domain names.
Step 3: Secure a Website Developer
Choosing a trustworthy and affordable website development company is essential to succeed in dropshipping website development. Why not hire a freelancer for website development? Here's the answer!
A good website development firm has all the necessary resources, such as a project manager, front-end developer, back-end developer, tester, etc. In addition, they will also know about any obstacles that may arise during the development of a dropshipping website and have solutions to those issues.
Remember their excellent customer service and advanced technology tools that will improve your website's performance and help you stand out in the competitive world!
Step 4: Choose a Catchy Theme
The colors and theme you choose for your dropshipping website can significantly impact its engagement. You can enhance your vintage store website using dark themes and bold fonts. For an online store that sells childcare products and items for children, using bright themes and slightly smaller, stylish fonts is a good idea.
Choosing an innovative and interactive theme can give you an edge over your competitors, even with a big budget. Online users enjoy spending time on useful, intuitive, and engaging websites. Invest time and money in choosing a great theme for your website. If you can't do it yourself, hire a skilled website developer to do the work for you!
Step 5: Add the Necessary Plugins
In addition to a good-looking website design, plugins are essential for how well your website works and how effective it is. Popular eCommerce plugins are available, such as Oberlo, Mailchimp, and Social Rabbit. These plugins can help improve the functionality and usability of your dropshipping website.
Moreover, popular eCommerce platforms such as Shopify and WooCommerce provide convenient plugins to integrate into your website easily. These plugins enhance your website's functionality and improve the user experience for your online customers. Some popular free plugins for WordPress and Shopify include Content Egg, Dropship, Plugin SEO, Product Reviews, Alidropship Woo, and Alidropship.
Not all plugins are suitable for your website. Some can help, while others may only be useful after a while. Ensure to include essential plugins and a few advanced ones to enhance your dropshipping website and stay ahead of your competitors.
Step 6: Test thoroughly
Testing is essential in the development sector. There are lots of bugs, both small and big, that should be noticed during development. Minor bugs can negatively impact the performance and effectiveness of your dropshipping website if not addressed promptly. We use both automated and manual testing methods to ensure your business growth.
Automated testing methods save time for testers by detecting even the most minor errors on a website, so they don't have to test each component individually. In addition, automated testing tools can help you find and fix bugs more quickly.
Investing in automated testing is profitable in terms of cost, time, and resource utilization. You can use A/B Testing to regularly assess the effectiveness of features and plugins and decide if they need to be replaced.
Step 7: Use Digital Marketing for Success
We have reached the final step of developing our dropshipping website. Once you have thoroughly tested your website, it is time to launch it globally. Before you show your dropshipping website to people worldwide, there is an important thing you should consider. Yes, we're talking about marketing!
Marketing is crucial for achieving desired results, even if you have done your best work. In today's digital world, digital marketing is the best way to promote your dropshipping website. Consider investing in social media marketing and hiring an SEO expert to boost your website online.
You can ask your website developer to add popular SEO plugins during eCommerce website development. It will help your website rank on Google without much effort. In addition, we have a list of social media tricks and tips to help you market your dropshipping business more effectively to the right audience.
Final Words
In summary, your business must keep up with the fast-paced changes worldwide. To meet the needs of modern users, it's essential to be accessible and online, as most of the world is now connected digitally. An online presence is crucial in today's digital world because people tend to buy things they see online. Having an online presence helps you reach more customers, increase sales, and build trust and credibility for your store. It means people will feel confident purchasing from you without being deceived.