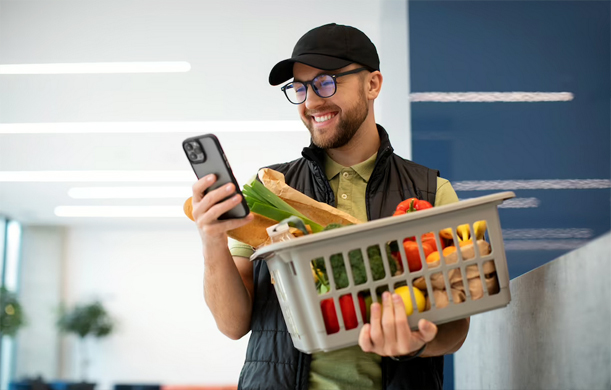 Best Jobs Like Instacart to Make Extra Money in 2023: Do you know that grocery delivery services' revenue growth is expected to exceed 22.2% by 2024? That's correct! These stats show how much grocery delivery services have become a part of our everyday lives. We all love the convenience of having everything delivered to our doorstep. We can easily access these services and enjoy their benefits thanks to gig delivery apps. Delivery-driving jobs offer flexible work schedules and hourly pay ranging from $15 to $25 or more (excluding tips). This makes them an attractive option for many people.
Instacart stands out among supermarket delivery services if you live in the United States. Competition brings participants. If you're interested in grocery and food delivery jobs, don't worry about committing to just one gig. There are other options like Instacart that offer good earning potential and flexibility. Before diving into other jobs, such as Instacart, here's a simple overview to get you started!
Instacart Overview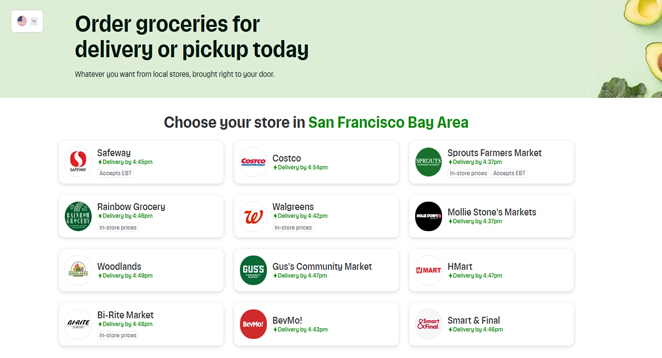 Instacart was founded in 2012 by Apporva Mehta as a platform for delivering groceries. This platform provided improved grocery delivery options and created a place for daily paying jobs. There are more than 10,000 registered Instacart shoppers who work both full-time and part-time on weekends. It has now reached over 5000+ locations in the USA and Canada.
If you want to find the best delivery jobs, this could be an excellent place to start looking. Additionally, this platform has become the preferred choice for buyers due to its prompt and efficient services. Instacart pays an average hourly wage of $16 to $22 or more. You can also check out other jobs such as personal shopper, store manager, shift lead, etc.
Website: https://www.instacart.com
15 Best Jobs Like Instacart To Try
Our detailed Instacart review provides transparent information about how Instacart pay varies for positions and the joining process. Due to competition and limited regions, Instacart jobs are only available to a few people. Here are some other jobs similar to Instacart where you can earn an equivalent amount.
1. UberEats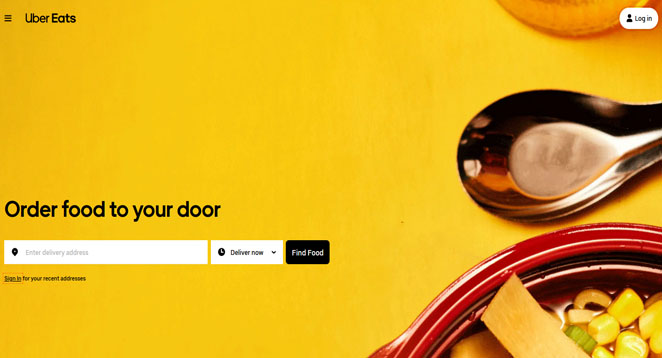 Uber Eats is the top platform for making money by delivering food. Joining as an Uber Eats driver offers flexible schedules and quick pay, making it a reliable choice. It allows you to be your boss and reduces work pressure.
To start with Uber Eats, you only need to sign up. Unlike Amazon Flex, there are no vehicle requirements. You have options, to begin with: a car, scooter, or bicycle. You can work whenever you want, for an hour a day, on weekends, or throughout the week. Uber Eats provides drivers with numerous opportunities in over 6500 cities.
You only need a badged license to get started to work as an Uber driver under a partner. Having your car can also allow you to earn money by advertising with Uber's Out-Of-The-Home (OOH) feature.
Website: https://www.ubereats.com
2. TaskRabbit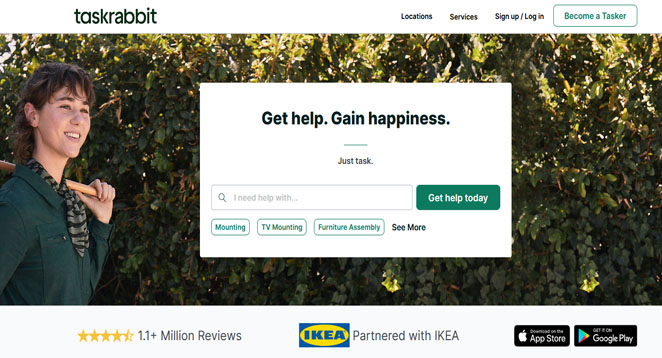 TaskRabbit is a great platform for finding short-term jobs with reasonable hourly rates. You can easily choose gigs from this platform if you're searching for jobs like Instacart. It's always helpful.
You can find high-paying TaskRI.D.bit jobs that don't require experience in various fields, such as driving, cleaning, servicing, yard work, and shopping. Simply sign up as a 'Tasker' on the website. The registration fee is only $25, which you can easily earn within an hour of being hired. You can choose from over 50 categories and set your rates and schedules to showcase your expertise.
Website: https://www.taskrabbit.com
3. Postmates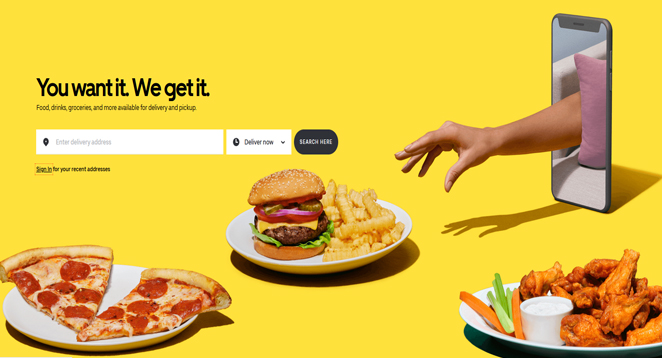 Postmates is a top delivery app that efficiently delivers food, groceries, and drinks. You can work as an independent contractor on PostMates, catering to their motto of 'Anything-Anytime-Anywhere.' If you want to work alone, Postmates is a great option. They meet expectations and offer a higher pay range of $17-$25 per hour. You can keep all of your tips here. Postmates is now available in over 3,500 cities across all 50 states, reaching 70% of U.S. households. Before applying for a delivery partner job, check with your city to see if you are eligible.
Website: https://postmates.com
4. Favor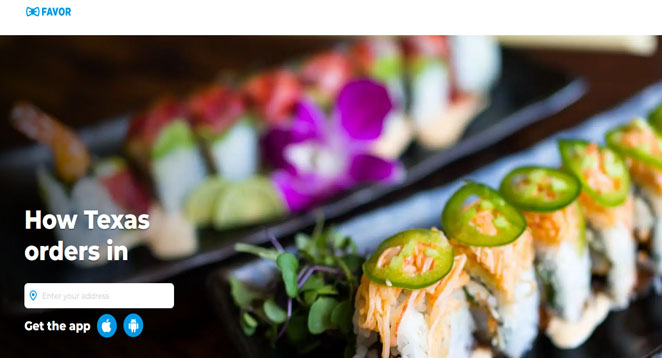 Favor has delivery jobs similar to being an Instacart shopper. This app is viral in Texas. It offers delivery services for everything from morning coffee to supper for Texans. To join as a Favor Delivery Driver, open an account on the Favor app if you're based here. You'll be called a 'Favor Runner,' you can earn extra money by making deliveries in your spare time. It's now in over 450 cities in Texas. Working for Favor comes with benefits such as premium health, dental, vision, and health insurance offers. You can also choose 401(K) options to continue this delivery job after retirement.
Website: https://www.favordelivery.com
5. Amazon Flex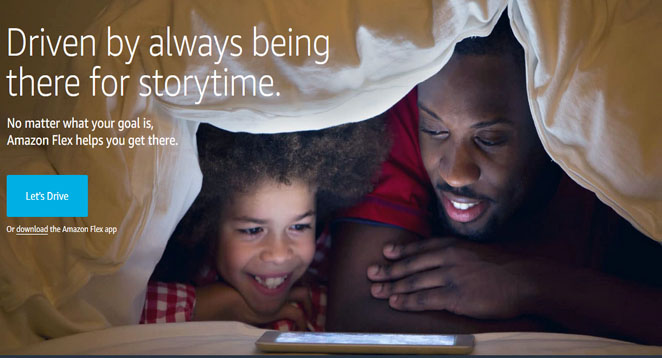 Is Amazon Flex worth it? We say yes! Amazon Flex offers the opportunity to work on your terms with a flexible schedule, making it an excellent option for various job purposes. Amazon provides multiple opportunities to make money, but working for Flex has the added benefit of being flexible and easy to access.
You can earn money by the hour and enjoy being alone here. As a Flex driver, you can listen to your favorite music or podcasts while delivering products without restrictions. It means you are getting paid to listen to music roundaboutly. Download the Amazon Flex app and sign up as a driver to begin your Amazon Flex delivery job.
The salary of an Amazon Flex driver depends on their location, the tips they earn, and the time it takes to make deliveries. You can work as much as you want and make a good income because there are no limits on work schedules.
Website: https://flex.amazon.com
6. Doordash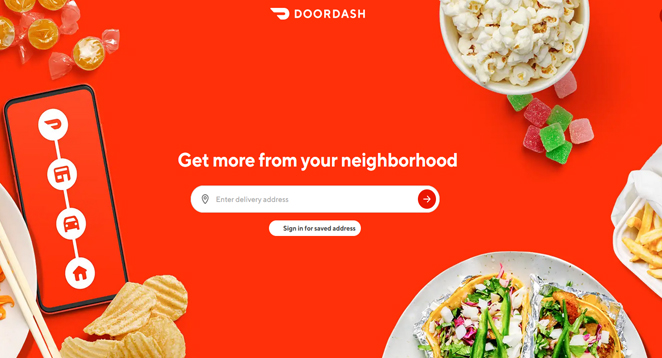 This platform is excellent for finding good delivery jobs. Doordash offers services for many stores, including pet stores, groceries, and convenience stores. With its broad reach, this platform has many job opportunities. With Doordash, you can earn $500-$1000+ per week by providing top-notch services. Does it seem high? Earning a high income with Doordash is easy if you follow some hacks. These include scheduling orders in advance, choosing ghost kitchens, accessing promotions, and using a Dasher card for prompt payments.
You can now register as a 'Delivery Dasher' on Doordash in over 7000+ cities. You can sign up for the newsletter for free food and great coupons. To become a Door Dasher, you need a registered driver's license and vehicle. To start earning with Doordash, sign up and make sure you have a clean driving record. It's that simple! Getting paid over $20 per hour plus receiving 100% of the tips sounds exciting! You can quickly get cash for your earrings immediately (with Dasher Direct), every day, or even every week at the bank.
Website: https://www.doordash.com
7. GoPuff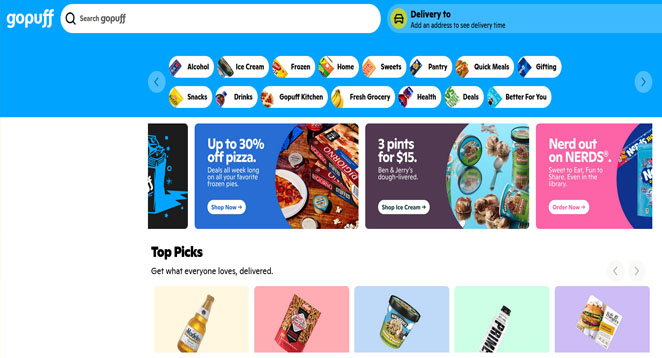 GoPuff is a famous delivery gig, similar to Instacart, that offers flexible work options. It assists customers in delivering groceries, food, home essentials, and alcohol within minutes.
GoPuff is different from other apps because they have over 4000+ products stored in their hubs, which the drivers deliver from. As a GoPuff delivery agent, you can quickly sort and transport items from the hubs to their destinations. GoPuff is impressive with its broad reach, serving over 650 cities and 500 micro fulfillment centers.
Website: https://www.gopuff.com
8. Shipt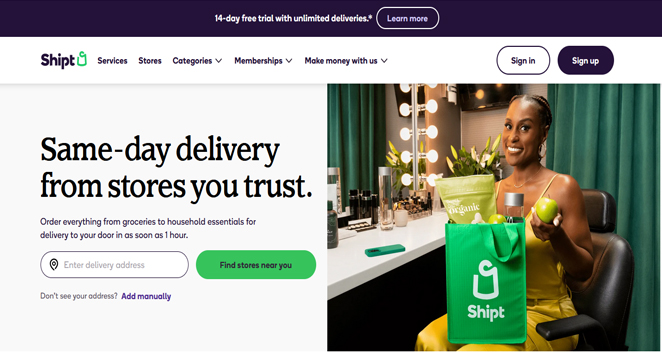 Shipt is an excellent app for making money while shopping. Target Corporation, an American company, owns this platform. Shipt is famous for its excellent services in delivering groceries, electronics, and household products. Shipt is great because it offers same-day delivery in certain areas. More Shipt drivers can now participate thanks to this offering. Now is the perfect time for anyone interested in becoming a 'Shipt driver' to start their work. This platform is partnered with over 5,000 stores.
The main difference between Shipt and Instacart is the selection of working slots. Shipt differs from Instacart because you can't choose a flexible time slot. Instead, you have to work during predetermined slots to earn an average of $15+ per hour.
Website: https://www.shipt.com
9. Grubhub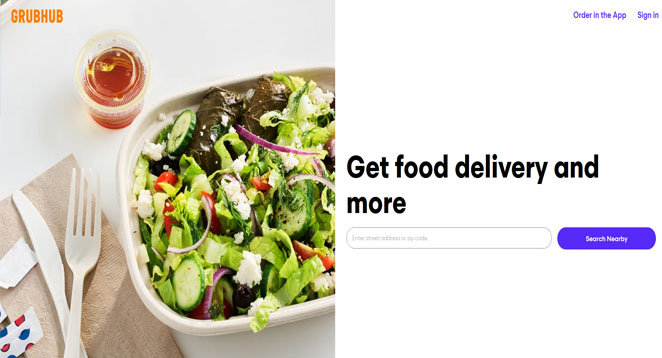 Grubhub is one of the top delivery driver apps in the U.S. for making daily money. This job is similar to Instacart but only involves delivering food and not other items. To find job openings for Grubhub drivers, check the 'Grubhub Careers' section regularly. This platform has grown steadily and is now available in over 4000 cities across 50 U.S. states.
Grubhub has a transparent pay model for its drivers. The base pay includes compensation for distance, gas charges, time, and the local market. With the Grubhub Contribution feature, you'll get a minimum guaranteed rate for reaching the set block limit on a slow day. It's a great perk! You can earn extra money with Grubhub missions for a limited time.
Website: https://www.grubhub.com
10. Amazon Fresh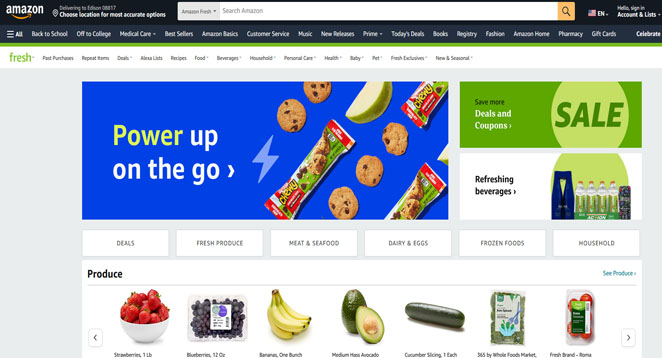 Being an Amazon Fresh shopper is an excellent alternative to Instacart because of its strong brand and flexible work options. Fresh is Amazon's service for in-store and grocery delivery. It is available to Prime members and offers same-day deliveries.
Many users believe this is like Amazon Flex, but it's one of the services provided by Amazon Flex. To become an Amazon Fresh Shopper, you must create a personal profile and look for job openings. You can easily earn money on Amazon if you're skilled at loading and unloading items and can use GPS to deliver orders.
Website: https://www.amazon.com
11. CornorShop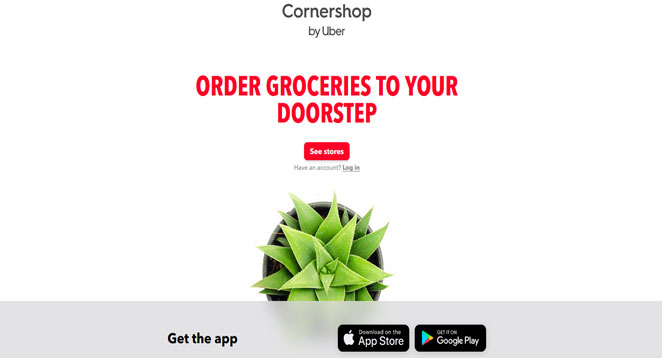 Uber has recently bought Cornorshop, which has brought the company into the limelight. Here's another side job app with decent pay rates, similar to Instacart. In this side gig, you can be a 'Cornershop shopper.' You fulfill orders from different stores and deliver them safely to customers. Cornorshop offers flexible hours and weekly on-time payments, making it a great alternative to Instacart.
Website: https://cornershopapp.com
12. Try Caviar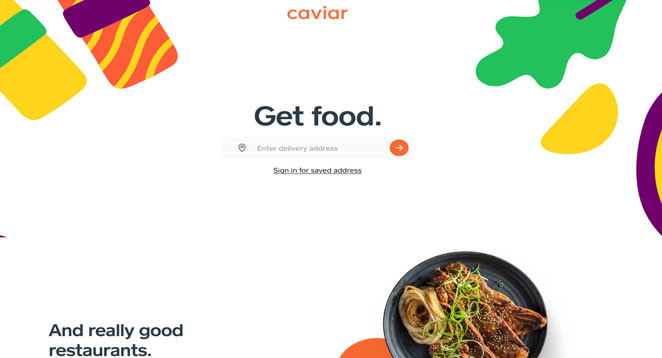 Caviar is a food delivery app that works with Doordash to provide affordable delivery services. Download our user-friendly mobile apps to make extra money on your flexible schedule. To start on Caviar, you need a valid license, two years of driving experience, and a vehicle with insurance. You can earn money by referring friends through the Caviar referral program.
Website: https://www.trycaviar.com
13. Lyft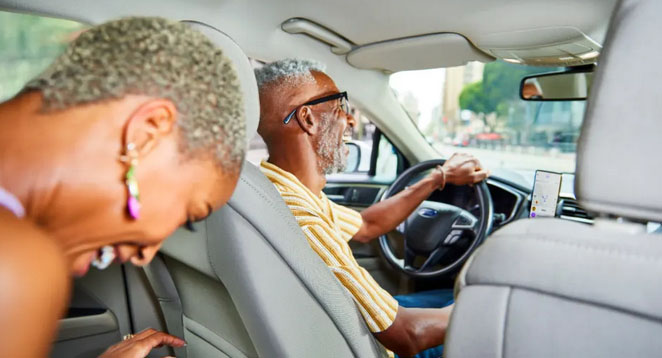 Lyft is a well-liked service for sharing rides. Working for Lyft can be a great part-time job because it is inclusive and helps you stay connected. Riders often find driving with Lyft a fun and easy way to earn money. The joining process is straightforward.
With Lyft, you can keep all your tips and enjoy additional bonuses and incentives for meeting goals. Lyft focuses on both driver safety and customer satisfaction. They provide $1 Million in insurance coverage for drivers and ensure fair distribution of services to all customers. Contact their 24/7 support for any questions during your driving journey. Enjoy the freedom!
Website: https://www.lyft.com
14. ParaWorks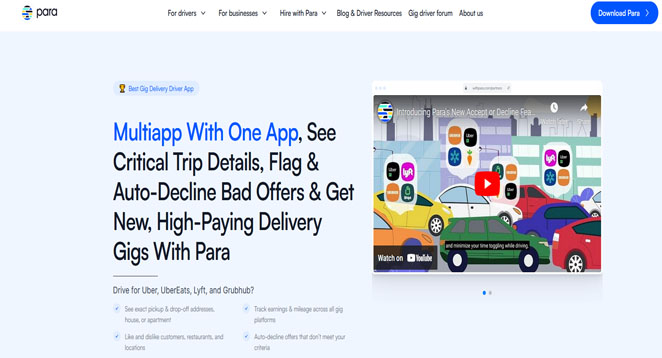 ParaWorks is the top gig delivery driver app. It is a new platform that offers a quick and easy way for driving enthusiasts to earn extra money. This platform offers flexibility by allowing you to work either for on-demand deliveries or the entire shift on an hourly pay basis.
ParaWorks is a popular multi-app that helps you organize flexible gig jobs like Uber, Uber Eats, Lyft, Grubhub, and more. It also allows you to compare faces. You can automatically reject bad offers, discover new deals, and occasionally come across well-paying delivery jobs. It used to have Doordash gigs, but not anymore. With 'Para Driving,' you can freely deliver food, packages, and medication. Most ParaWorks reviews are positive because it's easy to keep track of earnings and mileage on various platforms.
Website: https://www.withpara.com
15. Walmart Delivery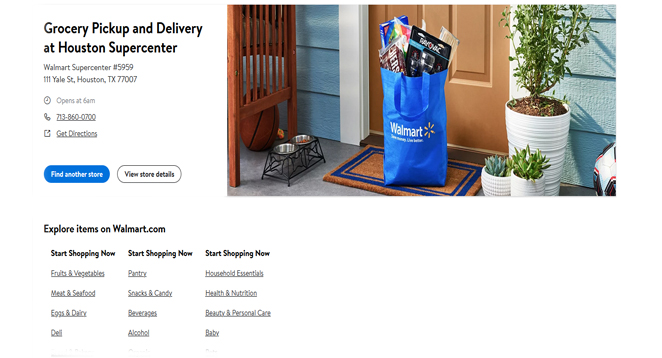 Here, you shop for items and deliver them to clients. You need a car and a phone that work together. Become a Walmart spark driver and enjoy job opportunities and higher pay in over 3650 cities. You can also earn money through the Walmart Referral Program.
Website: https://www.walmart.com
Tips To Increase Your Earnings on Jobs Like Instacart
There are many grocery and food delivery jobs available, such as Instacart. What sets us apart is that you can choose the job that suits you best. In the previous section, we discussed the top apps like Instacart. Now, let's explore some helpful tips to increase your earnings. Let's check!
1. Goal-Oriented Approach
To achieve your income goals, you must be clear about what you want and work towards meeting those targets within the set timeframe. Setting and maintaining financial goals is vital for staying focused and motivated.
2. Create multiple gigs
To earn extra money, you should sign up for multiple gig platforms like Doordash, Uber, Postmates fleet app, etc. These platforms offer part-time opportunities.
3. Budgeting and Tracking
Regarding money tips, budgeting, and tracking are the most important. It's about your income and how effectively you manage it.
4. Never leave peak hours
Offer your best services to clients and earn extra surge values and tips by working during special peak hours.
5. Select Stores Wisely
Choosing the right area and stores is crucial for efficiently placing multiple and fast batch orders.
Also read;
Final Thoughts On The Best Jobs like Instacart
Here are some jobs similar to Instacart. When it comes to independence, flexibility, and earning extra money, side-income gig jobs are always a great option to choose. Even if you already have a full-time job, dedicating some free time to a gig can make a big difference in your life.
These jobs can boost your confidence and responsibility and serve as an additional bridge to early retirement. Delivery jobs, such as Instacart, are popular and easy to do. If you're interested in this gig, look at the options available and choose the one that suits you best. Any platform will only satisfy you if it's available in your area. Enjoy making money!