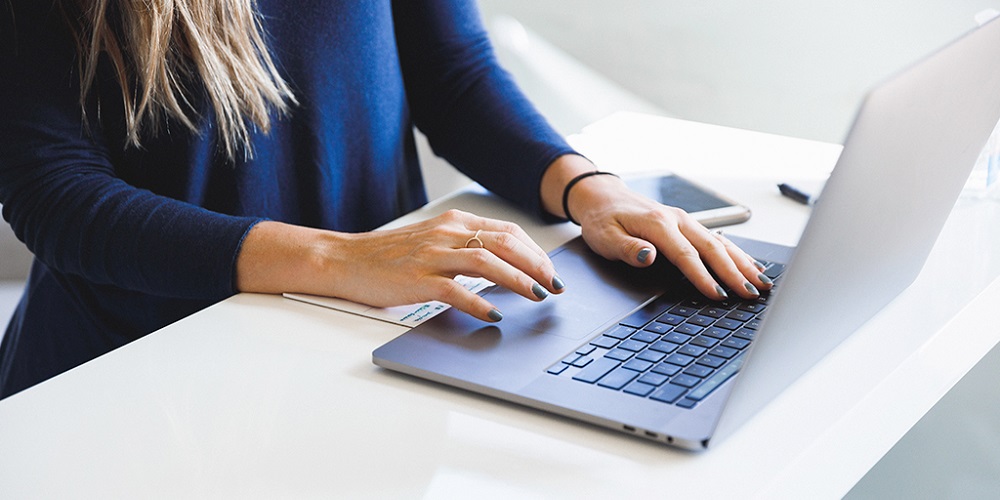 VLC skins are an excellent approach to altering the media player's appearance. If you're a member of a group of people who are not particularly pleased by the appearance of the native interface, you've arrived at the correct spot. Several VLC player skins are accessible online, and you may download and install one that suits your preferences. In addition, you may change and install a fresh theme anytime the existing one bores you. This post will describe how to download and install VLC skins. We will also provide a list of the top and most recommended VLC skins accessible for download and installation.
Native & Customized Skins
Well, the VLC media player is one of the most common files for playing any media software on a computer. Its adaptability means it can play nearly any media file you request. Installing it provides you with the native VLC media player. For those primarily concerned with the functioning, this is more than sufficient. However, the native theme is unappealing to users who want a fascinating theme to complement the software's great utility. Downloading and installing skins for the VLC media player is simple and takes only a few minutes, and you may continue to experiment with different skins to meet your needs.
Most Suggested VLC Skins
There is sufficient information on the VLC media player website to download the skins manually. You may use the ratings, the number of downloads, and the most recent update date to help you choose a skin. As the website provides a vast selection of VLC skins, we have compiled a list of the most popular, highly rated, and widely downloaded skins to help you get started. You may also download from unofficial sources; we've included several VLC skins not listed on the VLC media player website.
The Best VLC Skins
Let's have a look at the Best VLC Skins.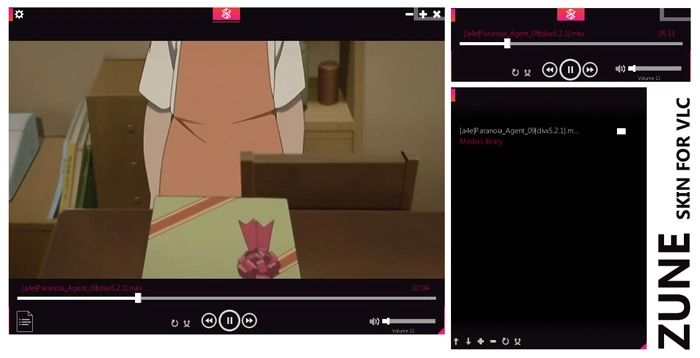 Zune 1.0 does not show on the official list of skins, but it is extremely good. This VLC skin is for folks who like the aesthetics of the Zune player but want greater functionality. This skin blends the best of both worlds and allows you to relive the glory days of your Zune. A white version is under development by the developer.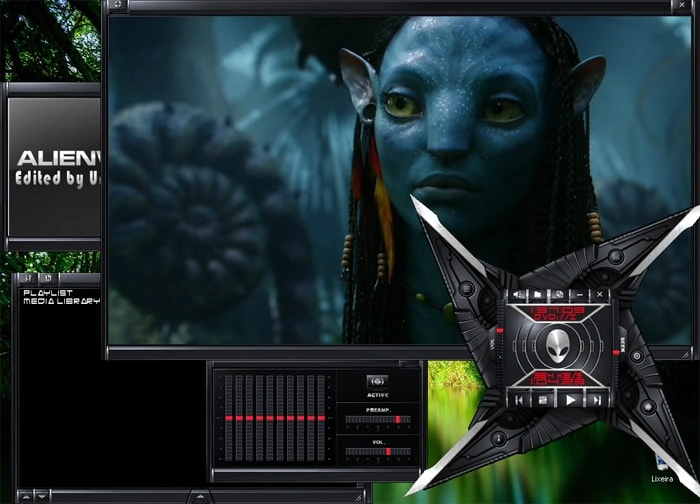 Alienware Darkstar is a popular skin for the VLC player. The skin has received very good reviews from users, and its dark, futuristic appearance is sure to appeal to sci-fi-loving video player users.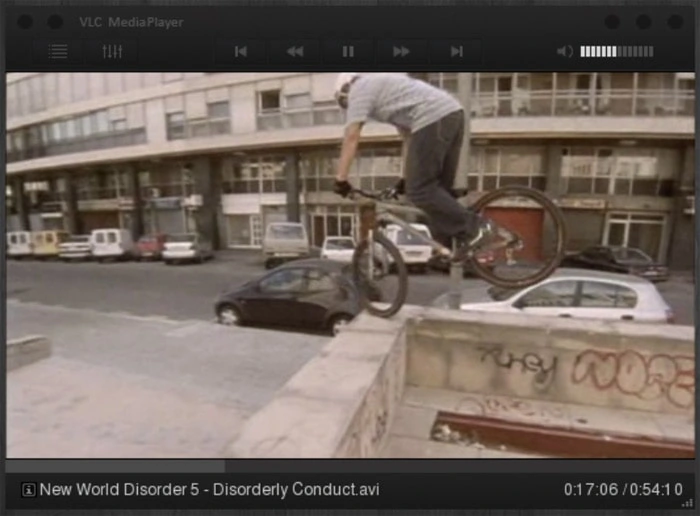 Darklounge is a VLC skin with a dark theme that moves the player controls & volume buttons to the top of the display. This skin for the VLC media player prioritizes minimalism and looks great.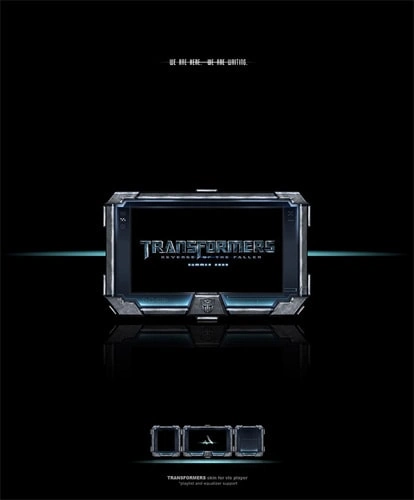 This Transformers skin, which is not on the official list for the VLC media player, is certain to have Transformers enthusiasts flocking to the download link. This skin is compatible with the playlist and equalization windows.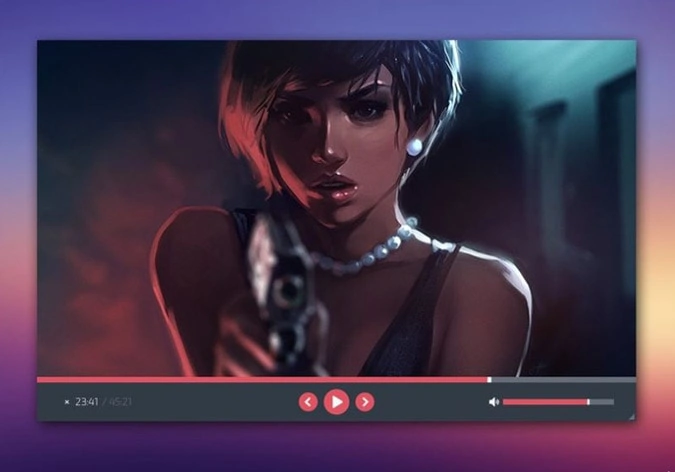 Skywire has a flat design theme. The developer has redesigned the video player's buttons to enhance the visual value of the theme. As a result, Skywire is a sophisticated option.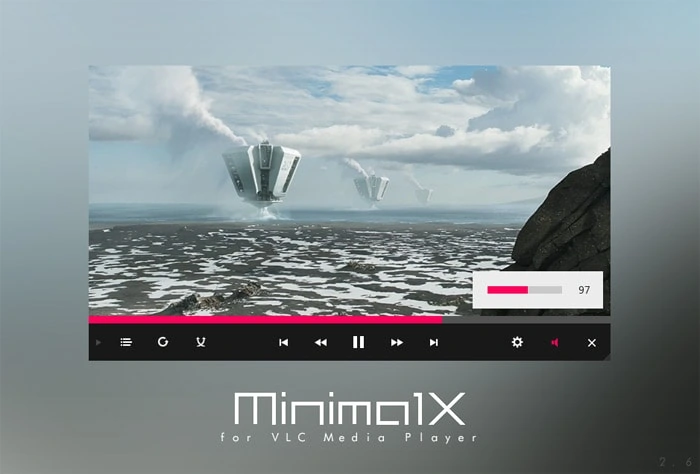 This VLC skin is perfect for all the readers who adore minimal style and simplicity. The developer has created a minimalist, clutter-minimal VLC skin that is amazing. Although the skin is predominantly black, blue, pink, and green accents are available.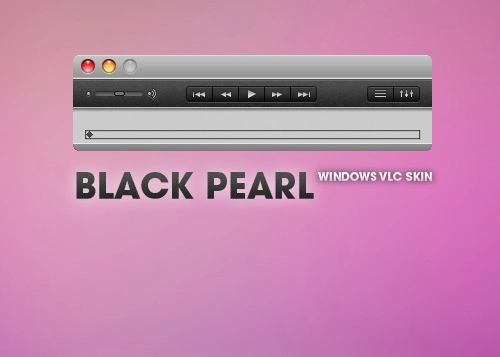 This highly-rated VLC media player skin is minimal in look. The grey and black color theme give the video player a streamlined look.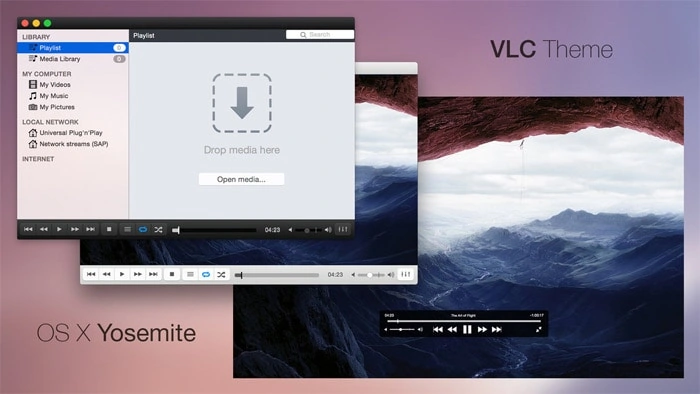 Well, the Mac OS X version of the VLC media player doesn't support skins; however, this VLC skin gives your player a Mac-like appearance. The skin also includes a dark variant and features all Mac OS X user interface components and interactions.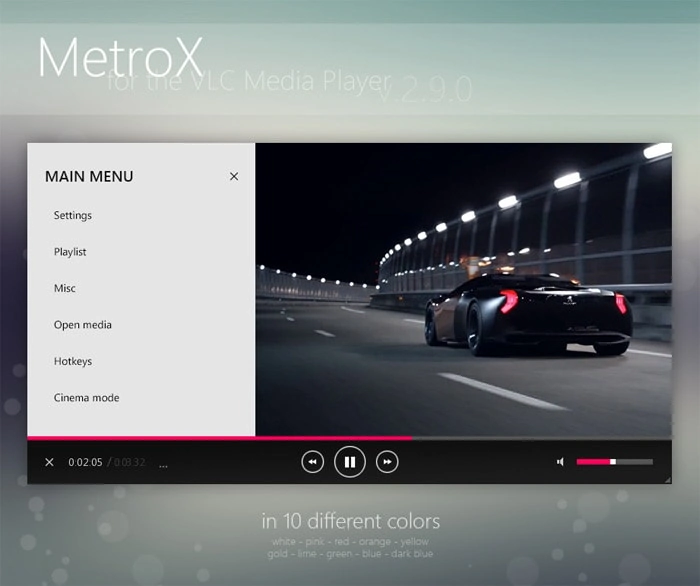 This theme was created by Maverick07x, who previously created the MinimalX theme. It has a minimal appearance, can change and add colors (from a group of ten colors), and has draggable menu headings.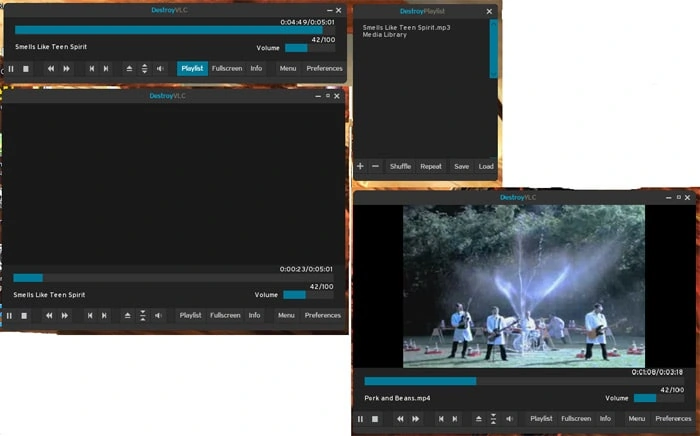 All of DestroyVLC's users have downloaded and rated the program positively. The blue-black color scheme and rounded corners of this simple VLC media player give it a beautiful appearance.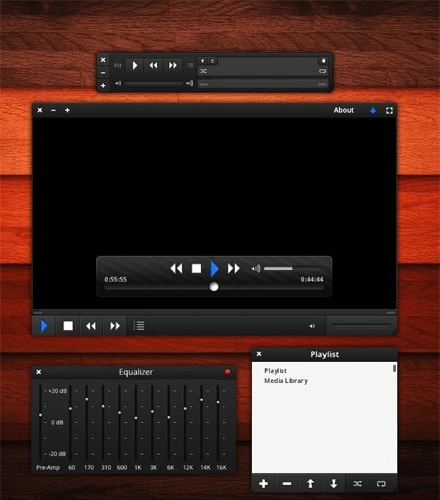 Orion is a simple, dark-themed VLC media player skin that features equalizers and playlists, and its UI is so simple that it is worth a try.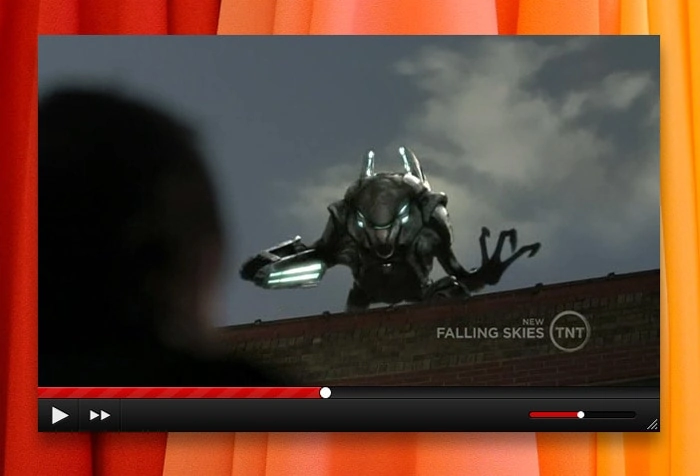 This minimal VLC media player skin developer has urged people to transfer the source code and add their features. The skin does not provide many features; it is a simple video player. YouTube influenced this video player's aesthetic theme.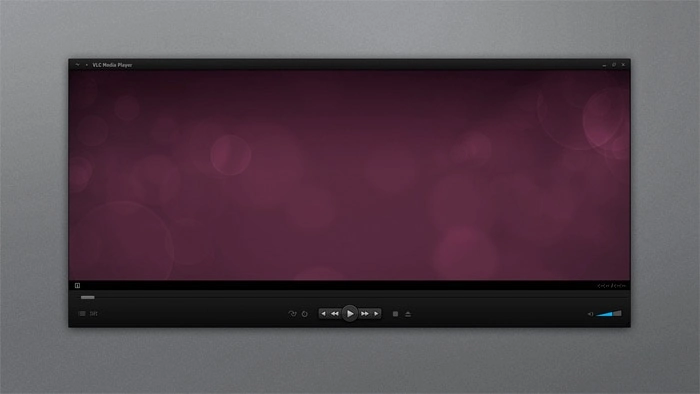 As its name implies, VLT DeepDark is a well-liked deep dark theme. In addition, the refined appearance of this VLC skin will enhance the visual appeal of your media player.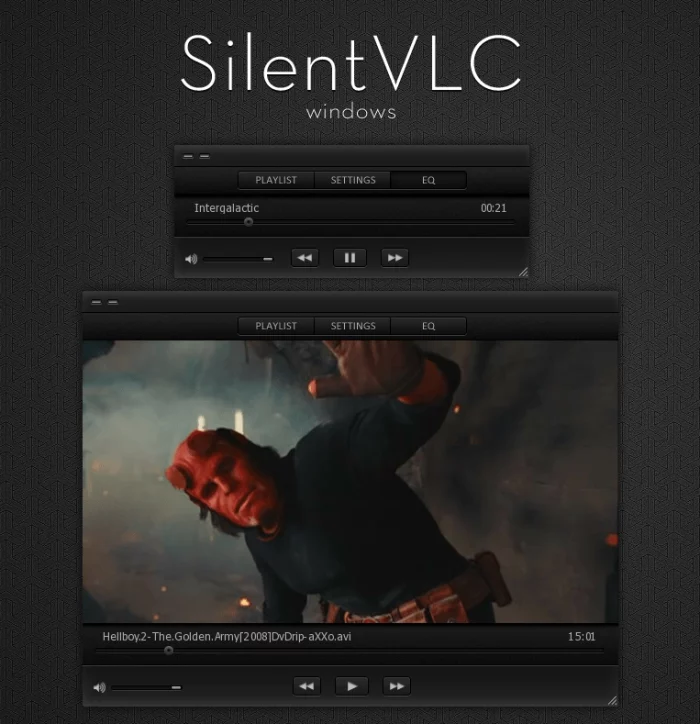 SilentVLC has a refined look due to its minimal black theme. This theme allows window resizing while opening other VLC skin functionalities.
How To Quickly Download And Install VLC Skins?
We've previously led you through a list of the best VLC player skins, but we have yet to explain how or where you may acquire the best ones. The website for the VLC media player is the key location to find appealing skins. However, there are more websites with great VLC skins. If you visit the official website of the VLC media player, you can find a vast assortment of VLC player skins. You may download individual VLC media player skins, and/or you can download them all from the website.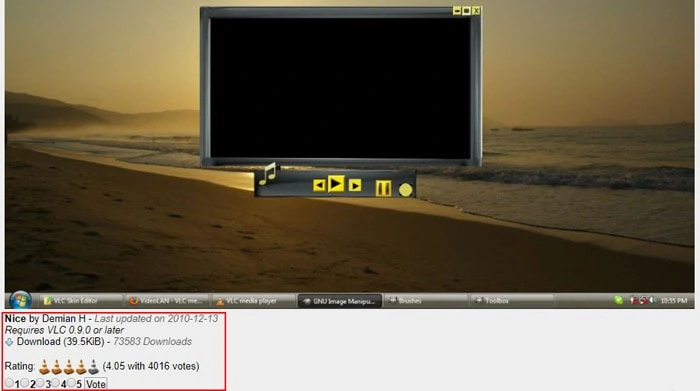 The pack is updated every day and is sortable by rating and number of downloads. On the VideoLAN website, every skin for the VLC media player is free, and you may choose the skin that best suits your preferences. Before downloading the skin, you may watch a preview on the website. For example, if you select VLC media player skin, a modal window with previews and other information about that skin will appear. This information enables you to decide on which skin to download.
How To Quickly Add New VLC Skins To VLC Media Player?
You are familiar with a few of the best VLC skins now. How to install and add these VLC skins to the VLC media player is the final remaining step. The steps below will assist you in downloading and installing them. The procedure takes only a few minutes. After the procedure, you will have a personalized, aesthetically pleasing VLC media player theme.
1 – You must browse the VLC Media Player program files folder. To do so, open File Explorer and navigate to Local disk C. Select the Program files folder and double-click it. Next, choose VLC Media Player from the available options. Finally, select and then double-click the skins folder.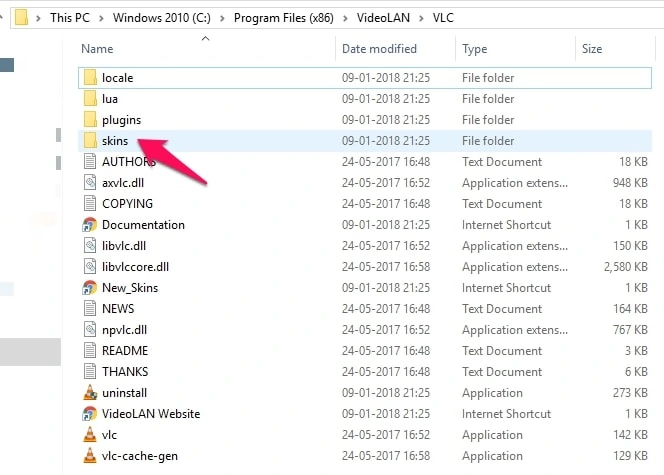 Note: If you changed the name of VLC Media Player, you should examine for that name under Program files rather than VLC Media Player. If you still need to alter the default name and are trying to find the folder, look for VideoLAN.
2 – Within the skins folder, the default.vlt file may be found. Well, this file is the default VLC player skin and is included with the software installation. Here is where you must add files for your new VLC skins. Drag and drop the downloaded skins into this folder.

3 – Now, return to VLC Media Player. Select Preferences from the option Tools.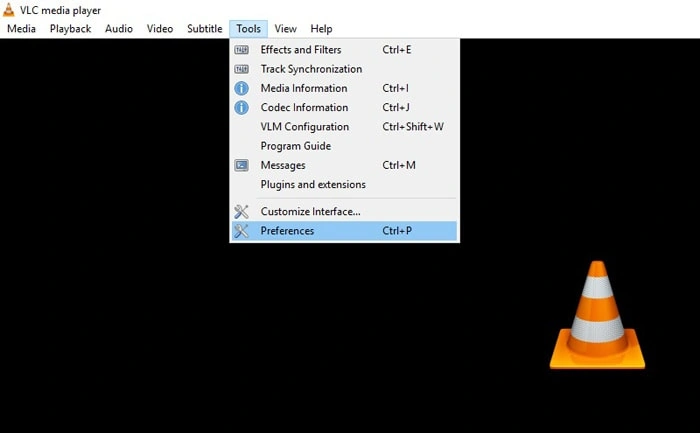 4 – The Preferences window will open. Open the Interface Settings section when it does so (it should be selected and displayed by default). Two options will be displayed under Look and Feel. The Use Native Style option displays the native style. Use Custom Skin is displayed as the second option. This is the option you should select and activate to apply custom VLC skins.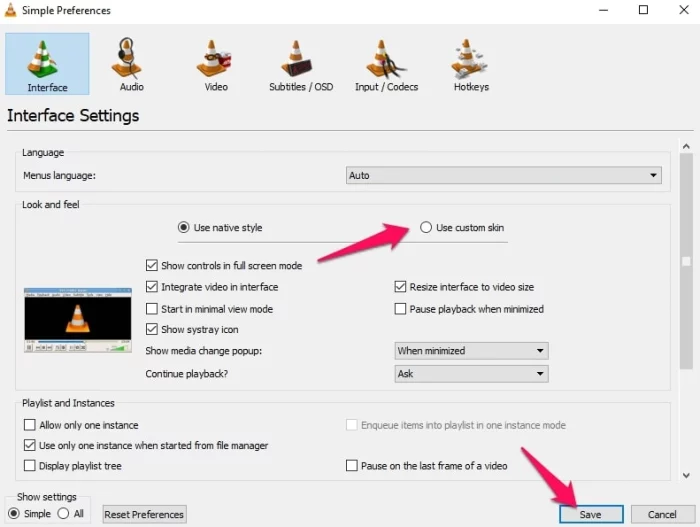 5 – With a few more steps, the skin of the VLC media player will be fully functional. Now, navigate to the VLC media player and right-click the top bar. There will be a menu displayed. From the displayed list, navigate to Interface. Next, click the Select Skin button. After choosing Select Skin, a menu will be displayed, including all of the VLC player skins that were previously copied to the skins folder. You may select any VLC skin you like, which will be applied to the VLC media player. You do not need to relaunch the VLC media player for the changes to take effect.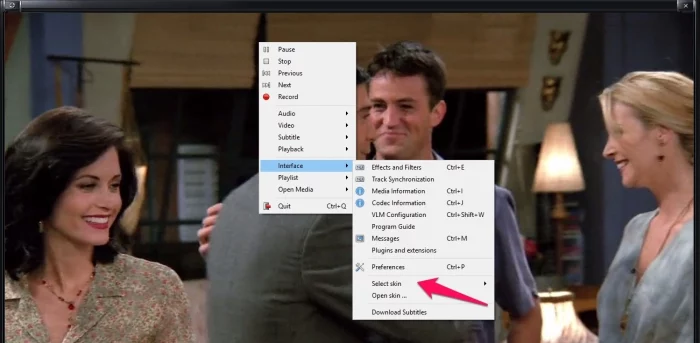 The Bottom Line:
We have installed a list of VLC skins for you to try out and play with and procedure instructions. Before using a skin, it is essential to ensure that it has been well tested; you do not want the video player to crash every time you attempt to play a video. Also, if you discover any flaws, please report them to the creators so they can fix the skin in a future release. Each skin offers and supports a unique set of functionalities; not all skins implement every conceivable video player functionality. Find one that meets your requirements, and you're all set. In the comments area, please list your favorite VLC skins.