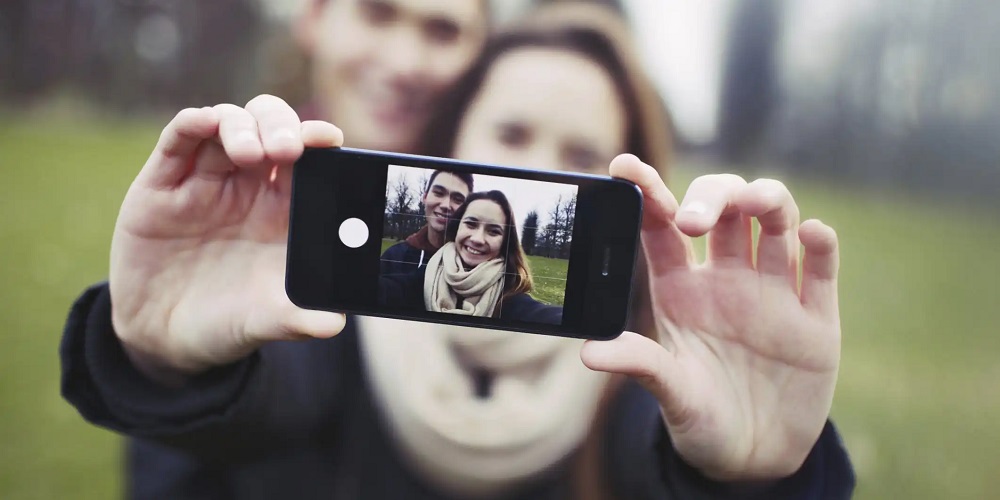 While taking a selfie, you should always put your best face forward. With the advent of image-centric social networks such as Instagram and Snapchat, it is necessary to have an intuitive and user-friendly selfie app to make yourself appear better and add great effects to your photos. Whether you're trying to acquire more Facebook likes or just searching for the best method to document important moments with friends and family, you can snap better-looking selfies with the best selfie camera apps for Android & iOS.
Given the abundance of free selfie apps accessible online, it is difficult to select the best one. If you don't know which app is best for shooting selfies, you no longer need to worry since we've done the legwork to help you pick the best selfie app that can help you turn your regular pictures into something spectacular. Here's a list of the best photo editing apps for selfies that can help you make small changes to your face, such as brightening dark circles, removing pimples and blemishes, whitening teeth, and adjusting skin tone, among other things.
The Best Selfie Apps On Android & iOS To Try
Let's have a look at the Best Selfie Apps On Android & iOS.
1. Retrica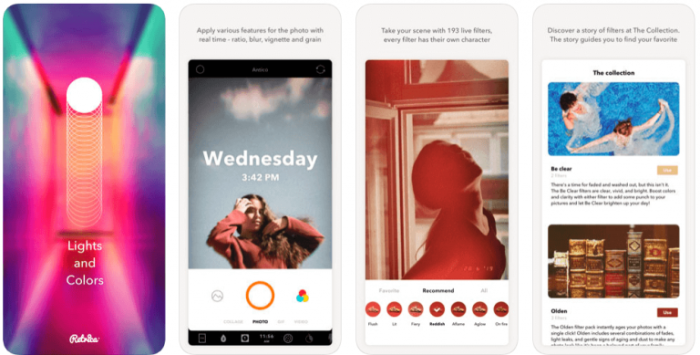 Retrica is one of the most popular apps for editing selfies, offering a variety of gorgeous camera filters to make selfies more unique. It also offers a variety of intriguing features, such as zoom blur effects, time stamping, a viewfinder, insight, various colors and lighting, and more. Hence, Retrica has you covered if you want to take better-looking selfies with captivating filters.
2. Cymera Camera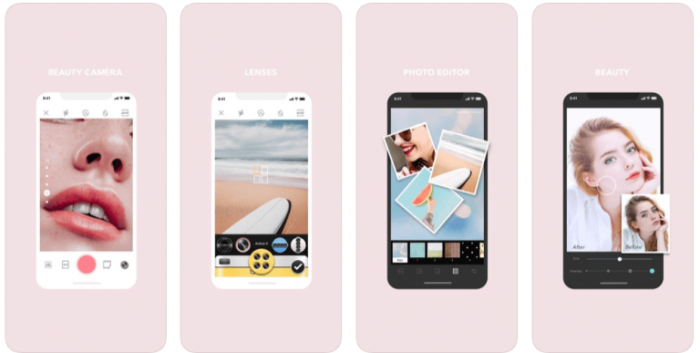 Cymera, a beauty camera app with over 200 million users, enables you to turn ordinary selfies into unforgettable moments. It provides professional photo editing tools, including selfie filters, blur and mirror photo effects, face stickers, cosmetics, haircuts, tattoos, face and muscle effects, and more. In addition, this intelligent selfie camera is equipped with various camera lenses and cosmetic tools that give your face a more natural radiance. Cymera may need to make a better selfie apps list, but it is certainly worth a try.
3. Facetune2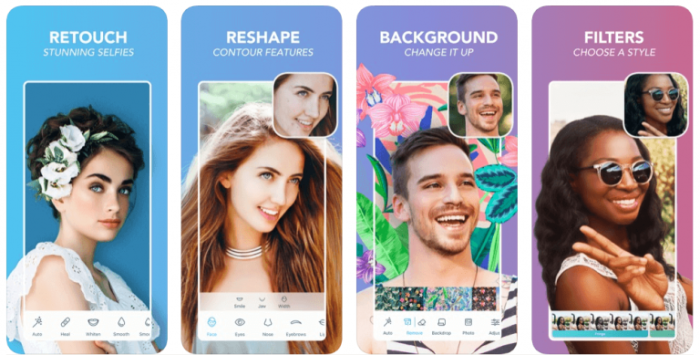 Facetune2 might be the optimal choice if you're seeking to make the ideal picture or take more appealing selfies. It is an award-winning selfie camera app offering incredible photo editing tools to remove imperfections, pores, and pimples with only a few taps. Facetune2 is one of the best beauty editing apps on the market because of its super-advanced technology, which includes all the magical retouching features and editing tools needed to make your selfies look more natural.
4. AirBrush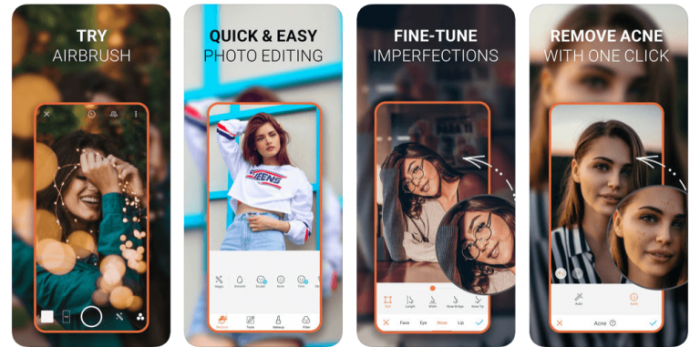 In today's extremely competitive industry, AirBrush is undoubtedly one of the best photo editing apps for selfies that offers incredible tools and filters to make your photos worth sharing. With this easy-to-use photo editor, you can access the most natural and user-friendly retouching tools, photo effects, and filter options, such as heavenly and element filters, creative retouching tools, blemish, and acne removal, dazzling brilliant eyes and light effects, etc. In addition, AirBrush allows you to enhance your selfies to the next level by removing annoying flaws like pimples, blemishes, and swollen eyes for the ideal selfie every time. Therefore, AirBrush is a serious candidate for the top place on this list of the best selfie editing apps because of its professional filter and photo effect tools.
5. YouCam Perfect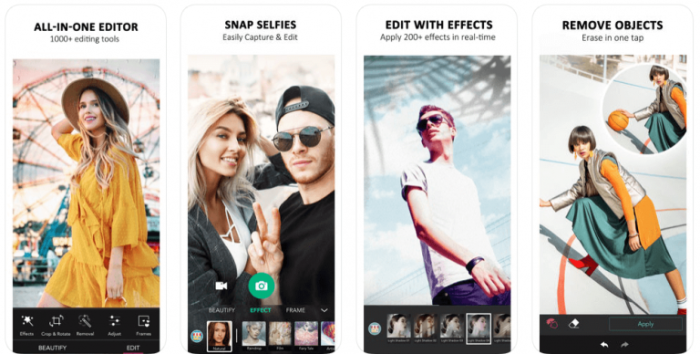 YouCam Perfect, one of the best selfie camera apps in the world, has more than 300 million users and offers an incredible array of photo editing tools to turn your ordinary pictures into works of art. It provides a comprehensive set of photo editing tools, such as 1000+ photo effects, filters, magic brushes, stickers, cut-outs, watermarks, and object removal. So if you're searching for a photo editing app to enhance your photos, make stunning collages or frames, and record video selfies in real-time, then YouCam Perfect is an excellent option.
6. BeautyPlus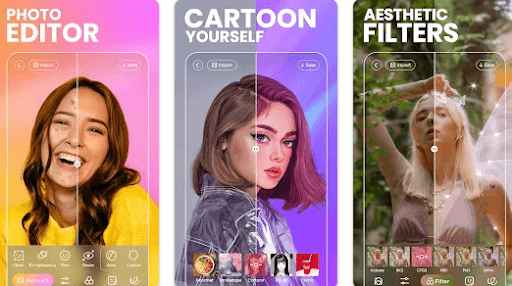 With over 800 million users worldwide, BeautyPlus is the best selfie camera and photo editor. The app includes a variety of video editing tools as well as content that may be used without cost. It features more than fifty effective editing tools for rapid and astounding outcomes. In addition, it is straightforward for anybody to use. To help you easily make diverse styles, the app features more than 200 amazing effects and themed filters.
You may also add patterns or background colors to level up your pictures. BeautyPlus allows you to explore templates and replicate popular edits with a single press. Its intelligent AR technology will automatically recognize faces in a picture and apply the appropriate effects. It makes your selfies distinctive and charming. Taking natural and lovely pictures and video selfies have never been so easy. Use BeautyPlus today to capture instantaneously picture-perfect selfies.
Conclusion:
In terms of ease and popularity, the apps are among the best selfie apps for Android and iOS. All of these selfie camera apps are free on Google Play and the App Store; use them to alter the appearance and feel of your selfies with captivating filters and photo effect tools. So what are you waiting for, then? Make your selfies shareable by picking your favorite!