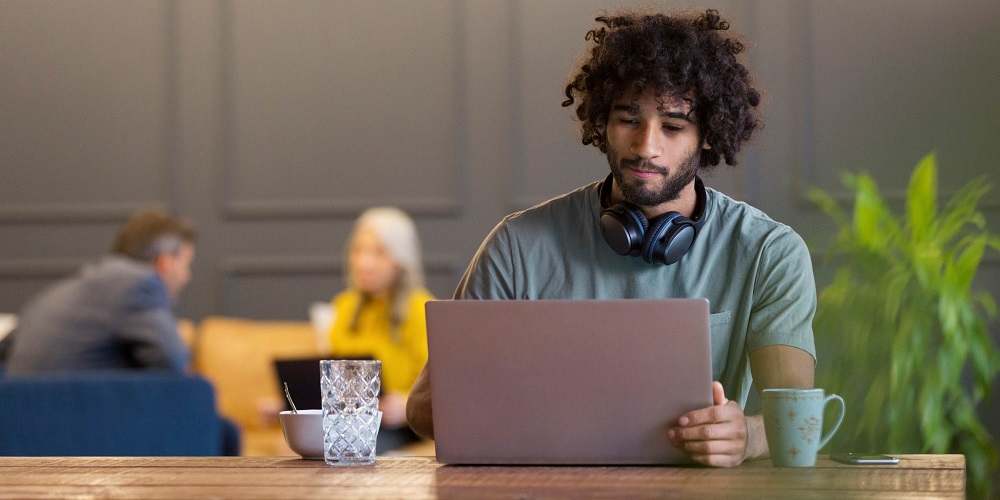 Checking the health of a laptop battery is one of the most important and underrated things we all know. The battery in your laptop is the essential component that keeps it powered while unplugged. Therefore, it's important to be aware of the variations in the battery's capacity over time and the wear it sustains from constant usage. However, contrary to this, one should be more knowledgeable about battery health checks. It is common to think that the battery is functioning properly until one finds that it cannot keep a charge for a very long time, at which time it must be changed. This is where some third-party tools can be useful. These tools assist you in assessing your laptop's battery life by extracting additional data from the battery. Thus, you may obtain the highest possible power from your battery while extending its total battery. Here's a list of the best laptop battery tester tools to help you maintain a healthy battery.
The Best Laptop Battery Tester Tools
Let's have a look at the Best Laptop Battery Tester Tools.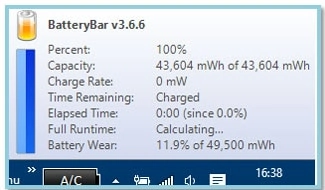 This utility displays fewer numerical values than BatteryInfoView, but significantly more than the battery symbol in the toolbar. BatteryBar is a somewhat bigger battery icon that, when clicked, displays a pop-up status window with useful information such as charge percentage, capacity, charge/discharge rate, remaining charge time, and battery wear level. The battery graphic's color varies depending on the battery's status; blue indicates that the device is on AC power and charging, green indicates a high charge, yellow indicates a medium charge and red indicates a low charge. The .NET Framework v2 is required to execute the program; to install it, right-click the Taskbar and select Toolbars > BatteryBar. This will display a battery status icon on the taskbar. BatteryBar is compatible with Windows XP and later versions, making it one of the best battery tester tools.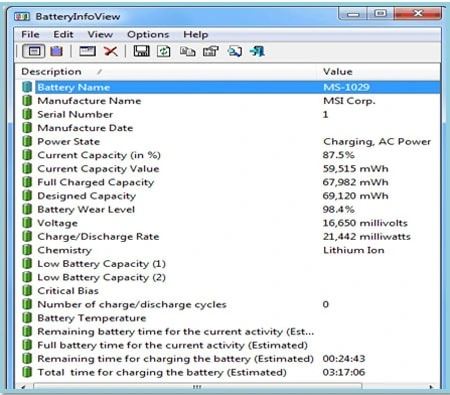 BatteryInfoView is a simple, lightweight battery tester tool that shows your laptop's battery's status and information values. There are around 20 distinct values that may be displayed, but the attributes that are presented depend on the inputs that your battery can supply; this is the number of them that are accessible. These values are updated every 10 seconds and include the manufacturer and model information, power condition, charge and wear capacity, charge/discharge rates, temperature, etc., as seen in the figure above. In addition to the primary battery information window, the log window appears when the F8 key is pressed. The log window is updated every 30 seconds and reasonably indicates the battery's behavior. These statistics are recorded often and may be saved to a text file if you want a record of the performance of your battery. BatteryInfoView is compatible with versions of Windows 2000 and beyond.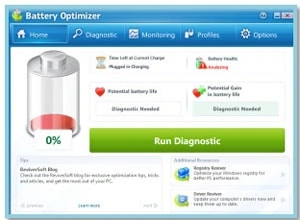 Battery Optimizer is an innovative laptop optimization utility that employs extensive diagnostics and testing to determine the laptop's maximum battery capacity while unplugged. It optimizes system processes and user profiles to conserve the most battery. Battery Optimizer notifies you of the hardware or software services that consume the most power and how to minimize this wasteful consumption. It also provides frequent information regarding remaining battery life, battery life increase or loss as a result of altering system settings, and simple battery management. In addition, a Battery Optimizer can be configured to provide battery usage alerts, such as when battery consumption reaches a predetermined level. Competitors do not offer this utility provider's sophisticated features. Battery Optimizer is compatible with Microsoft Windows XP, Vista, 7, 8, and 10.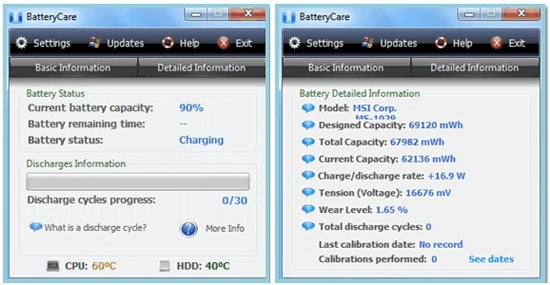 BatteryCare not only displays vital information about your laptop battery and its status but also maintains your device's battery to extend its life. It minimizes unnecessary power loss and provides accurate statistics and analysis of aspects such as consumption level, manufacturer, level of wear, etc. There is extensive documentation on the official website that helps non-technical users understand how laptop batteries to function and how important it is to maintain your device's battery for optimal performance. In addition to Windows 10, it is also completely compatible with Windows 8. Battery care features a method that automatically selects the best power plan for your device and usage, and the newest versions are immediately updated. BatteryCare is compatible with nearly all Windows versions and requires the .NET Framework v2.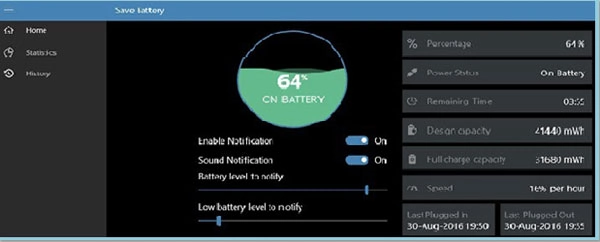 Save Battery displays the battery status and remaining charge time on your laptop's display. This laptop battery tester tool alerts you when the battery is completely charged, so preventing overcharging. It allows you to personalize the battery level and alarm. The audible notifications and live tile make it easy to check your battery life since Save Battery notifies you quickly if it finds something important. Display battery data, remaining battery balance time, four types of live tiles, different types of notifications (when the battery is completely charged and when a battery is low), and export battery history are additional capabilities. Windows 10 is compatible with Save Battery.
The Bottom Line:
These were some of the top best laptop battery tester tools. Have you used any of the utilities suggested in the article? You may share your experiences in the space provided below.